Monoprice Monolith 15" THX Ultra Subwoofer Review
Monoprice Monolith 15" THX Ultra Subwoofer Review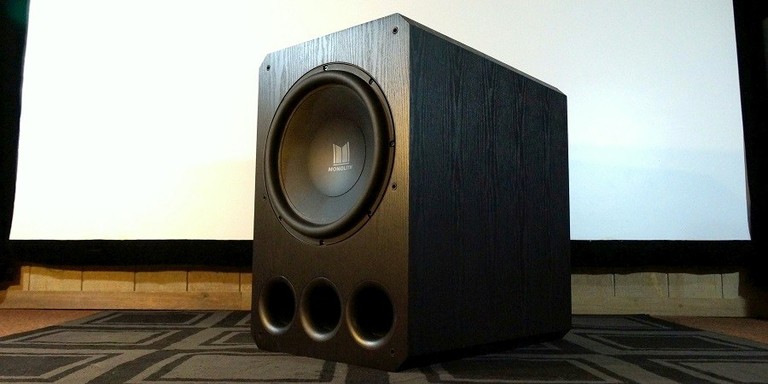 Monoprice Monolith 15" THX Ultra
Product Name: Monolith 15" THX Ultra Subwoofer
Manufacturer: Monoprice
Performance Rating:
Value Rating:
Review Date: October 03, 2018 08:00
MSRP: $ 1,300 (free shipping)
Cone Material: 2-layer long fiber pulp/glass fiber cone
Voice Coil: 60mm with high temperature aluminum wire and black anodized aluminum bobbin
Surround: FEA optimized NBR (nitrile budadiene rubber)
Motor: FEA optimized, 2 aluminium shorting rings, undercut T-pole focused field
Magnet: Ceramic Y35, 2 pcs total 216 oz.
Xmax: 25mm (one-way)
Xmech: 90mm (peak-to-peak)
Enclosure: Sealed or vented HDF cabinet with horizontal and vertical bracing
Finish: Black Ash
Amplifier: Class D 1000W rms
Frequency Response (-6dB) Extended EQ Sealed: 15-200Hz
Frequency Response (-6dB) Extended EQ Vented (1 port): 14-200Hz
Frequency Response (-6dB) Extended EQ Vented (2 ports): 16-200Hz
Frequency Response (-6dB) THX EQ Sealed: 23-200Hz
Frequency Response (-6dB) THX EQ Vented (1 port): 19-200Hz
Frequency Response (-6dB) THX EQ Vented (2 ports): 20-200Hz
Harmonic Distortion: <1% 20-100Hz (90dB @ 1m)
Variable Level Control: +15/-20dB
Crossover: Inline/Bypass variable 40-160Hz
Inputs: RCA (2), XLR
Outputs: XLR
Signal Turn On: Selectable always on/auto
Auto Turn Off: 30 minutes
Dimensions (H x W x D): 26.8" x 17.7" x 27.6" (680 x 450 x 700mm)
Net Weight: 128.5 lbs. (58.3 kg)
Pros
Accurate, High-Fidelity Bass
Wide Dynamic Range
Heavy-duty Build Quality
Impervious to Over-driving
Cons
Large and Heavy
Cabinet feet don't give fingers much clearance
Monolith 15" THX Ultra Introduction
After many requests from our readers, and quite few delays, we have at long last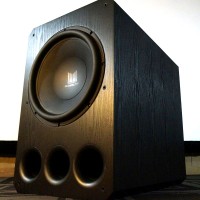 brought you our review of Monoprice's flagship subwoofer, the Monolith 15" THX Ultra. As was promised at the end of our Monolith 10" and 12" THX subwoofers review, we  finally got a chance to review Monoprice's full Monolith THX subwoofer line. But for those who are new to the subwoofer market and haven't been keeping track of which sub has or hasn't been reviewed, let's give the Monolith 15" THX Ultra a proper introduction. In late 2017, Monoprice, an internet retailer that had been more previously associated with electronics accessories, launched a line of subwoofers in a price and quality bracket that was a step up from anything they had done previously. These subwoofers were a part of their "Monolith" product series of high-performance audio gear that, until then, was comprised of speakers, amplifiers, and headphones. The Monolith subwoofers entered the market sporting THX certification and and very respectable set of performance measurements that made people take notice of their seriousness of being a very real competitor in this fierce market.
Monoprice managed to create a buzz about their subwoofers, and we at Audioholics were regularly asked when we were going to review these subs. Earlier this summer we dealt with the 10" and 12" subwoofers in the aforementioned review, but now it's time to turn our attention to the heavy-hitter, the Monolith 15" THX Ultra. The 10" and 12" impressed us with their no-nonsense, heavy-duty designs, and we expect the same but even more so from the 15". Can the Monolith 15" THX Ultra deliver on the promises made by its smaller brothers? Let's find out...
Unpacking and Appearance
A subwoofer as heavy-duty as the Monolith 15" THX Ultra is going to need some very serious packing to keep it safe in transit. Monoprice provides such packing; they are double-boxed with sturdy grade of cardboard, and both boxes have built-in handles There are large foam blocks capping the top and bottom of the sub and edge-protecting foam pieces to safeguard the side edges. The subwoofer itself is wrapped in a nice drawstring black-cotton bag to protect it against moisture and scuffs. Monoprice has also included two white cotton gloves to handle the 15" THX Ultra, which is nice but a bit overkill, since it doesn't have the kind of finish that would easily show fingerprints.
Once out of the drawstring bag, the Monolith 15" THX Ultra reveals itself to be a formidable-looking piece of audio equipment. First of all, it's big; it is one of the largest single driver 15" subwoofers on the market. Ported subwoofers striving for strong deep-bass output must be physically large by necessity, but they can take a wide range of shapes and aren't as restricted in that regard. The Monolith 15" THX Ultra has exchanged width for height and is nearly 27" tall. This was a good idea so that it could fit in more locations since height does not increase the footprint of the subwoofer, but it does make it look visually imposing. In fact, the Monolith 15" THX Ultra, more than any other product from the Monolith series, really lives up to its name; it looks monolithic (dictionary definition of Monolith: a singular, massive object).
The Monolith 15" THX U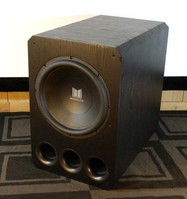 ltra is finished in a nice black oak finish, but it isn't a high-end or luxurious finish. The black oak gives it more personality than plain matte black though. The cabinet is essentially a large block with the lengthwise edges sheared off in a hard bevel. As I said in the review of the Monolith 10" and 12" THX subs, this gives it an almost "muscle car" aesthetic. The beveled edges make it look brawny; rounded edges would have perhaps softened its look and simple square edges would have looked a bit 'Ikea' minimalist. Without the grille, this subwoofer is daunting, since that 15" woofer and those three ports look ready for the business of big bass. With the grille on, the Monolith 15" becomes more subdued, but it is still such a big object that, as a big, black, faceless cabinet, it is still a bit intimidating. This is not a unit that will make for a natural fit in every living room. It should not present a problem in a dedicated home theater room, but I can see how some household inhabitants might be put off by its inclusion in a more common living space.
Design Overview
The Monoprice Monolith 15" THX Ultra is a large, variable-tuned, THX-certified subwoofer. For those who don't know, let's briefly go over the meaning of these descriptive phrases. "Variable-tuned" means that the subwoofer can be made to change how low in frequency that the sub is able to play by sealing one of its ports. The trade-off for extending the ability to play deeper frequencies is that there will not be quite as much headroom in deep bass frequencies overall. In most variable-tuned subwoofers, the difference is usually a subtle one but still audible and can change the experience of the content. Typically, the difference can be experienced in movies that has significant deep frequency content; the deeper bass can make the scene a bit more immersive. According to Monoprice's specifications of the different tuning configuration responses, the -6dB point between the ported modes can be switched from 20 Hz to 14 Hz. That might not seem like a lot, but, physically speaking, that is a very substantial difference: over a half-octave, and a 40% greater amount of air displacement.
"THX-certified" means that t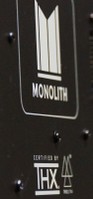 his product has been certified by THX Ltd. to meet a minimum standard of quality and behavior that it can be used in a THX environment. That is a bit of a tautology, so let's expand on what a "THX environment" is a bit further. Here is an aspect of THX certification that is still so widely misunderstood. Many people hold the impression that THX certification for subwoofers and loudspeakers is a performance standard which goes something like: "speaker/subwoofer X is able to achieve a certain SPL level with low distortion."  That's true, but there is a lot more to THX certification than that. Yes, a THX certified product has to meet some minimum performance metrics for whatever level of certification it is qualifying for, but THX is more about maintaining control over the reproduction of the content from the mixing stage to the end user's experience. Maintaining low distortion for a given SPL level in the playback stage is just one part of that. What THX is striving for is that the end user should hear what the production engineers and artists intend for them to hear. They are trying to make it so that whatever is done in the production will have a predictable effect in end use consumption. So the THX badge should be regarded as insurance that, in the right environment and correctly set up, the system will deliver what the artist intends.
The Monolith 15" THX Ultra holds THX's "Ultra" performance class certification, which means it should be able to help to present a THX experience in a 3,000 cubic foot room with a 12' viewing distance from the screen. That is a big space to fill, and the laws of physics dictate that a large sub is needed for that task (or at least a whole lot of small subs). The 15" THX Ultra is such a behemoth that, at a glance, it does look like it might be up to the task, but the THX certification is verified proof, so no guessing is needed. However, the 15" THX Ultra is only certified for that level of performance in one of its operating modes: all ports open and EQ switch set to "THX." It isn't that other operating modes will perform significantly worse, it's just that they don't have very specific behavior needed to act totally predictable by the THX controlling processor otherwise.
To start the discussion of the components that make up the 15" THX Ultra, we will begin by talking about the massive cabinet.  The Monolith subs use high-density fiberboard (HDF) as opposed to medium-density fiberboard that is the standard for speakers and subs at this price point. Monoprice choose HDF because they claim it makes for a more sonically inert cabinet. The front baffle is 2" thick with the other panels being 1" thick. There is one 1" thick window brace at the midsection of the cabinet, and two perpendicular braces, one of which helps to support the ports. The cabinet walls are lined with stuffing for the sake of damping and isothermal conversion (which helps to effectively make the enclosure volume behave larger than it really is). The 15" THX Ultra uses three 3.5" ports that need to be so long that they make a right turn within the cabinet. This is necessary because long ports are needed for extremely deep bass tuning frequencies, at least if the deep bass is to have loudness on parity with the output produced by the driver directly. This is a large cabinet, and it has to be. As we mentioned before, ported subwoofers that are attempting serious deep bass output must be large by the laws of physics.
In order to reproduce the bass frequency spectrum in a linear manner, the driver has to be a solid design, and the 15" THX Ultra driver displays unmistakable signs of being such a driver. The cone is a paper/fiber glass composite that combines low weight with very high rigidity. A large rubber surround affixes the cone to a very stout-looking cast-aluminum basket. Monoprice claims that the surround was made from a type of Nitrile Rubber that was formulated after months of modeling for optimal performance. An 8" Nomex spider serves as the other half of the suspension for the moving mass of the driver. The motor system is quite beefy: the permanent magnet is composed of a stack of three 7" diameter, ¾" thick plates. Venting is done through slots underneath the spider. The motor uses two aluminum shorting rings to reduce induction effects thereby lowering even-order harmonic distortion. The backplate is bumped out to allow for larger excursion. All in all, this is an impressive-looking driver that is certainly plausibly believable of being the central engine of a THX Ultra-certified bass system.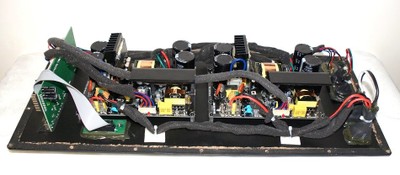 Monolith Subwoofer Amplifier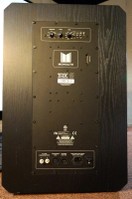 Of course, a driver can do nothing without current, and Monoprice has supplied the driver with a brute of an amplifier that is specified for 1 kilowatt RMS output. The 15" THX Ultra amplifier looks to be using two of the same class-D modules used in the 10" and 12" Monolith subs in a bridged configuration. Two modules have the added benefit of two power supplies working in unison with the differential amplifier outputs to yield 2X the power, which would ordinarily require a much larger power supply in a single amp configuration. Other than the obvious power doubling, the amplifier now has more energy storage and improved low frequency stability. The amp has fairly basic controls, but there is an EQ switch that can adjust it for the THX mode or the lower extension mode when a port is plugged. There is also a variable phase knob which gives the sub a bit more flexibility when dialing it into a sound system. Connectivity includes a pair of RCA inputs and an XLR input and output. The XLR output can be handy for those who want to run multiple subs without turning the wiring into a spaghetti tangle of cabling, since they can simply daisy-chain subwoofers on a single run of cable. Balanced cabling like XLR do a better job of rejecting noise, and XLR connectors are a much more secure connection than traditional unbalanced connectors as well. 
At this point, I do want to voice one small complaint about the design of this subwoofer. This subwoofer is using the same feet as the SVS PB-4000, and, as I noted in that review, they were simply too short to safely be set down when carried with fingers on the bottom of the sub. It can problematic, especially for those with dense carpeting, in that it creates a pinch-point. Like I suggested to SVS, I would encourage Monoprice to look at taller feet that allows for more clearance for fingers.
Listening Sessions
...the Monolith 15" THX remains clean no matter how hard it is pushed.
The best placement for a single sub in my room gives me a relatively flat response for an un-EQ'd single subwoofer, with a window of +/- 4 dB from 25 Hz to 100 Hz with no broad dips in important ranges. This location trades low-end room gain for a relatively flat response, a worthwhile trade for my tastes. The receiver used was a Pioneer Elite SC-55 with a handful of different speakers, and the crossover was used mostly at 80 Hz. Since room acoustics have a huge effect on low frequencies, the way this sub sounds in my room at my listening position is not necessarily going to be the way it sounds anywhere else for anyone else, so readers would do well to keep that in mind, and not just for the subwoofer in this review, but for any subwoofer in any review. Most listening was done with one port sealed in the 'Extended Mode' configuration.
Music Listening
To see how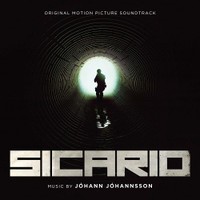 the Monolith 15" THX handled music from conventional instrumentation, I threw in the music soundtrack from the film 'Sicario.' While the music from 'Sicario' uses conventional instrumentation, it is not all all a conventional film score. The music score for 'Sicario' is a key component is setting up the tension in the movie, and a key component in much of the music itself is the use of bass. Low-pitched drums, distorted percussion, and deep omninous cellos comprise the bass in the music here. The music itself is so evocative that it hardly needs to be paired with the visuals of the movie to develop tension. For a miscalibrated system or a sloppy subwoofer, cello playback can sound poor if some part the bass becomes too dominant. It can sound unnatural if the fundamental and lower harmonics are too loud with respect to the upper harmonics of the instrument's sound. While room acoustics is a big factor here, another major contributor can be a subwoofer with a peakish or uneven response. Thankfully, that isn't the case with the Monolith 15" THX where the bass was certainly present but not overbearing. With some dialing-in, the sub blended in nicely with the rest of the system and disappeared in the sound. That is exactly how subwoofers are supposed to behave. The Monolith 15" THX added the weight of deep bass to the sound without announcing itself. It proved to be a terrific subwoofer for orchestral music.    
For an even deeper and darker dive into the far realms of music with heavy doses of low frequencies, I queued up an album called 'Sternklang' by a musical artist named Tholen. I don't know much about this album or artist except that Tholen hails from Germany, and the album was released in 2007 on the Cyclic Law label which specializes in dark and industrial ambient music. This album consists of a single 71-minute track that sounds like a soundtrack to some dark science-fiction film; it is an ominous cosmic journey into deep space that has an expansive yet forbidding atmosphere. It is largely electronic music with sounds like bells drenched in reverb, heavily distorted synthetic vocal pads that sound like alien communiques, portentous drones, and a distant, rhythmic thunderous thumping that sustains a feeling of unease even though this is an ambient work (not all ambient music is relaxing or pleasent). Subwoofers are kept busy throughout the duration of this album, sometimes only being driven softly but at other times pushed to some pretty serious low-frequency output. These low-frequency noises are not all the same, however, and they provide foundations to different sounds throughout this album. Muddy playback of the bass here would blend all of the low-frequency sound into an indistinct rumble. As mentioned before, room acoustics is often a major culprit here, but the subwoofer needs good linearity to avoid this effect as well. A THX-certified sub should fit that description, and the Monolith 15" THX certainly does reproduce 'Sternklang' without confusion and it provides good delineation of the various bass noises. This kind of subwoofer serves an album like 'Sternklang' well. It captures the different textures of low-frequency sound while keeping them distinct from each other while not creating an audible distinction between the subwoofer-generated sound and main speaker-generated sound.
For musical bass of a far less subtle nature, I listened to the album 'Eskmo' by the artist Eskmo. While this now-classic 2010 dubstep album certainly lands squarely in the 'dubstep' genre, it does not sound like other dubstep music. Eskmo's music has a clear and unmistakable flavor in a genre where there can often be a sameness that leads to a near-anonymity. Eskmo's glitchy use of percussion, more cinematic melodies, and far more inventive use of bass separates his music from many of his peers. The bass line in many normal dubstep tracks is often just a repeating tone at 40 Hz or so with "wobblies" overlayed on it to give the bass note itself some kind of varying rhythm, but the bass line is just a single note played over and over again. Eskmo uses far more variation in bass notation by sliding and swinging the bass line up and down a wide range of notation, and his music is much more fun and interesting for it. It's also a lot more fun than hammering the same note over and over again for a subwoofer that has good pitch definition. A subwoofer that is engineered for accuracy should be able to clearly follow the bass notation of Eskmo's recordings while also giving the kick drum a tactile thump. The Monolith 15" THX does precisely that. This is powerful, musical bass that needs a sub with high output capability that plays low frequencies evenly, and that is a fitting description the Monolith 15" THX. Eskmo's playful bass melodies were rendered with verve and lucidity on the Monolith 15" THX, and that did not change no matter how loudly I cranked it. This sub does not change the character of the bass when amplitude is changed. There is no audible distortion that is a cue of loud levels which can occur with other subs, since the Monolith 15" THX remains clean no matter how hard it is pushed. The bottom line is that this sub is great for this type of music, since it gets loud, can't be overdriven, and accurately reproduces any low-frequency sound within its operational range. 
Movie Listening
In my previous subwoofer review, I
watched the remake of 'Clash of the Titans,' so I thought why not tie up the series and watch its concluding sequel for this review? I threw in 2012's 'Wrath of the Titans,' since this sequel promised more of the same low-frequency carnage that heavy-duty subwoofers excel in recreating. Its predecessor was met with a mixed critical reception, but 'Wrath' was received with considerably worse fanfare. However, I went forth undaunted, since I wasn't viewing this movie for its emotionally stirring character arcs to begin with. Bring on the mythological monster mayhem! Surprisingly, I found myself enjoying 'Wrath of the Titans' quite a bit. And as for low-frequency content, it had as much, if not more, than its predecessor. There were earthquakes, giant, two-headed, fire-breathing chimeras, cycloptic giants, the enormous, shifting stone Labyrinth of Tartarus with its minotaur, and the gigantic father of the gods Kronos who was encased in an underground mountain. In other words, there was plenty of deep bass here to keep the subwoofer busy. The Monolith 15" THX Ultra had no troubles keeping up with the abundance of bass in 'Wrath of the Titans.' I could feel my sofa trembling as the 15" THX Ultra pounded it with pressure waves. The rumble produced by this sub was felt as much as it was heard. The 15" THX Ultra was seemingly untaxed by the massive setpieces of the movie, no matter how loud I turned up the volume. While the 15" THX Ultra does have limits to how loud it can get, it isn't easy to sense those limits, since it doesn't produce audible distortion no matter how hard it is pushed. It doesn't lose control of itself, and this is mandated by THX certification. THX needs tight control over every aspect of operation to ensure the experience of one THX system is repeatable to any other. For this reason, the distortion quantities allowed is very low. It's reassuring to know that non-linear behavior is not going to affect whatever low-frequency sound that is heard in a movie like 'Wrath of the Titans.' The 15" THX Ultra simply reproduces whatever is in the recording, adding nothing and subtracting nothing.
Another movie that I watched which made the Monolith 15" THX stretch its legs was 'Dawn of the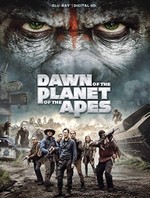 Planet of the Apes," the 2014 sequel to 'Rise of the Planet of the Apes.' I wasn't terribly impressed by the primatological illiteracy of its predecessor, but with the bar already having been set so low, I decided to sit back and try to enjoy the sequel for what it is, not for what I wish it could have been. I have to say, at the moment when this movie featured a chimpanzee leading a warcharge on horseback while firing machine guns in both hands, 'Dawn of the Planet of the Apes' had won me over. 'Dawn' isn't as bass-heavy as 'Wrath of the Titans,' but it still draws out the subwoofer in a bunch of scenes, such as a stampede of deer, an intense military battle, and the action-packed climax which has its fair share low-frequency commotion. Low frequencies are used more sparingly here, so when they do kick in, they have more impact than movies where the bass is much more copious. When the sound mix called for it, the 15" THX Ultra could punch and punch hard, yet not do so in a manner that makes its existence as a subwoofer blatant. In other words, it blended in with the sound system so well that no one would have known if a sub was in use or just full-range speakers. One attribute that could help to explain that is, again, the extremely low distortion. Nonlinear distortion could bring a lot more attention to subwoofer-band frequencies, since the harmonic distortion components lay in a much more audible band than the fundamentals themselves. That means the subwoofer becomes a lot louder than it is supposed to be when distortorting, even if it was properly gain-matched during calibration. When viewing 'Dawn of the Planet of the Apes,' the 15" THX Ultra did what it was called to do and nothing else, which is what a subwoofer should do. Anything else would interfere with the immersion of the experience.
Confused about what AV Gear to buy or how to set it up? Join our Exclusive Audioholics E-Book Membership Program!