Best Subwoofers for Under $500
Best Subwoofers for Under $500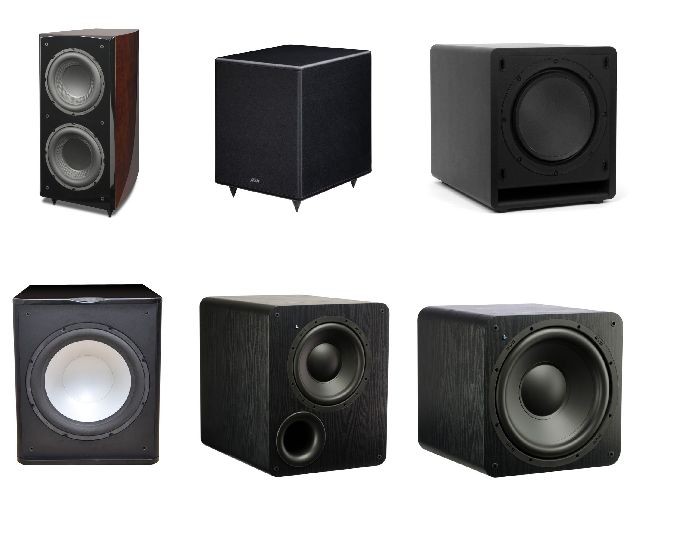 6 High Value Subwoofers For $500 Or Less
Want to know the very best subwoofers you can get for under $500 and why it's so important to make the right selection?
The subwoofer is arguably the most important loudspeaker in a typical surround setup. Not only does it have to deliver content from its own dedicated LFE track, but it also must typically relieve the other channels of their bass duties as well, freeing them to deliver good quality performance in the rest of the sonic spectrum. It's no great wonder then that you might see many Audioholics drooling over big, powerful subs like the Funk 18.0 and SVS PB13-Ultra. Of course, these extreme subs tend to have at least a couple things in common: they're not exactly diminutive in price tag or size. For folks trying to build a complete system for $2,000 or less, one of the aforementioned subwoofers simply isn't feasible. So what happens when we lower our sights to a more affordable price point, say $500 or less?

As you might imagine, a budget price entails some sacrifices: output capability, extension, finish quality, and feature set are all on the chopping block. Nonetheless, with the right picks, it's still possible to end up with respectable performance that more closely resembles that of a top tier subwoofer rather than a one-note wonder. With that said, we present to you a sampling of subwoofers that while small in price, we feel are big on performance for the dollar:
| | | | | | | |
| --- | --- | --- | --- | --- | --- | --- |
| Make | EMPTek | Hsu Research | Klipsch | Premier Acoustic | SVS | SVS |
| Model | ES1010i | STF-2 | SW-110 | PA-150 | PB-1000 | SB-1000 |
| MSRP | $399, Shipping Included | $359 + $46 Shipping | $500 | $899 ($499 @ Amazon w/ Shipping) | $499 (Shipping Included) | $499 (Shipping Included) |
| Frequency Response | 30Hz-150Hz +/-3dB | 25Hz-200Hz +/- 2dB | 28Hz-120Hz +/- 3dB | 25Hz-180Hz (no tolerance) | 19Hz-270Hz +/- 3dB | 24Hz-260Hz +/-3dB |
| Alignment | Ported | Ported | Ported | Ported | Ported | Sealed |
| Driver Diameter | 10" x2 | 10" | 10" | 15" | 10" | 12" |
| Amplifier Power | 250W RMS | 200W RMS | 200W RMS | 250W RMS | 300W RMS | 300W RMS |
| Low Pass Filter | 50Hz-150Hz (no slope listed) | 30Hz-90Hz, 24dB/octave | 50Hz-150Hz (no slope listed) | 40Hz-200Hz (no slope listed) | 50Hz-160Hz, 12dB/octave | 50Hz-160Hz, 12dB/octave |
| High Pass Filtered Outputs | N/A | N/A | N/A | N/A | 80Hz Fixed, 12dB/octave | 80Hz Fixed, 12dB/octave |
| Dimensions (H x W x D) | 27-1/2" x 13" x 19" | 19"H x 14"W x 17-3/4" | 14" x 12-1/2" x 17" | 21.1" x 17.9" x 19.2" | 18.4" x 15" x 18.4" | 13" x 13" x 13" |
| Weight | 45lbs | 37lbs | 35lbs | 87lbs | 46lbs | 27lbs |
| Warranty | 5 Years on Woofer, 1 On Electronics | 7 Years On Woofer, 2 On Electronics | 2 Years | 5 Years On Woofer, 2 On Electronics | 5 Years | 5 Years |


EMPTek ES1010i: The Looker
ES1010i Product Page | ES1010i Review
Unlike the other subs we'll visit in this roundup, the EMPTek ES1010i isn't exactly your average black box. With graceful curved sides, a taller than average profile, and the option of a simulated high gloss black ash or red burl finish, the ES1010i has a unique and subjectively better than average aesthetic given its $400 (shipping included) price tag. Of course, with a pair of 10" woofers and 250W RMS amplifier in a generously sized ported cabinet, you can count on it delivering respectable output as well. As Gene notes in the review, the ES1010i is quite capable of delivering enough SPLs from 32Hz and above to adequately fill a medium sized (1,500-3,000 cu ft) room, a fair accomplishment given the price point. Unfortunately, as Gene's measurements also suggest, you can't have it all at this level; output from 25Hz on down isn't the EMPTek's forte, and while it can deliver some useful output at the 25Hz mark, chuffing is an issue at higher levels, and you'd really need a smaller room with a lot of gain for the ES1010i to be effective in the lowest registers of the 40-20Hz octave.
Hsu STF-2: All Business
At $359 plus $46 shipping, the Hsu STF-2 is one of the least costly options in this roundup. In spite of that, it is still among the top performers in part due to a no-frills take on the cabinet and a bit of design wizardry from Dr. Hsu. Sporting a single 10" woofer and a 200W RMS amplifier in a medium sized vented enclosure, Hsu claims the STF-2 can deliver a very respectable 98dB at 25Hz under CEA 2010 protocol (normalized to 2 meters, RMS), and an impressive 105dB-109dB from 40Hz-80Hz. For those keeping track, those numbers indicate that the modestly priced Hsu would be a solid Bassaholic Medium subwoofer. Suffice it to say, we'd qualify this Hsu as a solid bang for the buck, not a great shock given the longevity of the design: the STF-2 has a decade of delivering bass under its belt, making it a well proven performer. About the only real downside to mention is the plain cabinet: we're certain it's solid enough, but it just doesn't please the eye like some of the other subwoofers in the class.
Klipsch SW-110: The Big Box Store Special
With an MSRP of $500, the Klipsch SW-110 isn't exactly the screaming bargain of this group. Equipped with a 10" driver and 200W amplifier like the preceding Hsu, the SW-110 features a smaller cabinet and a large front-firing slot port. Unsurprisingly, this combination leads to less extension, and confirmed by the Klipsch being rated down to 28Hz, -3dB versus 25Hz, -2dB for the Hsu. Output capabilities are largely untested at this point, with the only hint being a maximum acoustic output rating of 113dB @ 30Hz (1 meter, 1/8th space). That sounds like a lot, but translates into a less than impressive 95dB at 2 meters, half space, which is how we report subwoofer output. Finally, adding insult to injury, the SW-110's aesthetics, like the Hsu, are fairly plan. If it's sounding like there's not a lot to recommend the SW-110 on, at full price there certainly isn't. However, it's important to remember that the SW-110 isn't an internet direct subwoofer; it's MSRP has to include extra markup to account for the retail channel. On the upside, the fact that it can likely be found in a big box store near you is useful if you're leery of spending big bucks without hearing your subwoofer first. Further, a good sale could easily turn the mediocre value the SW-110 represents at full price into a fair bargain, even against solid internet direct competitors.
Premier Acoustic PA-150: The Fifteen Incher
The Premier Acoustic PA-150 ostensibly doesn't belong here: with an MSRP of $899, it's well beyond the $500 cap we've set for this roundup. However, the PA-150 is regularly available for much less, and is currently on Amazon for $499, so we figured we'd toss it into the ring to see how it fares. Aside from its MSRP, the PA-150 is also unique in this group in that it boasts a 15" woofer backed by a 250W RMS amplifier in a fairly large, gloss black vented cabinet. While we'd caution against using that bit of information alone to assume superiority, third party testing done by Josh Ricci has confirmed that the PA-150 is in fact a very capable subwoofer. From 50Hz on up, the PA-150 can deliver between 114-118dB in CEA 2010 burst testing (reported at 2 meters, RMS), which is a considerable leap above what any other subwoofer here is capable of. On the downside, the limitations of the 15" driver are also readily apparent: while capable of prodigious output from 40Hz on up, the PA-150's output below 32Hz is a bit more ordinary for the group. At 25Hz, the PA-150 was "only" able to deliver 98.6dB; while that's not too shabby considering the price tag, it isn't materially better than the cheaper, smaller Hsu STF-2 either. The measurements also indicate that the PA-150 would (perhaps counter-intuitively given its size) be very well suited for a smaller space where room gain could boost the bottom end, resulting in a more linear response profile, not to mention a boatload of output.
SVS PB-1000: The Plumber
No, the SVS PB-1000 doesn't come with a plunger; priced at $499 (shipping included), the PB-1000 is unique in this lineup in that it is the only subwoofer here capable of delivering real 20Hz performance. SVS reckons their least costly ported subwoofer should deliver 99.8dB at 20Hz in burst testing per CEA 2010 protocol (reported at 2 meters, RMS) which is considerably more than what any of the other contenders here is likely to be capable of. This is also the first subwoofer we've looked at thus far that is backed by SVS; the benefits of this shouldn't be discounted out of hand, as it includes a 5 year bumper to bumper warranty as well as a 45 day trial with return shipping included among other things. Overall, the PB-1000 appears to be a very well rounded subwoofer. It's not necessarily as attractive as the EMPTek ES1010i, but with its simulated black ash finish, it's a cut above the usual truck bed liner finish. Further, while it's not necessarily the most powerful subwoofer from 40Hz on up, the SVS still rates the PB-1000 to deliver an average of ~108dB from 40Hz-80Hz in CEA 2010 burst testing (again, 2 meters, RMS), which is quite respectable for the price. Add in SVS' DSP limiters which keep the PB-1000 from getting into too much trouble, and support by an ID company that's second to none in service, and you're looking at a pretty good deal in our books.

The SVS PB-1000 & SB-1000, both priced at $499 with shipping.

SVS SB-1000: The Pint Sized Subwoofer
While big subs like the PB-1000 are great for efficiently producing deep bass, not everyone can afford them in terms of floor space. If you happen to have a smaller room where space is at a premium, the miniature SVS SB-1000 might well be a good fit for you. Boasting a 12" woofer and 300W RMS amplifier in a sealed 13" cube cabinet, SVS rates the SB-1000 to deliver output down to 24Hz, -3dB. Of course, because it's a compact sealed design, you can't reasonably expect this mini-sub to deliver the same kind of output at ultra-low frequencies that its large ported brother can. While at 40Hz on up, the PB and SB-1000 will be at rough parity, at 25Hz, SVS reckons the SB-1000 will have 9dB less output versus the ported box, which is a considerable gap. If that sounds bad, one should understand that the PB and SB are made for two different tasks. We'd opine that that the SB-1000 is better suited for a small space (say 1500 cubic feet or less) where room gain can help boost the bottom end. In such a room, it wouldn't be entirely surprising to find the petite SB-1000 delivering deep bass that belies its size thanks to a shallow roll-off typical of a sealed alignment. Couple the above performance with the aforementioned benefits of being a SVS sub, and the value proposition is still strong for the $499 asking price.
Summary
So you say you want a high end subwoofer without the high end price tag? Depending on the compromises you're willing to make, you might be able to get there with a lot fewer greenbacks than you might think. For $500 or less, it's quite possible to find a useful mix of output capability, extension, and overall quality that might make you question just how badly you want costlier options. Of course user requirements do vary, and consequently we've given not just one, but six possible solutions to cover the gambit. Odds are if you're in the market, one of the above would fit the bill nicely.
Confused about what AV Gear to buy or how to set it up? Join our Exclusive Audioholics E-Book Membership Program!
Recent Forum Posts:
zrtmatos posts on February 24, 2014 12:43
I just picked up a SVS SD1000 and have to say I am amazed by its output!
theJman posts on February 10, 2014 12:56
Alex2507, post: 1016380
On the above imbedded link if you click on 'the' you get to where you want to be and if you click on 'review' you click on where somebody else wants you to be. I was happy to see Tom's preview of the pb and sb 2000s though. Too bad the gloss black finish is gone.
Thanks for the heads-up; I did notice that after the fact. It seems Audioholics surreptitiously makes the word 'review' point to a link on their website, regardless of what you actually had intended it to be. Since you can't go back and edit a post there's no way to fix it either.
Alex2507 posts on February 10, 2014 12:23
theJman, post: 988300
The SB1000 is indeed a very small subwoofer. For a size comparison check out the review I did on the PB and SB a few months back.
On the above imbedded link if you click on 'the' you get to where you want to be and if you click on 'review' you click on where somebody else wants you to be. I was happy to see Tom's preview of the
pb and sb 2000s
though. Too bad the gloss black finish is gone.
Ed Mullen posts on October 31, 2013 17:30
Thanks Steve81. As you can see cone excursion gets progressively higher with each deeper tune. In addition, excursion exceeds the stated 12 mm of xmax in the 20 Hz and 16 Hz tunes, but more to the point - in the 16 Hz tune xmax is exceeded from 45 Hz to 21 Hz. That's over an entire octave (!) where the driver is vulnerable to overdrive and/or bottoming.
Steve81 posts on October 31, 2013 17:15
Ed Mullen, post: 996149
Steve81 should plot the same subwoofer with a 25 Hz, 20 Hz and 16 Hz tune all on the same graph and you'll see how much more cone excursion is required for the deepest tune (before the port takes over). It's already an obvious jump going from 27 Hz to 20 Hz in his above graphs.
Post Reply