MartinLogan Dynamo 600X and Dynamo 1600X Subwoofer Review
MartinLogan Dynamo 600X and Dynamo 1600X Subwoofer Review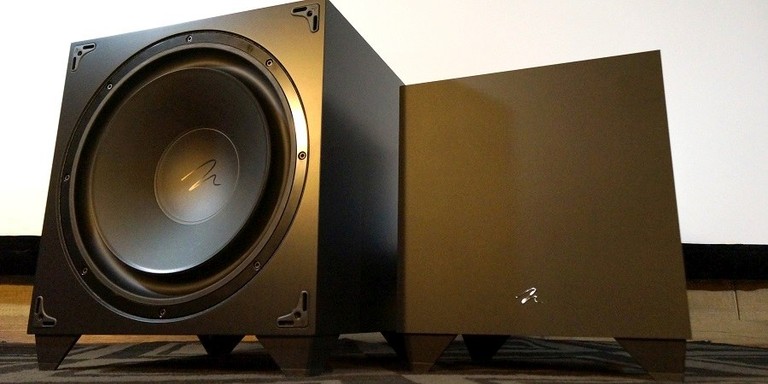 Dynamo 600X 1600X
Features common on the Dynamo 600X and Dynamo 1600X:
Software:
Sub Control App: iOS and Android
Anthem Room Correction: iOS, Android, and PC
Controls (Backplate):
Level: Min–Max
Setting Control: Local, App
Power Mode: On, Trigger, Auto
Controls (via Bluetooth):
Level: -40 to 12dB
Low-Pass Filter (Frequency): 35–120Hz
Low-Pass Filter (Order): Bypass, Third, Fourth
Phase: 0–180° (1° Increments)
Phase (Polarity): Normal, Inverted
Preset Listening Modes: Music, Night, Movie
20–30Hz Level: ±10dB
Anthem Room Correction (ARCTM): On, Off
Tone Sweep (20–120Hz): On, Off, Pause (Frequency)
Inputs (Audio, Wireless): SWT-X Receiver & Transmitter (sold separately)
Line Level Inputs: Left, Right, and LFE (RCA)
Speaker Level Inputs: Left & Right (Banana Plus Inserts)
Finish: Satin Black
Dynamo 600X:
Frequency Response: 27–200 Hz ±3 dB. Anechoic in LFE mode.
Low-Frequency Transducer:
10" (25.4cm) high-excursion inverted surround
polypropylene
stamped steel basket with extended throw driver assembly.
ported
Amplifier: 120 Watts (240 peak)
Power Draw: Typical: 30W, Max: 150W, Idle: 4W, Standby: 0.5W
Weight: 35.5 lbs. (16.1 kg)
Dimensions (HxWxD), Down-Firing: 16.3" x 14.5 " x 14.9 ", (41.5 cm x 36.7cm x 37.8 cm)
Dynamo 1600X:
Frequency Response: 20–200 Hz ±3 dB. Anechoic in LFE mode.
Low-Frequency Transducer:
15" (38.1cm) high-excursion
inverted surround
polypropylene
cast aluminum frame basket with extended throw driver assembly.
sealed non-resonant cabinet design.
Amplifier: 900 Watts (1800 peak)
Power Draw: Typical: 100W, Max: 600W, Idle: 15W, Standby: 0.5W
USB: Micro USB (for ARC/Firmware Update)
Trigger: 3.5mm, 5–24 DC
Feet: Rubber, ETC (Energy Transfer Coupler) Spikes
Weight: 57 lbs. (25.9 kg)
Dimensions (HxWxD), Front-Firing: 20.1" x 17.9" x 19.1", (51 cm x 45.4cm x 48.6cm)
Dimensions (HxWxD), Down-Firing: 20" x 17.9 " x 18.5 ", (50.9 cm x 45.4cm x 47 cm)
Pros
600X is very agreeable in size and weight
600X has low distortion in its range
App control makes fine-tuning easy and convenient
600X and 1600X look very clean and modern
1600X has devastating mid-bass output
1600X can be used as down-firing or front-firing
Both 600X and 1600X protected from being driven into damaging output levels
Cons
600X has decent headroom for size but is not an output monster
1600X can be driven into heavy distortion in deep frequencies when pushed hard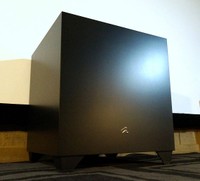 Five years ago, the MartinLogan Dynamo 1500X left us impressed with its slick looks and high performance for its reasonable size in our review. However, time has passed, and other manufacturers have brought some very tough competitors to market since then. In response to a fierce marketplace, MartinLogan has revamped their Dynamo subwoofer series and has added ingredients that not only keep up with the competition but jumps a step ahead. This summer MartinLogan unveiled their new Dynamo subs which Audioholics was lucky enough to be present at in their unveiling (MartinLogan Revamps Dynamo Subwoofers). As promised in our preview article, here is a full review of two of the new Dynamo subwoofers: the 600X and the 1600X.
The 600X is the successor to the Dynamo 500. It is a relatively small ported 10". The 1600X is the successor to the 1500X as the flagship of the series, a powerful sealed 15". MartinLogan sent us these two particular subs so we could see both ends of the Dynamo's design spectrum. We will look at what MartinLogan brings to us from the very affordable end of their Dynamo subs to the top of the line. We were impressed by what we saw at MartinLogan's launch event in our preview, but let's see what they have really delivered now that we have time to really dig in these subwoofers…
<
MartinLogan Dynamo Subwoofer Series Overview & Comparison YouTube Discussion

Packing and Appearance
The Dynamo subs arrived in robust car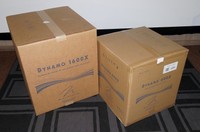 dboard boxes that were sealed using heavy-duty staples. Both subs were packed with two large foam sandwich pieces that gave them a good amount of clearance from the box walls. The subs were wrapped in a cotton sleeve to protect them from moisture and scuffing during transit. Underneath the packing were two minimalist-styled subwoofers that had a smooth satin black finish. If the look of a subwoofer could ever be described as sophisticated, this would be it. Some subwoofers try to hide the fact that they are just a driver and amp in a box by angling or curving the cabinet and rounding the edges, but the Dynamo subwoofers embrace their boxiness with a modernist flair.
Dynamo 600X (left) and 1600X (right)
The 600X is a smooth, smallish cube with an approximately 14" edge length on all sides. The 1600X, in its down-firing configuration, is similar but with an approximately 18" edge length. The key to their style is the simple, unbroken symmetry of their cube shape. Despite their boxiness, they are very clean and understated, and these qualities would allow them to fit in nearly any decor. They are nice enough that they will not be aesthetically displeasing if they are placed in the open, but they are so austere that they would easily vanish from notice if tucked away in a corner. Their satin black finishes make them disappear in low-light conditions. There is a very small and simple MartinLogan badge on the exterior that announces that they are not just a box; they are objects that have purpose. One thing to note is that the 1600X's finish is finer than the 600X's finish, which is a bit more textured.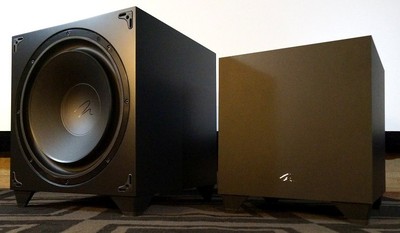 Dynamo 1600X (left) and 600X (right)
The 1600X's enclosure can be converted from down-firing to front-firing by relocating the feet (as seen in our YouTube video). In a clever bit of engineering, the down-firing feet slots are also the grille guides in its front-firing orientation. The 1600X definitely has a lot more personality with an exposed cone in its front-firing orientation. The cone is quite pretty by subwoofer standards, and I would never hide it were I the owner. It is sleek and stylish with the MartinLogan logo etched in its inverted dustcap. The Dynamo subwoofers use inverted surrounds, and I am conflicted as to whether they look better than typical bulbous surrounds; they don't look as muscular but they do look a bit more elegant. With the grille on, the 1600X looks rather plain. I would only use the grille when it's needed to protect the cone.
Dynamo 1600X in front-firing orientation with grille(left) and without grille (right)
Design Analysis
Before we get into the analysis of the physical designs of the Dynamo 600X and 1600X, let's talk about one of the chief features touted by MartinLogan for the Dynamo series, which is their 'cord-cutting.' I am using the phrase 'cord-cutting' here to mean that nearly all of the usual means of controlling a subwoofer can be done wirelessly. Some subwoofers have wireless receivers, and some subs have smartphone app control, but how many subs support both of those and also an app for automated room correction? Even the wireless signal receiver that is supported by the Dynamo subwoofers gets powered by the subwoofer's onboard electronics, so the receiver does not even have to be connected to a power outlet. The only wire that the Dynamo subs absolutely need is the power cord, but surely MartinLogan's engineers are researching a way to jettison that last physical tether as we speak.
Control screens for MartinLogan's Subwoofer Control App (above two and lower right)
Let's dig into the wireless features by first discussing the subwoofer control app. The plate amp for the 600X and 1600X has only a volume knob as a physical means of control. MartinLogan has allocated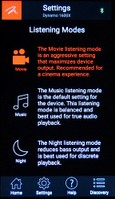 all other controls of the Dynamo subwoofers to a smartphone app that is compatible with iOS and Android devices. The 'MartinLogan Sub Control App' has all of the conventional control functionality of regular panel controls and a few neat features that are well outside the ability of typical subwoofers. The MartinLogan Sub Control App can control the volume, low-pass filters, phase, low-frequency boost (that can adjust the 20-30 Hz region by +/-10 dB) and can access preset listening modes. One unique and useful feature of the MartinLogan Sub Control App is the ability to run a tone sweep from 20 Hz to 120 Hz that allows the user to pause and hold the tone at any frequency in this range. This feature allows the user to identify points of audible rattling and vibrations in-room. This has always been such a pervasive problem with low-frequency reproduction that it's difficult to believe this is the first time we have seen a subwoofer to include a feature like this (although we are told that the MartinLogan BalancedForce 212 and 210 subwoofers have this feature). The MartinLogan Sub Control App can control a multitude of subs independently. The App also has helpful explanations for every control so the user isn't forced to refer back to the manual to understand every aspect that can be changed.
Instruction screens for the Anthem ARC Mobile App (above two and lower right)
Another cord-cut function is automated room cor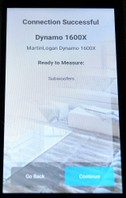 rection equalization in the form of the ARC Mobile App. Audioholics previewed the Anthem ARC Mobile App with good results. ARC is the highly-regarded room correction equalization software developed by the audio electronics manufacturer Anthem, and the ARC Mobile App brings that equalization functionality to Android and iOS devices. For ARC-enabled speakers such as MartinLogan's new Dynamo subwoofers, ARC Mobile uses the microphone of the iOS or Android device to record the frequency response of the subwoofer in-room. ARC's algorithm then forms a correction curve which is sent to the subwoofer for a more linear and smoother sound at the listening position. Since low-frequencies are the band that is most dramatically affected by room acoustics, this can be particularly helpful in gaining an even, neutral response. The ARC Mobile App makes it simple to EQ troublesome room modes that are the plague of subwoofer frequency bands, and no wired components are needed to use it.
The new Dynamo subwoofers (excluding the Dynamo 400) are compatible with MartinLogan's SWT-X Wireless Subwoofer System (which is sold separately) so tha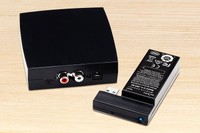 t the subwoofers do not need a physical wire for the signal. Omitting the need for the signal cable can greatly increase the availability of potential placements for the sub, and since the placement of the subwoofer is so critical in getting a good sound from it, this can be a very significant assist in sound quality. The SWT-X Wireless System uses 2.4 GHz dynamic frequency selection and error correction. The receiver end of the SWT-X system is powered by the subwoofer itself and so does not need to be plugged into a power outlet. The SWT-X Wireless Subwoofer System has a 50-foot range, so it should be able to handle any conventional domestic room size without problem.
Now let's talk about the design of the individual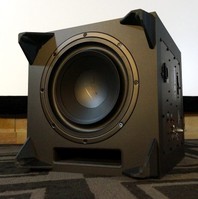 subwoofers under review, and we will begin with the 600X. The 600X uses a 10" driver in a down-firing, vented cabinet with a 1.25" x 7.5" slot port. The cabinet uses 1" MDF for the front baffle and ¾" MDF for side panels that all add up to a 14" cube enclosure. When we take a peek inside the cabinet, we see a healthy amount of stuffing for damping, and one interesting thing we see is the length and construction of the slot port. The port stretches all along the length of the interior of the cabinet for a 180-degree turn so that the inner port opening faces the same direction as the outer port opening. This is a good use of spatial economy of the interior of the cabinet because otherwise MartinLogan would have had to settle for either a relatively high tuning point for a large diameter but short depth port, or lower output and turbulence for a port tuned to a lower frequency which would force it to be narrow. It also acts as some internal bracing to help reinforce the cabinet. The 180-degree angle turn of the 600X's slot port certainly raises the manufacturing cost of the enclosure, but it shows that MartinLogan wanted to optimize performance for the 600X and so used a smart design choice that necessitated more construction effort.
The 600X uses a 120-watt RMS class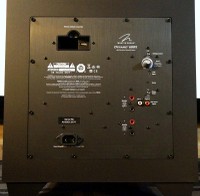 -D amplifier. For physical signal inputs, it can accommodate RCA inputs as left and right/ LFE, and also take speaker-level inputs with banana-plug inserts. The 600X also accommodates the SWT-X wireless input as well. There are other 10" subwoofers out there that boast more powerful amplifiers, but 120 watts is still a healthy quantity of power depending on the driver, and a greater factor than sheer wattage is how efficiently the driver uses those watts. A driver with a heavy moving mass will soak up tons of power without offering a big return on that energy investment, but a more sensitive driver can make every watt count. The driver that the 600X uses looks to have a moving mass on the lighter side and so is likely quite efficient. From a glance, it would appear to be a design of a higher sensitivity that would capitalize on a modest amount of energy. It uses a light but stiff polypropylene cone on what looks like a 1" to 1.5" diameter voice coil/former in an overhung topology. The permanent magnet is a 1" thick, 5" diameter ferrite disc which should be sufficient to throw the cone around with ease. The basket is stamped steel perforated with holes. The backplate is bumped out for larger excursions and also has a vented pole piece. The cone uses an inverted surround that MartinLogan claims can help reduce turbulence between the cone and floor when in a down-firing orientation, although I think that typically isn't a serious problem unless there is not much clearance between the cone and floor, which doesn't seem to be the case here since the 600X's feet gives the down-firing cone plenty of space. 
The 1600X is a sealed 18" cube enc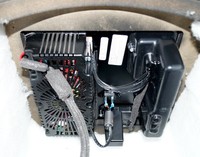 losure with a 1 ¾" thick MDF front baffle and ¾" side panels. There are two interior braces that reinforce the cabinet at perpendicular angles and a good amount of stuffing inside the enclosure. It uses a 900-watt RMS class-D amplifier, which makes it one of the more powerful amps among 15" subwoofers. It has RCA inputs, speaker-level inputs, and an XLR input, along with built-in support of the SWT-X wireless adapter, so it can accommodate a wide range of system connectivity. The 1600X driver is a formidable 15" that uses a wicked-looking cast aluminum basket under its sleek polypropylene cone. The motor system is an overhung design comprised of two 1" x 6" ferrite slugs over a 2" diameter voice coil/ former and a vented pole piece. It is a very pretty driver!
MartinLogan 15" Bass Driver from the 1600X Subwoofer

Both the 600X and 1600X u
se similar feet, however the 1600X's feet can easily be converted from a rubber end to a spiked tip. The advantage of this is that spiked feet will not leave impressions or marks on carpeted flooring, and rubber will not scratch hard floor surfaces, so the user can choose what best suits their situation by simply pulling off the lower end of the feet. As was mentioned before, the 1600X can be converted from a down-firing woofer to front-firing by simply removing the feet on the woofer side and installing them on the amp side of the sub, which is a simple process. Also, like was said before, the 1600X comes with a grille that can be installed in the feet inserts when in a front-firing orientation. The grille actually offers some physical protection for the cone as well; it is not just a piece of fabric draped over a frame. In the 1600X grille, the fabric is draped over a perforated plastic shield that could feasibly block a solid object headed toward the cone.
MartinLogan 600X feet (left) and 1600X spiked feet (right)

Listening Sessions
The best placement for a single sub in my room gives me a relatively flat response for an un-EQ'd single subwoofer, with a window of +/- 4 dB from 25 Hz to 100 Hz with no broad dips in important ranges. This location trades low-end room gain for a relatively flat response, a worthwhile trade for my tastes. The receiver used was a Pioneer Elite SC-55 and speakers were Paradigm Premier 800F towers and Premier 500C center channel speaker (reviews of those speakers will be forthcoming), and the crossover was used mostly at 80 Hz. I set the Dynamo subwoofers up in a manner where I could easily switch back and forth between them, and also in placements right next to each other to minimize the difference of the acoustic effects of the room between them.
As always, I will note here that since room acoustics have a huge effect on low frequencies, the way these subwoofers sound in my room at my listening position is not necessarily going to be the way they sound anywhere else for anyone else, so readers would do well to keep that in mind, and not just for this subwoofer in this review, but for any subwoofer in any review.
Music Listening
One of the first albums that I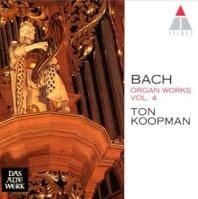 listened to using the Dynamo subwoofers was the DVD Audio recording 'Bach: Organ Spectacular" on the Teldec label and performed by Ton Koopman. This recording, released in 2001, is a selection of famous works by Bach played on the Christian Muller Organ in the Grote Kerk in Leeuwarden which is considered one of the most beautiful sounding baroque organs in the Netherlands (according to Wikipedia). Any recording of Bach's works on such a massive pipe organ is bound to have plenty of content that digs well into subwoofer frequency bands, and a DVD Audio disc by Teldec is bound to be a very high-fidelity recording of such an event. While this recording had deep digging notes, it wasn't as thunderous as some other pipe organ recordings I have heard, especially of Toccata and Fugue in D Minor which can have teeth-rattling levels of bass when the sound engineer gets carried away. Alternating between the 600X and 1600X, I felt both sounded natural. They blended well with the rest of the system and were authoritative enough to keep up with the Paradigm 800F towers for this recording. I would guess that a pipe organ recording with more amped up bass could expose the limitations of the 600X in the face of the 800F tower speakers, but this recording did not push the subwoofers that hard. What this recording demonstrated to me was that both of these subwoofers were able to provide a solid bass foundation to the music without making their presence known as subwoofers—in other words, they disappeared as gear and simply turned into music, which is exactly what a subwoofer should do in a recording like this.
Another album of acoustica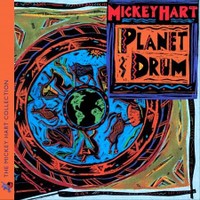 lly recorded music that I listened to was 'Planet Drum' by Mickey Hart. This album provides a nice contrast to the sustained pipe organ notes of 'Bach: Organ Spectacular' in that its instrumentation, outside of vocals, is almost entirely percussive and so is full of quick attacks and rapid decays. This album brings together a group of percussionists from different parts of the world as an experiment to see what rhythms would emerge and makes for a good subjective test of a sound system's transient response, especially that of subwoofers, since many of these drums are tuned deep enough to take real advantage of subwoofer playback. The track 'Temple Caves' uses a bass drum that has such a low fundamental frequency that it sounds like it was made with a synthesizer.  While both the 600X and 1600X subwoofers could reproduce 'Temple Caves' with force, the 1600X did seem to capture the deeper end of that powerful drum with more definition and more potency. That is not surprising, of course, given that the 1600X uses a much larger driver and a more powerful amplifier. None of the other tracks were able to bring out a significant difference between these subs, although I imagine that at high enough playback levels, the 600X would tap out much sooner than the 1600X. Both subwoofers were able to render the various percussive instruments of this album with a convincing punch for the levels that I listened to this album at, however, I did not crank it to extremely loud levels. I didn't sense any overhang or lingering bass sound, and the Dynamo subs were able to play back this album with very good control and a sharp transient response.
An album that I listened t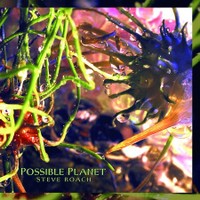 o which was a complete 180-degree turn from Planet Drum was Steve Roach's 2013 release, 'Possible Planet.' 'Possible Planet' is a very strange album that was composed and performed entirely on analog synthesizers without any exterior control devices such as keyboards or MIDI trackers. It was created only by knob control directly on the synth modules themselves and suggests a primitive alien environment. As such, it is purely a soundscape, albeit one with progression. With an absence of traditional notation, the sounds are long and drawn out, with very gradual attacks and decays. Low-frequency content on this album is plentiful, with guttural sweeps, distant drones, and subterranean rumbling throughout its duration. The bass is richly textured; sometimes it is very prominent and other times it is subtle, but it saturates the running time of the album. A lesser performing subwoofer might miss the subtler moments of bass or overdo the more powerful low-frequency passages thereby detracting from the delicate soundscape created by Steve Roach. Thankfully this was not to be with the Dynamo subwoofers. The 600X and 1600X both gave a lucid and well-defined low-frequency foundation to Roach's mysterious musical creation. This sonic world was realized with a vivid clarity on this sound system, and the Dynamo subwoofers were an integral part of that. Both subs proved to be adept in rendering the low frequencies of the bizarre landscape that Steve Roach paints in 'Possible Planet,' and I wouldn't say one performed especially better than the other in my time with this album, although it's possible that the differences would become more obvious at higher loudness levels.
...the 1600X produced a truly tactile, palpable bass experience.
In order to see the lim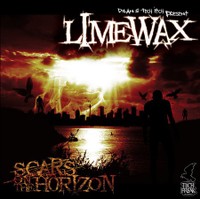 its of the Dynamo sub's dynamic range, I threw in something which has bass that is non-stop and never subtle; it was time for some Drum'N'Bass music. The album I turned to was Limewax's 'Scars on the Horizon,' a brutal 2007 album that has wall-to-wall ferocious breakbeats, pounding bass lines, and searing atmospherics. This is an album that demands to be played loudly, which is exactly what I intended to do. First up, the 600X. I started at a modest volume level and continued to raise it until the sub just wasn't getting any louder. The 600X was able to get loud, and it reached a powerful and punchy sound, but only just. When pushed to its limits, it did manage to capture the kind of energy I would want from an album like 'Scars on the Horizon,' but its dynamic range ended where I normally like to start with this kind of music. However, I'm not saying I was disappointed; the 600X performed well for its design and met my expectation for what it could do. The 1600X's turn came next, and it proved to be on a whole other level (more like two or three levels). I kept on increasing the volume, and the 1600X scaled with the rising loudness until it was at jarring levels. I had placed it in a near-field position, right behind my listening position, and it blurred my vision every time a bass note hit. It vibrated my entire sofa. The mid-bass power of this subwoofer exceeded my expectations. It was a truly tactile, palpable bass experience. Its violence perfectly matched the fierce music, and even though it shook the room, the 1600X never lost a good sense of pitch definition. It was a well-mannered monster; it will tear a person up but do it with surgical precision. Listening to the 'Scars on the Horizon' on the Dynamo 1600X at very high loudness levels left me bruised and battered, and I loved every second of it!
Movie Watching
One movie that I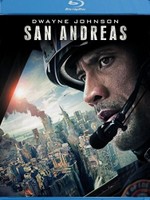 thought should be able to give any sub a real workout is the 2015 disaster epic 'San Andreas' with Dwayne Johnson. The title alone would be enough to clue people in as to its suitability as subwoofer demo material; it's a movie about a big earthquake! Structures crumble, the ground shudders and cracks open, and a tsunami even strikes a city shoreline, so subwoofers are given plenty to feast on. I watched this one at a relatively loud level using the 1600X. The 1600X did a great job in recreating the non-stop chaos in 'San Andreas.' One thing I like about this movie is that the carnage starts early and continues throughout the movie, which is better than spending on hour on characterization and buildup before getting down to the mayhem as was the formula in the 70's disaster movies. The 1600X let us know what it could do early on in the Hoover Dam scene where it left a positively visceral impact (not to spoil the movie for any readers who have not seen it, but Hoover Dam plus earthquake movie... well, you do the math). San Francisco collapsed with a resounding intensity that vibrated my seat. This subwoofer has punch to spare, and I am not sure that I pushed it to its limits, even at the spirited volume levels that I watched it at. Of course, being a sealed sub, it will not take long to reach its limits in deep bass, but in mid-bass, the 1600X shows itself to be a true powerhouse. Contrary to popular belief, much of the bass energy in a movie like 'San Andreas' lay in mid-bass ranges, so doubtlessly the 1600X will capture most of what is there, and with the dynamic range to do justice to the roaring bass in that frequency band as well.
...it was impressive what the 600X could do even with its comparatively modest specifications.
Another movie with plentiful bass that I used to evaluate these sub was the 2012 action se
quel 'The Expendables 2.' With a cast that includes Stallone, Schwarzenegger, Jason Statham, Bruce Willis, Chuck Norris, Van Damme, etc., this film is overflowing with testosterone so of course the sound mix is going to be bass-heavy. It's the kind of movie where every gunshot is exaggerated with a low-frequency 'whoomp!' and even the orchestral score is punched up with bass drums and heavy brass. I mostly used the 600X for the duration of this movie to give it a chance to shine. For the most part, the 600X was able to keep up very well for a sub of its size. Motorcycles growled with vigor, explosions roared, and every kick and punch had a massive meaty thump that no one in real life would survive if anything had connected with their bodies sounding like that. In some passages, I cranked the movie loud to see where the 600X's limits lay, and after a certain point is simply stopped getting louder. The sound became compressed as softer low-frequency sounds gained loudness while loud low-frequency sounds did not. A 10" driver with a 120-watt amp is going to have its limits, but it was impressive what the 600X could do even with its comparatively modest specifications. The 600X gave 'Expendables 2' a solid foundation, and I was surprised at how much bass it could belt out. I mostly didn't miss the larger subwoofers that I was accustomed to. 

Confused about what AV Gear to buy or how to set it up? Join our Exclusive Audioholics E-Book Membership Program!