2014 Audioholics Sound Bar Roundup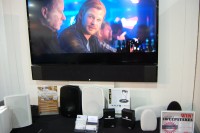 There are many reasons you might want a sound bar: maybe you have no room for a conventional surround setup, or you just don't want to deal with a mess of wires. Whatever the reason, Audioholics is here to help you out. We've compiled a list of our favorite sound bars from 2014, from sub-$500 entry level models to high end >$1,000 units. If that's not enough, we've also got a spoiler alert inside for a new sound bar coming in 2015. Don't settle for the lousy sound of your HDTV. Get one of these sound bars instead IF you can't install a discrete surround sound system.
Looking for the best sound bar on the market? From sub-$500 entry level models to >$1,000 high end units, we put together a list of our favorites from 2014. Improve the sound of your HDTV.