When Should I Upgrade My AV Receiver?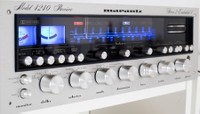 We often get asked by our readers if they should upgrade their A/V receiver. Some of them asking this question bought a new receiver as little as a few months ago, while others are still pimping a vintage 1970's era silver-wood panel wonder with quadraphonic stereo. This helpful guide and our Youtube Video attempts to answer this question in the best possible way to accommodate your circumstances.
Is it time to upgrade your AV Receiver? This guide should help you decide based on functionality, feature set, and intended usage. Do you need the latest in HDMI audio/video? More speakers or zones?