2009 $500 Receiver Comparison Guide
2009 $500 Receiver Comparison Guide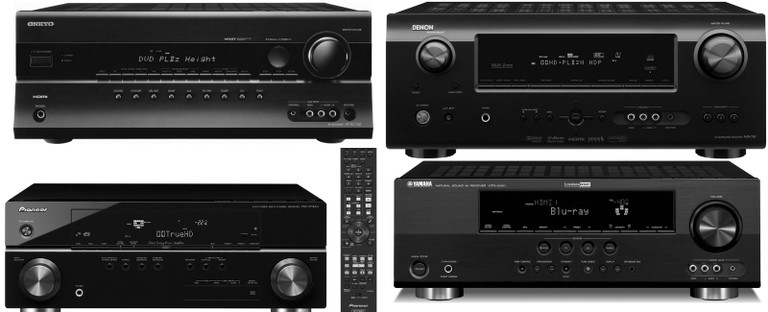 $500 Receivers
In a continuing effort to demystify your receiver choices, we come to a price point that is probably one of the most popular - around $500.This is the price where a lot of enthusiasts find themselves when they really want all the features and power of the big boys but they just don't have the money to shell out the big bucsk. At around $500, you start to see features like scaling, mulitzone support, and dual subwoofers. You get a lot more features like room correction and things that were a huge selling point at entry level become commonplace.

In this comparison, we'll be looking at receivers from Denon, Onkyo, Pioneer, and Yamaha. Harman Kardon is out this time as their next receiver doesn't show up until $649. We managed to keep this one fairly tight with a range between $499 and $549. Again, Denon and Yamaha have receivers in different lines with similar price points but negligible extra features. If there is something you absolutely feel you need, you might (probably not) find it on one of these similarly price offerings.

| | | | | |
| --- | --- | --- | --- | --- |
| Feature | | | | |
| Price | $499 | $549 | $499 | $549 |
| Channels | 7.1 | 7.2 | 7.1 | 7.2 |
| Power (watts) | 90 | 80 | 120 | 90 |
| Bi-amp | Yes | Yes | Yes | Yes |
| HDMI in/out | 4/1 | 5/1 | 4/1 | 4/1 |
| Component in/out | 2/1 | 2/1 | 2/1 | 2/1 |
| Digital Op/Co | 2/2 | 2/2 | 2/1 | 2/2 |
| HD Audio | Yes | Yes | Yes | Yes |
| Upconverting to HDMI | Yes | Yes | Yes | Yes |
| Upconverting to component | No | No | Yes | No |
| Upscaling | Yes (1080p) | Yes (to 1080i) | Yes (to 1080p) | Yes (1080p) |
| Room Correction | Audyssey MultEQ (6 positions) | Audyssey 2EQ (3 positions) | MCACC (3 positions) | YPAO (1 position) |
| Multizone | Yes (2) | Yes (2) | Yes (2) | Yes (2) |
| Multichannel Input | 7.1 | No | 5.1 | 7.1 |
| Multichannel Output | No | No | No | 7.2 |
| iPod support | Optional dock | Optional dock | Yes | Optional dock |
| USB | No | No | Yes | No |
| Networkable | No | No | No | No |
| Weight (lbs) | 23.6 | 23.8 | 19.25 | 18.7 |
There are going to be a few rows that are probably going to go away in future comparisons as their inclusion is basically mandatory at higher price points. HD audio decoding native, bi-amping, and most like mulitchannel inputs will probably be assumed. At the near $500 price point, manufacturers have a bit more room to play with features and their design philosophies become pretty apparent. There are quite a few differences which are pretty interesting.
Denon AVR-790 - Again the Denon leads in features with the AVR-790 but surprisingly, they fall a bit behind in some ways. The huge boon for Denon is the Anchor Bay Technologies VRS upscaling via HDMI. Anchor Bay is known for high quality upscaling (we've seen VRS give perfect scores on the HQV test) and inclusion at the $499 price point is quite a coup. Most of the features are pretty universal across all the receivers such as number and types of connection, HD audio decoding, HDMI upconversion, and Zone 2 (audio only) support. Again, Denon has Dolby ProLogic IIz but at least this time they are not alone. They still lead the pack with Audyssey MultiEQs 6 position room correction system. The receiver is Sirius ready (no dock required) and has a digital optical output. The real glaring omission on te AVR-790 is the lack of multichannel pre-outs. This completely hamstrings this receivers ability to be upgraded with external amplification. If they had pre-outs, this would be the no brainer choice for enthusiasts looking for top notch upscaling with a perchance to add external amplification. Note - Denon offers an AVR-1910 for $50 more with enhanced power amp assignability (which is code for B speakers from what I can tell). There may be additional features but they don't seem to be very prominent or important enough to Denon to mention it.

Onkyo HT-RC160 - The Onkyo HT-RC160 one of the two receivers in this lineup with dual subwoofer outputs. It is also ties the other 7.2 receiver as the most expensive at $549. As huge proponents of running multiple subs, we love to see this feature even if it really just dual mono output. Stereo sub outputs would be much preferred but that feature hasn't trickled down yet. The RC160 is the only receiver to break out of the 4 HDMI input with one extra. They have Faroudja DCDi upscaling but it is only to 1080i (according to the manual - the press material is markedly mum about it). This is not a huge problem but we know from experience that DCDi tops out at 90 or less on the HQV test which is well below what Anchor Bay can deliver. Onkyo also sports Dolby ProLogic IIz, a powered Zone 2 (with dedicated terminals which means you can switch on the fly without having to rewire your system), Audyssey 2EQ (3 positions), and a mini-jack for portables. The real surprise here is that Onkyo has neither mulitchannel inputs nor outputs. We've discussed with the Denon the importance of the outputs but inputs help make a receiver future-proof. When HD audio arrived, you could purchase a player with multichannel outputs to take advantage of the new formats without having to upgrade to an HDMI capable receiver. With the Onkyo, you'd be stuck. The RC160 is the only receiver that has a HD Radio tuner add on for an additional cost.

Pioneer VSX-1019H-K - The Pioneer VSX-1019H-K matches the price of the Denon but seems to have different priorities. While they have 1080p upscaling, it is some proprietary version that surely won't score as well as Anchor Bay and maybe not even as well as DCDi. What they do have, however, is conversion to any video output. While HDCP won't allow HDMI downconversion, all analogue outputs are sent to all outputs. This may really help those with a legacy TV or a bunch of legacy gear. MCACC room correction is available with up to 3 positions. Made for iPhone is again available making the 1019H-K ("K" by the way means that it has Kuro Link allowing HDMI CEC control of similarly equipped Pioneer gear) the only iPod friendly out of the box receiver in the lineup. What is very cool about the 1019H is that is has a composite video output for Zone 2. This is the only receiver in the group (and probably won't see competition for a while) with video to Zone 2. The shock (and I do mean shock) is that not only are there no multichannel outputs, but inputs are limited to 5.1. While this is better than nothing, it is a bit mystifying considering how audio-focused Pioneer seemed to be with their last offering. The 1019H is also Sirius ready out of the box so you won't need an additional purchase. Again, the Pioneer is the only one with a USB port and support for music and pictures.

Yamaha RX-V665 - The Yamaha RX-V665 is tied with Onkyo as the most expensive offering (only $50 over the two lower ones) in the lineup at $549. The other receiver that has dual subwoofer outs, the V665 sports 1080p upconversion (Faroudja DCDi like the Onkyo), a full compliment of analogue inputs and outputs (7.1/7.2), and Zone 2 support. There, however, the Yamaha ends. There is no component video upconversion, iPod and Bluetooth support requires additional purchases, and the YPAO is the most limited (1 position only) of the group. The receiver is XM and Sirius ready out of the box and sports a mini jack for portable connectivity. While it may not have all the bells and whistles of some of the others, it does have a lower price and a no-frills approach on its side. Yamaha is also known for their DSP modes and the V665 doesn't disappoint with 17.

Conclusion
Again we find a nice grouping of receivers in this price category. There certainly is something for everyone as the videophile will be attracted to the Denon, those worried more about audio and future formats will look to the Yamaha with its full compliment of analogue inputs/outputs, and those caring about iPod and component upconversion will look to the Pioneer. The Onkyo has a nice mix of features across the board but is not something that will grow with you. But at this price point, maybe that isn't all the important.

Note: The Yamaha was incorrectly identified as the RX-V565 in the original release of this article. The article has be updated to reflect that the correct receiver was the RX-V665 and retails for $549.
Confused about what AV Gear to buy or how to set it up? Join our Exclusive Audioholics E-Book Membership Program!
menlojoe posts on December 31, 2009 01:22
upconver to component for Denon AVR 790?

Hi Tom,

Great article! I was set to buy the Pioneer VSX-1019ah-k as I needed the upconvert to component feature and it seems to be the only one to have this in the $500 range. However, I was reading the blurb on AVR 790 on the Denon site:

and this sentence caught my eye:

——————
The video section features the latest Video Reference Series processor from Anchor Bay Technologies, providing analog-to-digital video deinterlacing and upconversion to HD, with both component and HDMI outputs…
——————

It sure sounds like the upconversion goes to the component outputs as well. Am I misreading this statement?

//Joe
Lordoftherings posts on August 01, 2009 17:30
That's too bad about the Onkyo HT-RC160, I'd wish it has more features, to be more competitive with the others. But for my own personal use, I will probably pick it up over the Yamaha, and the Pioneer too.
But that's just me then.
Pyrrho posts on August 01, 2009 12:05
3db, post: 604308
I still feel the Yamaha is more versatile than the Denon and it can be used as a pre-amp where the Denon cannot.
It depends upon what you want to do with the receiver. The Denon evidently has a video chip that, if implemented properly, can give stellar video upconversion. But if you have inefficient speakers, low impedance speakers, or listen at deafening levels, then buying a receiver with the preamp outputs might be necessary, so one can add more robust amplification. Most people, however, do not need them.
By the way, I generally have preferred Yamaha in the past in the price/performance ratio. I have owned three surround receivers, the last two of which (including my current one) have been Yamaha. When it comes time to replace mine, I will look at what Yamaha is offering at that time, and decide accordingly. But among these receivers, I think most people would be better off with the Denon. But, of course, different needs can make different choices better.
Among these that are being discussed, the $550 Yamaha RX-V665 would be my second choice.
3db posts on August 01, 2009 11:41
Pyrrho, post: 603797
It is about $550:

http://www.yamaha.com/yec/products/productdetail.html?CNTID=5028057&CTID=5000300

That puts it at about the same price as the Onkyo in the article (assuming that the article is right about everything else).

This makes the Denon seem like an even better deal than it did before.
I still feel the Yamaha is more versatile than the Denon and it can be used as a pre-amp where the Denon cannot.
cynan posts on July 31, 2009 15:27
Denon AVR 790 also has Amp Assign (not just 1910)

Note - Denon offers an AVR-1910 for $50 more with enhanced power amp assignability (which is code for B speakers from what I can tell). There may be additional features but they don't seem to be very prominent or important enough to Denon to mention it.

This power amp assign is essentially the ability to delegate the amplifer for 2 channels to either drive:

1) Zone 2 stereo speakers
2) Surround back channels in a 7.1 config
3) Bi-amplification for either Front A or Front B speakers (not sure why anyone would want to do this one..)
4) Front high speakers for Dolby Pro Logic IIz

The AVR-790 also has this feature (not just the AVR-2310ci). Last year's AVR-789 and 889 had this as well. This year's models just added the extra Dolby Pro Logic IIz option.

Edit: You are right that the 1910 does have an extra set of speaker terminals for Front B speakers. I'm just not sure what this has to do with Amp Assign feature..

I guess by "enhanced" Amp Assign, they mean the ability to assign the rear surroud channels to bi-amp the Front B speakers - since this would not be possible on the 790 since there are no Front B speaker terminals.
Post Reply