2009 Entry Level Receivers Comparison Guide
2009 Entry Level Receivers Comparison Guide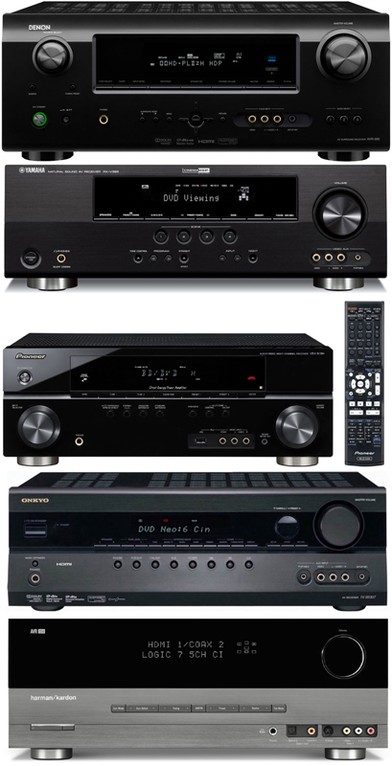 Entry Level Receivers
After fielding question after question from readers and from listeners of AV Rant on which receiver to buy, I had amassed a bit of information on a lot of different receiver models. Why not combine this into a grid to help readers decode what exactly are the differences between the offerings from the various manufacturers? I decided with this first article to focus on the bargain basement offerings from the five major receiver manufacturers. In future articles I will include similarly priced offerings from other manufacturers as the price points become more compatible (there's no use comparing the bottom line Denon to the Bottom line Marantz - the Marantz is 2x the price).

These units from Denon, Harman Kardon, Onyko, Pioneer, and Yamaha represent the first tier in their receiver lines. Some manufacturers offer two different lines focused on different consumers (i.e. the Best Buy crowd vs. the dedicated home audio store crowd). In those cases, I took the lowest priced of the two. In Yamaha's case, the bottom line of the two were the same price so I went with the RX series. In most cases, the differences between the lines are cosmetic with maybe an advanced (albeit rarely used) feature available on the more exclusive line. The general stats including input/output configuration, power, and most functionality are usually identical.

In a budget receiver, you are looking for the most bang for your buck. What you will need to focus on is what you actually need. Many of the receivers are limited in their compatibility and functionality based on price point. The trick is to clearly know what you need so that you are getting it all in the receiver you choose. I often hear of people bringing home a receiver just to find out that it didn't do something that they really wanted (HD audio decoding, component video upconversion, etc.). Read the fine print carefully. I've mapped out in the grid below some of the features that I think are important in a budget receiver. I'll also discuss some of the more salient "extras" below.
| | | | | | |
| --- | --- | --- | --- | --- | --- |
| Feature | | | | | |
| Price | $349 | $399 | $299 | $299 | $249 |
| Channels | 5.1 | 5.1 | 5.1 | 5.1 | 5.1 |
| Power (watts) | 75 | 30 | 65 | 110 | 100 |
| HDMI in/out | 3/1 | 3/1 | 3/1 | 3/1 | 2/1 |
| Component in/out | 2/1 | 2/1 | 2/1 | 2/1 | 3/1 |
| Digital Op/Co | 2/1 | 3/3 | 2/1 | 2/1 | 2/1 |
| HD Audio | Yes | No | Yes | Yes | No |
| Upconverting to HDMI | Yes (480i/p only) | No | No | No | No |
| Upconverting to component | No | No | No | No | No |
| Upscaling | No | No | No | No | No |
| Room Correction | Audyssey MultEQ (6 positions) | None | Audyssey 2EQ (3 positions) | MCACC (1 position) | None |
| Multizone | No | No | No | Yes (2) | No |
| Multichannel input | No | 5.1 | No | 5.1 | 5.1 |
| iPod support | Optional dock | 1.8mm | 1.8mm or optional dock | USB | 1.8mm or optional dock |
| USB | No | No | No | Yes | No |
| Networkable | No | No | No | No | No |
| Weight (lbs) | 20.5 | 20.5 | 17.6 | 19.85 | 17.6 |
The prices of the different models range from a low of $249 (the Yamaha) to a high of $399 (Harman Kardon). All of them are 5.1 receivers with HDMI inputs. Most have 3 HDMI inputs and one output with the Yamaha having only two inputs. None of the receivers do any component video upconversion or upscaling. None of them are networkable. Power output varies from 30 watts per channel (HK) to 110 (Pioneer). I'd take any power claims at this price point with a grain of salt and never consider mating any of these receivers with any speaker that will present a challenging load. Most budget speakers will work just fine as they are 8 ohm and tend to have negligible power requirements.
Denon AVR-590 - The Denon is the clear feature winner at this price point. As the only receiver that does any sort of the analogue video upconversion (everything up to HDMI but not scaled), it clearly has an edge on the competition. It is also the second most expensive model at $349 (the AVR-1610 has Speaker B outputs with a few other extras for $399). On top of the upconversion, it also sports full HDMI audio (including all the HD audio formats) and Dolby's ProLogic IIz with height channel analogue outputs. You'll have to add a stereo amp but you'll have the latest toy from Dolby. These outputs can also be used for a pair of surround back speakers. The AVR-590 includes one of the best Audyssey room correction systems - the MultEQ which allows up to 6 positions. Missing is Zone 2 support and multi-channel analogue inputs. iPod compatibility can be added with the purchase of additional hardware.

Harman Kardon AVR-154 - The HK AVR-154 is the most expensive of all the receivers in this comparison. It is also the only one that doesn't look like a clone of all the others. It completely lacks any sort of auto setup/room correction system, relying completely on the user to do so. It has the most digital audio inputs with three each of coaxial/optical. It includes 5.1 analogue inputs (a good thing) but lacks any sort of video upconversion (even between S-video and composite). There are a number of extras included that are not present on any of the other receivers including Logic 7 decoding (a proprietary DSP mode), Dolby Headphone, front coaxial and optical inputs, and a coaxial output for digital audio (used for recording purposes). One of the features I most like to see at this low of a price point is a crossover setting that can be changed for the different speakers (fronts, center, and surrounds). This is something that you don't see on other receivers until a much higher price point.

Onkyo TX-SR307 - AT $299, the SR307 sits comfortably in the middle of the pack in terms of price. Feature-wise, it comes the closest to the Denon with a slightly less advanced version of Audyssey (2EQ which includes 3 positions) and no video upconversion. For this, though you get a 1.8mm jack for iPod/portable input plus an extra $50 in your pocket. An optional iPod dock, similar to the one the Denon has, is also available for purchase. Of course, "optional" equipment costs extra. The back of the Onkyo is a bit disappointing with spring type terminals for all but the front channels.

Pioneer VSX-819H - The 819H is a very new addition to the Pioneer line and is the first to be certified as "iPhone compatible". What this means is that you can plug your iPhone, iPod, or iPod Touch into the USB port and control it via the remote. You can also view album art on the screen as well as album information on the front of the receiver. Some of the other receivers can have this ability but they require additional purchases. Pioneer has never bought into the Audyssey room correction systems and they haven't here as well. MCACC is available but only takes a reading at one position. The VSX-819H has Sirius radio support out of the box (subscription required). The Pioneer is the only receiver that supports DVD-Audio and SACD (2 channel) over HDMI along with HD audio decoding. On top of that, it also sports 5.1 analogue inputs and Zone 2 support (the only one in this category to do so). Clearly, the 819H is geared to your more audiophile crowd. At $299, there is a lot to like here except that is won't upconvert any video signals. Note - Pioneer does offer the VSX-519V for $199. While it is their true entry level, the price was so much less than the rest that it didn't seem fair to compare them. At the price point, however, it has a lot going for it. It has many of the same features as the 819H including 5.1 analogue inputs, MCACC, DVD-Audio and SACD (2 channel) HDMI support (previously unheard of at this price), and Zone 2 pre-outs. In fact, other than a few inputs, the iPhone/iPod functionality, native decoding of the HD audio formats, and the USB port, it is pretty much the same as the 819H. At it's price point, it is a clear leader and in many ways rivals some of the receivers in this comparison.

Yamaha RX-V365 - The RX-V365 is the least expensive offering of the group but that doesn't mean it doesn't have features in its favor. At $150 less than that most expensive and $100 less than the most featured, you're going to expect some trade-offs. What you will be missing is room correction/auto setup, HD audio decoding, and an HDMI input (it only has 2 where everyone else offers 3). You are still getting 5.1 analogue inputs (a great feature for those with legacy gear) and a 1.8mm input for iPods and portables. iPod and Bluetooth docks are optional and require a additional purchase. Again, we see the dreaded spring type clips for all channels except the mains. While the price is certainly right, you are making a number of sacrifices. Note - Yamaha offers the RX-V465 for an MSRP of $379. It has 4 HDMI inputs, HD audio decoding, and YPAO room correction. While it more closely matches the features and price of some of the other offerings, it is not Yamaha's entry level receiver so was not featured in this article. It is, however, very competitive. The Denon still has it beat on the upconversion (it has none), it lacks the Zone 2 of the Pioneer, and does not have the height channels of other Yamaha's or the 5.1 analogue inputs of some of the other receivers in this price category. Still, something to consider if you are in the price bracket.

Conclusion
Looking over the different offerings, it is clear that the final words should be "it depends." You will have to decide if Zone 2 and iPod control is enough to push the Pioneer to the top of your list even through it doesn't do video upconversion. Perhaps price is all that matters so the Yamaha is for you. Maybe you want all the features of the Denon but don't really need the upconversion so you go with the Onkyo. They all have their advantages and disadvantages. What is clear, though, is that HDMI features really have trickled down. While only a year ago you couldn't get HD audio decoding on a receiver less that $500, now it is available at entry level.

Confused about what AV Gear to buy or how to set it up? Join our Exclusive Audioholics E-Book Membership Program!
Recent Forum Posts:
vxcalais posts on August 30, 2010 15:47
I was glad of the mention of the Pioneer 519v as being my first receiver have found it to be excellent for what i need it for, the blue ray movie here and there, plenty of divx files and the PS3. It handles all the HD audio on the Ps3 through PCMI as i was taught on this forum.
OUBobBud posts on August 30, 2010 01:02
bit the bullet

Thanks for the suggestion. I actually picked up a Yamaha YHT-393 system for $299. It's got the audio codecs, supports HDMI1.4 and a powered sub. Seemed pretty good for a HTIB. Onkyo's similar priced system the 3300 only has a passive sub, I've only ever had onkyo so well see what this yamaha has to offer.
sholling posts on August 30, 2010 00:47
OUBobBud, post: 746813
I'm glad I caught this article. Almost bought the Onkyo 307 until I saw the HDMI inputs are just pass through. I need a small receiver for a bedroom and will be hooking up just a PS3 via HDMI. Any other recommendations for a budget receiver that will have the HDMI decoders and actually play high def sound? The chart leads me to believe that the Denon and Pioneer would work? Or maybe just buy the Onkyo 507? Thanks.
Those are all last year's models now. Onkyo is now up to the x08 models. If you're in the US you can pick out a refurbished 607 for less than $300 at Accessories For Less. I'm not sure what a refurb 507 goes for.
OUBobBud posts on August 29, 2010 23:49
HDMI Pass through

I'm glad I caught this article. Almost bought the Onkyo 307 until I saw the HDMI inputs are just pass through. I need a small receiver for a bedroom and will be hooking up just a PS3 via HDMI. Any other recommendations for a budget receiver that will have the HDMI decoders and actually play high def sound? The chart leads me to believe that the Denon and Pioneer would work? Or maybe just buy the Onkyo 507? Thanks.
Seth=L posts on July 27, 2009 22:58
The chart for the receivers states that the Onkyo TX-SR307 can process HD audio, Onkyo's website states that the receiver is HDMI 1.3a pass thru only.

The best value AVR wasn't part of the comparison, but it was mentioned. The Pioneer VSX-519 would be what I'd take home if I was on a budget cap of $300, and I'd get to save $100.
Post Reply