Our Top Six $700/Pair Bookshelf Speaker Picks for 2021
Our Top Six $700/Pair Bookshelf Speaker Picks for 2021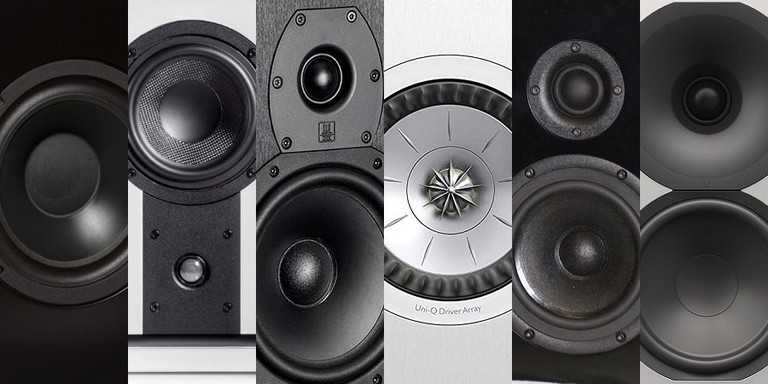 Top Six $700 Bookshelf Speakers
In our series of articles which look at our top picks for products at specific price ranges, we now come to the bookshelf speakers in the $700 price point. In this selection, there is quite a bit of diversity in design type, so there is a bookshelf speaker here for everyone. Some are intended for home theater surround sound setups and some with a design focus for stereo reproduction, but most of these are versatile enough to be good for a range of applications. Our decision on what speakers to include was weighed by a multitude of factors, but our first and foremost criteria is performance. The speaker has to sound good above all. If it doesn't perform well its most fundamental task, the rest is a moot point. We do weigh other factors though, like appearance, build quality, and customer support. Let's now take a look at the speakers that we choose among many at this pricing. 
Monoprice Monolith THX-265B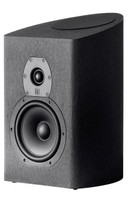 Even though the THX-265B is the little guy in the Monoprice Monolith THX speaker line-up, it is still a rather formidable bookshelf speaker, especially at its pricing. The THX-265B is, as its name suggests, THX-certified with a 'Select' performance class rating which means, among other things, it can achieve THX Reference levels with low distortion in a 2,000 cubic foot room with a 10 to 12-foot distance from the speaker. That is not at all an easy task for a normal two-way bookshelf speaker to accomplish. One aspect of it that allows this is that it simply does not attempt to reproduce deep bass frequencies and is intended to be used with a subwoofer. It is a sealed speaker which allows it to be more easily integrated with a subwoofer, especially with a THX-type crossover which has become the industry norm. Monoprice greatly impressed us with its bigger brother, the  Monolith THX-365T and THX-365C and we think that level of quality would carry over to their smaller sibling. What is more is that you get two speakers for the price of one since the THX-265B also has an Atmos speaker mounted at the top, although ideally, we advise that built-in Atmos-module speakers should be avoided if in-ceiling speakers can be used. Nonetheless, we think that the baseline performance of the THX-265B is so good that the Atmos speaker component is pretty much irrelevant and only added value for those who can't accommodate in-ceiling or high mounted speakers and want to experiment with Atmos module speakers to see what can be done there. Normally these speakers retail for $700/pair so this limited time sale price of $600/pair makes them a steal!
Outlaw Audio BLSv2
MSRP: $699/pair plus shipping
BLSv2 Product Page | BLSv2 Amazon Page | Review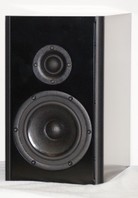 The Outlaw Audio BLSv2 is one of the most straightforward good speakers that we can think of. It's a textbook example of how to engineer a two-way bookshelf speaker well. That might sound like it should be a simple and common occurrence, but the truth is that there are so many different theories guiding loudspeaker design that it is unusual for a speaker to just focus on getting the basics right. This fundamentally good performance ends up making the BLSv2 a great speaker for a variety of roles to home theater systems to dedicated two-channel setups to desktop speaker systems. We enjoyed our time spent with the BLSv2 in our full review, and we think these speakers should be more popular. The BLSv2 deserves more of a buzz, and it likely gets overlooked because it doesn't incorporate any strange or unusual attention-getting design choices. The most unusual and distinctive things about the BLSv2 is the perforated metal grille and the bass-loading toggle switch, and those features aren't all that nuts. If you don't want to screw around spending time comparing the strengths and weaknesses of dozens of different speakers and just want a well-rounded and uncomplicated good speaker, the BLSv2 is a safe bet. Furthermore, Outlaw Audio makes trying these speakers out a low-risk proposition because they offer a 30-day window of return refund for any reason. I would encourage anyone shopping for bookshelf speakers at this price point to give them a try.  
Hsu Research CCB-8
MSRP: $369 each plus shipping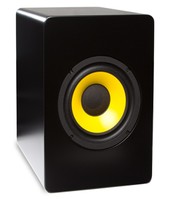 The Hsu Research CCB-8 is a somewhat eccentric bookshelf speaker compared to traditional designs. It is a bit large and odd-looking for a bookshelf speaker and uses a horn-loaded tweeter in a coaxial driver. It is intended to be used at an off-axis angle, and changing the angle of the toe-in has a significant effect on the sound. If you understand its quirks and can set it up accordingly, you will be rewarded with laser precision imaging and one of the most vivid soundstages from any speaker in its segment. As was noted in Audioholic's extensive HSU Research CCB-8 review, one irony of a design like this, when used as intended, is that it greatly lessens the need for a center speaker, yet its design serves as a center speaker far better than the usual MTM center designs. On top of its exacting soundstage, its dynamic range surpasses that of normal bookshelf speakers as well, so if you like to crank the volume at times, these will stand a better chance of scaling with your SPL demands than most other bookshelf speakers in its class. It is a bit more sensitive than other bookshelf speakers without resorting to low impedance to increase sensitivity, so it is easy to run on lower-cost amplification such as entry-level AVRs. With a 2" voice coil, it can also handle heavier amplification loads, so if you do have a beefy amp, the CCB-8 can take advantage of that power. As with the above-mentioned Outlaw Audio BLSv2, the Hsu Research CCB-8 doesn't get enough fanfare, likely on account of its odd appearance, but if audio enthusiasts understood just how remarkable this speaker can sound, Hsu would not be able to keep this speaker in stock.
RSL CG5 Bookshelf Speaker
MSRP: On sale for $350 each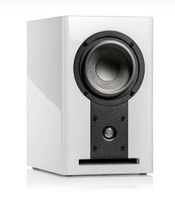 In this round-up for $700 speakers, I think the RSL CG5s is easily the most attractive of the bunch. While some of these other speakers look nice, the CG5s are, in my opinion, genuinely stylish, and that has always been a tough thing for a loudspeaker to achieve. But they don't just look good, they sound good too. In our full review of the RSL CG5 and CG26, we found them to sound very nice, if not totally neutral. They have a somewhat elevated bass response that gave them a warm sound which also gave percussion a bit more punch. They are very easy to listen to, with a sound that is smooth yet not lacking in detail. One interesting aspect of their performance that we found was that the lobe of integrated sound from the woofer and tweeter had a broad angle on the tweeter side of the speaker. In other words, the vertical axis of the speaker has a wide coverage on one side of the speaker that made them ideal for situations where they have to be mounted relatively high or low (refer to the review for a more detailed explanation). That quality makes the CG5s unusually flexible for a bookshelf speaker of its type. One thing we also noted was the build-quality of the CG5 and CG25 was pretty good considering their price class. If I didn't know how much they cost, I would have guessed they were priced substantially higher than what they are from examining their build. The good news is that anyone can see for themselves with no risk since RSL offers a 30-day trial period with free shipping both ways. It's a great speaker, and RSL makes it very easy to audition in your own home, so give it a try!
KEF Q350
$699/pair on sale for $499/pair
Q350 Product Page | Q350 Amazon Page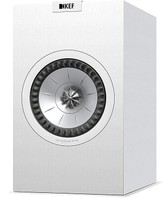 KEF's famous Uni-Q coaxial driver serves as the backbone for much of their speaker lines, and for good reason. It is an excellent driver design and had launched the LS50 to the status of a loudspeaker classic. This makes KEF a very reliable brand for good loudspeakers, and the Q350 is no exception. The Q350 uses the 6.5" cone Uni-Q driver, as opposed to the 5.25" cone of the Q150 featured in our $600 bookshelf speaker round-up. This extra cone diameter likely makes a greater difference for Uni-Q based speakers since the middle of the cone is reserved for the tweeter, so the Uni-Q woofers don't have as much surface area per cone diameter as traditional speaker designs do. As we mentioned in our segment covering the Q150, the acoustic superposition of the tweeter and woofer of the Q350 allows the user to use it in its side just as easily as its intended upright position, since there is very little acoustic difference between the two orientations. It also has an off-axis response that has good correspondence to the on-axis response, so it should work well in a wide variety of acoustic circumstances and have highly flexible placement that can still yield a good sound. Another advantage of the Q350 coaxial design is that distance does not affect driver integration, so they can be used as a near-field speaker just as easily as a far-field speaker. If you want a desktop monitor with a bit more oomph, it is a great choice. The Uni-Q drivers also look pretty cool, and I think it is for this reason that KEF only offers grilles as a purchasable accessory; I'm guessing most people prefer these speakers without the grilles, so why spend resources to include something that few people will use? The Q350s should be on the radar of anyone shopping for bookshelf speakers in this price range.
Arendal Sound 1961

MSRP: $699/pair plus shipping
1961 Bookshelf Speaker Product Page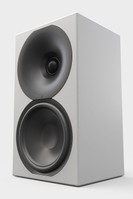 Arendal Sound has been around for five years or so but hasn't made that much of a blip on our radar since they have stuck mostly to the European market. With very reasonable shipping rates to North America, that is starting to change, and given what we have seen and heard so far, we have been very impressed. While most of their products are geared for higher-powered home theater sets, Arendal does offer a good-looking bookshelf speaker pair for $700 in the 1961 series. The 1961 Bookshelf is a sealed design that uses a 1.1" dome tweeter loaded into a formidable waveguide along with a 5.5" woofer. Arendal places emphasis on directivity control, and the waveguide should make for a very smooth off-axis response so that the speaker will have a wider 'sweet spot' as well as be friendlier to a wider range of acoustic conditions. All of Arendal's cabinets are made from heavy-duty HDF and premium components for an extraordinarily high-quality build for the price. They famously boast that they use no plastic anywhere in the speaker. Arendal also posts detailed measurements for all of their speakers, so anyone can see both the acoustic and electrical performance of the products. As a sealed design, it is a bookshelf speaker that is best used with a subwoofer. However, the drivers that Arendal typically uses have a very wide dynamic range, so we would expect these speakers to pack a punch. If you are looking for a non-gigantic bookshelf speaker that can still rock and keep up with a beefy subwoofer, it looks like an excellent solution.
Conclusion
Scaling up in price from our previous reviews, we can see a trend in improved build-quality and performance. The components are a bit higher-end, the finishes are slightly nicer, and the speakers become a bit more substantial. The question then becomes is it worth spending that extra one or two hundred bucks for the gains made at this price point? We can't answer that question for you, but we can make that dilemma even more difficult, and that is what we plan to do in future bookshelf round-ups that address the $800 price point and $1,000 price point. Stay tuned to Audioholics where we look at the best choices in higher price points to make your bookshelf speaker buying decisions even more complicated!
Which is your favorite $700/pair of bookshelf speakers? Let us know in the related forum thread below.
Confused about what AV Gear to buy or how to set it up? Join our Exclusive Audioholics E-Book Membership Program!
Recent Forum Posts:
JengaHit posts on May 08, 2021 18:16
Your thorough review of the Hsu CCB-8s was instrumental and very helpful in my decision to buy them. Very satisfied with these speakers. Thank you.
shadyJ posts on April 27, 2021 11:52
doctors11, post: 1479313, member: 95685
Any chance of reviewing the Arendal 1961 Bookshelf for a desktop set up? Hard to find reviews on this yet. Thanks!

No plans to review the 1961 at the moment. Would be interesting to review, though. There will be a review of an Arendal speaker in the future, however.
doctors11 posts on April 27, 2021 07:22
Any chance of reviewing the Arendal 1961 Bookshelf for a desktop set up? Hard to find reviews on this yet. Thanks!
Mikado463 posts on April 23, 2021 17:17
Thanks Shady, I will pass on to my bro-inlaw, he's in the market @ that price point I believe.
shadyJ posts on April 23, 2021 17:07
Kenneth Margulies, post: 1478396, member: 95640
Ok, let me try to think outside the box, so to speak. Does the Apple HomePod compete with these? At 2 for $600, I would think they would compare favorably given their high quality engineering. I have a pair and love them.

The Apple Homepods have some serious engineering in them, but they won't challenge any of these speakers for the application of high-fidelity audio. Of course, the HomePods have more versatility than passive speakers, so a lot of people will find them more useful.
Post Reply