Monoprice Monolith THX-365T Mini-Tower and THX-365C Center Speaker Review
Monoprice Monolith THX-365T Mini-Tower and THX-365C Center Speaker Review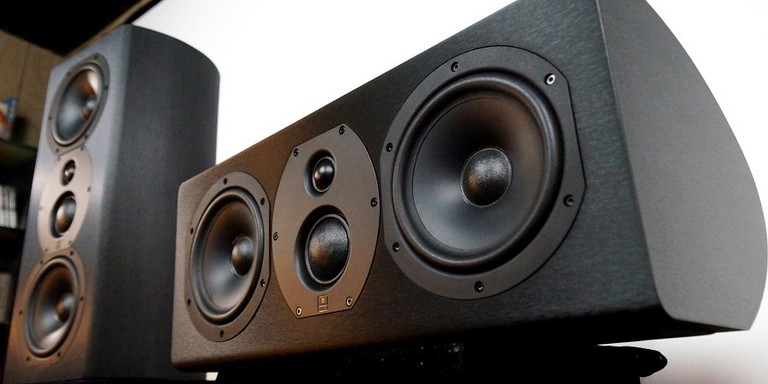 Monoprice Monolith THX-365T Mini-Tower and THX-365C
THX 365T Minitower
Main Woofer Drivers: 2x 6.5" long fiber pulp cones with FEA optimized nitrile butadiene rubber (NBR) surround and aluminum shorting ring
Main Midrange Driver: 2" silk dome midrange with Neodymium magnet and aluminum shorting ring
Main Tweeter Driver: 1" silk dome tweeter with Neodymium magnet and copper shorting ring
Main Frequency Response: 65Hz ~ 24kHz
Main Sensitivity: 89.5dB ([email protected])
Main Crossover Frequencies: 550Hz (24dB Linkwitz-Riley) and 1.9kHz (24dB Linkwitz-Riley)
Main Impedance: 4 ohms
Atmos® Woofer Driver: 5.25" long fiber pulp cone with FEA optimized nitrile butadiene rubber (NBR) surround
Atmos Tweeter Driver: 0.6" silk dome tweeter with Neodymium magnet
Atmos Frequency Response: 120Hz ~ 20kHz
Atmos Sensitivity: 86.0dB ([email protected])
Atmos Crossover Frequency: 3.8kHz (18dB Butterworth)
Atmos Impedance: 4 ohms
Cabinet: Sealed, 5-layer HDF with horizontal shelf bracing and 5-way binding posts
Dimensions (without grille): 22.9" x 9.7" x 10.8"
Weight: 28.4 lbs. (12.9 kg)
THX 365C Center Channel Speaker
Woofer Drivers: 2x 6.5" long fiber pulp cones with FEA optimized nitrile butadiene rubber (NBR) surround and aluminum shorting ring
Midrange Driver: 2" silk dome midrange with Neodymium magnet and aluminum shorting ring
Tweeter Driver: 1" silk dome tweeter with Neodymium magnet and copper shorting ring
Frequency Response: 65Hz ~ 24kHz
Sensitivity: 89.5dB ([email protected])
Crossover Frequencies: 550Hz (24dB Linkwitz-Riley) and 1.9kHz (24dB Linkwitz-Riley)
Impedance: 4 ohms
Cabinet: Sealed, 5 layer HDF with horizontal shelf bracing and 5-way binding posts
Dimensions (without grille): 9.7" x 22.9" x 10.8"
Weight: 26.4 lbs. (12.9 kg)
Pros
THX Ultra caliber performance for an extremely reasonable price
Attractive for largish and affordable bookshelf speakers
Three-way center design avoids dispersion/lobing problems with typical two-way centers
Atmos speakers installed for convenient height speakers
Non-fatiguing sound character
Cons
Rather large for bookshelf speakers
Non-Atmos model currently unavailable for 365T
Monolith THX-365T Mini-Tower and THX-365C Center Introduction

Regula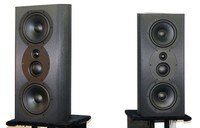 r readers will know that Audioholics has closely followed Monoprice's foray into higher-end audio with their 'Monolith' family of products. Among the Monolith products we covered were the K-BAS speakers, Air Motion speakers, and THX subwoofers. The Monolith line's expansion into THX-certified products must have proven to be successful because Monoprice has recently rolled out a set of THX-certified loudspeakers to complement their subwoofer line. The Monolith THX certified loudspeaker set is comprised of a bookshelf speaker, a 'mini-tower' (really just a large bookshelf speaker), and a center channel speaker. In for review today, we have the mini-towers and center channel speaker, which are called the THX-365T and THX-365C, respectively. The THX-365T Mini-towers also come with an Atmos speaker built in the top portion, so those who want an Atmos height speaker in their system can also have that. This review will be focused on the Monolith THX speakers used as normal speakers, so we will not be looking at the Atmos speaker addition very closely, although we do discuss its construction in the 'Design Overview' section of this review, and we do take a glance at a couple of measurements of its performance in the 'Measurements and Analysis' section.
Monoprice THX-365T & Revel M126Be Reviews YouTube Discussion

What Does THX Mean?
Monoprice is banking on the THX-certification to add consumer appeal to these products. But, what does THX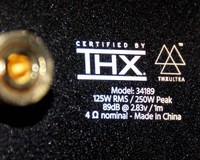 -certification really mean? The trouble here is that THX closely guards the exact performance characteristics needed to attain certification, but we do have some general guidelines that need to be followed for speaker manufacturers. Of course, a flattish response is needed, so that the speaker is accurate, and a smooth off-axis response is needed as well, so the speaker provides even coverage over a wide listening area. The speaker must be able to hit reference levels at the listening positions over certain spaces. In other words, the speaker has to get loud enough without running into distortion or compression based on its certification level. The speaker must be capable of 105 dB peaks and 85 dB continuous levels for the certifications outlined on the THX website.
Many people think that THX certification is simply a stamp of approval for a certain level of performance, but there is more to it than that. THX is intended to encompass the entirety of a listening/viewing experience, and the certification is a mark that the component will behave in a way that fits in with a THX environment. You can have a multitude of THX-certified components without having a THX-certified system or a THX-level experience, so an individual component such as a loudspeaker or amplifier is just one piece of that puzzle. The performance targets of a THX-certified speaker means that it will behave in a very predictable manner when installed in a THX system, and the whole experience will add up to what the artists intended. It's a way of ensuring that you are experiencing what you are supposed to experience and eliminating variables that impede the intended experience.
That being said, even when not installed in a THX environment, THX certification is still a desirable attribute, in that you know you will be getting fairly accurate sound or video reproduction equipment. That is one of the aspects of the Monolith THX-365T and THX-365C that we will be looking at. What is the level of accuracy needed to secure THX certification? What are the performance metrics needed to acquire this piece of the THX puzzle? In other words, how good does a loudspeaker have to be for a THX experience?
Packing and Appearance
The Monolith THX speakers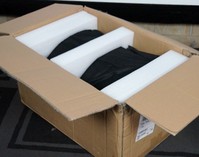 arrived at my home in a thick cardboard box packed in three tough polyethylene foam pieces: two that capped the speakers on both ends and one in the middle. The speakers were wrapped in a black cotton drawstring sleeve that should protect it from both scuffing and moisture. The packing is good enough that it should protect the speakers through rough shipping, and, from the look of the boxes that I received, did.
Once out of the packing, THX-365T and THX-365C speakers proved to have a rather elegant shape. They have a rounded cabinet that tapers off toward the rear. The angled top of the THX-365T is reminiscent of the speaker design from Sonus Faber, but Monoprice uses this shape for a far more practical reason; there is an embedded Dolby Atmos speaker at the top of the speaker, and the angled cabinet aims it such that ceiling reflections would be heard as Atmos 'height' channels. We will dig a little more into that in the design overview section of this review. The finish is a slick, semi-wood grain textured vinyl wrap that is sleek yet does not allow fingerprints to stand out. It's a nice looking finish even though it is probably a low-cost one; I have seen it used on other budget speakers before.
With the grilles on, the Monolith THX speakers are inoffensive but indistinct rounded enclosures.  With the grilles removed, the speakers have a lot more character with the drivers exposed, and I think they look better. The dustcaps of the woofers and domes of the midranges and tweeters have a satiny, slightly glittery texture that gives them a subtle but noticeable distinction against the flat black of the driver frames. These are large speakers, but one aspect about them that softens their appearance is that there are few hard edges anywhere on them. It's all circles and rounded organic shapes. This is in contrast to the Monolith THX subwoofers that have a more mechanical and angular masculine aesthetic. The Monolith THX speakers look much more refined than the Monolith THX subs.
Like the Monolith THX subs, these particular Monolith THX speakers are rather large. Monoprice calls the THX-365T a 'mini-tower,' but in reality, it's just a large bookshelf speaker. That isn't to undersell what it is, but it will be used in the same way as bookshelf speakers are, so there is no need for a new speaker type classification, in my opinion. Their large size might make them a non-starter for those looking for unobtrusive speakers, but their stylish design goes a long way toward making them ingratiating in a home setting. Speakers with the performance goals that the Monolith THX speakers have cannot really be placed in a small package, so anyone who wants THX Ultra certification has to be prepared to find a place for largish bookshelf speakers. Personally, I think they look very nice. Their size may preclude them from finding a place in a finely decorated living room, and they don't have a luxury-class finish, but they shouldn't be a problem in a family room, media room, office, or especially a home theater room.
Design Overview
The Monolith THX-365T and THX-365C are both rather heavy-duty three-way bookshelf speakers and center channel speakers. Both of them are THX Ultra certified, and that means they should be able to achieve THX Reference level loudness at a distance of 12 feet within a 3,000 cubic foot room, so they do need to be very capable speakers. The specs are on their side toward this end, however. They use two 6.5" bass drivers, a 2" midrange dome, and a 1" dome tweeter. Furthermore, the THX-365Ts have an Atmos speaker installed at the top, which gives them two channels of speaker in one cabinet. One thing I found is that the midrange driver is rather vulnerable. It uses a silk dome that is very soft and can easily be damaged by kids and rambunctious guests and pets. The speakers should be used with caution around pets and people who are not careful. Leave the grilles on in those instances.
The 6.5" woofers use long-fiber pulp cones in stamped steel baskets with some chunky ¾" x 4" magnets in the motor. The midrange and tweeter use silk domes and are each housed in their own enclosed space in a plastic enclosure. The structure of the midrange is much more like that of a traditional dome tweeter on a larger scale rather than a usual midrange cone. All of the drivers use shorting rings which reduce even-order distortion as well as extending their operational bandwidth. The drivers are crossed over at 550 Hz and 1.9 kHz using fourth-order slopes. The choice of a 1.9 kHz crossover seems like an unusually low crossover for a three-way speaker. While midrange driver can certainly handle higher frequencies than 1.9 kHz, I am told by the speakers' designer that the crossover frequencies were chosen because they added up the the best performance overall when looking at on and off-axis response and distortion performance. Altogether the quality and quantity of drivers on the Monolith THX speakers seem to be unexpectedly good considering the pricing.
The Atmos Driver
The Atmos driver in the THX-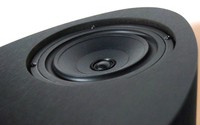 365T is a coaxial driver that uses a 5.25" pulp fiber woofer with a 0.6" silk dome tweeter mounted in the center of the woofer cone. It's internal cabinet space is closed off from the rest of the internal speaker space, so it has its own sub-enclosure. It uses a third-order crossover at 3.8 kHz. I would expect the reason for such a higher crossover is to have a narrower directivity. Wide dispersion sound probably isn't a great idea for an Atmos-module type speaker since the listener should only be hearing reflected sound from the speaker and not direct sound. For those who don't know, Atmos speakers try to simulate sound coming from above by bouncing sound off of the ceiling that hits the listener instead of just projecting sound directly to the listener. The wider the dispersion of the speaker, the more direct sound that will hit the listener instead of direct sound. If the listener hears too much direct sound coming from the Atmos speaker, that would create a mess out of the intended Atmos effect. For this reason, listeners using the Atmos module should listen to this speaker with ears level with or below the tweeter. The higher the listener is in elevation with respect to this speaker, the more sound they will hear directly from the Atmos driver which will degrade the intended effect.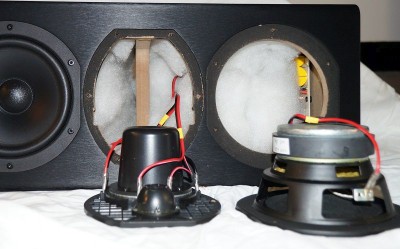 The cabinet uses ¾" high-density fiberboard (HDF) paneling all around. Most speakers in this class use MDF instead of HDF. The advantage of HDF in speaker construction is that it will be less resistant to moisture effects than MDF and is a stiffer, denser material. The disadvantage is that is doesn't damp acoustic resonances as well. The curvature of the cabinet should help to reduce internal standing waves which will help to eliminate resonances. There is also a window brace in the middle of the cabinets which will help to keep the panels inert. The cabinet is filled with stuffing which will help damp internal acoustic energy. The THX-365T uses some small rubber dimples as feet, and the THX-365C center speaker uses a flat rubber mat. Both use five-way binding posts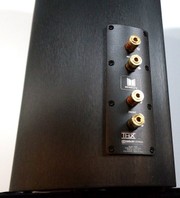 that protrude from a rear-mounted plate.
Both speakers use sealed designs so there are no ports Sealed designs are preferred by THX (although not required) in order to achieve the 12dB/octave slope needed for a THX speaker/subwoofer crossover, because a sealed design has a natural 12dB/octave slope low-end rolloff that is much more difficult to achieve in a ported design, and a sealed design has a much more predictable phase response. Given that THX specifies an 80 Hz crossover, I wouldn't expect the Monolith THX speakers to have very much bass output below that point. These speakers are intended to be used with subwoofers, and I would expect the low-end rolloff to occur around 80 Hz.
The Monolith THX speakers use an 11-element crossover with some reasonably solid-looking components. Taking a peek at the crossover for the regular non-Atmos part of the speaker, we see two iron core inductors, three air-core inductors, two electrolytic capacitors, four film capacitors, and three largish resistors. Monoprice's crossover spec claims fourth-order slopes, and the plethora of crossover elements plus the acoustically sealed drivers should be able to add up to such steep filters.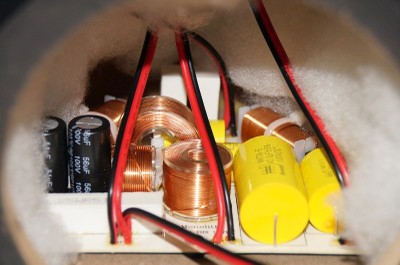 On the Monolith THX speakers, this album sounded better than I can ever recall hearing it before.
There is a lot that I like about the design of the Monolith THX speakers. One thing is the arrangement of the tweeter and midrange on the center speaker. By relegating only the bass drivers to horizontal alignment, this center speaker should be mostly free of the off-axis lobing that occurs with traditional 'MTM' center speaker design which simply places a tweeter between two woofers (the problems with that design approach can be read about in our article detailing the difference between horizontal vs vertical speaker designs and in our article about center channel design considerations. I like the three-way design of the THX-365T speakers; that can do a better job of controlling directivity and it should have a wider dynamic range with better power-handling versus an ordinary two-way bookshelf speaker. I like the idea of putting dual woofers in the THX-365Ts, and furthermore, the placement of the second woofer above the tweeter; this placement pushes the Atmos speaker above the ear height which should help to keep all of that sound as acoustic reflections where they belong. Spacing the woofers apart helps to mitigate ground-bounce cancellation a bit as well, and it does better at keeping the acoustic center of the speaker squarely around the tweeter and midrange where it should be. All in all, the THX-365T and THX-365C are a lot of speaker for the money. But are they too good to be true for the price? Let's take a listen to hear what they can do...
Listening Sessions
In my 24' by 13' (approximately) listening room, I set up the speakers with stand-off distances between the back wall and sidewall, and equal distance between speakers and listening position. The speakers were set up to face the listening position directly. Listening distance from the speakers was about 9 feet. Amplification and processing were handled by a Pioneer Elite SC-55. No room correction equalization was used. Subwoofers were used for all content since these speakers were designed to be used with subs.
Music Listening
One album loaned to me as good demo mate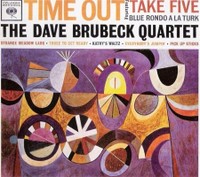 rial for speakers was 'Time Out' by The Dave Brubeck Quartet. I am not a jazz aficionado, so I didn't realize this quintessential album's place in music history, although I have recognized some of the tracks played as demo music from various sound system exhibits over the years. At first, I was skeptical that this recording, made in 1959, had a sufficiently good sound quality to be useful as speaker demo music, but I was pleasantly surprised at the realism of the sound in the recording. 'Time Out' is an instrumental jazz album featuring a quartet of a piano, alto saxophone, bass, and drums, and it is known for its innovation using uncommon time signatures. The album I used is the 1997 remaster of this classic recording. The Monolith THX-365T speakers played this album splendidly. It sounded so good that I checked the liner notes to make sure it was actually recorded in 1959 and was not some recently recorded cover. Listening closely, there were some tells that it was an older recording, such as hearing an analog hiss in the background during some quieter moments, but this 60-year-old recording was beautifully reproduced on these speakers and brought this musical moment alive as though it were happening in the present. All of the instruments sounded crisp and their positions in the soundstage were clear and distinct. The tonal balance of the sound seemed to be quite even with everything sounding natural with no notable tonal aberrations. I have heard these tracks played on far more expensive speakers, but I didn't get a sense that this presentation was lesser in any way. As I said, I am not a jazz guy, but I still quite enjoyed 'Time Out' as replayed by the Monolith THX speakers; this music doesn't show its age at all.
An orchestral album that I gave a spin with the Monolith THX speakers was a compilation entitled '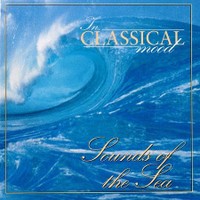 Sounds of the Sea' that I pulled from a larger box set of albums called 'In Classical Mood.' 'Sounds of the Sea' is a collection of classical pieces with a sea-faring theme such as 'The Flying Dutchman: Overture' by Richard Wagner and 'H.M.S. Pinafore: Overture' Arthur Sullivan. There are other tracks by Debussy, Berlioz, and Rimsky-Korsakov as played by esteemed orchestras such as the Royal Philharmonic Orchestra and the London Symphony Orchestra. Individual tracks are taken from different sources, but the production quality is high throughout, so this is a good album to demo classical music on account of the diversity of venues, recording techniques, and instrumentalists. The Monolith THX speakers proved to be adept with the large scale orchestral pieces in this album they were with a small jazz ensemble in 'Time Out.' They managed to throw a large soundstage befitting of these epic pieces of music. Imaging was generally excellent with orchestral section positions readily identifiable. It's easy to imagine a listener mistaking the listening room for a much larger venue where they were listening to these speakers in a darkened space. I did not hear any wrongdoing in instrumental tonality, and the timbral balance sounded very even on the whole. The Monolith THX speakers were not lacking in dynamic range either; crescendos hit with a palpable force and weight. That is no surprise given the THX Ultra certification and oversized three-way bookshelf speaker design. Another aspect of their design that really helps here is they do not try to tackle lower bass frequencies, and that allows the design of the bass drivers to attack midbass bands that much more competently. To be honest, I wish more bookshelf speakers would forego chasing after bass below 80 Hz, as these do, since most users will have subwoofers anyway. After listening to 'Sounds of the Sea' on the Monolith THX speakers, I do think they will satisfy the craving of almost any classical music enthusiast.
For something with more emphasis on vocals, I dug out the 19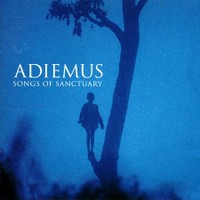 95 release 'Songs of Sanctuary' by Adiemus. The music is primarily female choral but with some solo vocals provided by singer Miriam Stockley. The voices are backed by traditional orchestral instruments provided by the London Philharmonic along with other instruments and music styles pulled from around the globe. This is an album of vaguely ethnic world music that was a popular new-age style back in the '90s. It's not exactly challenging music to listen to but it is pretty. It can almost be described as something Enya would do but with more weighted with traditional orchestral elements. With so much singing, I thought 'Songs of Sanctuary' would be a good album with which to evaluate human vocals. On the Monolith THX speakers, this album sounded better than I can ever recall hearing it before. Miriam Stockley's often soaring vocals were rendered with detail in a larger-than-life soundstage where studio recording techniques expanded the choral elements to be a virtual wall of sound. The Monolith THX speakers didn't seem to add or subtract anything, and I can't help but think this is very close to what this album is supposed to sound like. That brings to mind the fact that if a THX experience was closely governed in every component from recording to playback, then theoretically THX-certified home audio speakers should serve as well as studio monitors as they do in home audio applications, at least in a controlled setting. 
I wanted to push the Monolith THX speakers harder to s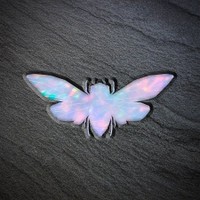 ee how they handled louder and more aggressive music played at high levels, and toward this end, I selected Blank Banshee's 'Metamorphosis.' Blank Banshee is an artist who has been doing something unique in his corner of the electronic music world that is not easy to pigeonhole in a particular genre. It's percussion-heavy and bass-heavy, but the rhythms are unusual and the sound is idiosyncratic. His music is said to be somewhere between Trap music and Vaporwave, but it isn't quite either. 'Metamorphosis' is a recently released 18-minute long epic single that is sprawling over a rich, diverse array of sounds, melodies, and rhythms; it begs to be played at a loud level. It uses a punchy kick drum underneath a host of synthetic bells, vocal pads, and plucked strings, but the sound is constantly evolving throughout the track's duration. The Monolith THX speakers showed that they can rock very nicely with 'Metamorphosis.' The music was vibrantly and cleanly reproduced even at high loudness levels. I never sensed any compression, congestion, or distortion. These speakers can hit hard, and I think they could handle a house party if they were asked to. They may be just bookshelf speakers, but they are some of the most robust bookshelf speakers that I have yet encountered. Which again, is not surprising given their design.
Movie Watching
THX is popularly associated with high dynamic range m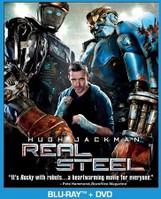 ovie experiences, so I looked for a movie that could take advantage of such capable speakers. I had not seen the 2011 science-fiction film 'Real Steel' before and guessed that it would make an appropriate demo of wide dynamic range speakers since it is about boxing matches between large robots. 'Real Steel' is what happens when you combine two Sylvester Stallone movies, 'Over the Top' and 'Rocky,' but use robots instead of people in the competitive sport. Seriously, Stallone should have been given story credit for 'Real Steel' because it does not deviate much from the plots of these previous films where he did help to write the stories. Hugh Jackman plays a down-on-his-luck boxing manager for robots, and he is tasked with taking care of his 11-year old son for a summer for whom he had been an absentee father. The kid turns out to be gifted in working with fighting robots, and they bond while the kid helps the father make a career comeback with a special underdog robot boxer. It's fairly predictable stuff, but the robot fights look and sound quite spectacular, which is what speakers like the Monolith THX series are made for. Indeed, the robot fights crackled with aural energy, and not just from the gladiating steel hulks battering each other but from the bombastic music, excited audience, and the human characters' constant exhortations for the robots to "get up" when they were knocked to the ground. You know how in movies when a boxer's team pleads with them to get up on their feet again when they are knocked down? That happens a lot in 'Real Steel,' but it's not as if emotional pleas will invigorate the will of a robot to accomplish any task. I beg my computer to snap out of it when a program locks up, but it has never done any good so far. But hey, it's just a movie and a crowd-pleasing one at that. As cliched as 'Real Steel' was, it sounded terrific on the THX Monolith speakers. I played this movie at a loud level and did not detect any fault in the speakers' ability to reproduce its lively sound mix. Many people will be purchasing these speakers for the purpose of having blockbuster movies sound as large and dynamic as a commercial cinema experience, and on that count, I can happily say that the Monolith THX speakers deliver.
Like so many others, I binged-watched the third season of 'Stranger Things' no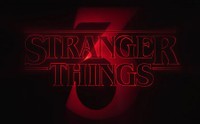 t long after it was uploaded on Netflix. This mega-popular series sounded better than ever thanks to Netflix's recently improved sound quality which now streams at 640 kbps. That resolution should put it above the threshold of human hearing, so Netflix programming is certainly worthy of a great sound system for those who have one available. 'Stranger Things' season 3 once again puts the plucky young heroes of the series against bizarre cosmic horrors in the backdrop of 1980's suburbia, complete with a spread of some of the big pop music hits of the day. The sound mix is as high quality as any major Hollywood production, and the sound effects, dialogue, and music are mixed with all of the polish that you would expect from a no-expenses-spared production. The show is filled with growling monsters, shrieking teenagers, and synth-heavy music, and the Monolith THX speakers brought all of this action to life without any audible weaknesses. Regardless of the volume level, the Monolith THX speakers rendered a crystal clear soundscape no matter how frantic the scene. One highlight was the rich vintage synthesizer-driven music score provided by the duo Kyle Dixon and Micheal Stein; anyone who has seen the show can easily recall the arpeggiated bass line overlayed with the haunting electronic leads of the show's opening theme. The music throughout, whether by Dixon and Stein or taken from some other source, gives the show such a memorable atmosphere that it is difficult to imagine that the 'Stranger Things' series would have gained such popularity with a more conventional score. The Monolith THX speakers made this propulsive retro-futuristic score blaze with the analog synth sounds so thick that they could be cut with a knife. 'Stranger Things' season 3 is best watched at a high loudness level when speakers as good as the Monolith THX line is used. This show will sound as good as the system it is played on. 

Confused about what AV Gear to buy or how to set it up? Join our Exclusive Audioholics E-Book Membership Program!
See also:
Recent Forum Posts:
shadyJ posts on October 18, 2019 10:23
Adam2434, post: 1345627, member: 83912
Waiting for some objective reviews on the Monolith floorstanders to come out, but I expect they will also have impressive performance. I'm considering them and the Monolith center to upgrade the front 3 in our multichannel system.

One of the things I really appreciate about this line is that the center (at $399) seems to be a great value compared to the overpriced 2-way centers that many companies offer to match their floorstanders in the $2,000/pair range. Lots of companies try to gouge you with a $500-800 2-way center to match their $2,000/pair floorstanders - the value equation seems way off for those centers.
Don't hold your breath for objective reviews of those towers. The only reviewer publications that do consistent and thorough measurements is Audioholics, Soundstage, and Stereophile. I doubt that Stereophile will be taking Monoprice speakers on. Soundstage doesn't seem to have a very strong relationship with Monoprice, although they did review the 15" THX Ultra sub, but I am guessing that was due to Brent Butterworth's string-pulling rather than Soundstage's editorial interest in their products (that is only a guess though). IF Audioholics does a review on those towers, it won't be for awhile. But the thing is, their performance is fairly predictable given when was seen from the 365T and 365C reviews. The only real difference should be that the towers will have real bass extension. If the measured performance of the 365T speakers is appealing to you, then the towers will be a safe bet.
Adam2434 posts on October 18, 2019 09:04
Waiting for some objective reviews on the Monolith floorstanders to come out, but I expect they will also have impressive performance. I'm considering them and the Monolith center to upgrade the front 3 in our multichannel system.

One of the things I really appreciate about this line is that the center (at $399) seems to be a great value compared to the overpriced 2-way centers that many companies offer to match their floorstanders in the $2,000/pair range. Lots of companies try to gouge you with a $500-800 2-way center to match their $2,000/pair floorstanders - the value equation seems way off for those centers.
NINaudio posts on September 14, 2019 19:24
shadyJ, post: 1339651, member: 20472
Not planning on it at the moment, since we just did the mini-towers, but that could change as we line up future reviews.
I hope it does change. I'd love to see how these compare to the Prime Pinnacles
shadyJ posts on September 14, 2019 19:21
NINaudio, post: 1339645, member: 82928
Are you planning for a full review of the new Monolith full size towers?
Not planning on it at the moment, since we just did the mini-towers, but that could change as we line up future reviews.
NINaudio posts on September 14, 2019 18:06
Are you planning for a full review of the new Monolith full size towers?
Post Reply