Outlaw Audio BLSv2 Bookshelf and LCRv2 Loudspeaker Review
Outlaw Audio BLSv2 Bookshelf and LCRv2 Loudspeaker Review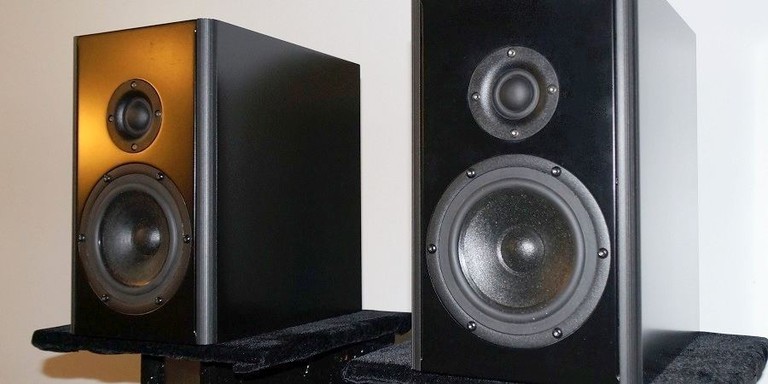 Outlaw Audio BLSv2 Bookshelf Speakers
BLSv2 Bookshelf Speaker
Sensitivity: 85dB
Ports: Single
Rated Amplifier Power: 50 to 200 watts
Frequency Response: 50 to 22kHz. +/- 3 dB
Drivers:
Tweeter 1" Custom Silk Dome with Neo Magnet
Woofer 5-1/4" Custom Driver with
Diecast Magnesium basket
Treated paper cone
Low-loss rubber surround
26mm CCAW voice coil
Linear Coil Travel: 10mm p-p
Dimensions (HxDxW): 12" x 11-3/4"(w/ grill) x 7-1/2"
Weight: 12.55 lbs (each)
LCRv2 Speaker
Sensitivity: 87.5dB
Nominal Impedance: 4 ohms
Ports: None (Sealed Enclosure)
Rated Amplifier Power: 50 to 300 watts
Frequency Response: 70 to 20kHz. +/- 6 dB
Drivers:
Tweeter: 1" Custom Silk Dome
Woofer: 2 x 5-1/4" Custom Drivers
Linear Coil Travel: 10mm p-p
Weight: 20 lbs (each)
Dimensions (HxDxW): 19 " x 8 7/8" (w/ grill) x 7-1/4"
Pros
Smooth, neutral sound
High quality components
Good dynamic range for medium-sized bookshelf speaker and very good for medium sized LCR speaker
Easy electrical load for any amplifier
Cons
Boundary Compensation Switch is of limited usefulness
BLSv2 and LCRv2 Speaker Introduction
Outlaw Audio is most well-known for their a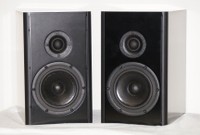 udio electronics and subwoofers, but about 10 years ago they tried their hand at loudspeakers with successful results. The original BLS Bookshelf Loudspeaker and LCR Loudspeaker were met with acclaim and sold well, but their manufacturing source was closed down after being bought out by a private equity firm. Outlaw did not immediately follow up the BLS or LCR with a successor speaker, since there were few domestic manufacturers that could meet Outlaw's criteria for a loudspeaker that they would be willing to sell. Recently, however, Outlaw Audio decided to get back into the speaker game. Advances made in design and manufacturing have made it possible to recreate and even improve on their classic BLS and LCR speakers for a significantly lower cost than the originals. Outlaw has also allowed manufacturing to be done overseas (Indonesia in this case), where previously they wanted manufacturing to be done in the USA. This brings us to our loudspeakers under review today, the BLSv2 and LCRv2.
The BLSv2 and LCRv2 were largely designed by the same engineers who created the originals; Snell Acoustics R&D group. Snell Acoustics was a very highly-regarded loudspeaker manufacturer who were famed for their tight manufacturing tolerances and tonally neutral sound. Snell Acoustics was bought by D&M Holdings in 2005, and D&M Holdings was bought by the private equity firm Bain Capital in 2008. Not long after D&M Holdings was acquired by Bain Capital, Snell was shuttered by Bain in 2010. Snell's abrupt closure left Outlaw without a manufacturer, so the BLS and LCR were discontinued.
Outlaw Audio de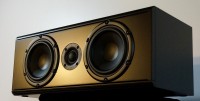 cided to bring together the same design team from Snell Acoustics (Joe D'Appolito, David Logvin, and Bob Graffy) who created the original BLS and LCR speakers. Even though the principle designers, Joe D'Appolito retired, Outlaw Audio wanted to recreate the great results that they had with the original, and who better to do that then the people who created it. So Outlaw recalled the design team from their retirement to make this next generation of BLS and LCR loudspeakers. Thanks to improvements in manufacturing and a few alterations to the original design, the BLSv2 and LCRv2 are touted as having better performance than the originals and also a nicer finish- and they cost 40% less than the $1,000/pair BLS and LCR originals. Outlaw Audio loaned Audioholics a pair of BLSv2 bookshelf speakers and an LCRv2 for a center speaker for review, so let's take a look what kinds of speakers Outlaw has brought to the fiercely competitive bookshelf speaker market…
Packing and Appearance
The BLSv2 speaker pair arrived very well-packed. They were double boxed with a layer of foam padding between the two boxes. The speakers themselves were protected in the inner box by large foam pieces at the box edges. The speakers were covered in a soft foam wrapping to protect them from moisture and scuffing. With this level of packing, it would take some particularly harsh abuse to damage these speakers during transit.
Once unpacked, The BLSv2 and LCRv2 revealed themselves to be sleek, black enclosures faceted with a smooth black woofer cone and tweeter dome. These speakers do not use a flat black finish- they are a slick satin-black finish that does look quite nice. The woofer and tweeter blend in superbly with the satin black finish so that the speaker looks like a singular component instead of an enclosure with some drivers screwed into it. The exterior cabinetry is not all that remarkable. The front vertical edges are rounded with some grooves in the rounding, but aside from that, there isn't much else that is distinctive regarding its exterior shape.
The BLSv2 and LCRv2 use the grilles as the distinctive visual element to set them apart from other speakers. The grilles are perforated metal screens that have a glistening black gloss texture and have a Outlaw Audio signature emblem inset at the bottom. Most grilles hide the front of the speaker as though cones and tweeter domes were so hideous, but not the BLSv2 and LCRv2. The grille can easily be seen though and does not hide the cone and tweeter so much as it lightly shrouds them. I think I like the BLSv2 and LCRv2 a bit better aesthetically without the grille, but the grille that Outlaw uses here is pretty nice and is not as dull as most grilles.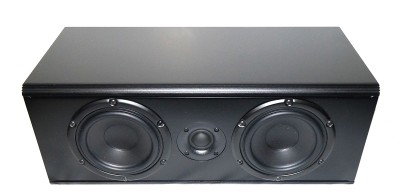 The overall appearance of the BLSv2 and LCRv2 is on the modern business side, tasteful but not attempting a warm classic look that would have been had with a wood veneer or fabric grille. However, the satin black finish is fine enough that these speakers could virtually disappear in any room they are placed in, especially without the grille. These speakers are not so flashy that they would draw attention in typical room, nor are they ugly so that they would stick out in that regard.
Design Overview
At a glance, the Outlaw Audio BLSv2 and LCRv2 look like a simple 2-way bookshelf and MTM speaker respectively, but when you look at them a bit closer, you find there is more going on under the hood than most speakers of their type. Let's start our description of their design by focusing on the BLSv2 for the moment: it uses a 5.25" woofer and 1" dome tweeter, which is a very typical design for a bookshelf speaker of its type. The original BLS speakers used a fairly high-performance SEAS woofer which the BLSv2 tries to match, according to the engineers. It has a good sized motor with a 9cm diameter, 1cm thick magnet and a die-cast magnesium basket. It also uses a paper cone and copper-clad-aluminum wire for the voice coil. The designers were aiming for a smooth response over wide-range and no severe break-up modes. The tweeter uses a silk dome with a neodymium magnet and has a rather low 850 Hz resonant frequency. The wide band of the woofer with mild breakup behavior and low resonant frequency of the tweeter allows a crossover frequency that only has to focus on integrating the drivers rather than having to compromise their integration to compensate for mechanical shortcomings of the drivers.
Th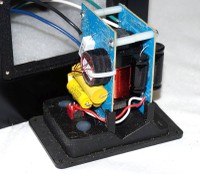 e BLSv2 uses a heavy-duty crossover that looks to have six polypropylene capacitors, two large electrolytic capacitors, two resistors, an air-core inductor, and a large iron-core inductor. Both the BLSv2 and LCRv2 use a 4rth-order acoustic crossover network set at 2.4kHz. The LCRv2 uses the same tweeter but a significantly different woofer since it is using a sealed cabinet as opposed to the ported cabinet of the BLSv2. It has a similar but not same crossover network, naturally. One aspect of the speaker that undoubtedly plays a role in such a beefy crossover is the boundary compensation switch. Both the BLSv2 and LCRv2 have a switch on the terminal cup that adjusts the low-frequency response to counterbalance the boost in bass that can occur when a speaker is placed close to surfaces. Boundary gain can cause a boominess that makes for an unnatural bass sound. The Outlaw speakers can be adjusted to have a leaner low-end response that can make for more natural sounding bass when placed in less open areas.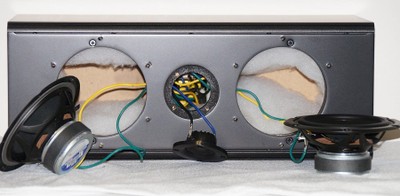 Th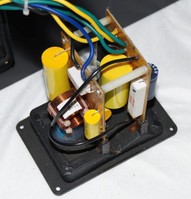 e Outlaw speakers have similar cabinet construction that uses ¾" mdf panels with an extra thick 1.25" front baffle and a window brace. There is also a healthy amount of stuffing lining the interior surfaces. The BLSv2 and LCRv2 are bi-ampable via a pair of very sturdy five-way binding posts. The BLSv2 has a 2" diameter, flared port mounted on the rear panel. The grilles are made from a sheet of perforated metal that get attached to the cabinet by two long slots that run on the edges of the front baffle. The grilles have a very tight fit and do resist when removing them and reinstalling them. The 12.5 lbs. weight does impart a sense of heft to these medium sized bookshelf speakers, and the 'knock test' on the side panel imparts a sense of solidity, since the resonating sound is low-pitched and short.
On the surface, all the ingredients are here for a good speaker: capable-looking drivers, a very beefy crossover network, and a sensible enclosure. Now let's see how it all sounds…
Listening Tests
In my approximately 24' by 13' listening room, I set up the speakers with stand-off distances between the backwall and sidewall, and equal distance between speakers and listening position, with speakers toed-in toward the listening position. Listening distance from the speakers was about 8 feet. Amplification and processing was handled by a Pioneer Elite SC-55. No room correction equalization was used. At times, subwoofers were used to supplement the bass, mostly using an 80 Hz crossover frequency.
Music Listening
I find that the quick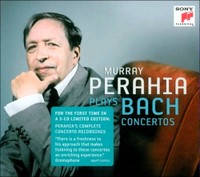 est way to understand a speaker's tonality is by listening to something that uses familiar sounds over a broad spectrum of frequencies simultaneously, and the best recordings for that purpose is orchestral music. I know how these instruments are supposed to sound, and when a lot of them are playing at the same time, it can give away a spectral imbalance or tilt in the speaker's sonic signature. If certain instruments or notes are over-pronounced, it can be an indication of a resonance or excess energy in a specific frequency range. Or, if there is a hollowness in some instrument's sound, that can be an indication of a dip or an absence of energy in a specific frequency range. Obviously, for a natural sound, these characteristics should be avoided. To get a sense of the tonal balance of the Outlaw BLSv2 bookshelf speakers, I turned to a set of concertos by Bach as performed by Murray Perahia and the Academy of St. Martin in the Fields Orchestra. 'Murray Perahia Plays Bach Concertos' is a 2011 disc set from the Sony Classical label pairs the acclaimed pianist Perahia with the illustrious Academy of St. Martin in the Fields, so it is a given that this album will be a superb demonstration of musical talent and high fidelity. With respect to tonal balance, I could sense nothing amiss from the BLSv2 bookshelf speakers. While piano was very much the forefront instrument, as it is supposed to be on a recording like this, it did not overwhelm the other instruments, and I did not get a sense that the recording was being misrepresented in even the slightest degree. The soundstage was wide and enveloping with excellent imaging that spread beyond the BLSv2's placement. I could tell that the microphone placements did not quite have the same location for every track, and I think on a less precise loudspeaker that detail might not have been so clear. Strings were spread across the stage, as they normally are in orchestras, while woodwinds and pianos and more specific spatial positioning in the soundstage. The speakers did not at all inhibit these fine set of performances; it's always a joy to hear Bach's concertos performed with such mastery, and the Outlaw BLSv2 speakers were able to deliver this experience wonderfully intact and with no interference that I could discern.
I wanted to brin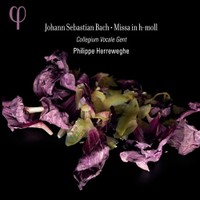 g vocals into the mix to gauge how the BLSv2 speakers would handle the human voice as an instrument, but I still wanted to keep the grandeur of an orchestra, so this naturally called for choral music. One album that comes highly recommended for this was Philippe Herreweghe's 2012 recording of Bach's 'Mass in B Minor' on the Out There label. This is the third recording of 'Mass in B Minor' by Herreweghe that has been released, and it is a recording of impeccable audio quality. Performers are the Collegium Vocale Gent, a Belgium ensemble of vocalists and instrumentalists. 'Mass in B Minor' remains one of the towering monuments of classical music that was written in the last year of Bach's life after he had gone blind. This is a recording that should make for a fine demonstration of a sound system's ability to render both vocalists and orchestral instrumentation, at the very least. After listening to this recording on the BLSv2 speakers, I can see what all the fuss is about for this release. The music as reproduced by the BLSv2 speakers was drop dead gorgeous. The instruments and vocalists were very detailed and vividly recreated. As with the Perahia recordings, the imaging was precise and distinct. The concert hall that this album was recorded in had a reverb which added to the beauty of the music without washing it out, and this environment was reconstructed in my listening room with remarkable realism. I acquired this recording of 'Mass in B Minor' on loan, but after listening to it, I am considering purchasing my own copy, and the BLSv2's rendering of them gives me thought of purchasing a set of these speakers as well. Herreweghe's third release of Bach's 'Mass in B Minor' as heard on the Outlaw BLSv2 speakers is a terrific musical experience that any music lover would surely enjoy.
It was a joy to hear Bach's concertos performed with such mastery on theOutlaw BLSv2 speakers..
For something with a similar emphasis on vocals but in a more contemporary style of music, I listened to Sarah McLachlan's hit 1994 album 'Fumbling Toward Ecstasy.' McLachlan's voice is one that I know well, so it should be a good demonstration of how well the BLSv2 speakers handle vocals, at least within McLachlan's range. It's also a studio album that mostly does not obscure McLachlan's voice with too much studio trickery. After already hearing what the BLSv2 was capable of in orchestral recordings, it is no surprise to me that these speakers nailed 'Fumbling Toward Ecstasy.' I have heard McLachlan through many different sound systems over the years, and this presentation sounds as good as the best of them. McLachlan's voice imaged to dead center of the soundstage with instruments flanking her for their own well-defined placements. This is a studio album, and, like so many other studio albums, it creates an 'impossible' soundscape that does not ignore the artificiality of its 'auditory scene,' to borrow the expression from audiology- in other words, it doesn't pretend to be a recording from an actual place. Nonetheless, a properly setup pair of well-designed speakers can suggest a scene, with some help from the listener's imagination, and not merely be voices and instruments inside the listener's head. The BLSv2 speakers do this, with the performance taking place in a seemingly close proximity. All acoustically recorded music is an illusion when reproduced on a sound system, and one measure of a sound system's performance is how realistically that illusion is recreated. On this count, I will say the BLSv2 speakers performed admirably, because they could make this album seem like a live performance recording at times.
After spending some time listening to the finer points of the BLSv2 speakers, I decided to push the envelope. I threw on Spor's 'Caligo', an album that was sure not going to go easy on them. Most of the tracks on 'Caligo' are Drum'N'Bass tunes which is heavy-duty, high-tempo, breakbeat music. This music is not intended to be played at gentle volume levels, so I cranked the volume to about as loud as I could personally stand for the duration of the album. While the volume level was quite loud, I didn't detect anything that sounded like distortion or any other sound to indicate that the speakers were being stressed, although using subwoofers to take deep bass certainly does give the BLSv2 woofers a break. I wouldn't recommend blazing bass-heavy music on these speakers or any other bookshelf speaker of similar build without being crossed over to subwoofers. But, with the high-pass filter of the subwoofer crossover in use, these speakers could throw a surprising punch. Normally I would say that bookshelf speakers in this form factor, ie., a 1" dome tweeter and 5 ¼" woofer, shouldn't be used as party speakers, but after listening to 'Caligo' at a relatively loud level for the duration of the album, I think these are robust enough to rock a medium sized room with no problem. Common sense needs to be used if users intend to crank these things, so while power-handling spec states 50-200 watts, my guess is that 200 watts is meant at 'peak' power handling, and if user tried to shove 200 watts through these speakers continuously, they would die a grievous death.
Movie Listening
One movie that I watched with the Outlaw Audio BLSv2 and LCRv2 speaker set was Martin Scorsese's 2013 opus, 'The Wolf of Wall Street.' I choose this movie to evaluate these speakers because of its heavy reliance on dialogue amidst a music-rich soundtrack, so I thought it might make for a great test of dialogue intelligibility. Of course, those who have seen this movie will know that a major fraction of the dialogue consists of profanity, and a fun activity for some has been to count and catalogue the various profanities in this film. It's possible to do but not easy, since music occupies so much of the duration of 'The Wolf of Wall Street,' and also some of the dialogue is deliberately garbled when the characters have difficulty speaking under the influence of quaaludes which occurs in multiple scenes. A sound system that is strong on dialogue intelligibility is needed to accurately keep track of all the profanity in 'The Wolf of Wall Street,' and that largely falls on the shoulders of the center channel speaker, so it is up to the Outlaw Audio LCRv2 to render every F-bomb with the best possible clarity. While I didn't try to count all the cursing in 'The Wolf of Wall Street,' I didn't have any problems understanding what was said during the movie, and that is a great credit to the LCRv2. The music score was also a pleasure to listen to, since this movie has a diverse score in the 60 songs used throughout its running time, from blues, R&B, classic rock, 80's new wave, and even opera. The sound mix was busy and energetic, and Outlaw Audio's speakers had no problems reproducing all of the individual elements of sound clearly and with gusto. The BLSv2 and LCRv2 made this a fun movie to revisit, and they serve as a good example of how traditional sound mixes can benefit from high-fidelity speakers as much as if not more than the massive effects-driven action movies.
The LCRv2 speaker let me hear all of the F-bomb drops in Wolf of Wall Street with perfect clarity ;)

Another movie that I watched with the Outlaw speakers was the 2012 Bond movie 'Skyfall.' The Bond movies have always had a great balance of music, effects sounds, and dialogue in their sound mixes, and certainly 'Skyfall' is no exception. It starts out with an amazing car chase and then segues into the bombshell opening credit song by Adele. It is peppered with great action setpieces throughout, and, as one would expect in such a polished production, the sound mix design is first-rate. I watched the movie at a relatively loud level to see how the BLSv2 and LCRv2 could handle a wider dynamic range in the action scenes. The Outlaw speakers were not hindered by the spirited volume level, and I was surprised at the dynamic range that the 5 ¼" woofers could muster. It's very likely that if I had a more powerful amplifier at my disposal I could have driven them into obvious compression and distortion, but the loudness levels that I was listening was already pushing the limits of what I was comfortable with. I don't think many people would drive them louder than what I had them set to in 'Skyfall.' These speakers can get loud enough in a medium sized or smaller room without problem for most people, however I would be looking for something more powerful than bookshelf speakers for a larger room or dedicated home theater room. With that being said, I do think that an LCRv2 front-stage set would be a good choice in a medium sized or smaller dedicated home theater room. Their power handling will be considerably higher than the BLSv2, and they will undoubtedly hit harder.