RSL CG5 & CG25 Bookshelf / Center Speakers Review
RSL CG5 & CG25 Bookshelf / Center Speakers Review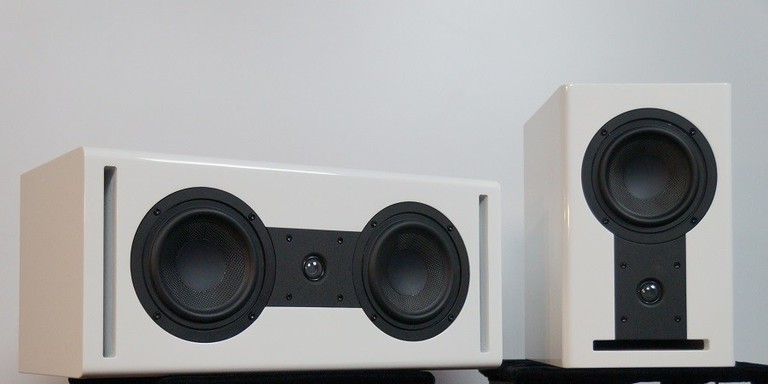 RSL CG5 and CG25 Speakers
CG5
Woofer: 5.25" cast frame, aramid-fiber cone
Tweeter: 1" translucent silk dome, neodymium rare earth magnet
Frequency Response: 54-35,000 Hz ± 3dB
Recommended Impedance setting for amplifiers: 6 or 8 ohms (whichever is higher)
Sensitivity: 86 dB SPL @ 2.83 V, 1 meter distance
Recommended Power: 25-150 watts
Crossover Frequency: 2,500 Hz
Crossover Slope: 12 dB/octave
Crossover Parts: Air core coils, polypropylene capacitors, gold-plated binding posts
Tuning Method: Compression Guide™
Weight: 16 lbs.
Dimensions: H: 12 5/8" W: 7 5/8" D: 11 1/2″ (without grille 10 3/4")
CG25
Woofer: (2) 5.25" cast frame, aramid-fiber cone
Tweeter: 1" translucent silk dome, neodymium rare earth magnet
Frequency Response: 51-35,000 Hz ± 3dB
Recommended Impedance setting for amplifiers: 6 or 8 ohms (whichever is higher)
Sensitivity: 88 dB SPL @ 2.83 V, 1 meter distance
Recommended Power: 25-150 watts
Crossover Frequency: 2,500 Hz
Crossover Slope: 12 dB/octave
Crossover Parts: Air core coils, polypropylene capacitors, gold-plated binding posts
Tuning Method: Compression Guide™
Weight: 23 lbs.
Dimensions: H: 19" W: 8 1/2" D: 9 3/4″ (without grille 9")
Pros
Smooth sound character
Excellent imaging capabilities
Good dynamic range
Stylish appearance
Above-average build quality
Cons
Elevated bass range tilts voicing away from neutrality
RSL CG5 & CG25 Speaker Introduction
While RSL Speakers might not be a household name, audio enthusiasts who stay on top of noteworthy brands will certainly know about RSL speakers due to their reputation among hobbyists and the general acclaim they receive from the audio community. RSL has been gathering a reputation as a source of affordable yet high-fidelity loudspeakers that have accrued an online buzz due to a plethora of positive remarks from professional reviewers and customer testimonials alike. Audioholic's own encounters with RSL products have found them to be a solid brand, so we were excited to see them enter a higher price bracket when we did a preview article on the recent release of their CG5 and CG25 product line. These are the products that we are going to look at in today's review where we ask if RSL can maintain the same scale of value and performance while entering a higher price point with their latest offerings.
RSL CG5 Series Loudspeaker Review YouTube Discussion

Packing and Appearance
The CG5 and CG25 speaker pairs arrived double boxed. The speakers were each sandwiched by thick polyethylene foam blocks to protect them from shock. They were wrapped in cotton bags to guard against scuffs and scratches. Overall, the packing was good and should allow the speakers to reach their destination in good shape even if the carrier treats them roughly.
The CG5 and CG25 speakers come in both a black gloss and white gloss finish. We received ours in the white gloss. These speakers are a basic box form although the vertical edges are rounded. The grilles also have a slightly rounded curvature and are made from a gloss-painted perforated metal sheet that does not use a fabric covering so the front baffle of the speaker is not really hidden by the grille.  The front baffle has a distinctive style that is especially apparent in the white finish. The black woofer and square tweeter plate meet to form a simple shape against the white background of the front baffle. It is a somewhat bold styling for a bookshelf speaker, but it would be much more restrained on the gloss black finish. Many speakers in this class are stylistically timid, and I like that these aren't afraid to pull off a bit more eye-catching industrial design. It all goes well with the shiny weave of the aramid-fiber cone and greyish glossy translucent tweeter dome.
Adding to the straightforward aesthetic is the clean baffle. Thanks to the use of magnetic grilles, no grille guides are needed, which helps keep a more refined aesthetic. These speakers are not trying to hide the fact that they are speakers. They do look nice, but for those buyers who are looking for a speaker that just disappears, these are not going to do that, especially those who go with the CG25 speakers as a front left/right pair. The CG25s are relatively large when used in the typical bookshelf speaker role. In that role, they would not be missable in a normal living room or family room, so if the buyer decides on them, they should be sure that they would be comfortable with their appearance.
Design Overview
The CG5 is a two-way bookshelf speaker and the CG25 is a two-way MTM speaker with each using 5.25" woofers and a 1" dome tweeter ('MTM' here means midwoofer-tweeter-midwoofer, i.e., the arrangement of the drivers). I wish there was a better term for MTM speakers when they aren't exclusively intended to be used as horizontal center speakers. Personally, I just consider them large bookshelf speakers. RSL calls them 'Monitors' and other manufacturers have termed them 'Mini-towers' or "LCRs,' but there isn't a widely agreed-upon classification name that I have seen. I will just call them MTM speakers for now.
Putting naming conventions aside, the CG5 and CG25 take some detours from typical speakers in this class. The most significant difference from normal speaker design in this speaker type comes from the cabinet. RSL uses an enclosure design that they call the 'Compression Guide Technology.' Compression Guide Technology is RSL's way of addressing cabinet resonance. It is an internal structure that guides the pressure waves through, in RSL's words, "calculated areas of expansion and compression." To me, it looks like a combination of typical slot ported and transmission line design. In a transmission line design, internal pressure waves generated by the rear of the cones are routed through a path that attempts to control undesired resonances. That seems to be the intent of the internal structure of the CG5 and CG25. The acoustic energy is then used to resonate air in slotted ports like a more conventional design. Transmission line theory can be very complex, and I have to admit to not fully understanding it, so I don't know how valid RSL's approach is here.
At a glance, it seems to me that RSL is essentially dividing the enclosure into two chambers with a diagonal plane. In terms of panel resonance, that would turn the main side-panel resonance into two resonances, but it may be that by turning the enclosure into a path that has a lot of damping material throughout, these resonances become diminished. However, the volume of air in each chamber will have its own resonant frequency, and that is where transmission line theory comes in. Transmission line theory is full of difficult mathematics which goes over my head, so my understanding of it is limited.
The CG5 and CG25 speakers use a 1" silk dome tweeter with a neodymium magnet that RSL specifies to have an upper treble extension of 35 kHz in a +/-3dB window. The tweeter is a bit more sensitive than the woofer, and instead of just padding it down to match the woofer's output, RSL has given the user the option of attenuating the treble output with a dial in the terminal cup. The user has the option of neutral treble, extra treble, or reduced treble. Only the CG5 has this dial since it needs the resistor network that pads the tweeter down to match the woofer, and the dial simply allows the user to adjust that part of the crossover circuit. The CG25's two woofers do match the tweeter's sensitivity and don't need the extra resistors, so RSL decided to keep its crossover network simpler, therefore there is no treble adjustment knob used on the CG25.
The woofer has an aramid-fiber cone with a cast-aluminum frame and a beefy ¾" thick, 3 ½" diameter magnet. It's a pretty heavy-duty 5.25" driver, and RSL certainly didn't decide to cut costs on this component. The cabinets use ¾" thick panels all around. They are fairly solid, and a simple knock test doesn't suggest hollowness or give any indication that panel resonance could be an issue. This is not surprising since the Compression Guide Technology structure should also serve as a very good bracing system. It may be that it does more to reduce panel resonance as simple bracing than as a transmission line-type pathway. The enclosures have a generous amount of stuffing inside, and that would be a necessity for this type of design. Amp connection is done through a nice set of gold-plated five-way binding posts. The grille is a curved perforated metal sheet and provides great protection for the cone of the woofer and dome of the tweeter. It is much more substantial than the fabric-over-frame of most grilles, which are much more about aesthetics than actually offering protection for the speaker.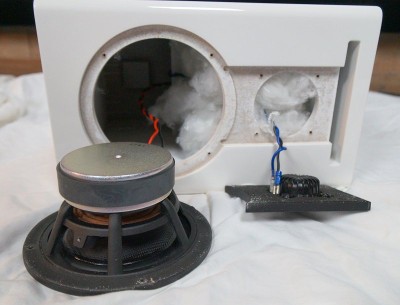 There are no built-in feet for the CG5 and CG25 speakers, but RSL has provided adhesive rubber half-domes that the user can apply. This was a smart move on RSL's part since it allows the user to place the speaker upside-down or right-side-up, whichever the user prefers. While the speakers are shown with the tweeter below the woofer and the terminal cups aligned for that orientation in the CG5s, they can be used either way and, as we will see in the measurements analysis section, that can make a big difference with these particular speakers. RSL suggests that the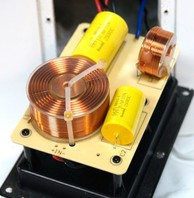 speaker be used with the tweeter at ear level, but I found they were a good deal more flexible than that which, again, is discussed in the measurements analysis section. So there isn't really a 'right side up' with this speaker; there is only the orientation where the user gets the best response.
The crossover is a 2nd-order design, so the woofer and tweeter are filtered using 12dB/octave slopes, and both speakers use a 2,500 Hz crossover frequency. Both speakers use two good-sized air-core inductors and polypropylene capacitors. These are higher-performing components than the standard iron-core inductors and electrolytic capacitors. The CG25 has two resistors, and the CG5 has five resistors in order to reduce tweeter output.
Looking at the design as a whole, there is a lot to like with these speakers, and if everything is integrated well, they should be capable of creating great sound. The only wildcard is the compression guide technology; how well does it really work? Let's give these speakers a listen to see what they sound like...
Listening Sessions
The CG5 and CG25 plus a good recording make it very easy to forget about the system and instead get lost in the music.  

In my 24' by 13' (approximately) listening room, I set up the speakers with stand-off distances between the back wall and sidewall, and equal distance between speakers and listening position. The speakers were set up to face the listening position directly. Listening distance from the speakers was about 9 feet. Amplification and processing were handled by a Pioneer Elite SC-55. No room correction equalization was used. Subwoofers were used for some content that contained deep bass frequencies using an 80Hz crossover frequency.
Music Listening
The human voice is som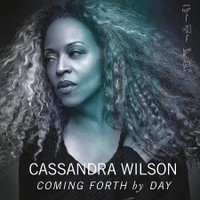 ething that is so critical to audio that if a speaker messes that up, it's not much good for anything else. For something that places an emphasis on a human voice, I turned to the album 'Coming Forth by Day' by Cassandra Wilson. Ms. Wilson is a renowned jazz vocalist who has won two Grammy awards, and 'Coming Forth by Day' is her homage album to Billie Holiday to commemorate the 100th anniversary of Holiday's birth. All but one track is a cover of a Holiday composition. Ms. Wilson is backed by an orchestra as well as traditional jazz instruments. The album was released by the prestigious label Legacy Recordings, which is a division of Sony Music, so the production quality is very good. Ms. Wilson's voice is the very definition of mellifluous; it is laid-back, deep contralto singing that has to be the most soothing voice in jazz music today. Backed by the Van Dyke Parks Orchestra, Wilson takes some Billie Holiday classics and gives them a more mellow and contemporary spin. The recording is good enough to use as impressive demo material on any hi-fi sound system.  
Holiday's voice is given some stereo expansion effects filter on this album so vocal imaging isn't as precise as it normally would be on music of this type. Nonetheless, both the CG5 and CG25 do place the voice in the center of the soundstage, and the instruments are given great imaging all around her. I did get a very clear impression of where the piano, bass guitar, percussion, and various other instruments were located throughout the soundstage. I noticed the soundstage was very wide and enveloping, and track 11, 'I'll Be Seeing You,' did a phenomenal job of illustrating this; it truly sounded as if the side-surrounds were being used here, although only the front left/right were playing. Tonal balance seemed very good with instruments having a natural timbre and did not sound particularly bass or treble heavy. Switching between the CG5 and CG25 during this album, they do seem to share the same tonal balance. Cassandra's voice sounded rich and detailed on both CG speakers. One nice attribute that the CG5 and CG25 speakers imparted on the vocals was a detailed yet smooth sound. Vocals were crisp yet the sound was not bright or sibilant. I didn't notice any real differences in imaging either between the CG5s and CG25s, even though some aspects of their performance are bound to be very different. The speakers themselves do catch most of the low-frequency extension on this album, although bringing in subs does give a bit more weight to the lower notes of the double bass and seems to add a bit more depth to the overall sound. 'Coming Forth by Day' was a terrific listen on the CG5 and CG25 speakers, and I would strongly encourage jazz aficionados to keep them on their shortlist when speaker shopping.       
I have been exp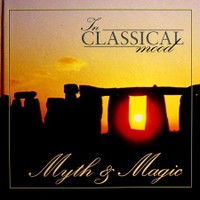 loring this massive set of classical music recordings called 'In Classical Mood,' and regular readers will know that I have been using a lot of them in speaker reviews lately on account of the diversity of music and good sound recording quality of the tracks. For the RSL speakers, I selected the disc entitled 'Myth & Magic,' which is a compilation of tracks united by mythological themes such as Mozart's 'The Magic Flute' and 'The Sorcerer's Apprentice' by Paul Dukas. The performers are all of high-caliber such as the Royal Philharmonic Orchestra and the London Symphony Orchestra. Being a compilation, the assemblage of tracks were recordings from different venues and recording techniques, and that distinction was easy to hear on the CG speakers. Again, I was impressed by the breadth of the soundstage from these speakers. The concert hall ambiance was truly expansive. On tracks that called for it, these speakers put you in the front row so that the listener was immersed among the orchestral sections. Imaging was extremely good, and instrumental sections had a clear spatial definition. Instruments sounded natural, and nothing sounded off that I could detect. Strings, brass, woodwinds all sounded dynamic and true-to-life. The CG speakers could get quite loud on moments when I cranked them. Naturally, the CG25s will have a wider dynamic range than the CG5s, but I didn't play them hard enough to bring about that difference, in an effort to preserve my hearing since they can get so loud. There was a noticeable sensitivity difference when I switched back and forth between them. Both speakers had an OK low-frequency extension for this orchestral music, but they don't have as authoritative bass as a subwoofer can bring. They can hit lower notes but not with tremendously powerful force. Placing them nearer to walls can bring out deeper bass but can also inflate the mid-bass, so boundary loading has to be used with care to get the best sound. In the end, I found 'Myth & Magic' to be an enchanting listen, and the RSL CG5 and CG25 did a superb job in recreating these performances. The CG5 and CG25 plus a good recording make it very easy to forget about the system and instead get lost in the music.     
For something a bit simpler than orchestral mu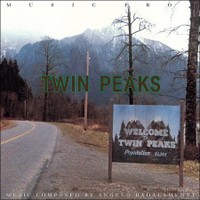 sic but still placing emphasis on acoustic instrumental sound, I listened to an old favorite of mine, Angelo Badalamenti's music score for 'Twin Peaks.' Many people will know the sound of this album since it was such a big hit back in the early '90s when 'Twin Peaks' was at the height of its popularity. For those who don't know, the score for 'Twin Peaks' can almost be described as surrealistic jazzy lounge music. It turned out to be very influential music, as did the TV show itself, since at the time there was nothing like it. The CG5 and CG25 speakers gave a very lucid reproduction for this album that I know so well. Again, they demonstrated exemplary soundstaging and imaging. Instruments were given sharp positioning, and the localization of all the sonic elements was exceptionally clear. The sound seemed to reach out from well beyond the width of the speaker's placement. One thing I noticed was that the CG5 and CG25 speakers did seem to have a bit more bass for some instruments than I was accustomed to. It didn't sound excessive, and I wouldn't have noticed it if I wasn't so familiar with this recording. The elevation of the mid-bass doesn't really carry into deep bass, though, and, as with 'Coming Forth by Day,' the lower notes from the double bass were given more tangibility when switching from stereo to 2.1 so that subwoofers could take over the deep bass range. These speakers don't absolutely need subwoofers, but they do benefit from them. Happily, RSL makes a very good affordable sub with their Speedwoofer 10S that was reviewed here at Audioholics (RSL Speedwoofer 10S Review). Listening to the Twin Peaks soundtrack on the CG5 and CG25 speakers was an eminently enjoyable experience that makes me want to rewatch this brilliant TV show—I don't remember it sounding this good! 
I have enjoyed much of the music by Stev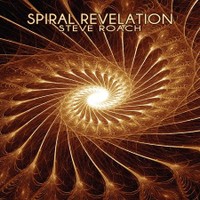 e Roach, although many of his pieces are probably a bit too atmospheric and ambient to be used as music that could demonstrate the sound character of an audio system. Sometimes, however, he can record something with such an exquisite sound that it could really scale with the quality of the audio system. I think one such album is 2017's 'Spiral Revelation.' It combines Roach's usual electronic atmospherics with layers of vintage arpeggiated analog synth lead instruments along with some of the primordial percussion sounds that he has explored in the past. It is a purely studio creation where Roach frees himself to create all kinds of ethereal sonic images, so the soundstage is a strange and otherworldly place. The CG5 and CG25 speakers rendered this distinctive soundscape with an exacting aural precision that lets the listener know what is happening, even if the sound is very alien. To put it another way, the music may be composed of strange sounds, but the rendition of these tracks left no ambiguity as to the intended effect. These speakers were able to communicate this unearthly music with clarity. The sound seemingly spanned over the entire front hemisphere of my listening position because the CG5 and CG25 speakers had such a broad soundstage, yet they were able to image with exactitude when appropriate.
The CG5 and CG25 speakers rendered this distinctive soundscape with an exacting aural precision that lets the listener know what is happening...
As was heard from other listening, these speakers have reasonably good bass extension on their own, but the balance between mid-bass and deep bass was a bit more weighted toward mid-bass. For those who are using these speakers full-range, that might end up getting flattened out by those who use automated room correction programs such as Audyssey, although I suspect most owners will pair these speakers with subwoofers. Some might say that high-fidelity sound systems are more critical for acoustic recordings where the sound is a known quantity, but it may be that it's even more important for albums such as this where there is no natural analog, so the ideas conjured up by the artist has to be delivered with more precision. On this count, the CG5 and CG25 speakers are a great choice since they do a great job of telling you what is going on, even if it's not something that you have ever heard before. 
Taking a hard change of musical direction, I selected something that I thoug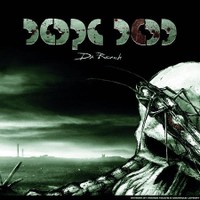 ht would be good for testing the dynamic range of the CG5 and CG25 speakers, something that uses heavy compression and is intended to be played loud. Toward this end, I picked Dope D.O.D.'s 'Da Roach,' a hard rap album that uses dubstep instrumentals for a very forceful sound. Dope D.O.D. is fairly scary stuff as rap music goes and is composed of three fellows named Jay Reaver, Dopey Rotten, and Skits Vicious. They make me nostalgic for the days when hardcore rap music was considered dangerous by mainstream media. Indeed, Dope D.O.D.'s lyrics are a nearly constant stream of praise for all manner of major felonies. Anyone offended by the glorification of criminal behavior should probably give 'Da Roach' a pass. Personally, I find this music refreshing in a world full of 'safe,' flavorless mush in which the Disney Corporation is the largest media organization. This music begs to be played loud, and so that is what I did using the CG5 and CG25 speakers. If the question being asked is can these speakers rock hard, the answer is very much so. I cranked the system, and the CG5 and CG25s were able to hit hard. Subwoofers were definitely a worthwhile addition for this album, since it is so bass-heavy, but the CG5 and CG25 speakers could keep up as loud as I could tolerate. I didn't really reach any noticeable compression or distortion even at the elevated levels I played this album at. Snares had a palpable snap, and kick drums had a substantial punch as I turned up the volume, especially with the CG25s. As was mentioned before, the CG25s do have a noticeable advantage in sensitivity and headroom, and that, of course, is no surprise given the design differences between them and the CG5s. The CG5s still offer an impressive dynamic range for their size and design specs, so those who don't have room for the larger CG25s but still want a speaker that can rock need not worry.
Movie Watching
Netflix recently produced a prequel fantasy series to a childhood classic from my youth: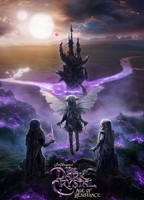 'The Dark Crystal: Age of Resistance,' which is about how the Gelflings discover the sinister nature of the Skeksis and attempt to rebel. As they often do for major projects, Netflix pulled out all the stops, so this series benefits from a production quality second to none. Sound quality is also very high since Netflix had upped the audio bitrate this year from 192 kbps to 640 kbps which is probably as good as human hearing can discern. I watched this series using the CG5 and CG25 speakers, and I tried an experiment; on some episodes I used the CG5s and the front left and right speakers with a CG25 center speaker, and on other episodes I used the the CG25s as the front left and right speakers with an upright CG5 as the center speaker. The reason why I did this is because when used horizontally, MTM designs like the CG25 normally have a problematic horizontal dispersion, meaning that it only holds a good response near the on-axis angle. That means that, theoretically, traditional MTM designs have always been a compromised design for center speakers. An upright bookshelf speaker usually has a far superior off-axis response. Since I had two of each design, I was able to test how much of a difference this made in practice. How much better does an upright bookshelf speaker sound for a center speaker role than a horizontal MTM speaker?
In my comparison using a CG5 vs a CG25 as a center channel, it wasn't easy to tell the difference, and I found one limiting factor to be a real impediment to really run this comparison properly. This impeding factor was that A/B testing of this type needs quick swapping to really get a clear sense of the differences, but since I had to rearrange the speakers and also adjust the respective gain levels for the individual channels to compensate for the significant sensitivity differences between these speakers, I wasn't able to switch between the two systems very quickly. However, with that flaw of this comparison in mind, I didn't feel like there was a serious difference, at least in my primary listening position which was on-axis with respect to the center speaker. I did feel that off-axis, the CG25 had a bit darker sound. In theory, the CG5 should serve as a better center speaker, but in practice, I couldn't be sure. What is more, I think that the acoustics of my room might be a bit more forgiving than what most people have, so my experience might not be valid for other user's situations anyway. Aside from this experiment, I quite enjoyed this newest addition to the world of the Dark Crystal, and the CG5 and CG25 did a superb job of immersing me in this fantastical environment. The orchestral score was gorgeously rendered, and dialogue was never anything less than clear, even when spoken by some very strangely-voiced creatures. It was a terrific show and made all the better when viewed with a good sound system such as RSL's newest speakers.   
For something that is a b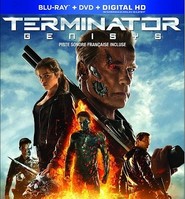 it more representative of the modern blockbuster movie sound, I watched the fifth movie in the Terminator franchise, the infuriatingly-named 'Terminator: Genisys.' As anyone who has seen this movie can attest, 'Terminator: Genisys' is a mess, but it is a very big-budget mess, so the sound mixing will be as good as money can buy. Due to all the crashing, shooting, explosions, and robot sounds, I thought that 'Terminator: Genisys' would be good for evaluating how the CG5 and CG25 speakers could deal with loud and complex movie effects tracks, so I cranked the volume for my viewing of this movie. Since I intended to play this movie loud, I stuck with the CG25 as the center channel speaker since the center is the speaker that has to carry the most weight, and the CG25 is more capable in this regard than the CG5. The CG5 and CG25 speakers didn't have any problems with the loud volume level that I listened to, which is no surprise from what I had already experienced with the speakers. Dialogue intelligibility was good throughout, even in the midst of elaborate action scenes. The music score had a very muscular sound with lots of metallic percussion and orchestral strikes that were given a lively reproduction by the RSL speakers. Gunshots and explosions all had the sharp transient sound and wide dynamic range that one would hope for in this sort of movie. One aspect of the sound mix that I enjoyed was the strange sound design of the magnetic particle terminator which had all kinds of odd humming and buzzing noises that sounded great on the CG speakers. The movie may have problems, but sound design is not one of them. 'Terminator: Genisys' sounded great on the CG5 and CG25 speakers, and the speakers sounded great reproducing the top-notch sound mix for this movie.

Confused about what AV Gear to buy or how to set it up? Join our Exclusive Audioholics E-Book Membership Program!
Recent Forum Posts:
Danzilla31 posts on November 16, 2019 11:24
Pogre, post: 1350342, member: 79914
Oh! In the pic it's hard to see the second port/slot on the black one! I assumed they were different designs, lol.

32289

Those speakers look gorgeous bro I love the look there on sale now too which really makes them a very intriguing option
Pogre posts on November 16, 2019 07:53
shadyJ, post: 1350316, member: 20472
There is only one CG25.

Oh! In the pic it's hard to see the second port/slot on the black one! I assumed they were different designs, lol.
32289
shadyJ posts on November 15, 2019 22:52
Danzilla31, post: 1350321, member: 85700
So how bad was the midbass overhang you noticed obviously it was enough for you to mention it but is it a slight change in presentation tonally or something really big enough to notice?

I wouldn't call it overhang. It just has a elevated mid-bass response. I think its noticeable if you are listening to tracks you are very familiar with, but you might not know its there if you aren't familiar with the content. Audible, yes, if you are listening for it, but not intrusive or bothersome. Like I said in the review, I think the speakers sound fine, and I don't think its worth even running room correction programs like Audyssey to finesse the response.
Danzilla31 posts on November 15, 2019 21:57
shadyJ, post: 1350316, member: 20472
There is only one CG25.

So how bad was the midbass overhang you noticed obviously it was enough for you to mention it but is it a slight change in presentation tonally or something really big enough to notice?
shadyJ posts on November 15, 2019 21:09
Pogre, post: 1350217, member: 79914
Very interesting Shady. If I were looking to buy I'd probably go with 3 if the 25s across the front and a pair of 5s for surrounds. It looks like they have 2 versions of the 25 for vertical and horizontal positioning?

There is only one CG25.
Post Reply