Budgeting Your Home Theater
Budgeting Your Home Theater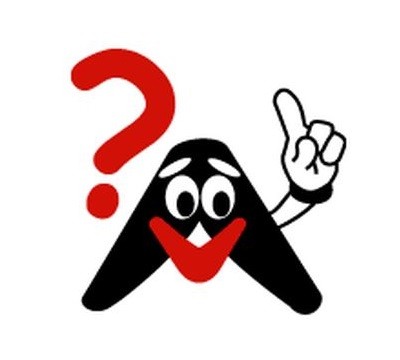 How do you deal with budgeting the pricing of various home theater components in order to achieve a reasonable balance? This is a key question, and one we are often asked with respect to spending those hard earned dollars.
This question is especially relevant in a market where you can spend any amount you want on home theater equipment and place an emphasis on anything from speakers, to displays, to jumping into new high definition formats. It is difficult, but important to put your money in the right places to optimize your home theater experience and get the most for your money. You earned it, so don't mismanage it and lose out on getting the best system possible. In order to address this question to the best of our abilities, we'll need to define a series of recommended system pricing based on user preference and various budget considerations.
 How to Budget your Home Theater System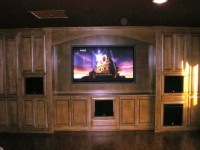 Before we get into pricing guides and ratios, let's start with a brief discussion of the various components and devices that make up parts of a comprehensive (or even starter) home theater system:
Display
You're going to need a high definition display device. This can be a flat panel, rear projection or front projection type, but for purposes of this guide it will support at least 720p or 1080i (or both). Many new flat panel displays are 1080p-capable and this year will mark the entry of more affordable 1080p front projection displays.
Receiver
This is where some decisions will need to be made. More advanced products will handle HDMI audio and video and provide such advanced features as video upconversion, scaling and deinterlacing. Selecting the right receiver will largely depend upon the type and amount of equipment you plan on putting in your room.
Source Components
By "source component" we're talking about DVD players and other devices such as cableTV and satellite receivers. Some may integrate additional, or more advanced sources such as media servers or video processes. This is an area where your total system budget will need to take into account the goals and expectations for your particular home theater system.
Loudspeakers
Loudspeakers perhaps get the most attention next to displays, but often there is a question of how to balance the cost of speakers against the entire system. As we'll see, there are a lot of factors to consider and the costs will change dependent upon the desired size and performance of the system.
Remote Control
Every system is going to need a universal remote control to drive all of the components. For those wishing to conserve in this area, a universal remote control supplied with a receiver or display may suffice, but we heartily recommend a dedicated RF-based device whenever possible.
Cables
Cables are a necessary part of every system. How much you should spend will depend upon your total system budget and whether or not you care about the aesthetics of your cabling.
Home Theater Furniture
You simply cannot forget to factor in furniture when you have the budget. A home theater is unbelievably enhanced with a nice set of reclining chairs; and a living room theater system greatly benefits from a well-designed, well-ventilated credenza or entertainment center.
OK, so what do we do now? Well, for starters we need to discuss the goals of a home theater system. By answering a few basic questions, you'll be able to get a feel for what is possible and ensure that your budgetary and performance goals are realistic and achievable. Take stock of your situation and ask yourself:
What is my (real) budget?
Evaluating what you have to spend will determine if your eyes are bigger than your pocketbook. It will also help later as we put forth some suggested pricing guidelines and budget scenarios for various spending levels. Some items require compromise or delay within certain budgets and other times you will find that a procedural approach with upgrades is the best way to go.

What is most important to me?
If your main focus of the AV system is convenience, then the control system (RF) may trump having the very best cables or a new Xbox 360. If, audio is king, then you may opt for better speakers and a dedicated 2-channel amplifier rather than getting that new 1080p projector. If you're like me and love your video, then a receiver may suffice in order for you to achieve display nirvana - whether on a 100-inch screen or a crystal clear 1080p flat panel display. This is one of the most important and preliminary steps which will determine the path you take on your audio-video journey.

How will I use this system?
How you will actually utilize this system will determine the amount of money you'll need to allocate as well as the type of products you'll want to integrate into your theater system. For example, if you intend to host large viewing events, you'll need to focus more on a front projection system or oversized television, whereas those looking to develop an intimate listening room will allocate more resources to the loudspeakers, amplification chain and source components.

Can I wait?
If you can break up your expenditures into a procedural budget that expands with time you can often assemble a much better system than if you attempt to buy everything at once. For example, if you have $3000 to spend on upgrading a whole system, it may make more sense to focus on the main channels and a new receiver (or simply upgrading the display) rather than attempting to severely compromise on all items and buy an entire system all at once.
OK, with the above in mind let's look at some example budgets and our suggested breakdowns for price in each category. Each example will have a brief description as well as notations for where we omitted items in order to better accommodate the overall goals of the system.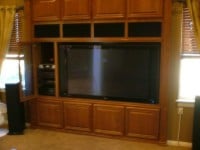 $3,500 Balanced AV System
The following is an entry-level system designed to balance the desire for optimal quality of both audio and video aspects of the room. Key things to note are that this could be a front projection system (no screen, DIY screen, or an inexpensive pull-down "starter" product), or a flat panel or rear projection system depending upon the desired screen size. Buyers in this category are going to benefit from buying last year's models and not attempting to have the latest and greatest. If you already have some of the required equipment, then you can reallocate your budget or do partial upgrades of your system (front speakers only, for example).
43% loudspeakers = $1,505
36% display = $1,260
14% AV receiver = $490
4% DVD player = $140
3% cables = $105
$5,000 Audio-centric System
This system tilts decidedly towards a preference for making sure the audio aspects of the system are favored. While the display may look under-funded, realize that if you focus on 480p front projection or a smaller rear-projection LCD model you may be surprised at what you can find. Last year's models will win the day here, with a prior year's receiver bringing in a tremendous value as opposed to the newest products.
54% loudspeakers = $2,700
20% display = $1,000
16% AV receiver = $800
7% DVD player = $350
3% cables = $150
$5,000 Video-centric System
Leaning heavily towards video, this system allows you to get a pretty decent 720p LCD or DLP front projector and screen (or flat panel display) while still leaving a reasonable amount of budget to round out the system and ensure that your soundtrack will also impress. A long-run HDMI cable is not part of this budget, but can be if you find additional funds. One way to get better performance will be to locate the AV equipment within reach of the display so your digital video cabling doesn't eat you out of house and home.
48% display = $2,400
32% loudspeakers = $1,600
10% AV receiver = $500
7% DVD player = $350
3% cables = $150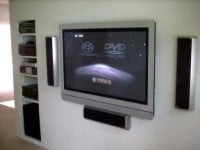 $7,500 Audio-centric System
At this price point things start to get very subjective (this is where I start getting nasty emails about how ridiculous my percentages are and how I should ditch the receiver budget and add a dedicated amplifier, etc). Well, let me just admit it now - you're right. And I'm right. And that obnoxious guy on AVS Forum is right. The choices are completely subjective and your decisions at this point will reflect your personal preferences. Let's consider some options in this system for a moment. Don't care for the media player? Want a dedicated amplifier? Cool, reduce the receiver budget and plan to use a lower powered model as a pre-amplifier. Then grab at least a 2-channel dedicated amplifier and insert that into the budget. This can really be done (budget-permitting) any time you see enough value under the "AV receiver" column. Don't need a display at all? Bingo, you've just freed up $1500 - have at it!
49% loudspeakers = $3,675
20% display = $1,500
18% AV receiver = $1,350
6% DVD player = $450
3% cables = $225
2% media player = $150
2% remote control = $150
$7,500 Video-centric System
By this time I'm hoping you're starting to get the big picture. We are attempting to balance the systems, paying careful attention to total system budget and not forsaking (completely) any one aspect of the total project. To do so would result in an incomplete system which would lessen the overall consumer experience.
49% display = $3,675
26% loudspeakers = $1,950
13% AV receiver = $975
7% DVD player = $525
3% cables = $225
2% remote control = $150
In the above systems it's important to note that we'd highly recommend paying attention to room acoustics. While we didn't include this in the budget at this price level, there are many natural items such as throw rugs, thick curtains and natural diffusers (properly placed bookshelves) that can be used to help improve the sound in the listening environment. You may also wish to assign some of your budget to DIY acoustic materials which can be made inexpensively and match nearly any décor.
In these final systems we'll attempt to assign some specific value towards room acoustics as well as home theater furniture and also focus on expanding the audio video experience to include other options such as HTPCs and/or media servers. These systems are almost entirely flexible and you can reallocate and rearrange priorities as you see fit.
$15,000 Home Theater System
There are no limits to what you can configure at this price point, but you probably won't be leaning in too heavy a direction towards audio or video. It's important to have a well-balanced system that will impress both the eyes and ears. You may also want to allow for installation fees (not included below) to have a custom installation company help you with configuring and setting up your system.
20% display = $3,000
17% loudspeakers = $2,550
15% media server or HTPC = $2,250
14% home theater seating = $2,100
9% dedicated 2-channel amplifier = $1,350
7% AV receiver = $1,050
7% professional calibration and consultation = $1,050
5% Remote control system = $750
4% DVD player = $600
2% cables = $300
You may note that we included a receiver as well as an amplifier in the above system configuration. Since you are (possibly) providing your main channel amplification through the use of an external amplifier, the receiver will be there to power the rest of the system and possibly a second Zone if the amps are configurable. It can also be considered a readily-upgradeable product which can be cycled into a second room at some point down the road. Don't need theater chairs? Add that amount into the amplifier or display category or consider budgeting room acoustics to really get the most out of your system. At this price point you're starting to see the inclusion of a basic RF remote control system and we recommend that you beef this area up if you find extra funds. An easily controlled system will be impressive and make the room more usable by all members of the family.
Another thing we want to see included in systems at this level (or whenever possible) is the use of 2 subwoofers . This aids in smoothing out bass response (when properly configured) and is typically a far more important acoustics tweak for low end than just about anything else we can think of.
$35,000 Home Theater System
We could keep increasing the budget forever, but let's see what just a little more looks like in terms of allowing us to extend certain areas to entertain higher-end products.
21% loudspeakers = $7,350
21% display = $7,350
11% home theater seating = $3,850
10% media server or HTPC = $3,500
8% basic room acoustics package = $2,800
7% dedicated 2-channel or 5/7-channel amplifier = $2,450
7% professional calibration and consultation = $2,450
5% AV receiver (as preamp) or preprocessor = $1,750
5% DVD player = $1,750
4% control system = $1,400
1% cables = $350
At last, a system that formally adds room acoustics and beefs up the components to a level where you are getting some truly high quality (but not esoteric) products. Note that you can choose either a receiver or processor to drive the system. The advantage of a receiver is that you will have the latest and greatest audio and video processing technology and many of the more reliable brands actually have extremely low noise floors. The advantage of a processor is that you can have nice matching components and a warm fuzzy feeling knowing that you have separates. J If you are focused more on audio or video or you have extra budget from the elimination of one or more components above we recommend beefing up where you see fit (dual subwoofers are a must in this system, for example). One key thing to remember is that the listening experience will be greatly improved by not sacrificing your room acoustics and overall system design. Do not underestimate the significant benefits of hiring a professional acoustician to help you get the most out of your home theater with some key acoustics products.
While even the $35,000 system doesn't include a budget large enough for a more robust RS-232 control system, new hybrid RF-232 systems from the likes of Universal Remote, Inc do a nice job of bridging the gap and allowing for simplified control of a complex system.
If we take a birds-eye look at the above recommendations we get an idea of where we are and what the percentages look like from budget to budget.
| | | | | | | | |
| --- | --- | --- | --- | --- | --- | --- | --- |
| | $3500 | $5k Aud | $5k Vid | $7.5k Aud | $7.5k Vid | $15k | $35k |
| Speakers | 43% | 54% | 32% | 49% | 26% | 17% | 21% |
| Display | 36% | 20% | 48% | 20% | 49% | 20% | 21% |
| Seating | - - | - - | - - | - - | - - | 14% | 11% |
| HTPC/M.S. | - - | - - | - - | 2% | - - | 15% | 10% |
| Acoustics | - - | - - | - - | - - | - - | - - | 8% |
| Amplifier | - - | - - | - - | - - | - - | 9% | 7% |
| Cal/Consult | - - | - - | - - | - - | - - | 7% | 7% |
| Rec/Pre-pro | 14% | 16% | 10% | 18% | 13% | 7% | 5% |
| DVD player | 4% | 7% | 7% | 6% | 7% | 4% | 5% |
| Control | - - | - - | - - | 2% | 2% | 5% | 4% |
| Cables | 3% | 3% | 3% | 3% | 3% | 2% | 1% |
None of the systems above include any power protection or battery backup. It is highly recommended that you consider a voltage regulation system (with or without battery backup) for your front projection system. This will typically extend the life of the bulb significantly and save you money over the long run. There are some excellent products on the market today for under $400 - about the price of a single replacement bulb. For the more entry-level systems even a surge suppressor is better than nothing at all and should be included. In addition to this, every system should have at least one calibration DVD and an SPL meter to correctly set levels in the listening room.
It is our hope that you use this guide to check yourself and ensure that you have considered all of the important aspects of a home theater system when developing your budgeted spending plan. Flexibility is key, and we encourage you to change these values to include your personal requirements and preferences. This is, hopefully, a good starting place to double check your planning and ensure that you're not spending a ridiculous amount of money on one area while neglecting another.
Have fun!
Special thanks to Ray Adkins of RLA Home Theater for allowing us to use these installation photographs.
Confused about what AV Gear to buy or how to set it up? Join our Exclusive Audioholics E-Book Membership Program!