Digital Converter Box Comparison & Shootout
Digital Converter Box Comparison & Shootout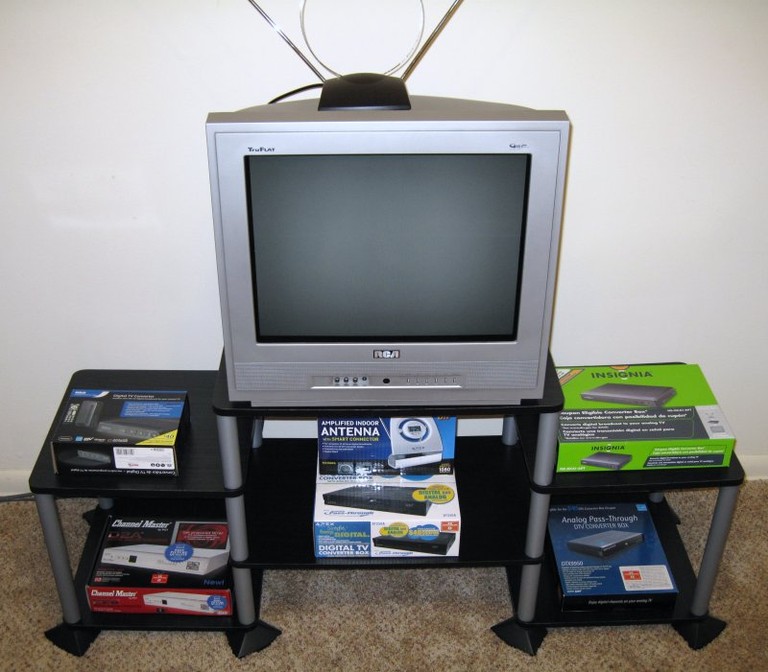 DTV Digital Tuner Shootout!
Looking for a digital TV converter box can be a daunting task as every store seems to have their own brands. And with a proliferation of boxes on the internet, which ones work with those $40 government coupons… If so, how well do they work? Features? Quality? Ease of use? Audioholics compares five popular boxes to help you make the best choice!

Test Setup
In an effort to stay true to the purpose of the low cost digital tuners which are government coupon compatible, the majority of the testing was done with a 7 year old, 20" CRT television. This RCA brand TV has coax, composite, and S-Video inputs. It isn't a particularly fantastic display, nor is it the worst available, but it did provide for a reliable visual comparison. A 20" flat-panel Dell computer monitor with composite and S-video was also used. The Dell doesn't have a great scaler, but worked nicely to expose any flaws in the picture that might have been hidden by our standard interlaced CRT. Please note that screen shots of menus, guides and info pages were also taken from the LCD monitor due to glare and moiré issues with the camera. We used two antennas to round out our signal comparison. First, we chose a basic, low-cost unit from Radio Shack that should be similar to basic rabbit ears that anyone is likely to already own. Second, we found a smart antenna at Best Buy, the Apex SM550, which works as a standalone amplified antenna or as a smart antenna. A smart antenna, as defined by the Consumer Electronics Association (CEA-909), is basically an antenna that can be controlled via the tuner to allow automatic tuning for the best possible signal. There were only a handful of smart antennas available online and this is the only one to be found at any local store. The smart antenna idea is very intriguing and we wanted to know how much of a difference it could really make. A basic set of shielded RCA and S-Video cables were used to eliminate any issues from the cheap cables included with the tuners. The following five TV converter boxes were tested: RCA DTA800B1, Insignia NS-DXA1-APT aka Zenith DTT901, Digital Stream DTX9950, Apex Digital DT250A, and Channel Master CM-7000. On to the reviews…
Editor's Note: Composite (yellow) vs. S-video (4-pin) Connections
Composite video - those yellow RCA connectors you see on the back of your TV and many video devices - are present on all of these boxes and offer a way to get the video to your television separate from the stereo audio. In this way you can feed the audio to your A/V receiver and let the TV receive the video signal. Even if you don't use an A/V receiver, composite video with separate stereo audio is often capable of delivering a better quality picture than the threaded coax F-connector which carries both audio and video on the same line. S-video is a 4-pin connector that provides even more information to better transmit the video information to your television. Whenever you are given a choice between composite (yellow) and S-video connections, we recommend using S-video.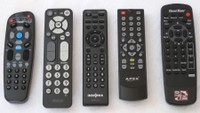 Top to Bottom and Left to Right: Digital Stream, RCA, Insignia/Zenith, Apex Digital, Channel Master
Confused about what AV Gear to buy or how to set it up? Join our Exclusive Audioholics E-Book Membership Program!
See also:
Recent Forum Posts:
fast1 posts on May 26, 2009 04:41
thats a pretty good deal imo…
-Kevin- posts on May 25, 2009 20:26
I picked up one of the CM-7000 units a couple days ago. I was unable to find it on Amazon. It looks like it sold out! However, ended up purchasing it here for less than the $60 Amazon had it for:
http://www.solidsignal.com/prod_display.asp?prod=CM-7000
I have to say, I agree with the review of this unit on all points. It is a fantastic converter!
yettitheman posts on May 06, 2009 02:34
I have a couple of those APEX boxes…. yeah.

I know of at least one of mine that has a power supply that makes noise in standby mode.

Not to mention with rabbit ears, keep the AC power cord away from the leads as much as possible. It causes quite a bit of interference; enough to block stations from coming in.
Adam posts on May 03, 2009 20:46
Thanks for the review!

I might just have to get one of those Channel Master units. I have the Zenith DTT901 and have been really happy, except that I wish that it had S-video and that the program guide showed more into the future. I do like how the Zenith lets you check what's on other channels without changing the channel, though.

I really (REALLY) wish that these lower-priced boxes had digital audio output. That's one of the reason that I put off getting one until a couple of months ago.
Post Reply