iPhone 4 Case Roundup and Buying Guide
iPhone 4 Case Roundup and Buying Guide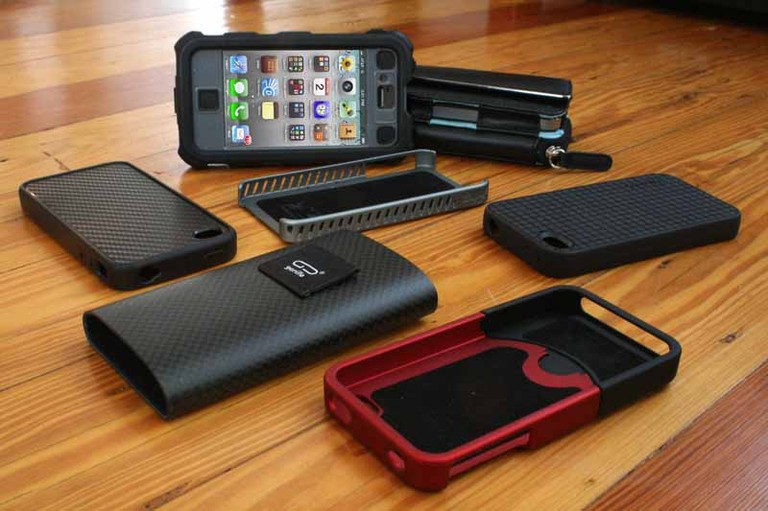 iPhone 4 Case Roundup
With the announcement that the iPhone is likely coming to Verizon shortly, there is sure to be an influx of new iPhone 4 users in the next quarter. Those users will come from one of two places: either new users who are jumping ship from AT&T to experience iPhone use on the Verizon Network, or existing Verizon customers who are going to take advantage of renewing their contracts with an iPhone 4. In either case, there are going to be lots of new iPhone 4 consumers who will need to protect their new investment. We solicited cases from most of the major players and experienced a near-full array of what's available for the iPhone 4. Some cases really impressed us. Others came across as more or less standard fare and nothing short of what you'd expect for any new smart phone. To make this process simple, we'll list each case here and talk briefly about our experiences, giving an overall opinion as well as the general pros and cons of each product.
Ballistic HC Series Case

This case remains the one we use currently and represents the most protective case currently available on the market - at least of anything we've personally experienced (if you're a manufacturer and you have something better, feel free to drop us an email).The case is available in multiple colors, even pink, and its redeeming quality is that, although quite large, it will protect the iPhone 4 against drops and environmental dust and abrasions. Now... when we say it's quite large, we mean it. This multi-layer case is going to transform your iPhone 4 into a 3/4-inch thick megalith. It's just that you can take said phone and hurl it against a concrete wall and suffer no ill effects. Highly recommended if function is way above form in your book (it is in mine).

Pros: Ultimate protection
Cons: Thick, suffers from "oil slick" screen problem, case screen scratches easily, won't dock with anything but a standard iPhone USB cable.
Price: $49.99 | Buy Online
Otterbox Impact, Commuter, Defender Cases

Otterbox is one of the more famous names for protective gadget cases, specializing in waterproof and damage-proof boxes for cameras, MP3 players, phones and more. For the iPhone 4 they have (currently) three fitted cases. The three cases progressively offer more protection, but also progressively increase the size of the package and shift form to function. Of the three we found the Defender Series to be the most impressive, though the Commuter is a nice middle-protection case. It was disappointing that the Defender doesn't protect against water since, when we think Otterbox, we figure their top of the line model should do it all. The Impact Series Case is nice, but it offers little more than many of the other solutions on the market, though we liked the fit.
Pros: Decent protection, several options for thickness and safety
Cons: Not drop-rated, tough to dock, sub-par screen covers
Price: $19.95, $34.95, $49.95 | Buy Online
Griffin Reveal Etch Case

The attractiveness of the Reveal Etch is its thin rubber sides which give the phone a grip, while the full polycarbonate back protects the rear glass panel from harm. Reveal's sleek, one-piece design gives your iPhone some minimal protection from the outside world, but only adds a little over a millimeter to the phone's thickness. For the aesthetically-minded, this is a great case and the thin shell protects as only polycarbonate can, with slim rubber lining and inserts that cushion and grip tight to hug your iPhone.We liked this case very much and found that it was perfect for my wife who isn't terribly hard on her phones.
Pros: Thin, easy to grip from the sides
Cons: Very little protection, no screen protection
Price: $29.99 | Buy Online
iFrogz Luxe Original and Luxe Lean Cases

iFrogz has their our own case style, an avant-garde, innovative, archetypal kind of original. They've fashioned an eye-catching, two-component case with a sort of metallic look and a velvety feel. It gets one of the highest style points of all the cases we've seen to-date and we love the two part case that allows you to drop the bottom off for docking. One thing that we've learned from prior iFrogz Luxe cases is that the velvety coating will eventually wear off in patches where the case is handled the most. If this is a concern, then opt for the Luxe Lean case.
Pros: Thin, very attractive, removable bottom (Luxe original)
Cons: Very little protection, no screen protection, irregular wear of texture over time
Price: $24.99 - $29.99 | Buy Online
Gorilla Tube Carbon Edition Case

The Gorilla Tube Carbon Edition is made by hand out of real carbon fiber. While the case is truly tough, the design is unusual in that the iPhone is lifted out of the tube via a pull tab. It certainly works, but it;s not exactly elegant - more like something you'd toss in a bag or purse. If that's what you envision for your iPhone then you're all set. It's also a bit expensive - as most carbon fiber products are. In any case there isn't much in the way of carbon fiber in the world of iPhone cases, so it's a neat design and attacks the case solution with a much different approach.
Pros: Internal padding, it's carbon fiber!
Cons: No protection when phone is removed from case for use, expensive
Price: $91.44 | Buy Online
Marware Emmie Purse for iPhone 4

The Emmie for iPhone 4 is an inexpensive, genuine leather clutch purse designed for women who prefer carrying their iPhone in a small, handled purse instead of a larger, bulkier handbag. The outside pocket is sized to fit an iPhone and works great with an uncovered iPhone or an iPhone protected by a thin shell-style case. The secure Velcro closure helps keep your phone in place while you?re on the go, and a cutout on the bottom helps to quickly remove the iPhone?simply lift the flap and push up through the bottom cutout. In true purse fashion, an additional secure zippered compartment is provided and is great for storing identification, cash, cards, keys, change, and more. The Emmie also includes two interchangeable and removable straps - one designed for hand or wrist carry, and one designed for shoulder carry. This case is perfect for holding the basics, and is designed to appeal to style-conscious women everywhere.
Pros: Very slick, stylish, and extremely convenient, inexpensive
Cons: No protection when phone is removed from case for use
Price: $17.52 | Buy Online
Speck
iPhone 4 PixelSkin HD Case


Speck's PixelSkin HD for iPhone 4 is a slim case with a rubberized texture. It has a flexible high-contrast case that fits your iPhone 4 like a second skin. This case has a great, textured pattern on the backside which breaks up the otherwise plain case and turns it into a really well-designed product. The PixelSkin HD has a shiny polished back with a unique matte "square pixel" overlay, creating an eye catching, sophisticated, and modern artful look. It's a "grippy" case that you can order in any of a number of bold colors and should protect your iPhone from minor bumps, dings, and scratches.
Pros: One of the more comfortable accessible cases, easy to grip, large holes for accessories
Cons: Visible seam, included screen protection is sub-par
Price: $35.00 | Buy Online
Zagg InvisibleSHIELD


One thing that most cases share, with the exception of the more rugged solutions, is that they lack sufficient screen protection. Zagg's InvisibleSHIELD is a clear, virtually indestructible film that protects your iPhone 4 from scratches. Zagg's patented film has what they call "nano-memory technology" - basically it covers and shields your device, keeping it as pristine as the day you took it out of the box. The precision pre-cut InvisibleSHIELD applies directly to your iPhone on front and back. The InvisibleSHIELD has its origins in the military, where it was used to protect high-speed helicopter blades from dust, dirt and debris. The InvisibleSHIELD is only .2 millimeters thick, making it the slimmest iPhone skin or cover of its kind. It is so tough that the company backs it with a lifetime guarantee. After seeing the sub-par screen protectors that come with many of these products, picking up a Zagg InvisibleSHIELD should be on your short list.
Pros: Tough, durable
Cons: Not inexpensive, won't work well with tougher cases that come with a hard screen cover
Price: $14.99 - $24.99 | Buy Online
These are just a smattering of available iPhone 4 cases, but its amazing what's been made available in just a short amount of time. As more and more cases are being brought online, the choices just keep expanding. Your decision will likely be made on what level of protection you want and the kind of uses you'll put your iPhone through. In either case, we feel that the one common denominator is using a Zagg InvisibleSHIELD. It'll work with most cases and it makes everything better. Aside from that, pick your style, your color, your level of protection - and rock on.
Confused about what AV Gear to buy or how to set it up? Join our Exclusive Audioholics E-Book Membership Program!