2010 $1000 A/V Receiver Comparison Guide
2010 $1000 A/V Receiver Comparison Guide

Sure, the gray looks weird on the HK until you realize it's the only one that stands out on the shelf
For many years now, you could say you weren't really playing with the big boys until you stepped up to a $1000 receiver. That's as true now as it was five years ago. Of course, receivers five years ago in this price point couldn't hold a candle to what you get today. You were lucky if you got an onscreen menu over component video. HDMI, of course, was just a dream in the mind of some studio exec who wanted to shove DRM down our throats in the guise of a "one cable" solution. Of course that exec (while not in league with) probably subcontracts for the devil. For $1000 you can expect a lot out of a receiver. To start with, they aren't going to fall back on a lesser amp measurement - everything will be measured from 20Hz to 20kHz and you're going to get seven channels of discrete amplification. While we still view manufacturer's specs with more than a little suspicion, at least they are all supposedly starting from the same place. All of these receivers will have HDMI 1.4 inputs and outputs, all of which support 3D. You're going to get an onscreen display over HDMI standard and can expect video upconversion and scaling from analogue to HDMI 1080p. It is actually quite a bit harder to make a decision at this price point given how many features are available. While your entry level receivers have to cut a lot of corners and at the $500 price point you find manufactures picking a focus, here, you get a lot more. Networking, multizone, THX certification, auto setup and calibration, and tons of extras. We suggest you make a list of everything you could possibly want out of a receiver, and see what fits it best. Many manufactures have offerings within a couple hundred dollars of the those chosen for the comparison so look around. You could find everything you want in a offering a bit more or bit less than these. 
| | | | | | | | |
| --- | --- | --- | --- | --- | --- | --- | --- |
|   | Denon | Marantz | Yamaha | Onkyo | Pioneer | Sony | Harman Kardon |
| Model# | | | | | | | |
| MSRP | $1199 | $999.99 | $1099.95 | $1099 | $1000 | $799 | $999 |
| Power (x7 channels) | 125 | 110 | 105 | 135 | 110 | 100 | 80 |
| Discrete amps | Yes | Yes | Yes | Yes | Yes | Yes | Yes |
| THX | No | No | No | Select2+ | Select2+ | No | No |
| ARC | Yes | Yes | Yes | Yes | Yes | Yes | No |
| HDMI STAND-BY Pass-thru | Yes | Yes | Yes | No | Yes | Yes | No |
| Dolby PLIIz/Audyssey DSX | Both | PLIIz | Presence | Both | PLIIz | PLIIz | None |
| Auto Setup/Room EQ | Audyssey MultEQ XT | Audyssey MultEQ | YPAO | Audyssey MultEQ | MCACC | DCAC | EzSet/EQ |
| HDMI I/O | 6/2 | 6/1 | 8/2 | 7/1 | 6/2 | 4/1 | 4/1 |
| Component Video I/O | 2/1 | 3/1 | 4/1 | 2/1 | 3/1 | 3/1 | 2/1 |
| S-Video I/O | 2/0 (one for dock) | 0/0 | 5/2 (Zone 2 video) | 4/2 | 0/0 | 0/0 | 0/0 |
| Composite I/O | 4/2 (Zone 2 video) | 5/2 | 5/2 (Zone 2 video) | 5/1 | 5/2 (Zone 2 video) | 4/1 | 4/2 |
| Digital Audio (coaxial/optical) | 2/2 | 2/3 | 3/4 | 3/2 | 2/3 | 1/3 | 3/3 |
| Phono | Yes | No | Yes | Yes | No | No | No |
| Pre-ins | None | 7.1 | 7.1 | 7.1 | None | None | 7.1 |
| Preouts | 7.2, Zone 2, Zone 3 | 7.2, Zone 2 | 7.2, Zone 2 | 7.2, Zone 2, Zone 3 | 7.1 | Sub | 7.1 |
| Video Up Conversion to 1080p via HDMI | Yes | Yes (Anchor Bay) | Yes (Yamaha Proprietary) | Yes (Faroudja DCDi) | Yes (Marvell Qdeo Video Scaler) w/calibration | Yes | Yes (Faroudja DCDi) |
| Multi Zone | 3 (powered and pre for Z2, pre for Z3) | 2 (powered and pre) | 2 (powered and pre) | 3 (powered and pre for Z2, pre for Z3) | 3 (powered and pre for Z2, pre for Z3) | Wireless Zone 2 (with additional purchase) | 2 (powered and pre) |
| Extra Speaker Connections | 2 pairs | 1 pair | 1 pair | 2 pairs | 1 pair | None | None |
| HD Radio | Yes | Yes | Yes (w/iTunes tagging) | No | No | No | No |
| AirPlay | Yes | No | No | No | No | No | No |
| Networking | DNLA, Rhapsody, Pandora,Napster, Flickr | No | DNLA, Rhapsody, Internet radio | DNLA, Pandora, Rhapsody, Napster, vTuner, MediaFly, Slacker | Internet radio | DNLA, Rhapsody, Shoutcast | No |
| Web/App control | Both | N/A | Both | Web for Internet radio only plus App | Both | App | N/A |
| iPod Interface | Audio via USB, AV via dock | Audio via USB, AV via dock | Audio via USB, AV via dock | USB (audio and art) | Full (includes cable) + Android USB support | No | Full (with included dock) |
| XM/Sirius | Yes | Yes | Yes | Yes | Yes | No | Yes |
| Dimensions (inches) | 17.1 x 6.7 x 15 | 17-3/8 x 6-5/16 x 15-5/16 | 17-1/8 x 7-1/8 x 16-7/8 | 17 1/8 x 7 13/16 x 17 1/8 | 16.54 x 6.81 x 17.05 | 17 x 6-1/4 x 12-7/8 | 6 1/2 x 17 5/16 x 15 |
| Weight (lbs) | 26.9 | 26 | 32.4 | 40.3 | 29.6 | 19.9 | 31.5 |
| Warranty |  2 Years |  3 Years |  3 Years | 2 Years | 2 Years |  2 Years |  2 Years |
One change you'll notice from the $500 comparison is the lack of Sherwood. While they have receivers in the price range, they are a bit long in the tooth and really don't measure up. We're betting that Sherwood will be updating their line soon so maybe they'll make next year's cut. Everyone else has an offering though we feel a bit bad about including the Sony. At $200 under the target price, they're at a bit of a disadvantage. But they did have a feature that no one else had so we felt they deserved to be mentioned. 
Sony STR-DN2010
We're not going to spend too much time beating up on the Sony STR-DN2010 receiver. The fact is that it is $200+ cheaper than the rest of the competition so it should be given some leeway. It still has HDMI 1.4a inputs (four), auto room calibration (DCAC), and video upconversion and scaling. You can get multizone (like the $500 STR-DN1010, it's wireless and you have to buy their solution) and the receiver does support content streamed from your networked computers and from Rhapsody and Shoutcast. There is an app for controlling the receiver but no native iPod support. There isn't even a 3.5mm jack. There are no analogue inputs for integrating legacy gear or pre-outs for adding an amp later. At 19.9lbs, it is, by far, the lightest in the group (over six pound lighter). So, why did we include it? It includes a four port Ethernet hub. This allows you to connect up to three addition devices (other than the receiver) to the internet without having to buy a switch or add additional Ethernet runs. We love this feature and wouldn't mind seeing other manufacturers adopting it. Now, from this point on we're forgetting the Sony and only talking about the others.
Harman Kardon AVR 3600

While the Harman Kardon AVR 3600 falls within the proper price range, this is actually an update for an older receiver. You can tell when you download the manual and see all the references to HDMI 1.3 and no mention of 3D or anything else. Will Harman be releasing a new receiver at CES this year? Maybe but we'd put our money on CEDIA. At $999, the AVR 3600 sports 80 watts per channel, discrete amps, and HDMI 1.4a inputs and outputs. Of those in the $1000 price range, the HK has the fewest HDMI inputs at four. They are 3D only and don't support Audio Return Channel (ARC) or Standby Pass-Thru.  There are also two component and four composite video inputs and a single output of each type (many of these receivers have multiple composite video outputs but they are for recording and not for Zone 2 so we don't really count them). While the AVR 3600 doesn't support iPods natively, HK has included The Bridge III dock which does. That's good enough for us and wish that other manufacturers that offered docks would start throwing them in at this price point. Through the dock you can not only listen to your music but video photos and videos. The Harman proprietary EzSet/EQ is on board for speaker setup and room correction.
If you are looking to integrate legacy gear or add an amp, the AVR 3600 has both 7.1 analogue inputs and outputs. Zone 2 is supported by either routing the surround back channels or through pre-outs to an external amp. Video upconversion is handled from all analogue sources up to HDMI at 1080p by Faroudja DCDi. The HK is one of the two in this comparison that completely ignores the Internet and forgoes any sort of networking features. In a huge missed opportunity, there is a USB port on the front but you can only use it for firmware updates and not to stream media. There are no additional speaker connections for making switching configurations on the fly easier but, in the AVR 3600's defense (of sorts), it doesn't support any of the height or width channels anyhow. Unless you are switching from a 7.1 to a 5.1 plus Zone 2, you wouldn't need the additional speaker connections. At 31.5lbs, it's the third heaviest in the group.
Marantz SR6005
At a $0.99 more than the Harman, the Marantz SR6005 has that distinctive Marantz styling that we've been infatuated with for years. If it's not for you, fine. But we think there's something wrong with your brain. Oddly, even though it sports 110 watts per channel, it is the lightest in the group (sans the Sony which doesn't really count) at 26lbs. Given that their "slimline" receivers have generally been near the top of the weight even with the limitations of their size in the other comparisons, we find this curious. The Marantz, like the HK, weren't able to integrate internet or networking features into these products.  For Marantz you will have to step up to their SR7005 (MSRP: $1599) for networking.   What you do get on the SR6005 is six HDMI 1.4a inputs with 3D and ARC. While Audyssey MultEQ is on board, DSX is absent leaving users only Dolby ProLogic IIz for height channels. There are three component and five composite video inputs and an output of each type. Everything is upconverted and scaled to 1080p over HDMI by Anchor Bay.
The SR6005 is the first sub $1k receiver in this comparison to offer dual subwoofer outputs. It has a full complement of analogue inputs for integrating legacy gear and outputs for adding an amp later. There are two possible zones of audio with the second zone either powered or through pre-outs to an external amp. The SR6005 has an extra pair of speaker outputs so that you can flip between configurations on the fly. There is a USB port for accessing media or iPods though you'll have to buy an add-on dock for full iPod integration. The Marantz is one of the few with an integrated HD radio tuner.
Pioneer VSX-33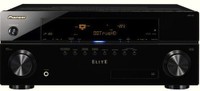 Pioneer has made a name for itself in recent years has being one of the few (and definitely the first) that really embraced iPod/iPhone integration. Of course the VSX-33 is no different. With "Made for iPhone" certification, the Pioneer VSX-33 is the only one in the group that includes full iPod/iPhone integration with an included cable for playback of movies and music. Plus, it supports the Android OS via USB for those that are allergic to Apples. There is a free app you can download to control the VSX-33. Like the Marantz (which it costs a whopping penny more than), it sports 110 watts per channel but it weighs a full 3.6lbs more (at 29.6lbs). This places it just about center of the pack for weight.
Networking is included as mentioned but only to stream Internet Radio channels though there is a full web interface for controlling the receiver. Pioneer must be betting that anything you'd want to stream is available on your handheld device or phone already. The VSX-33 is the first in the lineup to have THX Select2+ certification for those that care about such things. Dolby ProLogic IIz is onboard as is the proprietary MCACC setup/room correction system. This is also the first in the lineup to support not only audio to Zone 2 but also video (composite). A third zone of audio is included if you have an amp to power the speakers (Zone 2 can be powered by the internal amps). A single pair of additional speakers outputs makes switching configurations on the fly a bit easier. There are six HDMI 1.4a inputs with 3D, ARC, and Standby support, three component, and five composite video inputs. There is a single composite and component output but dual HDMI outputs. Video upconversion and scaling to 1080p over HDMI is provided by a Marvell Qdeo video scaler which also includes calibration options on all inputs. 
Lest we sound too positive about the Pioneer VSX-33, there are some deficiencies. There is no HD Radio tuner, AirPlay has not been mentioned yet (a curious oversight considering their previous commitment to Apple), and there is no Phono input. If you've got legacy gear, the VSX-33 has no 7.1 channel analogue inputs.
Onkyo TX-NR808
The Onkyo TX-NR808 makes the first jump away from within a dollar of $1k at $1099. It claims the most power of any of the receivers in the comparison at 135 watts per channel. It is the other receiver in the comparison with THX Select2+ certification and weighs in at a chart topping 40.3lbs (almost 8lbs more than the nearest competitor). It sports Audyssey MultEQ room calibration and setup and includes both Dolby ProLogic IIz and Audyssey DSX height/width channels. It ties with Denon for the most number of extra speaker outputs at 2 additional pairs allowing much more flexibility in changing configurations on the fly. With pre or powered Zone 2 and pre-outs for Zone 3, the TX-NR808 is a receiver you'll be able to grow with.
If Onkyo has been known for one thing it is getting features into their receiver fast. While it's a bit harder to impress us at this price point, Onkyo has a very respectable seven HDMI 1.4a inputs that support 3D and ARC, two component, four S-video, and five composite. There is a single output for each input type. There are 7.1 channel analogue inputs, 7.2 channel analogue outputs, a phone input, and a USB port that will support iPod music and art. Like the HK, the Onkyo uses the Faroudja DCDi scaler to upconvert analogue video to HDMI. The TX-NR808 is networked enabled and can stream content from your DNLA certified computer, Pandora, Rhapsody, Napter, vTuner, MediaFly, and Slacker (more sources than anyone else). However, there is no HD radio tuner, no AirPlay support, and the web interface is only to facilitate the Internet radio service and not to control the receiver. They did, however, announce an App for control of their XX8 series receivers recently.
Yamaha RX-A1000

We were quite excited with we heard about Yamaha's Aventage line of receivers and we're finally able to take a closer look at one in a comparison. These are brand new to the market so should represent the cutting edge of what can be done. The Yamaha RX-A1000 costs $0.95 more than the Onkyo at $1099.95 MSRP. It claims 105 watts per channel which is one of the lower specs of the comparison. Don't let that fool you into thinking the Yamaha is a lightweight as it comes in second in pure poundage at 32.4lbs. The RX-A1000 sports a comparison best of eight HDMI 1.4a inputs and two outputs supporting 3D, ARC, and Standby Pass-Thru. Like some of the other receivers in this comparison, the Yamaha has dual HDMI outputs. While you can't use one of those for Zone 2, you can assign the component or composite/s-video outputs to Zone 2 if you wish as well as power the speakers with the rear channels or through an external amplifier. This is a huge advantage over the rest of the field... if Zone 2 is important to you.
But comparison best multizone support isn't the only trick in the RX-A1000's basket. It has a comparison best 4/1 component, 5/2 S-video, and 5/2 composite video inputs/outputs. Yamaha's proprietary YPAO room correction/setup system is on board as is their Presence channels (a height channel DSP developed long before Dolby and Audyssey came up with theirs). It has the highest number of optical (four) and ties for most coaxial (three) digital audio inputs. There are 7.1 channel analogue inputs for legacy gear and 7.2 outputs for adding an amp and two subwoofers. Video upconversion is handled to 1080p via a Yamaha proprietary chipset which also includes input calibration. There is a single additional pair of speaker terminals to make configuration switching on the fly possible.  Like the Marantz, the Yamaha RX-A1000 has dual subwoofer outputs.  An HD radio tuner is included with iTunes tagging. Networking is supported with streaming from DNLA devices, Rhapsody, and Internet radio. Yamaha, like others, has a web interface for controlling the receiver plus has released an app. The only thing that the Yamaha doesn't do that others have is the ability to stream directly from an iPhone/iPod without a dock. You can get music from a USB connection but without their optional dock, you won't get full functionality and content.
Denon AVR-3311CI

Last, but not least is the Denon AVR-3311CI receiver. At $1199, it is $100 more than the nearest competition and $200 more than the target of $1k. At 125 watts per channel, it is second only to the Onkyo in claimed power but it tied for fourth on weight with the Pioneer at 29.6lbs (basically second to last). It has the best version of Audyssey of anyone in the comparison (MultEQ XT) and supports not only Dolby PLIIz but also Audyssey DSX. It is also one of the only ones with three zones of audio, two additional pairs of speaker terminals for switching configurations on the fly, and an HD radio tuner. The AVR-3311CI is networked with DNLA, Rhapsoday, Pandora, Naptser, and Flickr support. There is a web interface plus a new App (you'll need to upgrade your firmware if you haven't since September for it to work).
Denon has continued with their focus on HDMI with 6 in/2 out 1.4a connections. They support 3D and ARC but not Standby Pass-Thru. There are only two component video inputs and one output, one s-video input, and four composite in/two out connections. One of the composite video outputs can be used for Zone 2. The real oddity with the AVR-3311CI is the lack of 7.1 analogue inputs for integrating legacy gear. They have 7.2 outputs plus line outs for Zones 2 and 3 (Zone 2 can be powered) but no inputs. One thing that the Denon has that no one else does is Apple AirPlay support - a feature that has been announced but costs $50 for the upgrade. We're not sure exactly what that entails (seems to be a firmware update) but those with AirPlay compatible devices may want to look into it
Conclusion
While at first blush it looks like all of the receivers in the $1k price bracket are similar, they really have some major differences. While the Harman Kardon AVR 3600 is a noble attempt to make an older receiver still relevant, the fact is that it is a bit long in the tooth that no amount of 3D or included iPod dock will make up for. The rest of the receivers are all very good offerings which price, brand loyalty, and a few key features will probably make the difference for users. The Marantz SR6005 is a great looking and full featured offering with most of what you'll want. The Pioneer VSX-33 again has the best iPod/iPhone support and a good price but lack of 7.1 analogue inputs and networking features might be a deal breaker for some. The Onkyo TX-NR808 again has a ton of features but some of them are a little older and not as advanced as what other receivers are sporting. We like the Denon AVR-3311CI but at $100 more than the brand new Yamaha RX-A1000, it doesn't quite have enough to pull us away from the superior Yamaha. What the Denon does have is top of the line nearly everything (for this price point) and an extra zone of audio (plus the ability to upgrade to be AirPlay compatible) but the Yamaha's two additional HDMI inputs and component video to Zone two and 7.1 analogue inputs make it a very tough choice. The fact is that (sans the HK) none of these receivers are a bad choice. They've all got a lot to like. Just make sure you're getting everything you need (and will need in the future) in the one you choose.
See also:
Confused about what AV Gear to buy or how to set it up? Join our Exclusive Audioholics E-Book Membership Program!
LAB3 posts on June 08, 2011 15:22
zumbo, post: 770538
I love the the part in the conclusion "superior Yamaha". Has a nice ring to it.
so far my Yamaha RX-V1900 HD AVR has been a plug and play. No firmware upgrades etc. Denon, H/K and others all something to offer too.
AVDOCTOR posts on June 07, 2011 18:51
What about the sound?

Dr. Sidney Harman passed recently - happily and productive until his 90's. The very first REAL piece of Hi-Fi I ever heard was a mid-fi Sansui Integrated Amplifier from a Philips 212 turntable to a pair of JBL L-100's. My point here is not ONLY that I'm as old as, well, cassette decks for a grand. I noticed you made mention the H/K was " a dated remake " of an older model, but also that it was third heaviest of all of the entries. That's one of the reasons I have owned only one 2 channel system that did not have a Harman amplifier - stereo or multi channel - out of at least a dozen in my life. I worked in the industry at both sales and management levels before a back injury sidelined me a while back, and that offered a LOT of objective critical listening to different amps. Harman Kardon amps spound better because of 1) high current amplifiers 2) with low to almost no negative feedback applied, and 3) ultrawideband frequency response - out to 100k plus. Now none of these ideas would be considered "new" as you seem in search of in the survey, however they are a more expensive way to build an amp - sans a lotta chip sets! So you go ahead with all of the bells and whistles, I need my A/V receiver for listening to SACD's and Blu Ray films as well as, well, you mentioned what you felt they left off. And the street price is a bit less than half off, but not by much - as there IS a model AVR3650 shipping soon.
Whatever you end up with, I pray that it brings you more joy than pain. Do yourself a favor, listen to a H/K, and I promise you won't care that it doesn't say "THX" on it anywhere! God bless you . . .
DenPureSound posts on May 06, 2011 18:34
The Denon AVR-3311CI does do HDMI Standby Pass-Thru, as I own one, and it is a very nice AVR.
AVRat posts on February 26, 2011 13:41
Yes it does, see pg. 82 of the manual. The table on the first page of the article says it does.
chpwaman posts on February 25, 2011 15:48
Are you sure the 3311ci cannot do HDMI standby passthrough?

"Denon has continued with their focus on HDMI with 6 in/2 out 1.4a connections. They support 3D and ARC but not Standby Pass-Thru."
Post Reply