2010 A/V Receiver Hot Picks
2010 A/V Receiver Hot Picks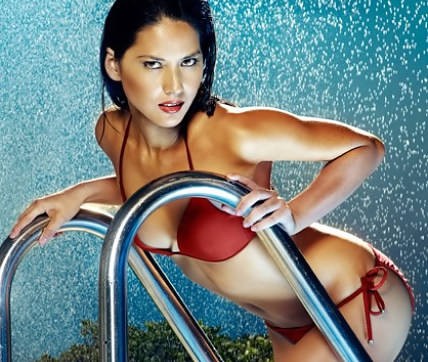 Olivia Munn
Now that I've captured your attention with the sexy picture of Olivia Munn, we can discuss this years A/V receivers.  2010 is proving to be a hot year for A/V receivers.  We are seeing virtually all the new models armed with full HDMI 1.4a support (including 3D and audio return channel) all sprinkled with plenty of HDMI I/O's and legacy connections.  Last year we started getting concerned when some of the big names appeared to be Trading Amplifier Quality for Features but that trend seemed relatively short lived.  Instead, we are now seeing entry level products with respectable amplification with most of the critical features on board.
We put together a list of A/V receivers at various price points we deem to be hot picks for the up and coming year.  So get out your checkbook and get ready for a system upgrade that will put you up to date with the very latest and greatest features, while also providing ample power and high quality sound to do justice to your speaker system.
Our first pick appears to be a great bang for the buck product from Yamaha. 
Yamaha RX-V667 7.2CH A/V Receiver
MSRP: $599 | Buy Now
Yamaha took a beating from us last year when they introduced the RX-V665.  While it had all the latest HDMI connectivity and audio decoding CODECs, Yamaha skimped on power and switched from discrete amplification to less costly and less performing chip amplifier solutions.  This receiver inspired our article on Trading Amplifier Quality for Features.  Rather than whining, Yamaha took our punches and went back to the drawing boards.  Hence the RX-V667 was born. The RX-V667 is everything the RX-V665 wasn't and more.  It has 6 HDMI 1.4a inputs, decoded all the latest HD surround formats (Ie. Dolby TrueHD, DTS HD) and full 3D support.  Most importantly the RX-V667 has real discrete amplification on all channels and a much meatier power supply than its bastard child predecessor.  Best of all the RX-V667 rings in at only $50 more than the RX-V665.  What a deal!
Once you start approaching the $1500 mark, A/V receivers start loading up with cool networking features allowing you to stream music directly to your receiver from services like internet radio, Pandora, Rhapsody, etc.  You also get tons of A/V inputs, state of the art video processing and a meatier amplifier section to power larger rooms to theatrical levels or drive those less efficient loudspeakers with more oomph.  You really can't go wrong with any of these models you chose since they all offer similar feature sets and functionality.
For more information, Visit Yamaha Electronics
Marantz SR7005
MSRP: $1,599 | Buy Now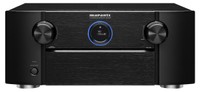 The Marantz SR7005 is a 3D ready 7.1 A/V Networking receiver sporting the looks and performance of their reference gear at more affordable prices. From their all newly designed GUI OSD to their streaming support of services such as Pandora and Rhapsody, the SR7005 is ready to serve as the center piece of your A/V entertainment system. The SR7005 has plenty of muscle to power your speakers with its 125wpc x 7 amplifier section and oversized analog power supply. Audyssey MultEQ XT equalization is available for all HD audio formats to ensure optimal sound for all listening modes. With video processing powered by Anchor Bay, 6 HDMI inputs and two outputs, Marantz has the basics covered for an upscale theater that should keep your system current for years to come.  Best of all this baby has the aesthetics of their venerable Reference series separates to really class up your system.  We are looking forward to engaging a formal review of the SR7005 as we have high hopes for its performance and operation given the recent trend of Marantz building a better product which each new generation.
For more information, visit Marantz Electronics
Yamaha RX-A3000 (RX-A1000 First Look)
MSRP: $1,899 | Buy Now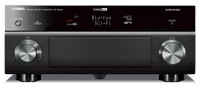 In keeping with their theme of offering higher quality amplification and sound in their entire 2010 product lineup, Yamaha has introduced their new Aventage series of A/V receivers.  The RX-A3000 is the flagship of the line featuring a new double bottom construction for more rigidity, plus Yamaha has added a fifth foot (which they call the "A.R.T. wedge") to stabilize the center of the receiver as well as a stabilizing bar they call an H-cross frame. Yamaha claims that their physical case modifications are yielding "noticeable sound improvements".   The RX-A3000 has virtually all of the features and functionality of the RX-Z7 (minus THX Neural post processing) but comes in a whopping $600 less.  It also has a meaty discrete amplifier section rated at 140 watts/channel x 7 with the ability to engage front effect and surround back speakers simultaneously with the addition of a two-channel external amplifier.   The RX-A3000 sports the latest HQV Vida video processing which we suspect will outperform any of Yamaha's previous proprietary solutions used on their flagship models.  Stay tuned for our formal review of this hot pick.    In the meantime check out our RX-A1000 First Look for more details on the series.
For more information, Visit Yamaha Electronics
Denon AVR-4311CI
MSRP: $1999 | Buy Now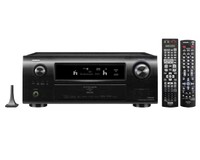 When Denon came out with the new AVR-4311CI, we could only speculate they asked the following questions: What do you want out of a receiver? Do you want power? Video upconversion? Networking and streaming? 9.2 audio decoding and amplification with expandability to 11.2? Do you want it all plus the ability to shutdown the internal amps to use your receiver as a dedicated Pre/Pro without risk of contamination of the signal by noise and heat? If we have one bad thing to say about Denon in general and the AVR-4311CI specifically it's that they keep exceeding our expectations. When we reviewed the AVR-4310CI we thought it had more than it's price point suggested. Now, the AVR-4311CI has addressed most of our minor gripes with it's predecessor, added features without changing the retail price. Best of all they didn't skimp on power or build quality as the new AVR-4311CI is more powerful (140 watts/channel x 9) and 4lbs heavier than its predecessor.  Imagine you can run a full 9.1 surround system without the need of adding any external amplification.  The AVR-4311CI sports top of the line Anchor Bay VRS video circuitry.  It will be interesting to see how it performs compared to Yamaha's HQV Vida processing when we conduct our formal reviews of both units.  The most anticipated feature is Audyssey X32 and Sub EQ HT which is said to have 32 times the resolution of the current Audyssey MultEQ XT.  With Denon's dual independent subwoofer outputs, it will be a bass lovers dream to be able to simultaneously apply a single correction curve to all subwoofers to ensure the best integration.   If this isn't a home run of a product, we don't know what is.
For more information, visit Denon Electronics
That's a Wrap
Well there you have it.  With CEDIA upon us in just a few short weeks, we are looking forward to new product announcements from the likes of Pioneer, NAD, harman / kardon and others.  Right now we've got our plate full for the next few months reviewing these hot A/V receiver picks that are sure to be superstars.  Consumers should be pleased that flagship type features and performance are getting more affordable every year.  We look forward to confirming the performance meets or exceeds everyone's expectations.
If you have a model that you'd like us to review in 2011, feel free to write us.
PS. Stop drooling over Olivia, yes we know she is hott!
Confused about what AV Gear to buy or how to set it up? Join our Exclusive Audioholics E-Book Membership Program!
Recent Forum Posts:
darien87 posts on October 14, 2010 14:17
tomd51, post: 748209
In the immortal words of Sgt. Hulka, "Lighten up, Francis…"

http://www.youtube.com/watch?v=LrllCZw8jiM
That's EXACTLY what I was thinking.
"My name's Francis Sawyer, but everybody calls me Psycho. Any of you guys call me Francis, and I'll kill ya."
tomd51 posts on October 13, 2010 23:20
Mynd you, møøse bites Kan be pretty nasti…

"We apologise again for the fault in the subtitles. Those responsible for sacking the people who have just been sacked have been sacked."
dkane360 posts on October 13, 2010 22:07
Downtowner, post: 758883
-1 totally boring, off topic viewpoint
-2, bringing attention to the boring off topic viewpoint
Downtowner posts on October 13, 2010 22:01
bequi, post: 756480
+1

(totally agree)
-1 totally boring, off topic viewpoint
Seth=L posts on October 05, 2010 01:48
gene, post: 748065
I sent a PM to Olivia Munn via facebook to see if I could get her to pose with some A/V receivers in more conservative attire but I'm not holding my breath for a response
You'll have to speak to her agent.
Post Reply