Best AV Receivers of 2018: 6 Flagship Models Compared!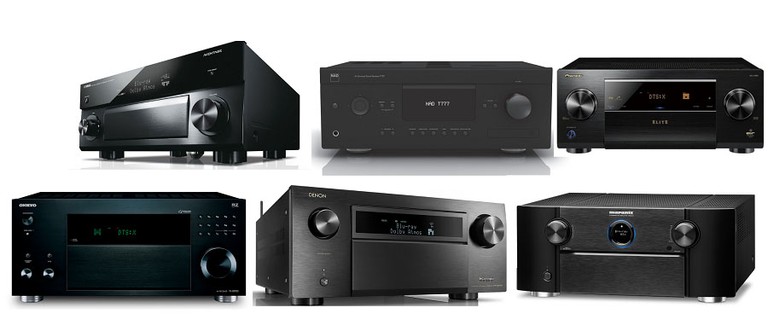 2018 Flagship AV Receivers
Summary
Product Name:

SR8012, AVR-X8500H, T777, RZ-3100 , Elite LX-901 , RX-A3080

Manufacturer:

Marantz, Denon, NAD, Onkyo, Pioneer, Yamaha

Review Date:

June 21, 2018 00:00

MSRP: $3,000 Marantz SR8012, $4,000 Denon AVR-X8500H, $2,500 NAD T777, $3,100 Onkyo TX-RZ3100, $3,000 Pioneer Elite LX-901, $2,200 Yamaha RX-A3080
First Impression:

Gotta Have It!


Marantz SR8012
Denon AVR-X8500H
NAD T777 V3

Onkyo

TX-RZ3100

Yamaha RX-A3080

Pioneer Elite SC-LX901

Processing Channels

11.2
13.2
11.1
11.2
11.2
11.2
Powered Channels
11.2
13.2
7.1
11.2
9.2
11.2
Power (8 Ohms, 20 Hz–20 kHz, 0.08% THD, 2 Channels Driven, FTC)
140 W
150 W
140 W
140 W

150 W
140 W
HDMI I/O
8 / 3
8 / 3
6 / 2
8 / 2
8 / 2
8 / 2
HDMI 4K/60 Hz- Capable HDMI Terminals:
Yes
Yes
Yes
Yes
Yes
Yes
Room Calibration:
Audyssey MultEQ XT32
Audyssey MultEQ XT32

NAD Speaker iQ, DIRAC Live Lite

AccuEQ AccuReflex
YPAO RSC, 3D, 64-bit High Precision EQ
MCACC Pro

3-D Immersive Sound Decoders
Dolby Atmos, DTS:X, uro-3D
Dolby Atmos, DTS:X, Auro-3D
Dolby Atmos
Dolby Atmos, DTS:X
Dolby Atmos, DTS:X,
CINEMA DSP HD3
Dolby Atmos,
DTS:X
Dimensions (W" x D" x H")
17.3 x 18.1 x 7.3
17.1 x 19 x 7.7
16.75 x 17.1 x 6.8
17.1 x 17.8 x 7.9
17.1 x 18 .6 x 7.5

17.1 x 17.3 x

7.3

Weight
38lb 6oz
51.4 lbs
45.2
43

39.9
39.7
Warranty
3 years
2 years
2 years
3 year
3 year
3 year

Executive Overview
In the heat of the summer people often put their home theater dreams on hold to relish in the tranquil weather that is upon them.  Many people think the best time to buy their new A/V receiver is in January just after the new product announcements from CES or in fall just in time for Christmas. But we think early summer is the perfect time to upgrade your home theater A/V receiver especially since there's been a fury of new AVR releases by the major manufacturers over the last couple of months. The manufacturers have worked out all the bugs from the early releases of the year for existing models and some of them might even be ready to discount older models in favor of newer models for the upcoming fall season. With  immersive audio formats more of the norm as well as 4K video features this looks to be the perfect year to upgrade without fear of being obsolete right after purchase. The AV receivers below represent some of the best models the industry has to offer as of 2018. They boast a variety of A/V uses and come armed with the latest in HD audio and video as well as multi-zone and streaming options to serve as a whole home audio solution for years to come.
Marantz SR8012 11.2CH Atmos/DTS:X/Auro-3D AV Receiver

MSRP $3,000 | Buy Now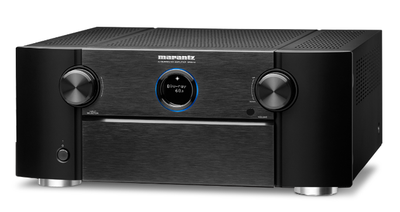 The Marantz SR8012 boasts a high output amplifier that offers exceptional audio and video quality through its 11.2 channel, full 4K Ultra HD AV surround receiver with all the bells and whistles.  Importantly, the SR8012 features high grade, carefully selected audio components, including three codecs (Dolby Atmos, DTS:X and Auro-3D) capable of driving height and overhead speakers and the receiver's 11 high quality amplifier stages with 140W of power per output. These power ratings enable the SR8012 to drive a full 7.1.4 home cinema setup without the need of additional external amplifiers. The whole internal circuit further enhances audio quality by delicately handling all signals via Marantz's own HDAMs (Hyper Dynamic Amplifier Module) in Current Feedback topology before passing them on to the power stage supplied by a massive torodial transformer to fire up the connected speakers with aplomb.
Why it made our list:
Its 7.1.4 channels out of the box, fully immersive sound, and plenty of power to back it up, plus its solid construction made the SR8012 one of our easier choices for top A/V receivers of 2018.
The SR8012 was among the first AVRs on the market compatible with Amazon Alexa's Smart Home Skill for Entertainment Devices. The SR8012 also boasts full HEOS wireless multiroom audio integration, empowering integrators and users to seamlessly create a whole-home audio experience that is easy to use and manage. Like other AV receivers in our roundup, the SR8012 supports the latest in 3D immersive surround formats such as Dolby Atmos, DTS:X, but, like it's Denon brethren, it also supports Auro-3D.
"Marantz is committed to paving the way for the future of audio performance by giving consumers and integrators the technologies needed to experience new dimensions of sound."
- Brendon Stead - Senior Vice President, Product Development, Sound United.
On the video side, the SR8012 is fully compatible with the latest HDMI and HDCP 2.2 specifications on all eight HDMI ports. Additionally, the SR8012 supports 4K Ultra HD 60Hz video, 4:4:4 Pure Color sub-sampling, High Dynamic Range (HDR), 21:9 video, 3D, BT.2020 pass-through, and Dolby Vision pass-through support on every input. All HDMI inputs enable a full array of 4K Ultra HD sources to be connected, and the triple HDMI outputs support not just TV and projector set-ups in the main listening room, but also a separate display in another part of the house with an independent source. Audyssey MultEQ XT32 audio set-up and calibration ensures precise sound, which the user can tune using the Audyssey Editor app which is available through Google Play and iTunes stores. These advanced audio and video features give commercial integrators the ability to build more robust home cinema solutions while simultaneously introducing more customers to the power and beauty of multi-channel arrays featuring object-based audio.
It's clear by the massive toroidal power supply, dual heatsinks, and monobloc amplifier construction that Marantz is returning to its roots in emphasis in "sound quality first" in AV receivers. We've seen a decline lately in AV receiver power supplies since the introduction of Atmos. Seeing the build quality of the SR8012 restores our faith that solid amplification isn't dead in AV receivers. This looks like one tasty amp section that we can't wait to get on our bench for testing in our up and coming review.
Denon AVR-X8500H 13.2CH Atmos/DTS:X/Auro-3D AV Receiver

MSRP: $4,000 | Buy Now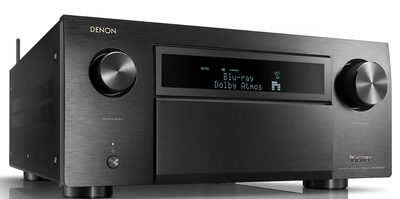 A salute to Denon's nearly 110 year legacy, the Denon AVR-X8500H is said to be one of the most technologically advanced and capable AV receivers ever introduced. The Denon AVR-X8500H is the world's first 13.2CH Immersive Surround Receiver. After the launch of their highly successful 11CH AVR-X6400H receiver last year, Denon decided to take it up a notch to support an additional pair of height channels and make it easier to switch between speaker layouts for Dolby Atmos/DTS:X and Auro 3D.
Why it made our list: 
Like the Marantz SR8012, the AVR-X8500H supports all three immersive surround formats, 4K Ultra HD with HDR, and Dolby Vision, but with its 13 channels of built-in amplification this receiver has more channels than the others.
Similar to the Marantz SR8012, the AVR-X8500H brings the future of home theater to present day with Amazon Alexa's Smart Home Skill for Entertainment Devices, Apple AirPlay2 and whole-home wireless music compatibility.
"Denon is deeply immersed in the industry and investing in future technology to deliver best-in-class, first-of-its-kind innovations for installers and consumers. As more home theater enthusiasts integrate object-oriented audio into their builds, we identified a missing need and designed the industry's first true 13-channel AVR with plenty of muscle on tap to power formats like Dolby Atmos, DTS:X and Auro 3D."

- Richard Velazquez, global head of brand management at Denon.
The 13.2 channel receiver incorporates custom-made DHCT (Denon High Current Transistors)—discrete monolithic amplifiers rated at 150 watts per channel (@8 ohms, 20 – 20 kHz, THD 0.05%, 2-channel driven), enabling premium surround sound from object-oriented formats, such as Dolby Atmos or DTS:X, without any external amplification. The AVR-X8500H also supports Auro-3D surround sound decoding via a firmware update, up to Auro 13.1 channel, three-layered speaker layout including top and height center channels. Further, the receiver is hand-assembled in small batch in Japan at the same facility the venerable AVR-5805 was built. This is unusual for Denon and other Japanese receiver companies these days most of whom have their production done in Malaysia or Vietnam though Denon claims ALL of their receivers at $2k and up are still manufactured in Japan.  Incidentally, so is the Marantz SR8012 for those taking note.
As part of Denon's range of IN-Command series of custom-integration friendly AV components, the AVR-X8500H comes equipped with a range of features to provide enhanced control capabilities and compatibility with third-party and custom integration solutions. It features IP control capability for integration with major third-party control devices and Control4 SDDP (Simple Device Detection Protocol) certification. An RS-232C serial port is available to directly connect to external home automation and control equipment, and an IR remote control input on the rear panel enables remote control compatibility with other components in your home theater system. Denon's newly invented "HDMI diagnostics" mode will be available to help custom integrators troubleshoot HDMI related audio and video issues at the time of installation using only the front panel of the receivers along with Denon's trouble-shooting guide.
On the Video side, the AVR-X8500H is fully compatible with the latest HDMI connectivity and HDCP 2.2 specifications on all eight HDMI inputs and triple HDMI outputs. The receiver also supports 4K Ultra HD 60Hz video, 4:4:4 Pure Color sub-sampling, High Dynamic Range (HDR), 21:9 video, 3D and BT.2020 pass-through support. As such, the AVR-X8500H is prepared for 4K Ultra HD Blu-ray disc players, set-top boxes and other 4K Ultra HD sources. Additionally, it can support legacy systems by upscaling standard and high definition analog and digital video content to 4K Ultra HD. Dolby Vision, eARC (Enhanced Audio Return Channel) and HLG (Hybrid Log Gamma) compatibility are also supported. eARC will be enabled via a firmware update in 2018. Further, Denon plans to support the owners of the AVR-X8500H with both hardware and software upgradability to the HDMI 2.1 specification, namely 8K pass-through capability when the solution becomes available. It will be a charged upgrade service though the price has yet to be announced.
Like the Marantz, the X8500H receiver also comes with the most advanced Audyssey Room correction suite available. Equipped with the full Audyssey Platinum suite of advanced DSP algorithms, the AVR-X8500H features Audyssey MultEQ XT32 automatic room acoustic correction.
We like the trend Sound United is setting with both Denon and Marantz by reintroducing flagship level AV receivers into the marketplace again. Although the AVR-X8500H is NOT quite the super receiver of the monstrous AVR-5803 or AVR-5805 flagship products from yesteryear, it still offers the most advanced processing currently available with future expandability to extend life and reduce the fear of obsolescence.  While it's asking price may seem a bit spendy, it's really not when you consider the arsenal of processing power this baby has and how flexible it will be for even the most upscale home theater installations.
NAD T777 V3 7.1CH Atmos/DTS:X AV Receiver

MSRP: $2,500 | Buy Now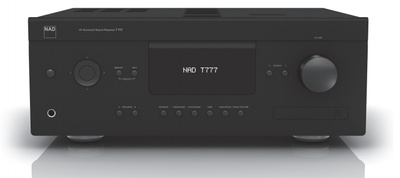 The T777 V3 doesn't have as many features as some of the other amplifiers on our list, but it does boast a robust seven-channel amplifier that delivers 140 watts into 8 ohms (2CH driven) or 80 watts/ch (All Channels Driven) The NAD T 777 V3 supports Dolby Atmos and 4K UltraHD video pass-through. NAD is among the most conservatively rated amplifiers in the receiver business, so we'd expect this 45lbs dreadnought to deliver more power than is spec'd here and in fact may be on par in output power with some of the other less conservatively rated receivers in this comparison.
So how did it make our list?  
The T777 V3 hosts a wide array of connections for excellent flexibility, and has high definition 3D video, but we really liked the MDC slots which allow for further feature expansion and future upgrades. NAD's Modular Design Construction (MDC) lets you stay up to date with the ever-changing world of audio/video so that way your receiver isn't obsolete the day you buy it! The T777 V3 has the new VM 300 Video and AM 230 Audio MDC Modules built-in, which means all of the newly supported immersive surround sound formats and video technologies are on easily removable plug-in cards which allow you to upgrade to future audio/ video formats without replacing the entire AV receiver. Simply plug in a new card and you're ready for the future, no matter what's out there.
NAD insists on using the latest and most advanced 4K chipsets which should allow the T 777 V3 to pass-through standard definition and high-definition video sources including 4K Ultra HD with full compatibility for the latest 4:4:4 Pure Color 4K Ultra HD specification. The T 777 V3 also features full HDCP 2.2 compatibility which will allow you to enjoy high quality 4K videos with digital copyright protection.  Of course, the T 777 V3 does have Dolby Atmos immersive sound processing which will allow you to create a 5.1.2 system right out of the box or a 7.1.4 system with two additional two-channel amplifier and NAD ensures us that a DTS:X update is coming soon.
The T 777 V3 comes with two room correction and setup assistants. The first, NAD Speaker iQ, looks to be an easy way for you to set up your home theater within minutes. Like other setup software, the Speaker iQ uses a supplied microphone to listen to test signals sent out from the receiver to the various speakers in the room and makes any necessary adjustments to the AVR's audio commands to measure the distance between speaker and listening position, loudness, and frequency response of audio signals from each speaker. The T 777 V3 also comes with the Lite version of DIRAC Live ready to go. DIRAC is arguably the most sophisticated digital room correction system available today and is usually reserved for use in higher end components which typically cost several times as much as the T 777 V3. You can upgrade to the full version of DIRAC for a $99 fee.  We like the fact that the T 777 V3 comes with two room correction programs, though the Speaker iQ requires a firmware upgrade right out of the box.
Pioneer has their Remote App and FireConnect, Denon has HEOS, Yamaha has MusicCast; for NAD it's BluOS. BluOS is NAD's wireless multi-room ecosystem that allows you to stream hi-res audio, Internet radio, and popular music streaming services to your receiver with the control of a smartphone, tablet or desktop. The T 777 V3 features built-in BluOS which lets you wirelessly stream lossless music to your home theater system from local libraries or music streaming services. You can control the music from anywhere in the house using the BluOS Controller app for smartphone, tablet, and laptop, including the ability to group other BluOS compatible wireless speakers and music players with the T 777 V3 for true multi-room music.

The T 777 V3 boasts six HDMI 2.0 inputs and two outputs, plus digital coaxial and optical in/outs. The T 777 V3 should be right at "Home" for custom integrators and smart homes. Their BluOS streaming software even can be integrated into your existing home automation systems from Control4, Crestron, URC, and RTI. Other connection options include IP control, IR outputs, programmable 12V triggers, and RS-232 port.
Yamaha AVENTAGE RX-A3080 9.2CH Atmos/DTS:X AV Receiver

MSRP: $2,200 | Buy Now

The AVENTAGE RX-A 80 lineup of receivers from Yamaha are some of their best yet.  Not only is the base model still $600, ALL models include DTS:X and Dolby Atmos immersive surround formats and out-of-the-box support for a trio of HDR (high dynamic range) video standards—HDR10, Dolby Vision and Hybrid Log-Gamma. Their flagship model, the RX-A3080 is a 9.2 channel A/V receiver that integrates high-performance DSPs which support a wide range of audio formats including the latest surround codecs like Dolby Atmos and DTS:X. 
Why it made our list
This is the ninth generation of the AVENTAGE series network AV receivers from Yamaha and each successive generation gets better and more advanced. The RX-A3080 has 9 built in channels of amplification and connects to an optional external 2-channel add-on amplifier to deliver an 11.2-channel Dolby Atmos or DTS:X sound field through 7.2.4-channel speaker layouts. Other enhancements include 150-watt/ch amplifier output and DAC upgrades. But the main reason it made our list is the inclusion of Yamaha's new Surround:AI technology. Surround:AI is designed to automatically tailor audio performance to match individual scenes in a movie or TV show. The software analyzes the scene in real time and on a scene-by-scene basis and adjusts dialog, sound effects and channel balance. The AV receiver then compares the scene's audio characteristics to a reference database of movie scenes and automatically processes the scene's sound field to enhance the audio experience.

The RX-A3080 also includes MusicCast, Yamaha's wireless multiroom audio system. MusicCast sends music wirelessly throughout your home through MusicCast enabled speakers, controlled by a simple app.  Like previous AVENTAGE receivers, the RX-A 80 line will include a multitude of streaming content options, including the popular TIDAL and Deezer apps to the MusicCast streaming service library with each offering music selections of more than 40 million songs right out of the box. The Musicast system will also allow you to add Musicast enabled wireless speakers for a home theater's Surround Left and Surround Right speakers, each synchronized with wired front speakers.Tthe wireless speaker options from Yamaha include the Musicast 20 ($230/ea) and the Musicast 50 ($500/ea)  is certainly convenient for those that can't run wires to the back of the room.
The ninth generation AVENTAGE series delivers the performance and feature set that demanding music and home-theater enthusiasts appreciate Consumers and custom installers alike will be able to use this tech to deliver top-quality home entertainment experiences in any space.
- Robert Goedken, general manager, AV division, Yamaha Corporation of America
The flagship AVENTAGE RX-A3080 is a 9.2-channel AV receiver that is expandable to 11.2 channels or 7.1.4 channels of object-based surround (with an external-channel amp). The AV receiver steps up to 150W per channel (20Hz-20kHz, 2ch driven, 8 ohms, 0.06% THD) and adds a top shelf ESS ES9026 PRO SABRE DAC and SABRE32 Ultra DAC to help deliver minimized distortion.  It also includes XLR-balanced inputs for more secure and stable pro-level signal transmission with reduced degradation from supporting source components. In addition, the RX-A3080 also have balanced inputs for the front channels for those wanting to add more powerful external amplification to power their front channels while also expanding to do a full 7.1.4 speaker setup using the internal amplifiers of the RX-A3080 for the rest of the speakers.
As you can see with the arsenal of features and performance that the RX-A3080 offers, it may be the least expensive AV receiver in this comparison, but it's certainly not the least capable.
Pioneer Elite SC-LX901 11.2CH Atmos/DTS:X AV Receiver

MSRP: $3,000 | Buy Now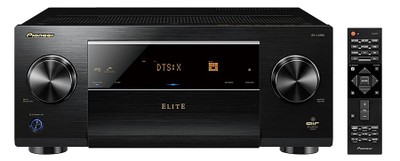 The Pioneer SC-LX901 is a 140 watt/ch, 11.2 channel receiver that can power a 7.1.4 Dolby Atmos or DTS:X setup without needing to resort to any supplementary amplification which is pretty impressive especially when you consider they employ a sophisticated Class D amplification for higher efficiency than all other models in this comparison besides it's Onkyo counterpart.  There's no Auro-3D support on the Elites, with Marantz and Denon still remaining the only mainstream AVR manufacturers to support Auro-3D as an optional, paid upgrade in select models. On the video front, the SC-LX901 is on par with the competition.  HDMI 2.0a is standard as is support for 4K/UHD 60p/4:4:4 24-bit video signals with HDCP 2.2 copy protection. HDR and BT.2020 support are likewise standard. You can also upscale legacy SD and HD content with Pioneer's "Super Resolution," 4K/UHD upscaler, which is integrated into the receiver. There are even two old-school composite video inputs in case you have any legacy devices.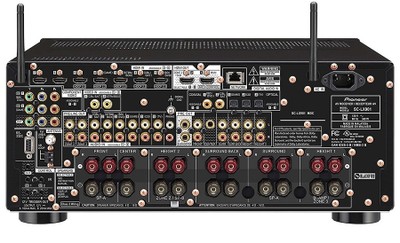 The Pioneer SC-LX901 is equipped with dedicated ICs on the circuit board. The operational amplifier IC for processing small signal is set apart from the amplifying section to prevent mutual interference. This should allow for a clearer signal to be transmitted to the Direct Power FET. Additionally, the Rubycon chip film capacitor MU 25p should reduce the influence of residue noise from the high power section. The pre and power amplifier blocks are electrically separated, enabling better ground design for each block. With thorough clean grounding and reduction of interference between the circuits and load changes, the sound quality and performance is said to be equivalent to separate amplifiers combined within a single chassis.
The SC-LX901 has a Powered Zone 2/3 and Zone 2/3 Line Out.  You'll be able to stream pretty much any connected source —from LP's to network streaming services—wirelessly to different rooms with Blackfire's FireConnect technology.  FireConnect is a wireless protocol that mirrors a receiver's audio sources connected to compatible FireConnect speaker. FireConnect support will be forthcoming via a future firmware update. 
The LX901 is geared for hi-res music and wireless streaming featuring ESS SABRE32 Ultra DACs. Hi-res music files (192 kHz / 24-bit) in FLAC, WAV, AIFF and Apple lossless file formats are support as are DSD (2.8/5.6/11.2 MHz) and Dolby TrueHD files. Pioneer has made no mention of native or future MQA support in the new models. MQA seems to be gathering some momentum but hasn't been broadly adopted in this year's latest crop of network AVRs.
The LX901 has a Pioneer-developed jitter reduction system called Precision Quartz File-based Audio (PQFA), Pioneers says that PQFA applies high-accuracy clock control to drastically reduce "jitter" which occurs during network audio signal processing. Pioneer claims that PQFA is effective for every audio signal, including audio via wired network; hi-res audio via USB; streaming audio via internet and internet radio. It's also effective for wireless networks such as Wi-Fi and Bluetooth.
Pioneer continues to use its own flavor of room correction;  MCACC (Multi-Channel Acoustic Calibration) Pro.  Pioneer says that MCACC Pro has been updated to support immersive audio speaker layouts for Dolby Atmos and DTS:X. Pioneer claims that MCACC Pro's Full-Band Phase Control technology eliminates phase lag between speaker units inside of cabinet to precisely control sound locations for ideal stereo and multi-channel sound reproduction.  Pioneer also says that the new Reflex Optimizer feature was designed to maximize object-based audio reproduction with Dolby Atmos-enabled speakers and generate the best sound experience from stand alone and/or add-on speakers.
Custom installers should take note that there are two HDMI outputs and no HD-BaseT port. RS-232, IR repeater ports and dual 12v trigger outputs are standard and will help you integrate the new Elite AVrs into any home automation system.
Why it made our list
Pioneer's spirit is alive and well in the LX901.  Pioneer's Elite AVRs have always been about sonic performance and build quality, not piling on every feature plus the kitchen sink. That remains true here. The LX901 put  Pioneer on pace with the rest of the pack in terms of features, but if you love the sound, performance, and build of Pioneer's Elite AVRs, then you'll want to give the LX901 a serious look.
As a nod to their performance caliber, Pioneer says that the two top Elite models, the SC-LX801 and SC-LX901 have been certified at London's legendary AIR Studios, whose pedigree includes included award-winning motion picture soundtracks as well as recording and mastering.
Onkyo TX-RZ3100 11.2CH Atmos/DTS:X AV Receiver

MSRP: $3,100 | Buy Now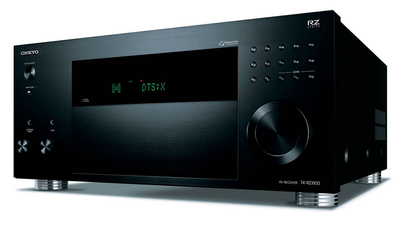 Although the TX-RZ3100 has many similarities to the Pioneer LX901 since Onkyo purchased Pioneer in 2014, there are some differences most notably with room correction. This  140 watt/ch, 11.2 channel receiver is built with enough high current power to drive large floor standing speakers with the ability to add additional height or ceiling speakers to unlock the full multi-dimensional experience delivered by built in Dolby Atmos and DTS:X. It also incorporates DTS Neural:X technology to up-mix lossless multichannel surround formats such as DTS Master Audio, to emulate height effects and give listeners a 3D experience that's close to a native object-based soundtrack.  TXRZ3100 feature Zone 2 and 3 powered outputs for driving speakers in other rooms.  Additional multi-room wireless audio capabilities are offered via optional FireConnect.
Why it made our list
Even though the TX-RZ3100 is one of the older receivers on our list, it's built with custom integration in mind. The TX-RZ3100 receiver contains features to make installation and integration with control systems easy.  Connectivity options include RS-232, IR and 12v triggers as well as PC setup, detachable power cables and optional rack kits which will definitely simplify installation.
.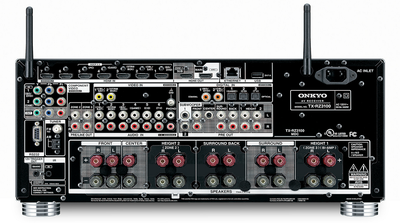 The TX-RZ3100 offers Google Cast, AirPlay, Wi-Fi, Bluetooth, Spotify, TIDAL, TuneIn, and Pandora with any app-based audio entertainment cast seamlessly to the theater room and beyond using a user-friendly Onkyo Remote application.
For movie and game soundtracks, hi-res audio, and stereo sources, the TX-RZ3100 features a new Onkyo Hi-Current Digital Amplification system that pairs with AccuEQ and AccuReflex technologies designed to optimally balance and phase-align sound in any listening space.  It also feature premium AKM 384kHz/32-bit digital-to-analog conversion technology and VLSC noise-free processing on all channels, which helps remove pulse-noise.  
The Onkyo RZ3100 is built well. It has separated digital and analog circuitry which will minimize interference, custom low-hum transformers, and bespoke audio-grade capacitors for smooth and instantaneous power, while componentry and attention to detail throughout reflects the products' flagship status.
The RZ3100 is HDCP 2.2 compatibility and has a host of 4k video features over HDMI including BT.2020 color, High Dynamic Range, 4:4:4 color space, and 4K/60 Hz should the user choose to update their display or projector in the future.
Note: If you're looking to extend the range of passing HD video to a display, check out the Integra DRX-R1.1 AV Receiver ($3,300) which is very similar to the Onkyo TX-RZ3100 but adds 4K HDBaseT connectivity. With HDBaseT, you're able to send your 4K UHD signal from your receiver to your display using Cat5e or better ethernet cabling. This comes in very handy when a display is in another room from the AV receiver where HDMI cannot be run, or the distance is simply too great for it to work properly. HDBaseT allows for up to 300ft of distance for 1080p via Cat5e and a couple of hundred feet for 4K video if using Cat5e or better cabling.
Conclusion
At the $2,200 - $4,000 range this list might not be for everyone, but it does represent some of the best AV receivers available today. Sure you could find a $500 receiver nowadays with immersive audio and 4K pass through with many of the latest video features, but this list was meant to highlight six true audiophile state-of-the-art quality AV receivers that support the latest HD surround codecs and HD video, as well as almost endless streaming music options. Any of these models should serve well as the centerpiece of the most sophisticated home theaters.
If you don't agree with our list be sure to let us know in the comment section below.  Also, let us know which of these flagship AV receivers are your favorite and why.
Unless otherwise indicated, this is a preview article for the featured product. A formal review may or may not follow in the future.