Denon HEOS Wireless Audio System Preview

Denon HEOS Wireless Audio System
Summary
Receivers have had the ability to power more than one zone of audio for quite some time now. Meanwhile, owners have had grand designs to set up an entire home audio system from one central point. Unfortunately, they often run into such problems, such as having to run wires all over their home, having to stream content only from analog sources, and more. Companies like Sonos and many others have been putting out wireless systems that can stream from devices and the Internet for a while. Denon wants to get into the mix with their HEOS system.
Details about the HEOS family of products are pretty thin right now but what we do know makes us think they are going full steam ahead into the wireless speaker world. The HEOS will have a number of different offerings in the end, but for now Denon has announced three speakers and a wireless extender. The speakers are the HEOS 3, 5, and 7. Priced, according to Denon, between $299 and $599 (we're guessing the middle speaker will be around $450), these are all-in-one speaker solutions. These wireless speakers feature dual band 802.11n Wi-Fi for the longest possible range. They can stream from the cloud (though exact services were not mentioned as of yet) or local devices.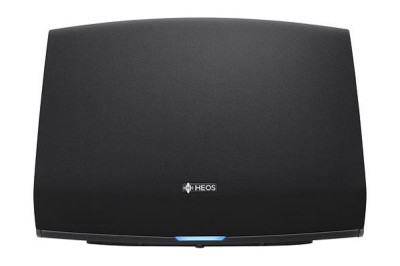 Denon HEOS 5

Denon is using their Controller App to let users access and manage the HEOS system. Compatible with iOS and Android, you'll be able to stream content from your phone to one or more speakers. Connecting the speakers to your home network will allow you to stream content from the Internet and NAS drives. A USB port allows access to flash drives and other portable sources. Once connected, content can be streamed to any of the HEOS speakers in your home.
Denon is quick to mention that they are particularly interested in audio quality. Noting their 100 years experience, Denon promises an "audiophile-level synchronization." The dual-band Wi-Fi should help with that as it is more resistant to interference. Denon has partnered with Waves Audio to embed their MaxxAudio DSP to give you the best sound out of these small speakers. 
Denon's Controller App should make set-up a breeze and the dual-band Wi-Fi should give you plenty of range, but if you find that a speaker is too far away from your wireless router, you can buy Denon's Range Extender. This extends the range of your network for all devices, not just to HEOS speakers. No word on the price of their extender.
HEOS Extender

Currently Denon has only announced a trio of speakers but promises that HEOS will soon sport pre-amp/amp expansion products. What we're hoping to see is integration with future receivers and other Hi-Fi gear. With Denon being one of the biggest names in receivers, this would instantly make for an easy second zone solution. We know of may people that would buy a Denon speaker and receiver like this if there were a way of streaming from not just the Internet but from their sources in their home theater.
For more information, please visit www.denon.com.

Unless otherwise indicated, this is a preview article for the featured product. A formal review may or may not follow in the future.