Denon AVR-X4400H & AVR-X6400H AV Receivers Add Alexa Integration

Denon AVR-X6400 AV Receiver
Summary
AVR-X4400H
HDMI Inputs: Back / Front: 7 / 1

Number of Poweramps: 9
Power Output 125 W (8 ohm, 20 Hz - 20 kHz, 0.05% 2ch Driven)
Power Output 165 W (6 ohm, 1 kHz, 0.7% 2ch Drive)
Standby Consumption: 0.1 W
CEC Standby Consumption 0.5 W
Maximum Dimensions (W x D x H) in inches 17.1 x 15.1 x 6.6
Weight in LBS 29.8
AVR-X6400H
HDMI Inputs: Back / Front: 7 / 1
Number of Poweramps: 11
Power Output 140 W (8 ohm, 20 Hz - 20 kHz, 0.05% 2ch Driven)
Power Output 175 W (6 ohm, 1 kHz, 0.7% 2ch Drive)
Standby Consumption: 0.1 W
CEC Standby Consumption 0.5 W
Maximum Dimensions (W x D x H) in inches 17.1 x 15.1 x 6.6
Weight in LBS 31.1
 New Models with Support for HEOS, Amazon Alexa, Dolby Atmos, DTS:X, Auro 3D and the Latest Video Formats
Denon announced replacements to their AVR-X4300H and AVR-X6300H AV receivers.   The AVR-X4400H and AVR-X6400H, boast the highest quality build, components and power output within their line up of new AV receivers. These receivers offer full HEOS whole-house music playback and are some of the first AVRs on the market enabled to support Amazon Alexa's Smart Home Skill for Entertainment Devices starting on September 19, 2017, making both receivers an easy choice as the hub for all home audio and video needs. Additionally, Alexa multi-room functionality will be available on both receivers via a firmware update in November. The AVR-X4400H and AVR-X6400H receivers also support Dolby Atmos, DTS:X, out-of-box Auro 3D support, 4K Ultra HD with HDR, and Dolby Vision, enabling huge sound and stunning video.
"Denon is always listening to installers and implementing new features for those looking to integrate the most up-to-date technologies and power options they require for home automation and top-of-the-line home entertainment solutions. Now with out-of-box support for Dolby Atmos, DTS:X, and Auro 3D, the AVR-X6400H and the AVR-X4400X are capable of powering the most advanced 3D audio entertainment centers," said Brendon Stead, senior vice president of product development at Denon. "Aside from supporting the most advanced formats for audio and video, both of these receivers can power a whole-home entertainment experience with HEOS. Plus, as voice command solidifies itself in our everyday lives, the AVR-X4400H and AVR-X6400H's support for Alexa's Smart Home Skill is as future-proof as it gets."
Denon AVR-X6400H Top View with Cover Removed - note the monobloc amp construction
Denon AVR-X6400H
Carrying the Denon legacy forward, the Denon AVR-X6400H is one of the most technologically advanced AV receivers on the market. The 11.2 channel AVR boasts impressive power ratings and an installer-friendly footprint of 17.1-inches wide, 6.6-inches high and 15.1-inches deep. The AVR-X6400H's amplification stage is a monolithic design with custom transistors. Each channel is rated at 140 watts into 8 ohms with 2 channels driven, giving the AVR the power to drive a full 11-channel, 7.1.4 immersive audio setup without any further amplification necessary. However, if more power is needed, the AVR-X6400H offers 11.2 channel pre-outs, enabling it to be used as an AV preamp along with additional external amplification. For traditional 5.1 or 5.2 channel setups, the receiver also offers Full Bi-Amp mode. In this bi-amp mode, users are able to power all five floor speakers, including front left, right, center, and surround.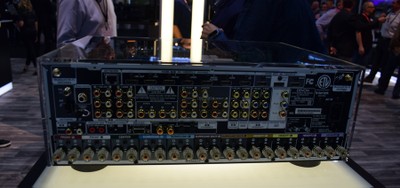 Denon AVR-X6400H Back View - lots of goesintas and goesoutas

Three HDMI outputs enable users to produce simultaneous images on two different devices such as a TV and projector, as well as an entirely different A/V source in another area. The AVR-X6400H will also support eARC (enhanced Audio Return Channel) via a firmware update to allow object-based audio from sources like Dolby Atmos and DTS:X playback from TV apps via a soul HDMI cable.
Denon AVR-X4400H
Replacing the existing AVR-X4300H, the new AVR-X4400H packs a punch. The receiver boasts a 9.2-channel capability for 7.1.2 or 5.1.4 setups, delivering 125W per channel into 8ohms with a 2-channel drive. The receiver also supports 11.2-channel processing, enabling 7.1.4 setup with an external stereo amplifier. In addition, the AVR-X4400H's streamlined, low-profile design has eight HDMI inputs with full HDCP 2.2 support, 4K/UHD scaling—including standard definition sources such as DVDs. 4:4:4 Pure Color sub-sampling, HDR, and BT.2020 pass-through. With Dolby Vision compatibility, HLG and eARC, the AVR is well-equipped to handle the latest HDR formats as well as 3D audio streaming from your TV apps through HDMI for years to come. With out-of-box Auro 3D support, Dolby Atmos and DTS:X on board, the AVR-X4400H delivers more options for users to enjoy the latest 3D audio formats.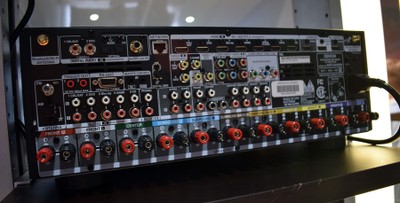 Denon AVR-X4400H Back View

Whole-Home and Future-Proof Audio
The next-generation receivers are designed with Denon's HEOS whole-house streaming music system integration through Wi-Fi, Bluetooth® or Apple Airplay™. With HEOS onboard, installers and users no longer need an additional HEOS Link for HEOS support, and can simply leverage the AVR-X4400H or AVR-X6400H as main hubs for all music streaming throughout the home. Using Denon's HEOS app, users can control music in every room to play different music from different sources, or group several rooms together and play the same song. In addition, the AVRs support streaming for high-resolution DSD (2.8 and 5.6 MHz), FLAC, ALAC and WAV files.
Both the AVR-X6400H and AVR-X4400H are two of the first AVRs on the market to be equipped with the new Alexa Smart Home Skill for Entertainment Devices, which will be available starting September 19, 2017. This enables users to use voice commands to natively control a variety of functions on the AVR including power on/off and volume control, mute/un-mute, music play/pause, and external input switching. Additionally, the new AVRs will support the recently announced Alexa Multi-room functionality, which enables voice commands via Alexa to operate streaming services through the AV receiver and will be available to users in November. The receivers also come with Audyssey's MultEQ XT32 bundle standard, delivering an easy and accurate way to get room correction and expert installation. With the addition of Audyssey Dynamic Volume and Dynamic EQ, installers and users will have maximum control to optimize their audio set up for the absolute best fidelity. The AVRs are also built for network-delivered entertainment. Dual-band 2.4GHz and 5GHz Wi-Fi is standard as is Bluetooth, Apple Airplay and Ethernet, with almost every major streaming service available onboard including Spotify®, Pandora, TuneIn Internet Radio, iHeart Radio, TIDAL, SiriusXM, Napster, Soundcloud and Amazon Music. Apple Music subscribers have the option of using AirPlay to stream tunes from their iOS device.
Featuring the new HDMI diagnostics offering, the AVR-X6400H and the AVR-X4400H enables custom installers to troubleshoot HDMI related audio and video issues during installation. Installers can perform the HDMI diagnostic and access HDMI cable check mode, limitation mode for HDCP2.2 and 4K through the AVRs front panels.
Dolby Vision and HLG Firmware
In addition, Denon will be releasing a new HLG (Hybrid Log Gamma) and Dolby Vision compatibility firmware update in September, available to owners of the 2015 and 2016 models including those on sale today. The firmware will support Dolby Vision pass-through to Dolby Vision-compatible displays for movies like Despicable Me, Despicable Me 2 and Power Rangers through the AVRs as well as HLG compatibility. Customers will be able to install the new firmware update easily through an on TV prompt.
The new receivers will be on display at CEDIA 2017 at booth 3935. The AVR-X4400H ($1,599) will be available in September 2017 and the AVR-X6400H ($2,199) will be available August 2017 through authorized Denon retailers. For more information on the supported models for the new Dolby Vision and HLG compatibility firmware update please visit: https://usa.denon.com/us
Conclusion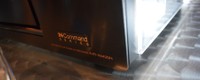 This year at CEDIA seems to be all about Alexa integration into AV products. This is just icing on the cake for products from Denon that already have their HEOS music streaming management system built in.  Denon's Audyssey Editor App is also on-board for those wanting to fine tune their system EQ from the convenience of their smart device.  What remains truly impressive is the fact that the AVR-X4400H and AVR-X6400H support 11.2 channels of processing for a full  7.1.4 Atmos / DTS:X speaker configuration.  With the 6400 model, all amplification channels are on board while the 4400 model requires an additional 2-channel amplifier for this realization.  Of course, both models fully support UHD/4K, Dolby Vision, and a host of other acronyms that would make this sentence too long to list.  This is an impressive capability for products of this price class that simply wasn't available just a couple of years ago.  Denon is proving you can have your cake and eat it too with their latest offerings. 


Unless otherwise indicated, this is a preview article for the featured product. A formal review may or may not follow in the future.