Marantz SR5012 / SR6012 4K UltraHD AV Receivers Preview
Summary
SR5012
7.2 channel AV Receiver with 100 watts per channel (8 ohm, 20 Hz - 20 kHz, 0.08% 2ch Drive)
4K/60 Hz full-rate pass-through, 4:4:4 color resolution, HDR, BT.2020 , Dolby Vision and HLG (Hybrid Log Gamma) pass-through
8 HDMI inputs (incl. 1 front) with full HDCP 2.2 support; 2 HDMI outputs
Analog to HDMI conversion and SD/HD to HD/4K Upscaling
Dolby Atmos (up to 5.1.2) and DTS:X
Built-in Wi-Fi with 2.4GHz/5GHz dual band support; built-in Bluetooth
Built-in HEOS wireless multi-room audio technology
AirPlay, Bluetooth, TuneIn Internet Radio, Pandora, Spotify, Amazon Prime Music, iHeartRadio, SiriusXM, Soundcloud, Tidal, Napster or Deezer Network Audio Streaming
DSD (2.8/5.6MHz), FLAC, ALAC and WAV support
Audyssey MultEQ XT, Dynamic Volume and Dynamic EQ
Color-coded speaker terminals, Setup Assistant, Marantz 2016 AVR Remote App
Intelligent ECO mode with off/on/auto setting
Advanced Multi-Room options; 7.2ch Pre-out; RS232 Control
.Dimensions:

17.3" x 13.6" x 6.3"

Weight: 22.1 lb

SR6012
9.2 channel AV Receiver with 110 W per channel (8 ohm, 20 Hz - 20 kHz, 0.08% 2ch Drive)
4K/60 Hz full-rate pass-through, 4:4:4 color resolution, HDR, BT.2020 , Dolby Vision and HLG (Hybrid Log Gamma) pass-through
8 HDMI inputs (incl. 1 front) with full HDCP 2.2 support; 3 HDMI outputs (inc Zone 2)
eARC (Enhanced Audio Return Channel) support via firmware update
Analog to HDMI conversion and SD to HD/4K Upscaling
Dolby Atmos (up to 7.1.4 with an external 2ch amplifier) and DTS:X
Built-in Wi-Fi with 2.4GHz/5GHz dual band support
Built-in HEOS wireless multi-room audio technology
AirPlay, Bluetooth, TuneIn Internet Radio, Pandora®, Spotify, Amazon Prime Music, iHeartRadio, SiriusXM, SoundCloud, Tidal, Napster or Deezer Network Audio Streaming
DSD (2.8/5.6MHz), FLAC, ALAC and WAV support
Audyssey MultEQ XT32, LFC, Sub EQ HT, Dynamic Volume and Dynamic EQ
Color-coded speaker terminals, Setup Assistant, Marantz 2016 AVR Remote App
Intelligent ECO mode with off/on/auto setting
Advanced multiroom options; 11.2-channel processing with pre-outs for all channels; RS232 Control; Crestron Connected
Dimensions:

17.3" x 15.7" x 6.3"

Weight: 28.2 lb

Executive Overview
Audio manufacturer Marantz recently released their newest feature packed AV receivers, the SR5012 and SR6012. They are both equipped with the latest versions of Dolby Atmos and DTS:X and both offer the convenience of multi-room music playback via HEOS integration as well as full 4K Ultra High-Definition compatibility to create an immersive home theater and entertainment experience.

At Marantz, we strive to create products that boast exceptional audio quality and subtle, yet eye-catching design. Our new line of 'full-size' AV Receivers allows us to provide a wider range of options for those looking to create a premium home theater experience, The SR5012 and SR6012 aim to create a one-of-kind immersive sound experience that rivals those found in theaters today.

 Joel Sietsema, senior vice president, brand management at Sound United.

Marantz SR5012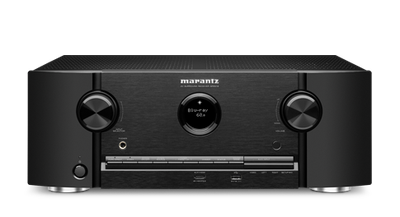 The Marantz SR5012 is a 7.2 channel AV Receiver with 100 watts per channel (8 ohms, 20 Hz - 20 kHz, 0.08% 2ch Drive). The SR5012 is not only compatible with a full range of 4K Ultra High Definition video specifications—from 4K 60Hz video to HDR, as well as Dolby Vision and Hybrid Log Gamma (HLG; via future firmware update)—it also can decode both Dolby Atmos and DTS:X 3D surround sound, to deliver immersive audio home theater thrills.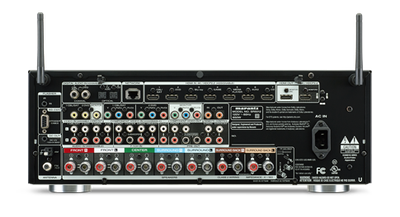 The video section features 8 HDMI inputs (including 1 on the front panel), with full compatibility with the latest 4K Ultra HD video specification, including 60 Hz full rate content, 4:4:4 Pure Color sub-sampling, BT.2020, HDR and Dolby Vision compatibility. It's also HDCP 2.2 compliant, for 4K Ultra HD copy-protected content. HLG (Hybrid Log Gamma) pass-through for future HDR broadcast content will be supported via a firmware update. The SR5012 should allow for a complete array of high-definition sources to be connected, including Blu-ray Disc players, streaming devices, set top boxes and games consoles, with 4K video and hi-res audio as well as upscales legacy video sources (e.g. DVD) to 4K.
The SR5012 even creates immersive surround fields from older soundtracks using Dolby Surround and Neural:X processing as well as being compatible with Dolby TrueHD and DTS-HD soundtracks for conventional 5.1- or 7.1-channel surround. With the SR5012 you can create a 5.1 surround sound speaker system and 4 additional overhead speakers or 4 Dolby Atmos elevation speakers (both with an additional 2 channel amplifier) for the ultimate 5.1.4 home theater experience - including Dolby Surround upmixer for legacy content. In addition, the SR5012 will support eARC (Enhanced Audio Return Channel) for Dolby Atmos or DTS:X from your TV apps with a single HDMI connection. This feature will be enabled via a future firmware update.
All seven channels of the SR5012 are identical in design and built from high-quality components including Marantz' Hyper Dynamic Amplifier Modules (HDAMs). The SR5012 handles digital to analog conversion through its eight-channel DAC block, using 32-bit AKM's AK4458VN D/A converters on all channels. It features low-impedance drive capabilities that should provide for excellent speaker control even with 4-ohm speakers. For energy conservationist, SR5012 comes with an Eco mode but we don't recommend using the Eco mode if your concern is maximum power delivery to your speakers. It features an on-screen Eco meter that allows you to use the receiver in power-saving mode, either reducing the maximum output power or adopting low-power strategies at more modest settings. 
The SR5012 features a wired or Wi-Fi connection to access your music through your home network. This includes Internet radio and streaming services such as Spotify, Connect, Tidal, and Pandora. The SR5012 can also stream music from a computer or NAS drive at up to 192kHz/24bit and DSD5.6MHz for ALAC, FLAC, and WAV lossless files as well as DSD 2.8MHz and 5.6MHz tracks (the audiophile format of SACD). You can also play hi-res music via the front panel USB port and network sources, and also listen to other popular file types such as MP3.Direct streaming from a smartphone or tablet via Bluetooth or Apple Airplay.
For optimal performance, the SR5012 comes with Audyssey MultEQ XT and Audyssey App editor capability which can be used to simplify accurate set-up and calibration to customize your sound.
Additional features of the SR5012 include an on-screen Setup Assistant to make it easy to install and configure the AVR, color-coded speaker terminals to simplify connections and an Intelligent ECO mode to minimize power consumption without compromising performance. The SR5012 is also ISF calibration ready, allowing professionals to precisely calibrate it for even better video performance with the user's display.
Marantz SR6012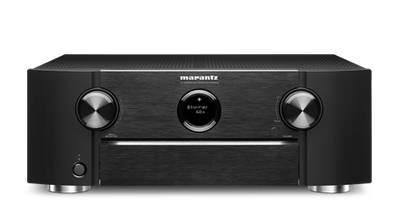 The SR6012 takes the SR5012 to the next level with 11.2-channel processing, preouts and extended custom installation features including Crestron Connected compatibility. Its identical nine channels of amplification should offer smooth performance during playback and includes Marantz HDAMs to deliver high-resolution quality with both music and movies.
With low-impedance drive for even the toughest speaker loads, the SR6012 can drive 5.1.4 or 7.1.2 speaker configurations out of the box to deliver an immersive 3D sound of Dolby Atmos and DTS:X. It's 11.2-channel processing even allows 7.1.4-channel to work with an extra two-channel amplifier. Dual subwoofers capability allows smoother and more dynamic bass reproduction.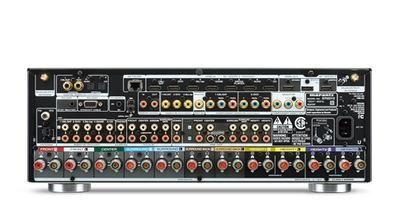 Three HDMI outputs allow audio and video to be sent to a second zone, as well as two additional displays (e.g., TV and projector) simultaneously. The SR6012 will also support eARC (Enhanced Audio Return Channel) via a future firmware update to allow object-based audio, including Dolby Atmos and DTS:X playback from TV video apps via a single HDMI cable.
The SR6012 has a higher-precision Audyssey MultEQ XT32 set-up and calibration and also has extra audio input (five, as compared to four on the SR5012) and a moving magnet phono input to allow a turntable to be connected. Other performance-enhancing additions include an aluminum front panel for greater rigidity, a Hybrid PLL Clock Jitter Reducer for the most accurate audio reproduction, and an extruded aluminum heatsink for more efficient heat-dispersion. The SR6012 also features gold-plated connectors and speaker terminals. 
Most Affordable 11.2CH Immersive Surround Preamp is a Receiver?

The SR5012 will retail for $999 and the SR6012 for $1,499 are avaiable through authorized Marantz retailers.
Think about this.  Even if you prefer to use external amplification for ALL of your speakers, the SR6012 may just be the most affordable 11.2CH Atmos/DTS:X processor solution on the market!  With all these features the SR6012 offers for $1,499, it will be interesting to see if their sister company Denon refreshes their similarly equipped AVR-X4300H model in the months to come. The AVR-X4300H offers a tad more amplifier power (125wpc compared to 110wpc of the SR6012). But, the Marantz SR6012 focuses more on the quality of the preamp outputs with its HDAM circuits making it the more ideal solution for those wanting to use it as a dedicate preamp/processor.  You can't go wrong with either model if your looking to assemble an 11.2CH immersive surround theater system and also handle the latest in music streaming too.
Which model are you thinking about getting? Please share your feedback in the related forum thread below.


Confused about what AV Gear to buy or how to set it up? Join our Exclusive Audioholics E-Book Membership Program!
See also:
Recent Forum Posts:
Pogre posts on September 01, 2017 17:03
A processor to the amp for my front 3 is how I'm using my 6011 right now (as well as powering the surrounds). It does a great job. Very happy with my results.
music4cities posts on September 01, 2017 14:23
Well I want to give @gene my thanks here.

This preamp out issue is very useful to know for those who, like yours truly, are considering whether to use an old school stereo preamp or an AVR for two-channel music, linked to a discreet power amp. The quality, impedance and design of the pre-out stage can make a significant aq difference and matching to different amps. As an AVR will typically use its internal amps, and for movies, etc all, I can see some companies /models including rather perfunctory preouts. Of course one could use an AV processor instead on an AVR, but those tend to be rather expensive for those on a budget.

So the question of whether Marantz's Preouts are indeed well implemented compared to competitors or even brand-mates, is of significance to me, but, alas, not so obvious in most reviews.


Now, I would be looking at a lower cost model than those reviewed here, but this helps my search and comparison shopping.

Google best AVR for music and one gets all sorts of vague claims and suggestions that don't really help much…brands like NAD, Cambridge audio, Arcam, and yes, Marantz are mentioned. But i find it far harder to find specifics.

Is that due to different room or other EQ protocals? different line out /pre out stages? better Direct implementation with short signal paths with less active components? Who knows.

I have a one of those cute slim line Marantz AVRs for my av system. and I do think it does a pretty decent job with music for what its worth.
Bookmark posts on August 23, 2017 15:28
You might assume anything, for myself I'd say its barely in the middle. Were it otherwise most here would have nothing to lust after and already spent way more reaching that point
PENG posts on August 23, 2017 14:43
Goliath, post: 1205368, member: 60330
I'm not expecting any radical improvement over the previous models. I own the Marantz SR-7011.
We can safely assume the SR-7011 is on the far right side of the point of diminishing return.
AcuDefTechGuy posts on August 22, 2017 19:32
PENG, post: 1205299, member: 6097
I am talking about real flagship, and one that has been measured.

Edit: The AVR-5308CI was also measured, but by S&V, and I don't want to compare their measurements with AH's. Just for information, its SNR from preamp input to speaker output was -109.97 dBrA at 1W, as usual, S&V assigned a negative sign to it.
Well, at least now I know that S&V also measures the SNR at 1W (2.83v into 8 ohms).
S&V also measured the Denon POA-A1HDCI amp. Wideband 10Hz-24kHz SNR-A at 1W was 114dBA. I guess Gene only measured the POA-A1's Unweighted or unfiltered, not A-weighted.
So the Denon AVR-5308 Receiver's preamp SNR-A was only 4dB less than the POA-A1. But darn it, they didn't measure the amp section of the 5308 or the preamp section of the AVP-A1HDCI!
Post Reply