Denon/Marantz Audyssey MultEQ Editor App Allows Full Customization of Sound
Denon/Marantz Audyssey MultEQ Editor App Allows Full Customization of Sound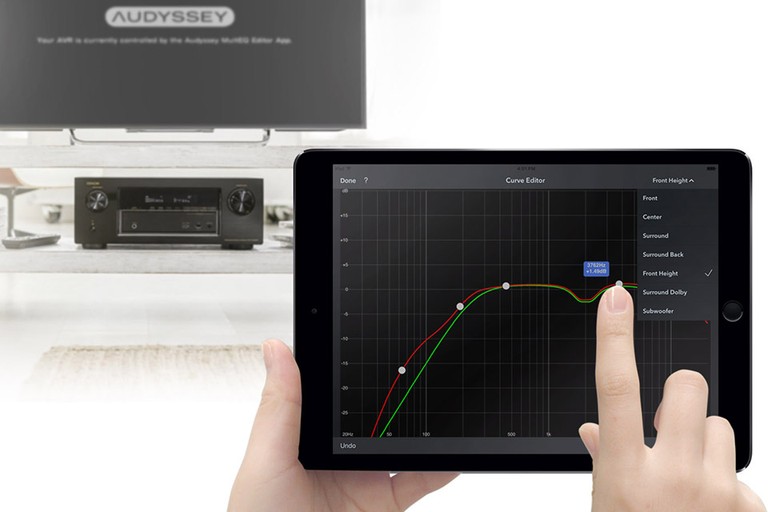 Audyssey MultEQ Editor App
Denon and Marantz Audyssey MultEQ Editor app puts complete home theater customization at your fingertips.  Free at last, free at last!

Denon and Marantz have launched a new Audyssey MultEQ Editor app, allowing home theater enthusiasts to refine and customize the set-up of their systems for even better surround sound. The latest Denon and Marantz audio video products use Audyssey MultEQ for simple, accurate one-touch set-up and calibration of the system to the room in which it's used. The Audyssey technology detects the size, type and configuration of speakers used, and also measures their response in the room for optimal performance – whether running a simple 5.1-channel set-up or a full-blown Dolby Atmos/DTS:X immersive surround system.
We have always had reservations about Room EQ especially above the room transition frequency (300Hz to 500Hz) that makes it very difficult for auto-EQ systems to be effective and not cause more harm than good.  A few systems on the market such as DIRAC and Athem ARC allow user adjustability to limit correction above a pre-desired point.  We are happy to see Audyssey is now joining the ranks and doing the same.  We are particularly excited about this as Audyssey now gives you the power to focus its efforts on where room correction is most effective and needed the most - the bass frequencies.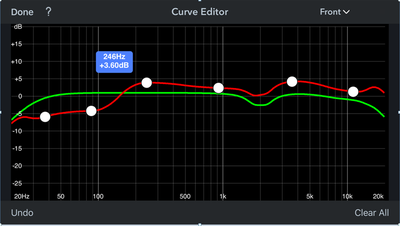 Audyssey EQ Editor App - screenshot taking from mobile device
This is done via the new Audyssey MultEQ Editor app which allows end users to go 'under the hood' to view and adjust the settings made by the automatic set-up. They can take full control of every aspect of the configuration, allowing detailed tuning and customization of the sound. That means users can adjust the performance more precisely to cope with any specific problems in their room, and tailor the surround experience to their personal preferences. With this comprehensive app and some of Denon and Marantz's latest receivers, home cinema enthusiasts can at last not just harness the incredible power of Audyssey MultEQ to simplify the set-up of their home theater, but take total control of the way their home cinema sounds.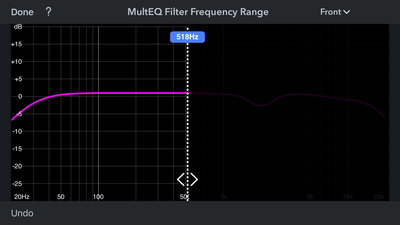 Audyssey EQ Editor App - screenshot taking from mobile device
Chris Kyriakakis, Chief Technology Officer, Audyssey Laboratories, Inc., states:
"The Audyssey MultEQ Editor app enables users to enjoy reference sound that is free of room acoustics problems and also apply their own listening preferences. We are very pleased to be working closely with Denon and Marantz to deliver this unique capability for fine tuning these AV Receivers."
This app allows users to:
View the Audyssey MultEQ speaker detection results, to check and modify the configuration, and adjust for any unusual speaker set-ups
View before and after results of the Audyssey calibration, making it easy to identify room problems and see just what changes the system is making
Edit the Audyssey target curve for each channel pair to suit individual tastes
Adjust the overall EQ frequency roll-off for each channel pair
Switch between two high-frequency roll-off target curves
Enable/Disable midrange compensation to make the sound brighter or smoother, perhaps making dialogue even clearer or taming those hard-edged soundtracks
Gives the home theater enthusiast even greater control over the performance of their surround sound system
Save calibration results for 'piece of mind', ready for instant re-loading should one ever need to reset their system
The Audyssey MultEQ Editor app, available for iPhones and iPads via the iTunes store, and for Android devices via the Google Play store, can be purchased for $20 US. As it requires specific hardware inside the product to function, the following models are able to use the app (product availability varies depending on regions):
Denon AV Receiver: AVR-X6300H, AVR-X4300H, AVR-X3300W, AVR-X2300W, AVR-X1300W, AVR-S930H, AVR-S730H, AVR-S920W, AVR-S720W. Selected upcoming 2017 Denon Network AV receivers will support the app as well. 
Marantz AV Receiver: AV7703, SR7011, SR6011, SR5011, NR1607. Not compatible with Marantz models other than those listed above. Selected upcoming 2017 Marantz Network AV receivers will support the app as well.
*Not compatible with Denon models other than those listed above (sorry fellow AVP-A1HDCI or AV8802A owners).
We look forward to re-evaluating Audyssey with this new app and see how it can transform the home theater experience.  If you are already a user, please comment how effective the app is in the related forum thread below.
Confused about what AV Gear to buy or how to set it up? Join our Exclusive Audioholics E-Book Membership Program!
Recent Forum Posts:
RTG posts on October 27, 2019 15:53
It's the opposite for me now. Audyssey does a good taming my speakers. I did enjoy limiting MultiEQ for a few months but have gone back full range. I only use my room for watching movies and tv so I prefer the Reference Curve with DEQ ON. I do like the app since it lets me turn off MRC.
thepiecesfit posts on October 27, 2019 14:46
It's too bad the speaker levels are not in the app. I usually like to kick my center channel up +2 dB after the auto correction. Minor annoyance but would love to have this. Limiting the correction to 300hz seems to be the sweet spot in my room. The mid range to highs seemed a bit harsh after audyssey.
RTG posts on February 12, 2019 14:15
I've experimented more with that app over the last month. I limited MultiEQ to 300hz and turned off DEQ. The sound is much better and detailed with DEQ off. What I notice most is the detail I was missing with I was using MultiEQ full range. It's as if a veil has been removed from my RP's. Bass is better defined without DEQ. It sounds more precise and natural. Overall I'm very pleased with the App. Much better results than when calibrating through the AVR.
RTG posts on January 03, 2019 17:02
Decided to try the app for my Denon X4300. Wow. What a difference. I've been using the Flat curve to avoid MRC but never liked the idea of a Flat EQ. I've had many AVR's that use Audyssey but it's always sounded processed to me. I like the idea of a slight rolloff but again, avoided Reference due to MRC. Using the App it looks like my levels are more accurate. Before my subs were set at -5, now -3.5. I limited the MultiEQ to 300hz, turned off MCR. Chose Reference 1 and left DEQ engaged since it sounds excellent in my room. Pumped up the XO to 100hz for my mains and 150hz for my surrounds, surround backs and Atmos modules. The difference is substantial. I have Klipsch RP's and felt Audyssey has always choked the top end. Limiting to 300hz has put me into sonic bliss. Clarity and detail is significantly better but also smoother and not as fatiguing. My speakers now have the warmth back.
PENG posts on November 19, 2018 12:50
cntbill, post: 1282248, member: 86750
Great I'll check it out… and if you could point me to your post of the graphs I'd be interested as well…

Thanks again…
I may repost them on Kurt's thread too.
Post Reply