Marantz AV8802 11.2CH Preamp/Processor Preview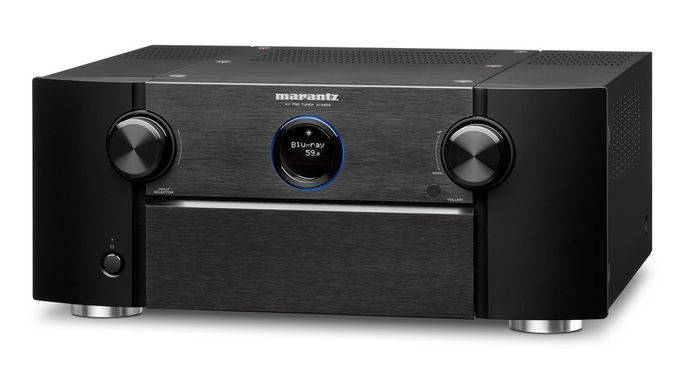 The Marantz AV8802
Summary
Wi-Fi and Bluetooth built-in
Current Feedback topology and new Marantz HDAM
Toroidal transformer & Copper plated chassis
Three piece top cover construction
High performance power supply with 4x 10.000μF capacitors
Audiophile 32bit / 192kHz DA-Converters
Auro-3D upgrade-ready (up to Auro 10.1)
Dolby Atmos (5.1.2, 5.1.4, 7.1.2, 7.1.4 configuration)
Dolby TrueHD and DTS HD Master Audio
DTS:X Immersive Surround

Audyssey MultEQ XT32, LFC, Sub EQ HT, Pro ready
Audyssey DSX; DTS Neo:X (11.1ch)
13.2ch pre-out (13.2ch XLR, 13.2ch RCA) and 11.2ch signal processing
Latest HDMI version with 4k 50/60Hz 4:4:4 resolution
HDCP 2.2 upgradeable (requires hardware modification)
7+1 front HDMI in / 3 HDMI out (2 + 1 zone) (4k 50/60Hz, 3D, ARC, Deep Color)
HDMI scaling 1080p, 4k 50/60 Hz
HD Audio streaming: FLAC 192/24, DSD, ALAC
Spotify Connect, Pandora, SiriusXM* (* where available), Flickr, Internet Radio support
Setup Assistant and Advanced GUI
4 Smart Select buttons for fast selection of listening presets
Marantz Remote App for iOS and Android devices
Dimensions (W x H x D): 440mm x 185mm x 389mm
Executive Overview
A few weeks back when we looked at Denon's new AVR-X7200W, we were happy to finally see a receiver that would fully support HDMI 2.0 with HDCP 2.2, as well as Dolby Atmos, DTS:X and Auro-3D (the latter with a paid upgrade). The announcement of Marantz's new flagship pre/pro, the AV8802 follows in the same vein. Due to be available in February of 2015, the AV8802 will be ready for 4K Blu-ray discs, and will be able to handle any audio codec thrown at it (at least until DTS's next generation format comes along). Of course, there's the small matter of price: the words "flagship preamp/processor" never come cheap, particularly when coupled with cutting edge technology. With an MSRP of $3,999, the AV8802 is still in the realm of affordability, though it is double the price of the step down AV7702.
Design & Feature Set
As with the outgoing AV8801, the Marantz AV8802 is an 11.2 channel preamp/processor with a full complement of balanced XLR outputs in addition to standard unbalanced RCA jacks. 8 HDMI v2.0 inputs (up one from the AV8801) and 3 outputs are available, supporting two displays in the main zone and a third display in a second zone. Auto-calibration/room correction is handled by Audyssey's Platinum Suite, which includes MultEQ XT32 along with SubEQ for dealing with multiple subwoofers. To further ensure the best possible audio quality, 192kHz/32bit are employed on all channels. As you might also imagine, build quality is touted to be top notch, with the folks at Marantz pointing to the heavy copper plated chassis and an oversized power supply with a toroidal transformer and 4x10,000uF capacitors.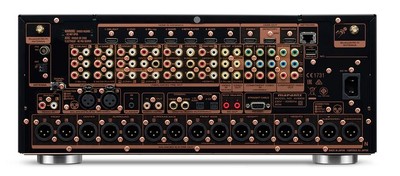 Rear panel view of the AV8802.

Where the AV8802 really starts to differ from its predecessor is the inclusion of Dolby Atmos and Auro-3D. With 11.2 channels on tap, Atmos configurations up to 7.1.4 are supported, while Auro-3D tops out at 10.1. The AV8802 also boasts integrated WiFi and Bluetooth antennas for wireless streaming. A variety of network and internet sources are supported, including a couple thousand internet radio channels, Spotify Connect, Pandora, SiriusXM, Airplay, and DLNA. However, there's one small downgrade to take note of: the 4 port Ethernet switch is no longer available. While not of grave importance, it was a handy add-on for those who did have a physical network connection available.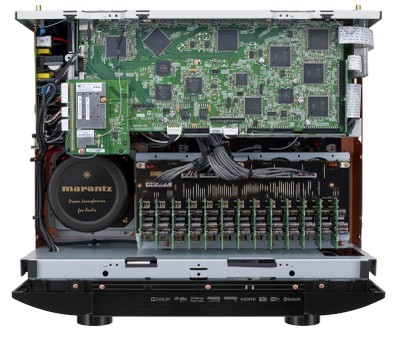 Internal shot of the Marantz AV8802.

Analysis & Summary
As we see it, the big competition for the AV8802 isn't going to be from outside the company, but from Marantz's own AV7702. At $1,999, the AV7702 offers much of what the AV8802 brings to the table, including 11.2 channels of audio and balanced XLR outputs, support for Atmos, DTS:X as well as Auro-3D, and Audyssey's Platinum package. The only major piece of the puzzle missing is support for HDCP 2.2, which will be required to play back 4K Blu-ray discs. There's also the matter of build quality and the cachet of owning a flagship to consider. Are those things worth a $2,000 premium? Only you can decide. Still, we wouldn't mind getting the opportunity to put one of these bad boys on our test bench. 

Confused about what AV Gear to buy or how to set it up? Join our Exclusive Audioholics E-Book Membership Program!