Denon AVR-X7200W A/V Receiver Preview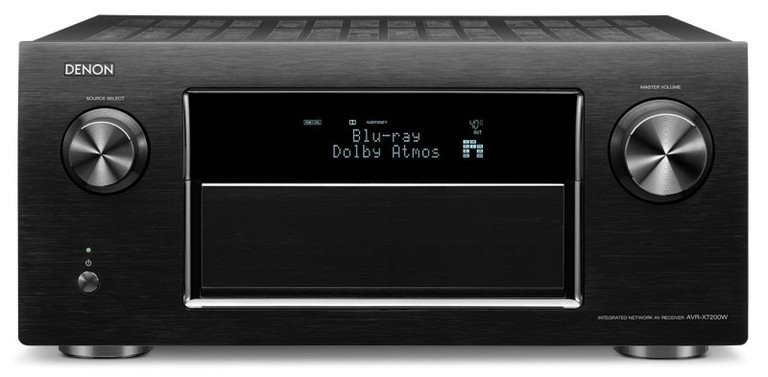 Denon's new flagship A/V receiver, the AVR-X7200W.
Summary
Product Name:

AVR-X7200W

Manufacturer:

Denon

Review Date:

November 24, 2014 00:00

MSRP: $2,999
First Impression:

Pretty Cool
150W x 9ch high quality discrete power amplifier for powerful and detailed sound
Symmetrical monolithic amplifier design with Denon custom made transistors
D.D.S.C.-HD32 with AL32 Processing Multichannel, Denon Link HD
Built-in Wi-Fi with dual antenna, built-in Bluetooth®
Latest HDMI standard with 4K Ultra HD 50/60 Hz Pass-through and 4:4:4 color resolution
HDCP2.2 upgradeable (scheduled for spring 2015)
Advanced Video Processing with upscaling up to 1080p and 4k Ultra HD 50/60Hz
8 HDMI inputs (incl. 1 front), 3 HDMI outputs (2 main + zone)
Dolby Atmos®. (5.1.2, 5.1.4, 7.1.2, 7.1.4*, 9.1.2* configuration)
Auro-3D® upgradable (9.1ch, 10.1ch* with VOG (Voice of God) configuration)
Audyssey DSX and DTS Neo:X 11.1ch processing
Wide support for streaming formats including DSD and AIFF streaming
AirPlay and DLNA music streaming; Spotify Connect* (*where available, subscription may be required)
Advanced ECO mode with off/on/auto setting
Audyssey MultEQ XT32 / Sub EQ HT / LFC (Pro ready)
Audyssey Dynamic Volume and Dynamic EQ
11.2ch processing and 13.2ch pre-out; gold-plated terminals
Improved Setup Assistant and Graphical User Interface (Hybrid GUI, 9-languages)
Maximum Dimensions (W x H x D): 17.1" x 7.71" x 16.81"
Executive Overview
It's a tough time to consider buying an A/V receiver at the moment: with the HDMI 2.0 / HDCP 2.2 issue, as well as the potential for a format war between Dolby Atmos and Auro 3D (not to mention if/when DTS' next generation audio format enters the fray). There's a lot of reason to simply hold back and wait for the dust to settle. But what if you could have your cake and eat it too? That's exactly what Denon's new flagship receiver, the AVR-X7200W aims to offer.

Priced at $2,999, a $1,000 premium over the recently reviewed AVR-X5200W, Denon's newest flagship A/V receiver naturally comes packed with all the bells and whistles you could ask for. More importantly, Denon is including an optional upgrade to Auro-3D (for a fee which is said to be between $200-250), as well as a hardware upgrade to a full HDMI 2.0/HDCP 2.2 implementation in the Spring of 2015. So just what does one dollar short of $3,000 buy you?
Feature Set
Starting with the basics, the AVR-X7200W is a 9.2 channel receiver that supports expansion out to 11.2, though 13.2 pre-outs are provided. A whopping 150W of power is on tap (8 ohms, 20Hz-20kHz, 0.05% THD, 2 channels driven), though this only represents a marginal 10W increase over the aforementioned AVR-X5200W. 8 HDMI v2.0 inputs are on board, as well as three outputs (2 main plus zone out), not to mention a slew of legacy inputs including 3 component video inputs (2 out) and 4 digital inputs (2 coax, 2 optical). Complementing the physical inputs, the AVR-X7200 also includes built in WiFi and Bluetooth; a wide array of streaming options are available including Apple Airplay, DLNA, and Spotify Connect.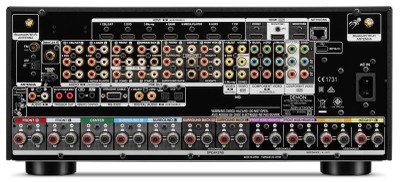 Rear panel of the Denon AVR-X7200W.

As with the AVR-X5200W, Audyssey's top of the line MultEQ XT32 suite with SubEQ is on board for auto-setup and calibration. Also as you'd expect, the AVR-X7200 is ready to roll with Atmos, and with the addition of a two channel amplifier, the AVR-X7200W can handle up to a 7.2.4 or 9.2.2 Atmos configuration. As mentioned previously, the Auro-3D format will be optionally supported, and Denon's flagship can support a 2-layer 9.1 configuration as well as a 3-layer 10.1 layout featuring a VOG (voice of God) channel. Wrapping everything up, the AVR-X7200 is capable of being a whole-house solution, boasting a pair of video zones and a trio of audio zones.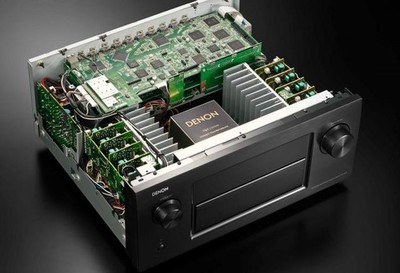 And the cover comes off...

Analysis & Conclusion
As we see it, the AVR-X7200W's biggest competitor is going to be the step down AVR-X5200W. For $1,000 less, you can still get a potent 9.2/11.2 expandable receiver with Audyssey MultEQ XT32 and SubEQ, built in wireless, Dolby Atmos, and an upgrade option to Auro-3D. The only big feature on the table is Denon's promised upgrade to a full HDMI 2.0 / HDCP 2.2 implementation, which will be necessary to play 4K Blu-rays that are set to debut next year. However, there's also improved build quality to take into account, which is borne out in the weight of the two receivers (31.3lbs versus 39.2lbs) as well as a DAC upgrade (192kHz/24 bit to 192kHz/32 bit). If the qualitative upgrade matters to you, and/or you have to buy a new receiver now, then the AVR-X7200W makes sense. If you're in no rush, odds are that next year's refresh of the AVR-X5200W will be fully compatible with HDMI 2.0 / HDCP 2.2, reducing the gap between models.
Confused about what AV Gear to buy or how to set it up? Join our Exclusive Audioholics E-Book Membership Program!