Denon AVR-X5200W Dolby Atmos AV Receiver Review
Denon AVR-X5200W Dolby Atmos AV Receiver Review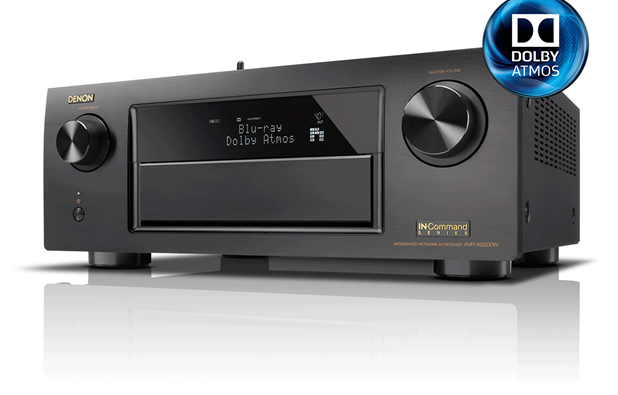 Dolby Atmos, TrueHD, DTS HD processing

140 watts per channel (8ohm, 20-20kHz, THD 0.05%) x 9 Channels
Monolithic amplifier design with Denon custom made transistors
Dolby Atmos (5.1.2, 5.1.4, 7.1.2, 7.1.4*, 9.1.2* configuration)
Audyssey DSX and DTS Neo:X 11.1ch processing
11.2ch processing and 13.2ch pre-out; gold-plated terminals
8 HDMI Inputs / 3 HDMI Outputs (1 assignable to 2nd zone)

Wired/Wireless Network Capability
Supports FLAC, ALAC/WAV, Airplay, Spotify and more
Maximum Dimensions (W x H x D): 17.1" x 6.6" x 15.5"
Weight: 31.24lbs
Pros
Supports Dolby Atmos and Auro-3D (with upgrade)
Offers some of the most versatile speaker and amp configuration options we've seen
Does everything but make you coffee
Cons
Confusing setup options and terrible user manual
Includes the world's worst impedance selector switch
Denon AVR-X5200W AV Receiver Introduction
Just when we thought a
n A/V manufacturer couldn't pack more amplifiers and preamp outputs into a sub $2k receiver, Denon proved us wrong with their new AVR-X5200W 9.2 Channel Dolby Atmos A/V receiver.  With 140 watts x 9 channels built in, you'll be ready to get your Atmos on right away.  For those not familiar with Dolby Atmos, it's Dolby's next generation surround codec, which claims to be object based versus the old channel based TrueHD codec.  Dolby claims Atmos is the biggest audio breakthrough in 20 years.  We put this new Denon A/V receiver through its paces to validate this claim while also doing our usual battery of bench and operational tests.
Read:  Dolby Atmos Overview for more information.
 Denon AVR-X5200W Atmos AV Receiver Review1
First Impressions
I have to say when I first unboxed the Denon AVR-X5200W A/V receiver, I wasn't blown away by its size or weight.  I'm used to carrying Denon receivers with two arms up the flight of steps to the Audioholics Showcase home, but only weighing in at 31lbs, I was able to do this chore with just one.  I'm not one to judge a book by its cover so I wanted to get an inside look at this baby and more importantly get it on my test bench right away to see what she could do.
Popping the top off revealed this is one crammed chassis.  The AVR-X5200W is loaded with silicon including four Analog Devices SHARC DSPs (you need this much horsepower to do Audyssey and Dolby Atmos), premium Analog Devices DACs and an array of chips for video upscaling and processing.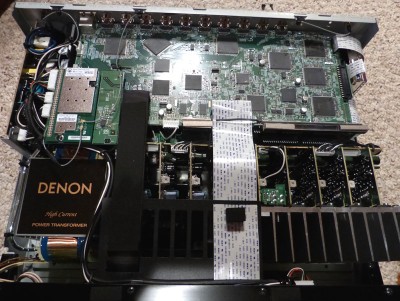 Denon AVR-X5200W Inside View with Top Panel Removed
The AVR-X5200W features an advanced video section with 8 HDMI inputs (1 located on the front panel) and 3 HDMI outputs (one meant for another zone). It's equipped with 4K Ultra HD 60Hz video pass-through and upscaling. It's also compatible with Pure Color 4:4:4 color sub-sampling, another feature of the latest HDMI specification. The video section also features ISFccc (Imaging Science Foundation Certified Calibration Configuration) advanced video calibration controls, which is cool for video buffs.  The AVR-X5200W has a shiny sticker on the front panel claiming its HDMI 2.0 with full 18GBps support and can do 4k 60fps, though it is not HDCP 2.2. I wouldn't sweat this as nobody else has HDCP 2.2 that can pass 18GBPs yet and it remains to be seen if we will ever see such high resolution and data rates supported.

Denon AVR-X5200W Front Panel Sticker
The Denon AVR-X5200W supports full 18GBps 4k 60fps video and is HDMI 2.0.

Denon claims the amp section uses monobloc construction and you can see each individual amp channel has its own discrete card, but everything is powered from a central E-core transformer which has decent mass to it.  I'm not sure about its VA rating but the back panel says the power consumption is 730 watts, which I would imagine is close to a max rating.  The heatsink isn't the cheap thin metal we've seen on some recent A/V receivers.  Instead it's made from extruded aluminum.  Below the heatsink reside two cooling fans which never activated no matter how hard I drove this receiver. I'd imagine if you don't allow adequate ventilation like I did, they would come on to provide forced cooling. 
Denon AVR-X5200W Back Panel View
You can hook up to 11 pairs of speakers to this receiver!
The AVR-X5200W is packed with speaker connections (11 pairs to be exact).  Though you can only use up to 9 pairs simultaneously since the Denon provides nine channels of amplification.  The AVR-X5200W has a full compliment of analog preouts in case you want to use external amplification on ALL of your channels or to just add a two-channel amp for the main channels while using the nine internal amplifiers to run a full 7.2.4 speaker system (that's 7 bed channels, 2 subs, and 4 height/object channels).
Legacy A/V connections are supported and fully upscaleable to HDMI, as expected in this day and age.  While it has a wired Ethernet connection, the AVR-X5200W also sports dual detachable antennas for Wi-Fi streaming so you can listen to music from a networked PC, free internet radio and music services like Pandora, SiriusXM and Spotify. You can also stream Apple Airplay from your iPhone or iPad.  If you can stream it, the AVR-X5200W will likely support it.

Last but not least, the Denon has gone green with the AVR-X5200W receiver.  There is an "eco" feature built into this unit which is a form of current limiting to save energy. It's accessible via a green button on the remote with an embedded leaf symbol.  The eco feature is off by default but there are three modes: off, on, auto (auto means it is only active at low volume levels, when the volume dial gets above a certain point, the eco mode/current limiting is no longer active).  I left it off during all of my testing to ensure I wasn't hindering performance, but most users will probably want to leave it on auto, especially if you're an energy conservationist.
Setup and Connections

Skip the disastrous user manual and use the receiver's setup assistant!
I have to congratulate Denon for making the AVR-X5200W one of the most challenging A/V receivers to set up in the history of Denon receivers.  Considering I've checked out ALL of their flagships, including the venerable AVR-5805 dreadnought, I speak from experience.  Most of the confusion lies in how to set up and configure your speaker and amplifier assignments.  You have two screens to do this in, "speaker setup" and "power amp assignment".  The user manual (aka The Land of Confusion) that comes on a CD ROM is almost 350 pages long and virtually unusable.  The speaker diagrams are cluttered and confusing, and the nomenclature on how they refer to Dolby Atmos speakers is inconsistent and confusing as well.  Sometimes they are referred to as front/back Dolby speakers and other times they are referred to as Dolby surround speakers.  I couldn't make heads or tails of the manual, so I put it away and just powered up the AVR-X5200W in hopes that I would have better luck with the OSD and Setup Assistant.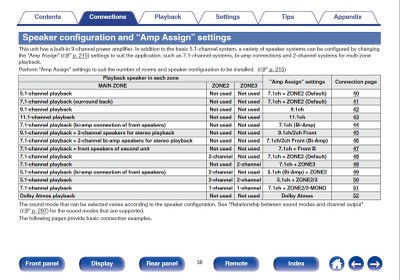 Excerpt from Denon AVR-X5200W Manual About Speaker Assignment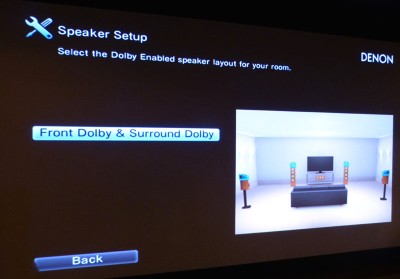 Denon AVR-X5200W Receiver Setup Assistant
The Denon receiver setup assistant tool is actually quite useful.  I recommend using it whether you're a neophyte or an audioholic.  You can then check your results by going into the more advanced OSD speaker/amp menus as illustrated below.
Denon AVR-X5200W Speaker Amp Assignment OSD
Denon AVR-X5200W Speaker Configuration
Unless you're using 4 ceiling mounted speakers for Atmos, you will likely want to set the speaker config to 9.1 for most installations.

Here's where things get a little confusing.  For months, Dolby has been drilling their new speaker nomenclature into our heads in how they assign the height channels as designated by a second decimal point and the number of speakers used.  For example a speaker configuration employing five (5) conventional speakers in an L/C/R/Ls/Rs (Left/Center/Right/Left surround/Right surround) arrangement would have the first numerical designation (in this case 5) followed by a decimal point and the number one (1) for the LFE channel followed by another decimal point and the number of height channels (we used 4).  So for a system featuring five main speakers, one sub and four height channels, you would call that a 5.1.4 speaker configuration.  Surprisingly this is nowhere to be found in the Denon manual or the menus in the OSD of the actual receiver.  The more I tried to coordinate the manual with the receiver OSD, the more I realized it was all just one hot mess.  One would intuitively think if one wanted to add four Dolby Atmos speaker modules to their setup, they would select the Dolby Atmos assignment as shown in the right image above.  However, that was NOT the case.  This assignment is only if you plan on adding four actual ceiling mounted speakers for Dolby Atmos.  If you wish to instead use Dolby Atmos speakers, you will need to set the speaker assignment to 9.1 or 11.1 depending on how many speakers you're running. I chose 9.1 because my test setup consisted of five main channels, four Dolby Atmos speaker modules, and one subwoofer.  I voiced my concerns about all of this to my contact at Denon and he claims they are working on a firmware update to improve the labeling of speaker assignments to make it more understandable and digestible.  For now, my advice would be to set the receiver to 9.1 for virtually every installation that doesn't employ four ceiling mounted Atmos height channels.  Even if you're running two Atmos elevation modules and two ceiling mounted Atmos height speakers, you will still want to chose the 9.1 configuration and assign the front and rear Dolby surround speakers in accordance to what you are using.  Clear as mud? Good. 
Audyssey Room Correction

I commend Denon for not dropping Audyssey from their A/V receiver line to accommodate Dolby Atmos like Onkyo did.  As previously stated, Denon instead elected to employ 4 Analog Devices SHARC processors to handle the MIPS to pull this off. Kudos to them as I find Audyssey an invaluable tool in a calibrator's arsenal and would hate to lose it simply in favor of adding another surround codec to the mix.
Audyssey has come a long way since its inception back in the venerable Denon AVR-5805.  For one, Audyssey handles multiple subwoofers better than most competing room correction systems by first adjusting level, delay and phase independently, and then applying EQ calibration to both subs simultaneously.  This is something I suggested to Audyssey back in the early days and I'm glad to see it being a standard feature in all new Denon AVRs that employ multiple independent subwoofer outputs.  In addition I really like that Audyssey first gets you to set your sub(s) to a 75dB reference level. That way it's not initially over-cutting or over-boosting trim levels to match the rest of the channels.  It's also interesting to note that Audyssey now recommends varying microphone distance no more than 2ft from the primary mic position which effectively gives you a calibration area of 12.5 ft though this should still be good enough for all but the very largest installations.   
Audyssey can setup and calibrate dual subs in your system.

One oddity I discovered with Audyssey engaged was that the overall output of the speakers was about 5dB louder than when Audyssey was defeated as you can see in the measurements below.  I could audibly hear the difference, though I can't say for sure that it sounded 5dB louder.  I am used to seeing output levels rise a dB or two with Audyssey on versus defeated, but this was a bit more extreme than I am accustomed to.  I popped off an email to Chris Kyriakakis and he reminded me that the level calculation integrates over a range approx 500 Hz to 2 kHz. If Audyssey filters introduce dips in that region then an overall boost is needed for loudness to be the same with and without Audyssey engaged. Perceptually there may be some discernible difference but it is highly content dependent. 
Before/After Audyssey Calibration of Front Channels + Sub
Manual Calibration
I always recommend doing a manual calibration to verify or fine tu
ne the results of auto setup.  As such, I checked speaker level, delay and bass management.  Bass management was done pretty well by Audyssey for all the speaker groups though it set the Dolby speakers to 110Hz which is too low considering how sound waves are still very omnidirectional at those frequencies.  I upped the crossover point on the front and back Dolby speakers to 250Hz which is the max setting.  The fact that Denon allows running Dolby speakers full range is likely an oversight on their part and I hope they disable it in a future firmware release.  Digital delays seemed pretty spot-on, though the measured distance of the Dolby Atmos speakers represented their physical distance from the listener to the speakers rather than their virtual distance from their reflected sound field.  Denon claims they automatically add additional delay for Atmos enabled speakers assuming 9ft ceilings to the calibration to compensate, but I had no way of confirming this.  Levels were also pretty spot-on until I got to the Dolby elevation speakers.  When I checked the levels for the Front L/R Dolby speakers, the AVR played test tones for both front and back respective Dolby channels (i.e. Left Front Dolby plays Left Front Dolby and Left Rear Dolby tones simultaneously).  Denon confirmed this is in fact a firmware bug that will be addressed, but for now you should either rely on the levels that Audyssey correctly sets when it calibrates each individual speaker, or simply unplug the rear Dolby speakers when manually calibrating the front Dolby speakers. 
For those that don't care for auto-EQ and want to dial things in themselves, Denon still has a GEQ (graphic equalizer) option to manually EQ each channel.  However, it only offers crude 9 band, one octave fixed adjustments from 63Hz to 16kHz.  It's a shame we've come so far with technology, yet receiver manufacturers still don't understand the usefulness of an adjustable PEQ (parametric equalizer) down to 20Hz for the subwoofer channel to help better integrate the subwoofer to the satellite channels while also helping to tame problematic room modes at bass frequencies.