Denon AVP-A1HDCI AV Processor Review
Denon AVP-A1HDCI AV Processor Review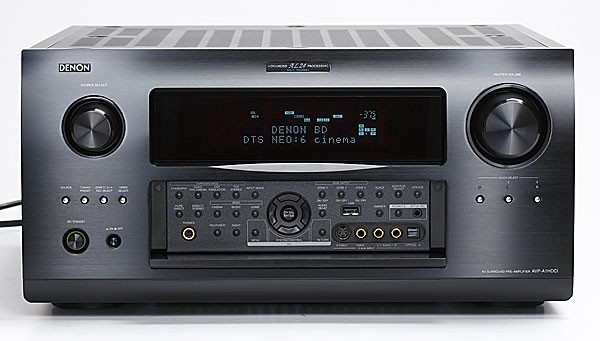 THX Ultra2 certification
THX Surround EX, Dolby® True HD, DTS-HD™ Master Audio, Dolby® Digital Plus, DTS-HD™ High Resolution Audio, Dolby® Digital EX, DTS-ES™, Pro Logic® IIx, and DTS Neo:6 decoding, and Dolby Headphone processing
Silicon Optix Realta HQV video processing and scaling
Audyssey MultEQ XT with eight-point auto setup and Dynamic EQ (microphone included, Pro Installer Ready)
Built-in Wi-Fi for music and JPEG streaming from a PC network
PC setup and control capability via Ethernet/web browser
XM Satellite Radio Ready with decoding for XM's HD Surround channels (requires XM subscription and optional XM Mini-Tuner package)
built-in HD Radio tuner with multi-casting reception
Compressed Audio Restorer for better sound with compressed music sources
four-room/four-source capability
Digital audio output for 4th room via optical digital out
Discrete 2nd room theater output (optical digital)
Conversion of optical or coaxial digital signals to analog audio output for 2nd and 3rd rooms (PCM signals only)
Advanced AL24 Processing for all channels
Dolby Headphone mode for surround sound with standard stereo headphones
HDCD decoding
Burr-Brown PCM-1796 digital-to-analog converters in double differential mode (4 per audio channel) on all output channels
Dynamic Discrete Surround Circuit - HD construction
Dedicated twin toroidal power transformers for audio section
Learning/multibrand touchscreen electro-luminescent remote
Enhanced remote for 2nd or 3rd listening room (requires remote control extender system, not included)

1080p-compatible HDMI 1.3a digital video switching and audio support with Deep Color and xvYCC capability (6 in, 2 out)
Analog-to-HDMI video upconversion and HDMI to HDMI scaling (up to 1080p output via HDMI)
Component video switching and conversion: 6 in (including 1 BNC), 2 out (including 1 BNC) for main and 2nd room
Digital audio inputs: 5 optical (including 1 front-panel), 4 coaxial, 2 BNC
Digital audio outputs: 4 optical
8 audio/video inputs, including:
1 front-panel input with composite and S-video
7 rear-panel inputs with composite and S-video
3 audio-only inputs (2 RCA including phono, and 1 XLR)
7.1-channel analog audio preamp input
9.3-channel fully balanced analog audio output (RCA and XLR)
Two USB inputs (one front, one rear)
Two RS-232C ports (for control via PC or automated system)
4 high current (250mA / 12V) triggers assignable to zone, input source, surround mode, HDMI monitor, etc
Denon Link jack (3rd edition)
Ethernet port for music streaming from a PC network, Internet Radio capability (broadband connection required), and control via a PC
Detachable power cord
17-1/8"W x 8-1/2"H x 19-1/4"D
Weight: 59.5 lbs.
Warranty: 2 years
Pros
Unprecedented benchmark level of performance and refinement
Virtually unlimited configurability options
Lacks nothing in features to minimize obsolescence
Cons
Audyssey and other processes can limit max volume
Complex setup
Expensive
Denon AVP-A1HDCI Introduction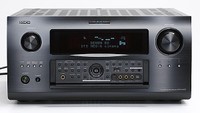 Maybe you should wait another 3-4 years until Denon comes out with a replacement to the AVP-A1HDCI A/V processor / preamp. While you're at it, you might as well wait on purchasing a new car. By then, the car industry would be releasing an affordable sports sedan that gets 100mpg running on plant algae with a 0-60 time in under 5 seconds and Denon would have added yet another must have feature not currently found on this model. After all, this bad boy won't network with your "smart" refrigerator or stove top despite it has an Ethernet port and is WiFi capable, nor will it run on solar power as going "green" hasn't hit the A/V marketplace yet as it's barely reached out to the car industry. You can wait, and wait or be content with the fact that the AVP-A1HDCI will decode and process every current A/V format unadulterated and leave room for future ones via external inputs and/or firmware upgrade options to ensure what you buy today won't double as an expensive door stop tomorrow or the days that follow shortly thereafter. As for the fuel efficient sports car….don't hold your breath….
Denon took a hiatus from making dedicated pre/pros for longer than I can remember. Instead, their focus was on bringing to market some of the most feature packed performance receivers in efforts to become one of the dominant players in the receiver market. Their efforts have paid off and they proved they could dominate market share at all price levels and even push the envelope with their introduction of the $6k AVR-5805 multi functional "super receiver" which to date, in my opinion, is still one of the best performing A/V receivers ever built! The AVR-5805 had a good run for 4+ years but has since than been replaced by a scaled back successor – the AVR-5308CI. While the AVR-5308CI has virtually all of the same features found on this processor, it lacks the balanced circuitry design, class A audio drivers and a host of other component upgrades (some of which I found measurable differences during my preamp testing of the two units). Considering the AVR-5308CI sells for about $2k less than this preamp and has nine respectable built-in power amplifiers, I'd say it makes it quite a bargain.
Denon has aimed its sights higher with the introduction of their AVP-A1HDCI (A/V pre/pro) and POA-A1HDCI (10 channel power amp) separates solution which goes up against the likes of Krell, Lexicon, Classe, etc. These are not value products, but instead statement pieces to show off Denon's engineering prowess and legitimize their brand into the high end market segment. The question remains however, will this separates solution deliver the goods and carry enough prestige to justify the $14k price tag? Read on to find out….