Amazon Fire TV Stick with Alexa Review
Summary


Fire Stick TV
Fire TV
Price
From:
$39.99
From:
$89.99
Processor
Quad-core
Quad-core
Memory
1 GB
2 GB
Internal Storage
8 GB
8 GB
Remote with Voice Support
Yes
Yes
Game Controller with Voice Support
Optional
Optional
Game Play
Casual games and more
High performance games
Supported Resolution
Up to 1080p
Up to 4K Ultra HD
Wi-Fi Connectivity
Dual-band/Dual-antenna (MIMO)
Dual-band/Dual-antenna (MIMO)
Ethernet
No
Yes
Expandable Storage
No
Yes
Executive Overview
Media streaming is a must have feature these days for a modern home theater. Many Blu-ray players and HDTV's do a poor job serving this function, so external devices are usually the way to go. We look at the Amazon Fire TV Stick and Fire TV media streaming devices to see how they handle popular streaming services like Netflix, and Amazon Prime, as well as gaming apps. Check out our YouTube Video review for a detailed overview of these products and a tour of their navigation menus to see how they work.
There are many options out there such as Roku ($39), AppleTV ($149) and Amazon Fire Stick TV ($39) and Fire TV ($90).  Today we focus on the Amazon Fire products and how they can transform your home theater into a sophisticated media streaming center with endless hours of HD audio and video entertainment.
Amazon Fire TV Stick YouTube Video Review

Before choosing which product is right for you, it's important to understand the differences between Amazon Fire TV Stick and Fire TV.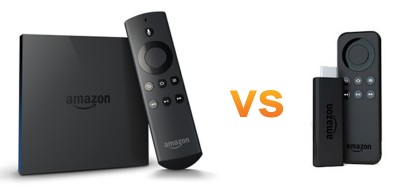 Amazon Fire TV Stick w Alexa Voice Remote Streaming Media Player
MSRP: $40 | Buy Now

Processor: MediaTek Quad-core ARM 1.3 GHz
Bluetooth 4.1
Wifi: Dual-band, dual-antenna Wi-Fi supports 2x2 MIMO 802.11a/b/g/n/ac
 Internal Memory 1GB, Storage 8GB
Video Output: 1080p
Dolby Digital+ 7.1 Surround Sound
Powered by wall wart or USB
Portability

Amazon Fire TV
MSRP: $90 | Buy Now

Same as Fire Stick TV but Internal Memory increased to  2GB, expandable to 200Gb with a microSD card.

Video Output: 4k UHD
 Ethernet
Better suited for HP Gaming, faster, more powerful.
 What is Amazon Prime?
Amazon Prime is a membership program that gives customers access to streaming music and video (including Amazon Prime exclusive programs), e-books,and free 2-day shipping on eligible products. It costs $99/year or you can opt for a Prime Video only plan, which costs $8.99/mo.
Which Fire TV Product Should I Get?
If your primary goal is to stream HD content from services such as Netflix, Amazon Prime, hulu, etc, then the Fire Stick TV is likely all you would need. The fact that it's inexpensive and portable makes it the ideal solution for travel as well as owning multiple units to turn each of the rooms in your home into media streaming centers. If however, you need a device that streams Ultra HD 4K content, and you are a heavy gamer, then the Fire TV is the more appropriate solution to meet your needs.

Why Do I Need One?
It's a better, easier device to use for streaming than what is typically found in Blu-ray players and HDTVs. Netflix, Pandora, hulu, Spotify, HBO Now, etc.
Amazon Prime members get access to a great database of movies and exclusive TV shows like: Man in the High Castle and Mr. Robot
How Do I Connect it?
Simply plug it into an unused HDMI input of your AV receiver or HDTV.
Plug in the AC wall wart of USB to supply power.
Connect to your wifi network.
Enter your login credentials for Amazon and other streaming services.
Conclusion
Setting up the Amazon Fire TV Stick and Fire TV is virtually the same process for both devices and a fairly painless endeavor. After powering up, I was able to enter my network credential and get online to stream from my favorite apps within minutes. Alexa voice is a useful tool, especially for people like me that hate to enter letter by letter in a search box for the desired show or movie they wish to watch. Streaming HD audio and 5.1 Dolby Digital+ from Netflix and Amazon Prime was a wonderful experience that only 5-6 years ago just wasn't possible. In fact, I recall what a kludgy process this was on older Blu-ray players with integrated smart apps and glad those days are long gone.
I spent a good deal of time with both Amazon Fire TV products and found very little difference from day to day usage but did appreciate the increased storage space, and faster processing of the Fire TV especially when gaming with my kids. If you can fork out $90, then this is definitely the way to go.  To get the ultimate gaming experience, consider adding the Amazon wireless gaming controller for $49.  However, if you desire portability, and plan on doing mostly video streaming, the Fire TV Stick is certainly the most economical and smartest choice. At $40, you could buy two Fire Stick TV devices to use in multiple rooms or keep one in your luggage as a must have device for traveling.  Highly recommended!
Confused about what AV Gear to buy or how to set it up? Join our Exclusive Audioholics E-Book Membership Program!
See also:
Recent Forum Posts:
Anaya Dic posts on May 07, 2018 05:31
Informational Post. Amazon Fire TV Stick is an amazing product. It has highly functional remote control which work with voice command.
gene posts on August 10, 2017 00:16
BDHD732cVXQ
gene posts on August 10, 2017 00:14
Media streaming is a must have feature these days for a modern home theater. Many Blu-ray players and HDTV's do a poor job serving this function, so external devices are usually the way to go. We look at the Amazon Fire TV Stick and Fire TV media streaming devices to see how they handle popular streaming services like Netflix, and Amazon Prime, as well as gaming apps. Check out our overview of these products to help determine which one is right for you.



Read: Amazon Fire TV Stick with Alexa Review
Post Reply