Roku Streaming Stick, HDMI Version Preview and Chromecast Comparison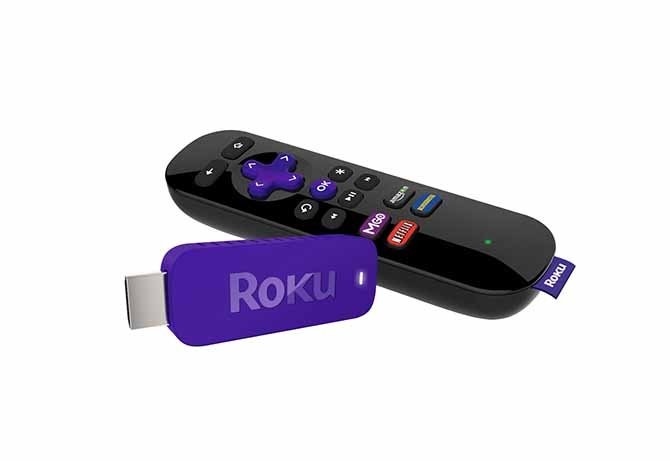 Roku Streaming Stick, HDMI Version
Summary
Networking: 802.11 dual-band (a/b/g/n compatible) with WEP, WPA, and WPA2 support
Video Outputs: 720; 1080p
Audio Output: Digital over HDMI (7.1 and 5.1 surround pass through)
Power Consumption: Less than 2W (typical) when streaming HD video
Power Input: 5V – 1A power adapter
Size: 3.1 x 1.1 x .5 inches
Weight: 0.64 ounces
Executive Overview
Some of you may be aware of the Roku Streaming Stick. It has come bundled with a few products including BenQ projectors. These sticks allow access to Roku's services simply by plugging the stick into an HDMI port. But not just any HDMI port. The Roku Streaming Stick required an MHL (Mobile High-definition Link) compatible HDMI port. These ports allow for up to 1080p and 7.1 channel streaming from HDMI sources. More importantly, they allow the HDMI port to power the device that is connected to it. The combination gave the Roku Streaming Stick the perfect one-connection solution for adding streaming to devices.
But MHL isn't as ubiquitous as Roku would like. On top of that, Google released its Chromecast - an HDMI streaming stick that didn't require MHL. Of course, this meant that it needed some sort of external power, but it was compatible with many more HDMI ports than the limited Roku Streaming Stick.
Roku has answered the Chromecast with their Roku Streaming Stick. Yes, it has the same name but the two sticks now have separate designations. The original is called the "Roku Ready" version (meaning devices will display "Roku Ready" banners) and the new one is the "HDMI version. The functionality of the devices is essentially the same but the prices, and types of HDMI ports differ. The Roku Ready version is listed as a $70 MSRP, while the HDMI version retails for $50.
Note - both of these are more expensive than the $35 Chromecast streaming stick.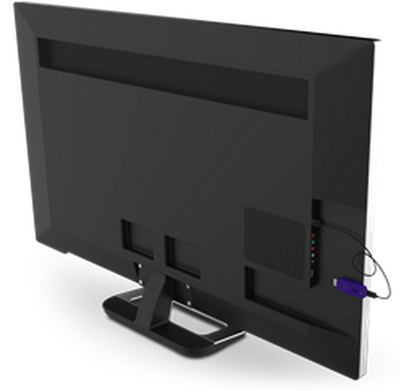 Roku entered the streaming game soon after Netflix streaming started. They have a huge arsenal of streaming apps at their disposal. Roku brags on their website that they have over 1000+ channels of content. Much of that requires a subscription but that is not unique for Roku - those services require a subscription no matter what device you use. The Chromecast, on the other hand, has less than 15 channels and only a handful of those would be considered "premium" by most users. You could make the argument that Google has cherry-picked the most popular services, and there is some truth to that assertion. But you can't deny that Roku's staple of channels is impressive.
The Roku Streaming Stick HDMI version comes with a unique remote with four dedicated buttons for the most popular while the Chromecast requires you use your smartphone, tablet, or computer. Both require external power and come bundled with a USB cable and a USB to wall plug converter in case you don't have a nearby USB port. The Roku has 802.11 dual-band (a/b/g/n compatible) with WEP, WPA, and WPA2 support wireless connection to your router.
Conclusion
The Roku Streaming Stick HDMI version is the solution for those that want to turn their TV into a "smart TV" or add streaming to their system without adding another box. The real question users need to ask themselves is what services will they use. If the cheaper Chromecast offers those services, it makes little sense to pay $15 extra for the Roku. If you can't wait for Google to add your favorite service, the Roku is a great solution.
For more information, please visit www.roku.com.

Confused about what AV Gear to buy or how to set it up? Join our Exclusive Audioholics E-Book Membership Program!
Recent Forum Posts:
Moon968 posts on April 21, 2014 05:42
The preview of HDMI version is good and it is the latest version for working.
mychaelp posts on April 20, 2014 12:23
Other considerations
Another consideration is the sheer number of Roku channels available. Yes, many of them are garbage. But actual supported channels that are useful vastly outnumber those on Chromecast, and you don't need to have a tablet or laptop or phone next to you at all times to access them. CNN International Live, BYUTV live streaming and all the archived episodes of American Ride!, Amazon Prime streaming, Apple podcasts (private channel) NowhereTV (private channel) Smithsonian for amazing documentaries. WeatherNation Live, and tons of others, many free. And so easy to use anyone can use it, even my grandma has it. Chromecast is too difficult to explain to my grandma, or many other people. Plus keeping the phone near me all the time is a pain, as sometimes I need to have it charging. Here
Alternatives to Cable - Watch TV Through Internet - Roku
I found a nice list of features, comparison to Chromecast or even Apple TV, along with a great channel list for Roku that can help others cut the cord as well.
rojo posts on April 18, 2014 21:55
With android devices, depending on the user's choice of lock screen (the one included in Cyanogenmod, for example), apps can be launched directly from the lock screen with just a swipe. Another advantage of Androids over iOS devices and the Roku remote is the ability to use a swipe gesture keyboard, which is infinitely better than an on-screen keyboard. Using an android phone or tablet as a remote control doesn't have to be as cumbersome as your iOS devices have made it.

Sent from my LG-VS980 using Tapatalk
Marshall_Guthrie posts on April 18, 2014 21:30
The lack of a remote makes the chromecast a non-starter for me. Let's say I want to pause a movie (a fairly common task). With the Roku, I press a physical button without having to look at the remote. Chromcast = Power on device, enter unlock pin, dismiss lingering notification from facebook, text, etc, open app, pause.

I've used idevices as remotes on and off for years. They are a miserable experience compared to a simple remote like the roku.
Post Reply