BenQ W1500 WHDMI Projector Video Review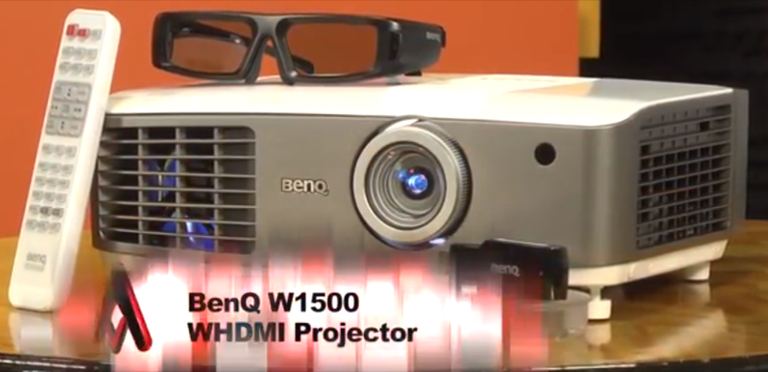 BenQ W1500 WHDMI Projector
Summary
Executive Overview
Wireless projectors have been out for a while, but they haven't been quite this accessible—and they certainly haven't been aimed square at the affordable home theater market. This W1500 wireless DLP projector from BenQ can be had for less than $1600 and it comes with WHDI built right in, and an HDMI dongle that lets you send video wirelessly from any HDMI output. And I mean ANY HDMI output. You can put the dongle on your Blu-ray player or your Playstation 4, or even your laptop computer or tablet. You just have to power the dongle via USB or the included USB-to-power adapter.
Let me take inventory for you and let you know why I'm a bit excited about the W1500. Yes, it's wireless, and that's really cool. But it isn't a one-hit-wonder. It has 2200 lumens of output, and uses the well-regarded DarkChip3 DLP technology, so it's going to work as your main display if you want it in the living room for the big game. As I talk more and more of my friends into swapping out their flat panels for projectors, a product like this is only making my job easier. But it's not just bright, it will give you up to 6000 hours when you use the Eco mode on the lamp. If you watch 3 hours of TV a day, then 6000 hours is like 5-1/2 YEARS of viewing time before you have to worry about buying a replacement lamp.
There's also some vertical lens shift—which on a $1600 DLP projector is almost unheard of. I love lens shift because you can put this on a coffee table and move the lens assembly up enough to avoid having to engage the digital keystone adjustment. While it's only minimal, it will absolutely help, particularly for tweaking ceiling installations. I don't mind keystoning an image for presentations, but for home theater I try to avoid it as it defocuses the on-screen image slightly.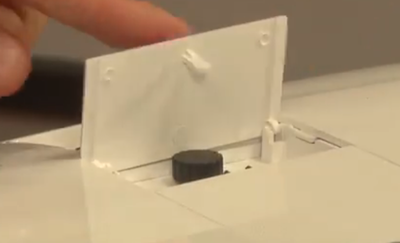 The wireless functionality is, as I mentioned earlier, super-easy to use and it operates on the 5GHz band to send a 1080/60p signal without compression. The dongle runs a bit hot, but it didn't run into any issues in our testing. If you want to use them, BenQ built two 10W speakers into the W1500 as well, which makes it a nice solution for portable presentations and even an impromptu game or movie at a friend's house. The built-in SRS WOW does wonders with the sound given how small the speakers are, and overall they are a net gain for the projector.
Setup on this projector was a breeze. The throw ratio is about average and the 1.6x Zoom means you can hit a 100" screen from between roughly 8 to 12 feet or so. That's a very flexible and comfortable range.
We didn't test the 3D features of this projector because, well, we hate 3D and no one we know uses it. It will upconvert 2D content to 3D and it will also work with 3D HDMI sourced content, so...have at it. For 2D image sources, however, I tested it quite a bit. We watched Iron Man 3 on Blu-ray and sent it to the BenQ directly via wireless HDMI (as I did with all of my testing). Not only were there no artifacts, the W1500 really puts out some nice color, and I was able to get it calibrated to a more than acceptable range using my CalMan kit. Out of the box, I thought the white levels were excellent for movie-watching in Cinema, and even Standard mode was well executed. Only Dynamic mode bugged me with its overly green tint.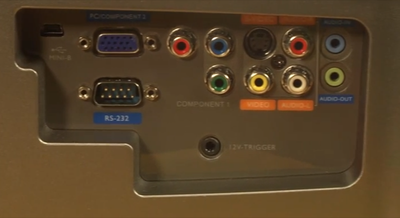 BenQ also includes a SmartEco mode that matches the lamp power to the average image brightness on-screen. It's an alternative to a dynamic iris, but this is the first implementation we've experienced where the fan doesn't produce inordinate amounts of noise as the lamp cycles up and down. In fact, the lamp is very quiet overall.
There isn't a whole lot not to like about the BenQ W1500. It's a great projector with deep blacks and vivid colors that are very true to life. This is a projector that is affordable and offers some incredibly rich features for the money. It's hard not to get excited about it and want to recommend it to my friends who are on the fence about a projector due to the inherent difficulties of installing one. With the W1500, you don't really need to. Just set it up and go. And if you want to put it away or take it with you, so much the better.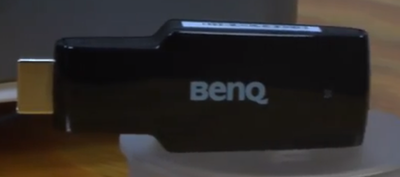 This week's question has to do with wireless video. What wireless video products are you looking to the most? Wireless Blu-ray and gaming boxes that transmit video to a compatible display? Or wireless flat screens? Or wireless projectors? Let us know in the comments below and don't forget to Like our Facebook page for more great reviews and tech tips on all things home theater—that's facebook.com/audioholics. And while you're watching this, be sure to subscribe to our YouTube channel, AudioholicsLIVE, for more great videos.

Unless otherwise indicated, this is a preview article for the featured product. A formal review may or may not follow in the future.