Denon AVR-X3400H 7.2 Ultra HD Receiver w Alexa Integration Preview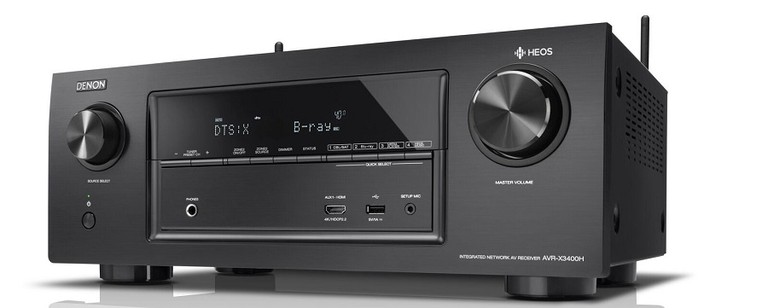 Summary
7.2 channel AV Receiver with 105 watts per channel rated output (8 ohms, 20Hz – 20kHz, 0.08%THD, 2ch driven)
Built-in HEOS Wireless Multi-Room Audio Technology integration
Amazon Alexa's Smart Home Skill for Entertainment Devices
8 HDMI inputs (incl. 1 front) with full HDCP 2.2 support
4K/60 Hz full-rate pass-through, Dolby Vision compatible, HDR, HLG (via firmware update) and BT.2020
Advanced Video Processing with 4K Scaling for HDMI sources
Dolby Atmos (up to 5.1.2) and DTS:X decoding
eARC (Enhanced Audio Return Channel), via future update
AirPlay, Bluetooth, TuneIn Internet Radio, Pandora, Spotify, Amazon Prime Music and other steaming options

DSD (2.8/5.6MHz), FLAC, ALAC and WAV support

High Resolution audio streaming for HiFi enthusiasts even in Gapless
Audyssey MultEQ XT32, Dynamic Volume and Dynamic EQ
Audyssey LFC and SubEQ HT
AKM`s AK4458VN 32bit/8ch D/A converter for all channels
Just when you thought it was safe to go back online and look at the current crop of Ultra HD Immersive 3D AV receivers, Denon released their newest and most intriguing model, the AVR-X3400H. This fifth generation model promises to be one of the most advanced receivers available today! The AVR-X3400H is a 7.2-channel design, with fully discrete amplifier technology which allows it to deliver 105W from each of its seven channels, and each channel has its own AKM AK4458VN 32bit/8ch digital-to-analog converter. These days all the major players are putting out new AV receivers so often that it's hard to keep track. We recently did a full review of Denon's $1K AVR-X3300W. So what do you get with the 3400 model that you didn't with the 3300 series? Let's find out.
The AVR-X3400H has all the same features of the AVR-X3300W PLUS:
eARC (Enhanced Audio Return Channel), via future update

Dolby Vision Compatible 

AKM`s AK4458VN 32bit/8ch D/A converter for all channels
Denon HEOS multi-room music streaming and management

The AVR-X3400H comes with eight HDMI inputs, including one conveniently positioned on the front panel.  All HDMI inputs support Full 4K Ultra HD, HDCP 2.2, HDR, BT.2020, Wide Color Gamut and 4:4:4 Pure Color sub-sampling. It is even ready for Dolby Vision and HLG (Hybrid Log Gamma) pass through, and has an advanced video processor to upscale existing lower resolution video to true 4K, complete with analog to HDMI conversion and Full Rate 4K Scaling. The 3 HDMI outputs allow audio/video to be fed to a second zone via HDMI, while simultaneously feeding a TV and projector in parallel in the main room.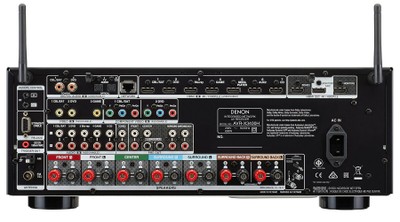 The new receiver supports the latest audio and video formats, including Dolby Atmos and DTS:X, 4K Ultra HD with HDR (High Dynamic Range) and Dolby Vision. Denon includes eARC (Enhanced Audio Return Channel), via a future update, it will allow for object-based audio (Dolby Atmos/DTS:X) over HDMI from TV apps.  In addition, the AVR-X3400H features HEOS multi-room wireless music streaming, allowing it to combine with other HEOS products for a whole home audio solution. As with all Denon network receivers, the AVR-X3400H can play music from both network and Internet sources and with the HEOS integration, it can share content across multiple zones to a wide range of other HEOS speakers and HEOS-equipped components.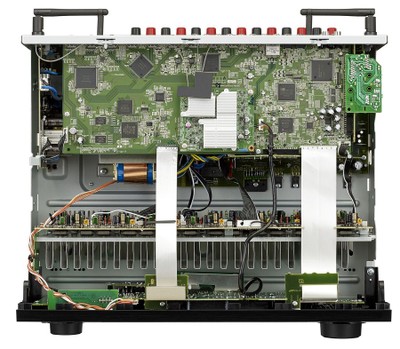 Despite the AVR-X3400H's vast array of functionalities, it should be simple to set up and use thanks to Denon's exclusive Setup Assistant, featuring clear on-screen graphics and text that quickly and easily guides users through the setup process. Four 'Quick Select' function buttons let you choose your favorite input sources, remembering preferred audio settings for each source to deliver precisely tailored sound, ultimately optimizing critical system settings for the best possible sound quality.
Powerful Calibration and Streaming Options
Calibration is key in a receiver of this quality and the AVR-X3400H features Audyssey MultEQ XT32 setup and optimization, which allows you to measure your listening environment to promote optimal speaker placement and sound quality. It is also compatible with the Audyssey MultEQ Editor app, allowing you to control the sound set-up better than ever before. The suite of Audyssey features also include Audyssey LFC, to allow you to enjoy powerful bass without annoying neighbors or those in other rooms, and SubEQ HT to simplify the use of dual subwoofers for a smoother, more integrated sub-bass.
For those looking to integrate the X3400H with an existing custom installation, the receiver offers an extended range of options, including infrared remote in/out connections, 12V trigger, 7.2-channel pre-outs, RS-232 connection and Creston Connected compatibility.
As well as wireless Bluetooth, the AVR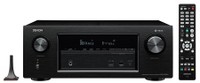 -X3400H has full network connectivity via Ethernet or Wi-Fi. Twin antennae and dual-band support should allow for a strong network signal even in crowded Wi-Fi environments. Once connected, the AVR-X3400H opens up a slew of music sources and playback options including Apple AirPlay, streaming from network attached storage devices (NAS), Internet Radio and a wide range of streaming services including Pandora, Spotify, Amazon Prime Music, iHeartRadio, SiriusXM, SoundCloud, Tidal, Napster or Deezer. High-resolution audio files including FLAC, ALAC or DSD (even up to 5.6MHz) are also supported with the help of a new digital-to-analog converter block using AKM's AK4458VN 32bit/8ch D/A converter for all channels.
But the most anticipated feature of the AVR-X3400H is the support of Alexa, which enables voice commands to control a range of functions on Denon AVRs natively, including volume control, transport control, mute, next track and external input switching. The Alexa Smart Home Skill for Entertainment Devices firmware update will be made available for HEOS-enabled Denon AVRs in September.
If you're an Alexa fanboy (or girl) and you're in the market for a new full function home theater receiver, the AVR-X3400H might be a great choice.  It's shipping now and retails just $1 dollar short of a grand through authorized Denon retailers.

Unless otherwise indicated, this is a preview article for the featured product. A formal review may or may not follow in the future.