Yamaha RX-A860 AVENTAGE 7.2 Atmos/DTS:X A/V Receiver Review
Yamaha RX-A860 AVENTAGE 7.2 Atmos/DTS:X A/V Receiver Review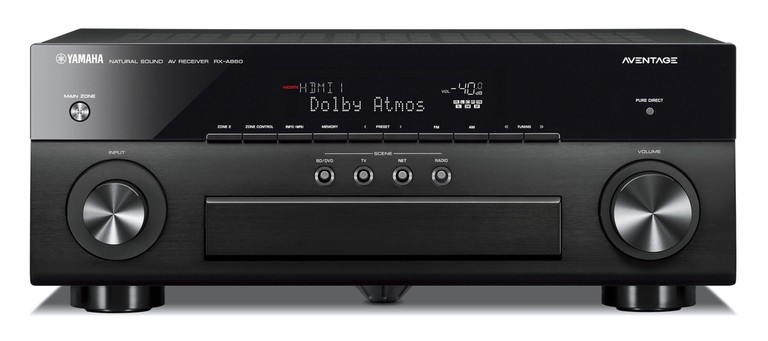 100 watts/ch (2 CH driven) 20Hz - 20kHz at 0.06% THD+N, 8 ohms
7.2-channel Dolby Atmos® and DTS:X™ (5.1.2-ch)
9 speaker terminals with Intelligent Amp Assign for Zone 2
Add audio in up to 9 additional rooms with MusicCast
8-in, 2-out HDMI with 4K Ultra HD pass-through and upscaling
Zone B HDMI out
HDCP 2.2, high dynamic range (HDR) and BT.2020 compatibility
Fully loaded with Wi-Fi, Bluetooth, AirPlay and Spotify Connect
Stream Pandora®, Spotify, Napster®, SiriusXM Internet Radio and thousands of free internet radio stations
DSD 2.8 MHz / 5.6 MHz, FLAC / WAV / AIFF 192 kHz / 24-bit, Apple® Lossless 96 kHz / 24-bit playback
Phono input to connect to your favorite turntable
Room acoustics optimization using YPAO™ - R.S.C. with multipoint measurement
Dimensions (W x H x D) 17-1/8" x 6-3/4" x 15" (with antenna up: 17-1/8" x 9-1/4" x 15")
Weight 23.2 lbs.
Pros
MusicCAST Integration makes it easy to stream whole home audio
Manual PEQ works down to 15Hz for better bass control
Dolby Atmos/DTS:X support
Cons
Ho-hum bench test results
RXA-860 Introduction
The A/V receiver market moves at such a fast pace that it's hard to keep up with the "latest and greatest.". As such, we waited a couple of generations to take a look at a Yamaha AVENTAGE AV receiver.  Today, we review the RX-A860 7.2 or 5.2.2 Networking Atmos/DTS:X model,which sits at about midline of the AVENTAGE line with a retail price of just under $1k but a street price of about $899.  What do the 2016 models bring that last year's didn't?  MusicCAST for one, and Dolby Atmos/DTS:X all the way down to their RX-A660 entry level model.  The RX-A860 offers a few advantages over its lower-end brethren such as multi-point YPAO for more precise room correction, and 7.2CH preamp outputs for those wanting to add external amplification to satisfy their more demanding power hungry speakers or listening habits.  With the advent of all this new technology trickling into these AVR's while attempting to keep the price the same with each successor model, how does it affect basic performance? Read on to find out.
Yamaha RX-A860 Network Atmos/DTS:X AV Receiver YouTube Review

Build Quality and Features
The RX-A860 build quality is pretty standard these days for a sub $1k Atmos AV receiver.  Everything is kind of tightly crammed in but also well laid out.  The power supply is a bit smaller than I've come to expect in AV receivers in this price class.  As comparison, the power supply in my friend's $400 Yamaha RX-V659 AV receiver that just lost a battle against a lightning storm is a bit bigger with a larger IE core transformer and more generous capacitor bank (71V 12,000uF Caps x 2) compared to the much more expensive RX-A860 (71V 8,200uF Caps x 2).  Yes you get more features and audio processing in the RX-A860, but all of those licensing fees and tech often compromise some of the basics.  In this case, you're giving up some power, especially when driving low impedance loads as you will see in my test report section.
Is this a classic case of Trading Amplifier Quality for Features?  You decide.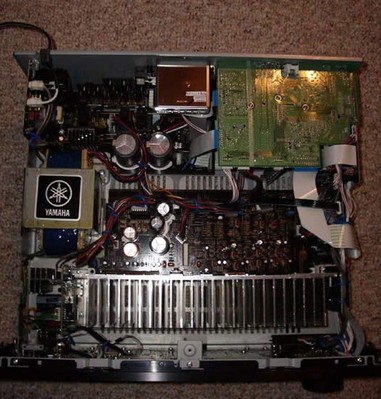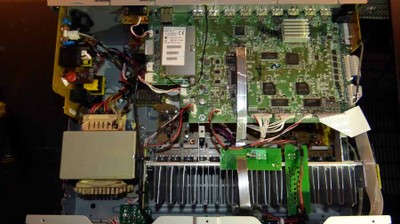 Top Pic:  Yamaha RX-V659 AV Receiver ($399)
Bottom Pic: Yamaha RX-A860 ($899)
You're probably wondering why get the RX-A860 over the models in between.  Bulleted below is a comparison of features you lose/gain between the other two models.
For $250 more than RX-A760, you get:
10 more watts/ch
7.2CH preouts2 more HDMI Inputs, 1 more HDMI Out
Multi point YPAO
For $300 more the RX-A1060 offers:
10 more watts/ch
10lbs heavier, larger power supply
Premium ESS Sabre DAC's instead of Burr Brown
HDMI output on Zone2
The RX-A760 would be the logical choice for those never planning on adding external amplification or not caring much about multi-point YPAO calibration, which quite frankly isn't all it's cracked up to be.  The RX-A1060 definitely has a beefier amp section given its 10lbs heavier chassis weight which, based on my test results of the RX-A860, I'd recommend, especially if you're running lower impedance speakers or have a largish room and want to achieve cleaner listening at sustained high output levels.  The RX-A860 would seemingly be the best choice for budget and upgradeability between the three models compared here with the one caveat of its rather ho-hum performance of the preamp outputs, which may or may NOT be an issue depending on the gain structure of external amplification you choose. 
Yamaha MusicCast App manages your audio streaming and multi-zone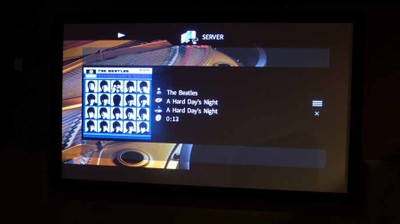 Yamaha MusicCast showing artwork from my music sources
The RX-A860 has it where it counts when it comes to streaming audio wirelessly.
Yamaha supports every current audio CODEC on the market and most of the major streaming services like Pandora, Spotify, Napster, etc.  More importantly, Yamaha includes their fabulous MusicCAST system, which is an absolute breeze to set up and gives you the power to stream music from your computer network hard drive, and/or mobile device.  All you do is download their App, hold the MusicCast "connect" button on the front panel of the RX-A860 for 3 seconds and follow the prompts on your smartphone to set it up. You're ready to stream music till your heart's content within minutes with full album artwork displayed on the App and the OSD of the receiver.  You can even stream audio to a second zone if you want by either assigning unused amps from the receiver or adding external amplification. The RX-A860 also sports wireless, Bluetooth and Airplay in case you don't want to take advantage of MusicCast or just want to supplement with ancillary devices not permanently integrated into your network.  There is a Bluetooth out so you can send audio from your RX-A860 to your wireless headphones as well.  This receiver has it where it counts when it comes to getting audio off virtually any device wirelessly, something that was quite a difficult feat just a few years ago.
Yamaha RX-A860 Backpanel View
The Yamaha RX-A860 sports composite and component video connections for legacy devices and also has eight HDMI inputs; three inputs and both outputs are HDCP 2.2.  The dual subwoofer output connections are paralleled and not independent which is to be expected for a receiver of this price class but still a handy feature nonetheless.  You can connect up to nine speakers but only have seven active at a time. This is useful for automatically switching between presence/zone2 and height/surround back speakers.
Menu System
Yamaha GUI
Yamaha did a good job when they revamped their GUI system back in the first generation AVENTAGE receivers.  You can see them in action in our Yamaha RX-A3000 Video Preview. They've also refined their Smartphone App allowing you entire control of the receiver, including multi-zone from anywhere in the house as long as your phone and the receiver are on the same network. 
The first thing you'll want to do after you get your AV receiver integrated into your network is to update its firmware to the latest version.  You will be prompted about this so all you need to do it hit enter to accept it and let it do its thing to update.
Caution:  No matter how tempted you may be to do otherwise, DO NOT change the default "8 ohm min" impedance setting of ANY Yamaha receiver.  All this does is starve your speakers of power, simply so Yamaha could get 4 ohm certification (at a reduced power level) without making the receiver get too hot during their power tests.

For more information, see:  Setting the AV Receiver Impedance Switch
Speaker Set-Up & Bass Management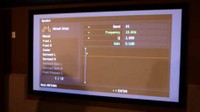 This is where you engage the Auto setup using the included multi-point microphone, and also where you configure the speakers with the manual setup function. We've covered YPAO to death in the past, so we're not going to waste time rehashing that system here. I do have to commend Yamaha for finally hearing our request to offer manual PEQ function down to below 20Hz.  This is an invaluable tool for anyone trying to tame low frequency room modes.  In the past, manual PEQ was limited to about 31Hz, now you can go down to 15.6Hz!  Hurray!  I recommend using YPAO only for setting speaker and distance levels and then using the manual PEQ to fine-tune your subwoofer channel.  Download a free acoustic measurement system called REW and get yourself a cheap mic system like OmniMic from Dayton Audio and you will be armed with far more effective tools to doing room correction than simply pushing the magic YPAO button and hoping for the best. 
Yamaha RX-A860 Bass Management Frequency Response
Using our Audio Precision APx585 8-channel HDMI Audio Analyzer, I measured the HPF and LPF responses of the bass management circuits and observed a 20dB/oct slope of the LPF and 12dB/oct slope of the HPF at the selected crossover frequency.  Normally I'd like to see a 24dB/oct slope of the LPF like you see on THX certified products, but the slightly more shallow slope probably won't make much of an audible difference in a practical sense.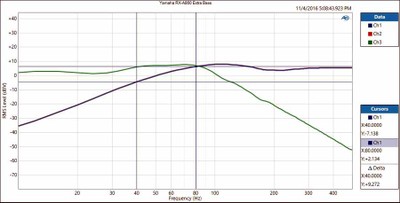 Yamaha RX-A860 "Extra Bass" Frequency Response with mains set "small"
I did find a couple of oddities in how bass management functions on the RX-A860 however.  If you set the mains to small, you can still set other channels to large.  It is my personal view that anytime the mains are set to small then ALL other channels should also default to small.  If you use the Extra bass with mains set to small, it causes response anomalies of the mains' and subs' respective outputs, as you can see in the graph below.  Because of this, we only recommend using this feature if you have the mains set to large.
Power Amplifier Assignability
Like prior AVENTAGE AV receivers, Yamaha offers very flexible amplifier management that will accommodate virtually anything you want to do with its seven internal amplifiers, including running a 5.1.2 Atmos setup, a 7.1 conventional surround setup, 5.1 in the main zone and two speakers to zone 2 or bi-amp for the main zone.  We don't recommend bi-amping with this receiver since its rather meager power supply won't really gain you much driving a pair of power-hungry bi-ampable towers.  Instead, consider using the preamp outputs and external amplification if you want more power.  The cool thing about the speaker management system is you can pre-wire your zone2 speakers and the RX-A860 will automatically route power to that zone once you activate it while simultaneously deactivating either your height channels for Atmos or surround backs in a conventional 7.1 setup.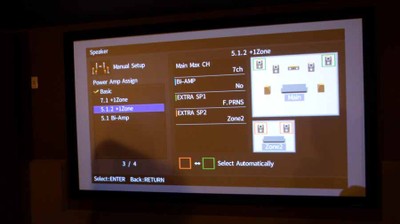 Yamaha RX-A860 Speaker Assignability Chart