Denon AVR-X3300W Atmos/DTS:X AV Receiver Preview
Summary
7.2 channel AV Receiver, 105W per channel at

8 ohms, 20-20kHz, 0.08%THD

Built-in Wi-Fi with 2.4GHz/5GHz dual band support; built-in Bluetooth

4K/60 Hz full-rate pass-through, 4:4:4 color resolution, HDR and BT.2020

8 HDMI inputs (incl. 1 front) with full HDCP 2.2 support; 2 HDMI outputs

Dolby Atmos (up to 5.1.2) and DTS:X (via firmware update)

AirPlay, Internet Radio, Pandora, Spotify Connect, SiriusXM, DLNA 1.5

DSD (2.8/5.6MHz), FLAC, ALAC, AIFF and WAV support

Advanced Video Processing with analogue to HDMI conversion


and full rate 4K Scaling

Audyssey MultEQ XT32, Dynamic Volume, Dynamic EQ and SUB EQ HT

Advanced Multi-Room options; 7.2ch Pre-out; RS232 Control

Dimensions:

17.1 x 15.3 x 6.6 inches

Weight: 23.8 lbs

Denon has just released their new AVR-X3300W 3D immersive sound AV receiver. With the addition of the X3300W to their X Series line (the AVR-X1300W and AVR-X2300W) Denon rounds out the series with their strongest receiver in the lineup. For $999 you get a receiver that is not only ready for a wide range of speaker models, but on the home theater side is ready for what the future holds in emerging audio and video technology. If the new X3300W is anything like their AVR-X7200WA ($2999) and AVR-X5200W ($1999) models that Audioholics fully reviewed and tested, it will be a great lower priced addition  to an already impressive set of AV receivers.
Compatibility

Denon has gone to great lengths to make this receiver compatible with a wide range of loudspeaker models.  The AVR-X3300W is equipped with low impedance drive capability for speakers rated at 4 ohms. Custom installers will appreciate that it is equipped with a 7.2CH pre-out section for those systems that demand more power via external amplification, an RS232 port and flexible amp assignment options for multi-zone listening and home automation. The dual HDMI outputs support different program sources, allowing users to enjoy a surround movie in the main room and a separate stereo program with video from a different source in a second room.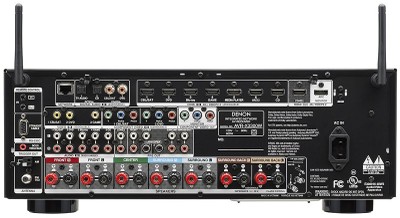 Denon AVR-X3300W Backpanel:
Note the 7.2ch pre-out section, RS232 Control
Home Theater
With all the new immersive 3D technologies emerging on the A/V world we're expecting the a lot from this 7.2ch full 4K Ultra HD AV Receiver.  It features Dolby Atmos decoding for the definitive home theater experience, especially when playing the latest blockbuster movie soundtracks. With a free DTS:X update scheduled for later in 2016, the AVR-X3300W will decode DTS:X surround soundtracks, allowing the ability to drive overhead or even the less ideal upward-firing speakers for that 3D audio experience.  Users can also choose between Dolby Surround and DTS Neural: X upmixers (via update) to create 3D sound from both legacy 5.1 Dolby or DTS material or to enhance regular two-channel music.
Video
On the video side, the AVR-X3300W offers an upgrade designed to upscale standard and high definition analog and digital video content up to 4k Ultra HD 50/60 Hz resolution. The AVR-X3300W is prepared for current and future high-resolution video formats. This model is compatible with the latest HDMI 2.0a and HDCP 2.2 specifications on all eight of its HDMI inputs. And it's ready for 4K Ultra HD Blu-ray disc players, set-top boxes and other 4K Ultra HD sources with 4K Ultra HD 60Hz video, 4:4:4 Pure Color sub-sampling, High Dynamic Range (HDR), 21:9 video, 3D, and BT.2020 pass-through support on every input. The AVR-X3300W is certified by the Imaging Science Foundation (ISF) for video quality, and equipped with the full suite of ISFccc advanced video calibration controls. The receiver does come with an extensive array of inputs, control options, and a second zone pre-out along with a RS232 port for a versatile control center.
Wireless Connectivity
Full wireless connectivity is attained with built-in Bluetooth for music streaming from a smartphone, and Wi-Fi to connect to a home network. Dual antennas and dual band support should give this receiver a strong network signal. Once connected, a variety of streaming music sources and playback options can be utilized including Apple AirPlay, Internet Radio, Pandora, Spotify Connect, and SiriusXM.  High Resolution audio formats like FLAC, AIFF or DSD (all the way up to 192kHz/24-bit and DSD5.6MHz) are fully supported. And for total convenience, a front USB port can be used to connect either USB storage devices or an iDevice to playback music and charge at the same time.
Amplifier
The amplifier section features discrete high current output devices on all channels, and all amp channels are configured identically. Rated at 105 watts (8 ohms, 0.08%THD, 20Hz~20kHz with 2CH driven), the AVR-X3300W has the ability to drive loudspeakers, down to 4 ohm impedance. But, its usually advisable to choose reasonably sensitive speakers (> 88dB @ 2.83V) in conjuncture with bass management to offload the power robbing bass frequencies to a dedicated subwoofer(s).  With the AVR-X3300W's multi-room capability, users can enjoy two different sources in different rooms at the same time. You can reassign the unused internal amplifiers for this purpose which is great for those that plan to eventually add external amplification to the main zone for more power.
Set-Up
The AVR-X3300W is engineered for easy set-up, control and energy efficiency. With the Denon Setup Assistant along with the Quick Start Guide, setting up this receiver should be quick and easy. Room calibration with Audyssey XT32 MultEQ automatic room acoustic measurement and correction system matches the installed speakers to the individual room's acoustics. Audyssey Dynamic Volume offers real-time volume adjustment; while Audyssey Dynamic EQ improves a system's surround sound effects at low volume levels. Once set up, the new Denon 2016 AVR Remote App available on iOS, Android and Kindle Fire makes daily control simple and convenient. Lastly, the receiver includes a smart ECO mode that can automatically save significant electrical power without influencing the overall performance. Personally we'd leave it on normal mode especially if you plan on using the internal amplifiers to power your main zone. If you really want to save the environment or cut your energy bill, look elsewhere like added insulation in your home or upgraded windows.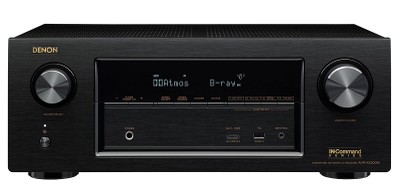 The AVR-X3300W represents a new low price point for Denon to include Audyssey XT32 Room Correction and Sub EQHT

Our Thoughts

The Denon AVR-X3300 will be available in July and with amazing features like DTS:X, Dolby Atmos, 4K Ultra video and upscaling, a 7.2ch pre-out section, an RS232 port and flexible amp assignment options for multi-zone listening and home automation all for a price point just under $1000. The introduction of this model really rounds out their new X-Series nicely and its good to see consumers having such flexibility in these models at all the right price points. About the only major limitation we see in this model is in it's overhead speaker capability limited to just one pair of speakers. However, this is pretty typical at this price point as you can see with the new Yamaha AVENTAGE A-860 model, the direct competitor to the AVR-X3300W receiver. In this case, we'd highly recommend choosing a bipolar type height channel to provide a broader coverage area like we heard in the RBH SV Series demo at CEDIA last year.
Is this the Denon AVR-X3300W AV receiver for you? Let us know in the forum thread below.

Unless otherwise indicated, this is a preview article for the featured product. A formal review may or may not follow in the future.