Denon AVR-X1200W / X2200W Dolby Atmos and DTS:X Receivers Preview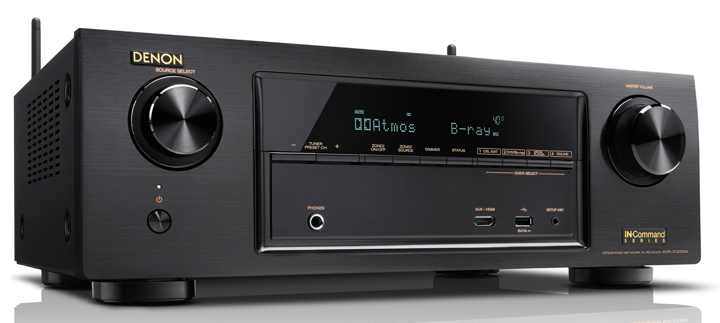 Summary
Denon AVR-X1200W

Power Output: 80W x 7ch (8 ohm, 20 Hz - 20 kHz, 0.08%THD)
Built-in Dolby Atmos; DTS:X ready (via firmware update later in 2015)
HDMI Input/Output: 6 HDMI 2.0a inputs (1x front) and 1 HDMI output with full HDCP 2.2 support
WiFi Built-In: Yes, with dual diversity antenna
Bluetooth Built-In: Yes
USB Built-In: Front panel USB input
Airplay: Yes
DLNA music streaming: Yes
Spotify Connect: Yes
Internet Radio: Yes
Denon AVR Remote App (available for Android and iOS)
W x H x D (inches): 17.1 x 8.4 x 13.4
Weight: 18 lbs 12 oz
Denon AVR-X2200W

Power Output: 95W x 7ch (8 ohm, 20 Hz - 20 kHz, 0.08%THD)
HDMI Input/Output: 8 HDMI 2.0a inputs (1x front) and 2 HDMI outputs with full HDCP 2.2 support
ISF Certification: yes
Weight: 20.7 lbs
New from Denon Electronics, are two new 7.2 channel AV receivers coming this summer. They will include Dolby Atmos and DTS:X support. The new amplifiers come with a long list of features but also bring 4K support with full HDCP 2.2 compatibility. The primary difference between the two receivers aside from price is the advertised amplifier power with the 2200 bringing 95 watts per channel compared to the 1200's 80 watts per channel.
The focus of these new receivers is the inclusion of Dolby Atmos and that they are ready for the new surround format DTS:X, which will be available later this year as a free firmware update. Moreover, the Denon AVR-X1200W and AVR-X2200W are 4K Ultra ready with full support for HDR and HDCP 2.2.
Denon AVR-X1200W
The Denon AVR-X1200W  is a true 7.2 channel network A/V receiver bringing many of the Denon features we expect in their more expensive models down to a more modest price. These amplifiers are designed to provide 80 watts per channel across seven channels. Also they will come out of the box with Dolby Atmos decoding and Dolby Surround Upmixing to create a more realistic home theater experience. These deliver multi-dimensional sound through height or overhead speakers up to and including a full 5.1.2 configuration. Later this year, through a free upgrade, both the AVR-X1200W and AVRX2200 will also be able to decode full DTS:X and DTS Neural:X Upmixer which is said to recreate a realistic and expanded experience no matter the number speakers installed.
Like the Pioneer VSX-90, these receivers only have 7 internal amps.  So they can only support up to two height channels for a 5.1.2 configuration.  There are also no external preamp outputs for the main zones on either of these receivers so you cannot expand beyond a 7.2 or 5.1.2 configuration.  Four height channels are preferred in a 5.1.4 configuration for immersive audio. But, given the price points, the speaker limitations of these AV receivers are understandable and common among Denon's competitors.

While offering the Denon audio quality, both receivers come with built-in Bluetooth for music streaming from a smartphone, and Wi-Fi to easily connect to a home network. Once connected, the AVR-X1200W and AVR-X2200 will open up any room to literally unlimited music sources and playback options, including Apple AirPlay, network attached storage devices (NAS), Internet Radio and Spotify Connect.  High-Resolution audio files like FLAC, AIFF or DSD are also supported. To easily keep control of all features, the new Denon AVR Remote App will be launched for iOS and Android devices.
As far as video features go, the AVR-X1200W and AVR-X2200 will come with a ton of them including compatibility with HDCP 2.2 and support for the new HDMI 2.0a spec across all 6 HDMI inputs. These receivers will also provide support for full 4K  60 Hz Ultra HD video, 4:4:4 pure color sub-sampling, High Dynamic Range and BT.2020 passthrough support on every input. This receiver is completely ready for any input source you want to throw at it.
Denon AVR-X2200W
Sharing all the same features as the X1200W, the new X2200W receiver is designed to increase the amplifier channels to 95 watts across all 7 channels to increase drive and performance. Further, it moves from 6 HDMI sources to 8 HDMI fully 2.0a compliant inputs and 2 HDMI outputs. It also features a video processor able to upscale and transcode both standard definition and high definition video from both analog and digital sources up to 4K Ultra HD resolution. It also includes an extensive array of inputs, control options and a second zone pre-out to increase the X2200W's versatility.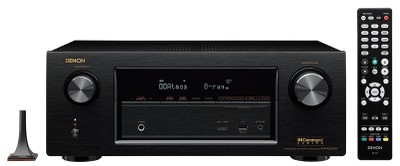 Setting up a Denon A/V Receiver is quick and easy with the Denon setup assistant and quick guide. Denon is using an Audyssey MultEQ XT automatic room acoustic measurement and correction system to match the installed speakers to the individual room's acoustics. Audyssey Dynamic Volume offers real-time volume adjustment; while Audyssey Dynamic EQ improves a system's surround sound effects at low volume levels. Audyssey features have worked well for many consumers in the past so EQ enthusiasts will be happy to know this feature set remains on these latest Denon AV receivers.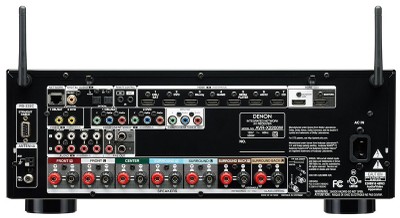 Along with these next-generation features, the new X-Series models come with a Denon Eco mode. It provides the ability to reduce overall power consumption and features an on-screen Eco Meter that lets users see the power consumption reduction effect if desired. The Auto Eco mode automatically switches between normal and Eco modes, depending on the volume level chosen.
How are the AVR-X1200W and AVR-X2200W AV Receivers different from their less expensive AVR-S710W and AVR-S910W siblings?
A careful observer will note the striking similarities between the AVR-X1200W ($599) and AVR-S710W ($479) and the AVR-X2200W ($799) and AVR-S910W ($579) AV receivers from Denon.  The power, weight and dimensions of the 710/1200 and 910/2200 are identical and if you run a quick comparison of the models on Denon's own website, the feature set looks strikingly similar.  However, to a careful observer there are differences which we tabulated below for your convenience.
Stepping up to the 1200W/2200W models gives you the following features NOT offered on the 710/910 AV receivers:
3 year warranty
RS232
Audyssey Multeq XT
IR In/Out
Zone 2 Preout
Detachable power cord
Extra amp assign options
Control4 Certification
So Many Choices, So Little Time
The AVR-X1200W and AVR-X2200W round out Denon's affordable AV receiver offerings providing a large list of features at a modest price. We look forward to providing a full review of at least one of these new AVR's when we get one in our hands for a full review.  The affordable immersive surround stage is set.  Denon, Marantz, Pioneer, Onkyo and Yamaha ALL have AV receivers that support Dolby Atmos, DTS:X and HDCP 2.2 connectivity though Denon and Onkyo seem to be leading the way in terms of getting you these features at the lowest prices starting at just under $500.  The question is, why brand and model will you be getting and what speaker configuration will you be supporting?  Let is know in the forum.

Unless otherwise indicated, this is a preview article for the featured product. A formal review may or may not follow in the future.