Denon AVR-S710W & AVR-S910 Dolby Atmos/DTS:X Receiver Preview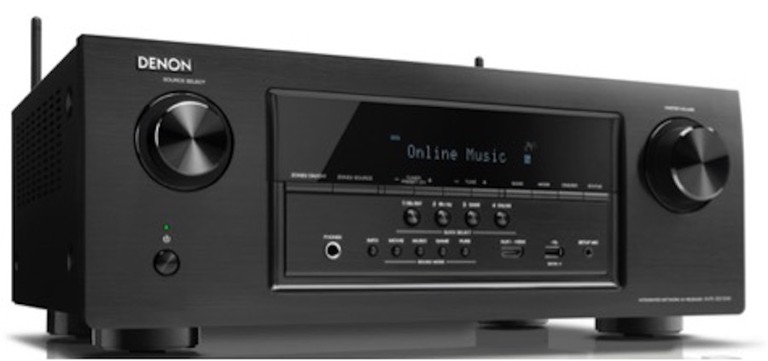 Summary
Denon AVR-S710W- Key Features
7.2ch platform
165W Maximum power output per channel (6ohm, 1kHz, 1ch driven), 80W (8ohm, 20Hz-20kHz,THD:0.08%) Power Amp
Built-in Wi-Fi and Bluetooth
Dolby Atmos built in
DTS:X Firmware Upgradable
Audyssey MultEQ setup with MIC stand included in the box / Dynamic EQ & Volume
6 HDMI 2.0a Inputs and 1 output with HDCP 2.2
Networking: AirPlay, Internet Radio, Pandora®, Spotify Connect®, SiriusXM™, DLNA® 1.5
Best-in-class user interface
Dual Subwoofer Outputs
Digital audio inputs:2 Opt /1 Coax
Audio: 2in, Video: CVBS 2in/1out
MFI certified Front panel USB input
Discrete Power Output Stage
AM/FM Radio
Compatible with Denon HEOS Link
Color Coded Binding-Post Speaker Terminals

Weight in LBS: 20.7

Dimensions: (W x D x H) in Inches 17.1 x 13.3
Denon AVR S910W- Additional Features
185W Maximum power output per channel (6ohm, 1kHz, 1ch driven), 95W(8ohm, 20Hz-20kHz,THD:0.08%) Power Amp
8 HDMI 2.0a inputs / 2 parallel outputs with HDCP 2.2
Audio: 4in, Video: CVBS 2in, Component 2in/1out
Analog to HDMI Video Conversion
4K Ultra HD Upscaling
Advanced GUI
Upgraded Denon sound engineering
With the AVR-S710W and AVR-S910, Denon Electronics finally rounds out their full offering of A/V Receivers, bringing up to date specifications to the full product line. Although similar in most respects the 910 brings slightly higher specs to the line. With the smart GUI, simpler setup, and high range specs both of these receivers are sure to impress.
Denon Electronics has announced the final two new 2015 Network A/V Receivers in the S-Series A/V receiver line- the AVR-S710W and AVR-S910W. Like the AVR-S510BT introduced in May, these two new units build upon Denon's S-Series A/V receiver models introduced last year. The AVR-S710W and AVR-S910W deliver high performance and high value at an affordable price. Packed with advanced features, such as Bluetooth, Wi-Fi, Dolby Atmos, DTS:X and the latest HDMI specification including HDCP 2.2 support on all HDMI terminals. Both are expected to be available in July 2015.

AVR-S710W ($479)
The AVR-S710W 7.2 Channel Full 4K HD A/V Receiver with Bluetooth and Wi-Fi brings technology from Denon's top-of-the-range A/V models. It provides 7 channels each with 80 watts, that, along with the Denon engineering team's experience in amplifier design, ensure that the sound reaching the speakers is powerful, controlled, and full of subtle detail.  
Note: Denon rates this receiver as 165 watts maximum power output per channel (6ohm, 1kHz, 1ch driven).  This appears to be a new trend that all of the major receiver companies are doing with their latest product lines. 
Dolby Atmos and DTS:X Immersive Surround Sound

Both models feature Dolby Atmos surround decoding, delivering surround sound for today's advanced movie soundtracks. With Dolby Atmos users will experience the same 3D surround sound found in premium movie theaters along with the ability to create an overhead surround soundfield that dramatically expands the sonic space. And, via a firmware update (expected to be available fall 2015), the AVR-S710W and AVR-S910W will be able to decode DTS:X soundtracks, which also deliver an immersive 
3-dimensional soundspace. DTS:X features object-based audio coding that lets the sound designer place sonic elements anywhere in the 3D acoustic soundspace, and provides for overhead speakers to deliver a stunning surround sound experience. Along with DTS:X decoding, these models support legacy codecs like Dolby TrueHD and  DTS-HD Master Audio decoding and other Dolby and  DTS audio technologies.
HDMI and HDCP
Prepared for the future, the AVR-S710W features the latest HDMI 2.0a specification which provides for 4K Ultra HD full rate 60 Hz content, 4:4:4 Pure Color sub-sampling, HDR (High Dynamic Range), Rec.2020 color space capability and 21:9 aspect ratio pass-through. It's also HDCP 2.2 compliant, which is a requirement for 4K Ultra HD copy-protected content.  HDCP 2.2 is supported by the receiver's 6 HDMI inputs and 1 output. 
Denon AVR-S710W Back View
Wireless Technology
Full wireless connectivity comes with built-in Wi-Fi that enables users to connect to their home network easily and Bluetooth that enables wireless playback from compatible portable devices. The dual antennas deliver robust signal transmission and reception. Users can enjoy music from streaming services*, and enjoy easy control via iOS, Android and Kindle apps. Overall this model offers an amazing roster of features for its price range with features such as Dolby Atmos, DTS:X and 6 HDMI inputs, including 1 conveniently located on the front panel.
 



AVR-S910W ($579)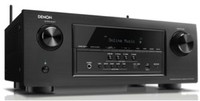 The AVR-S910W 7.2 channel A/V receiver with Bluetooth and built-in Wi-Fi offers many of the features of the other two S-Series receivers including: 8 x HDMI inputs and dual outputs, Dolby Atmos and DTS:X capability, the latest HDMI 2.0a specification which provides for 4K Ultra HD full rate 60 Hz content, 4:4:4 Pure Color sub-sampling, HDR(High Dynamic Range), Rec.2020 color space capability and 21:9 aspect ratio pass-through, HDCP 2.2 compliant, Audysssey MultiEQ setup room calibration, front panel USB input, Internet radio and access to music streaming services, AirPlay, iOS connection sharing and ECO mode. However, it has seven discrete output stages each providing 185 watts of max power (95 watts/ch continuously), to create stunning cinema sound and detailed music playback. Denon claims this model is also equipped with advanced video circuitry to ensure that High Definition video images are accurately reproduced. The extensive array of inputs, outputs and control options make the AVR-S910W a truly versatile AV control center.
Denon AVR-S910W Back View
Summary
Offering complete up to date Dolby Atmos and DTS:X decoders the AVR-S710 and AVR-S910 pack high power and an expanded sound stage. The emphasis on the movie experience and focus on the accurate video reproduction of these receivers should be the hub of your A/V experience.  One big note that we had is that both models are limited to 5.2.2 and no pre-outs to expand.  This means you will be limited to a single pair of height channels only or you can stick with a standard 7.1 speaker configuration.  At these price points it is of no consequence.  We look forward to putting one of these new Denon AV receivers to the test in a formal review sometime later this year.
Unless otherwise indicated, this is a preview article for the featured product. A formal review may or may not follow in the future.