CEDIA 2015 DTS-X and Dolby Atmos Demos Updated
CEDIA 2015 DTS-X and Dolby Atmos Demos Updated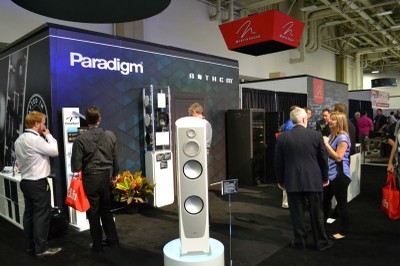 CEDIA 2015 Demos
Updated: 12/17/15 with more demo coverage and YouTube video
One of the highlights from our CEDIA trip each year is listening to demos from manufacturers. Immersive Audio was abound at the show and it came in many forms via discrete box speakers all around, in-walls, in-ceiling and the less impressive reflection speakers. We listened to demos from Paradigm, MartinLogan, RBH Sound, Harman, Triad, Auro-3D, and Goldenear. All of them were a treat to sit through, and we knew they would be, which is why we wanted to swing by these demo rooms on the first day of the show. Read on to see what each manufacturer was showing off.
Paradigm
DTS:X, Dolby Atmos, and Auro 3D were all the rage in Demo rooms at CEDIA this year so it was good to see Paradigm introduce their speaker lineup using different sources and amplification systems to show off their products.  
Paradigm started off showcasing their PW800, a tabletop wireless stereo speaker.  Content was pushed wirelessly through Play-Fi.  The dozen custom installers in the room all agreed that they were impressed with the sound coming out of the wireless speaker.
Next up Paradigm used an iPhone to push content through Play-Fi to their PW-AMP and Prestige 95F floorstanding speakers. Again the people around us were impressed with the clean sound of the jazz and blues tracks created from DTS Play-Fi source material.
Finally, Paradigm finished their demo with a 7.2.4 Dolby Atmos rendition of Mad Max: Fury Road.  Since we had just viewed virtually the same demo at MartinLogan, we really got a chance to hear the difference between the sister companies products.  Although Paradigm's setup was a little too loud, the 3-dimensional sound of Dolby Atmos came through more distinctly than the MartinLogan room next to it.  This doesn't diminish our experience with MartinLogan demo.  It's just that the Paradigm demo was really really good.  The gecko's feet skittering across the sand in the into to Fury Road almost had us looking for a Geico spokesman.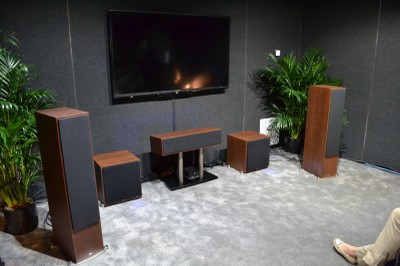 Paradigm demo room at CEDIA 2015

MartinLogan
MartinLogan showed off a completely redesigned demo room. As you'll notice in the images, most manufacturers have simple rooms with nothing but seating, speakers, and an equipment rack. They featured Edge in-wall speakers ($1,699/ea), Axis in-wall speakers ($1149/ea), and EM-R in-ceiling speakers ($599/ea). Bringing up the bottom end were two BalancedForce 212 subwoofers ($3995/ea). The speakers were set up in a 7.2.4 configuration and driven by Anthem equipment. While this setup is a far cry from the Neolith we reviewed earlier in the year, they were still voiced in the same vein as every MartinLogan speaker we have listened to. And that's a good thing. The BalancedForce subwoofers were a particular treat, but are you surprised? When haven't we liked multiple, expensive subwoofers in a system?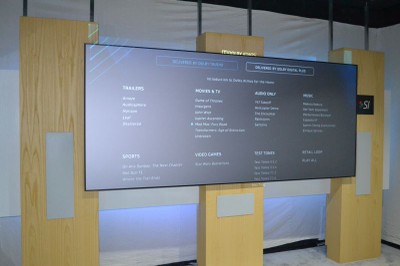 MartinLogan demo room at CEDIA 2015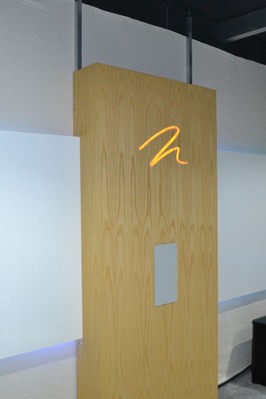 MartinLogan Edge in-wall at CEDIA 2015
CEDIA 2015 New Products & DTS:X Demo Results

RBH Sound
We were particularly excited to stop by the RBH booth because they were demoing brand new speakers we've never had a chance to listen to. They announced the SV line at CES 2015, but had yet to demo the speakers. The SV line starts at $1195/pr for the SV-61 bookshelf speakers and tops out with their modular SV-831 speaker ($TBD) and SV-1212 subwoofer ($TBD). For ultimate bass, you can create a spectacular - and spectacularly heavy - three speaker stack with an SV-1212 sub on bottom, SV-831 in the middle, and a second SV-1212 on top. For the demo, the front speakers were SV-831s sitting on top of SV-1212s. The center speaker was an SV-821,  SX-66 side surrounds, SX-8300/R for back  channels and SI-744 in-ceiling bipolar speakers were used for the Atmos height channels.  The brain of the system providing all of the immersive surround magic was the 16 channel Datasat RS20i AV preamp/processor with the full blown Dirac room correction system.
Following with most manufacturers, the speakers were in a 7.2.2 configuration. The overhead effects were subtle, adding ambiance without being distracting. The SI-744's did a great job providing broad coverage for the multi-row seating area despite only two height channels were used. The bass was visceral, like getting punched in the gut by a sound wave, and the entire system held up perfectly at high volume levels.  Experiencing  the aerial battle clip from Unbroken was pretty mind blowing and had us hooked into seeing the whole movie.... if only there was time.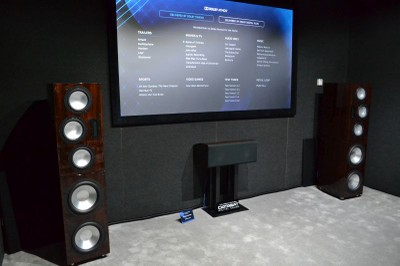 RBH Sound SV speakers at CEDIA 2015
Harman (JBL Synthesis)
In their usual fashion, Harman put on a state of the art home theater demo at CEDIA this year.  Not only did they announce their partnership with Trinnov to come out with a new 32 Channel SDP-75 AV Processor that supports Dolby Atmos, DTS:X and Auro 3D but they actually had enough speakers to support ALL of the channels.  JBL utilized their SDA amplifiers for all of the speakers and they had over 10 kwatts of power just for the subs alone!  The speakers were the venerable M2 Master Reference towers for the front LCR's, and CBT-50 side surrounds eleven SCS-8 coaxial speakers on the ceiling.  For the low end, JBL employed eight 15" subwoofers (2 loaded in each corner) with Sound Field Management (SFM) to smooth out the bass response.  
The new SDP-75 pre/pro actually doesn't utilize Trinnov room correction.  Instead, Harman incorporated their own proprietary SFM system that automatically optimizes delay, level and EQ for ALL of the subs.  The result is tight, consistently even bass for EVERY seat.  Walking around the room and hearing very similar bass was quite amazing and this was done with NO low frequency passive bass trapping!  In addition, the surround envelopment was seamless and again consistent for all seats thanks in part to their CBT driver topology of their surround speakers and also having LOTS of speakers throughout the room to provide broad even coverage with no hot spotting.
We started out with an Auro 3D demo of orchestral music which sounded spacious but didn't give the best representation of Auro 3D's capabilities in our opinion. Next up we saw a few clips Atmos clips including the glass breaking scene from Divergent which was a bit uncomfortably loud but lifelike in dynamics.  What stole the show for us was the DTS:X demo clip of a tecno instrumental video called Cymantics by Nigel Stanford which used soundwaves to bend water and manipulate shapes on materials they interacted with. We felt fully immersed in the experience and the room seemed to just disappear along with our sense of reality.  If you can get your hands on a copy of this demo, get it! 
This was an amazingly well done room.  There was minimal usage of passive room treatments, the side wall reflections were preserved, yet everything sounded natural and balanced.  Not a single speaker or subwoofer was visible.  Instead they used an acoustically transparent screen to tuck everything in neatly.  The whole demo was about 20 minutes long but the time just flew by which speakers volumes for how much we enjoyed the experience. 

JBL Synthesis System featuring M2 Towers and CBT-50 Surrounds
Auro 3D

We took a tour of the Auro 3D sound room during CEDIA and to sum it all up, it was LOUD.  The room featured PMC QB1 XBD-A speakers in a 11.1 configuration boasting 8875 watts per channel. The demo room started off with a demonstration from a PMC representative.  He ran such tunes as Bob Marley's "Jammin", "The Imperial March" from Star Wars – The Empire Strikes Back, Theme from "The Hobbit", and the Theme from "The Godfather".  After the second track registered over 100 db my Audioholics counterpart left the room with the PMC representative bragging  "Wow did you hear that- Over 107 decibels!"
Auro 3D Demo with PMC Speakers.  As Grandpa Simpson said at a THX movie while his teeth were exploding "Turn it up!"

As my hearing returned the Auro 3D spokesman entered the room for his demonstration. He began with a recording of a church organ played at more acceptable levels.  The highs and lows of the organ were clearly audible and the resonance of the pipes reverberated around the room filling the space with clean clear music.  The demonstration continued with a jet airplane flying over your head both with and without the ceiling channel on. With the ceiling channel off, the listener could hear the jet moving from the front to the back of the room with some height added.  With the ceiling channel on the jet realistically sounded as though it were flying over your head.
From here the demonstration turned to movies that featured Auro 3d technology. How to train your Dragon 2, Enders Game, The Kroogs, Turbo, The Amazing Spider Man, and Red Tails all feature Auro 3D sound, but a quick check of internet Blu Ray availability from common internet companies show that  these movies are commonly available in DTS Digital Master Audio and Dolby Digital 5.1.
Triad
Triad was showing off their Silver series in a 7.12.4 system. Yes, they were using twelve of their OmniSub 12s to pressurize the room, which they told us was 15,000 cu feet. The Atmos portion of the system was held down by the height modules built into the front and rear speakers, the InRoom Silver LR-H. Above the Atmos speakers they suspended platforms so the sound would bounce off the platforms and back down at the listener, instead of all the way up to the high ceilings. They played a number of clips off the Dolby demo disc, and the overall sound quality was great. The subwoofers - all twelve of them - pressurized the room nicely and the speakers seemed well rounded with no distortion, which was impressive for relatively small speakers in a large room.
The only thing lacking was the Atmos effects. Whether the small Atmos modules simply couldn't keep up - as is often the case - or the height effects got lost with the tall ceilings or bad angling of the wooden reflection platforms, we just couldn't really tell if sound was coming from above us. The other contributing factor was that the speakers were on really tall speaker stands that put them a few feet above ear level when seated. So, maybe we did hear Atmos effects but just couldn't distinguish them from all of the other sound because the majority of sound was above our heads. In sum, the speaker system sounded really good, but for any of a number of reasons, the Atmos effect was disappointing.  Sadly the Triad rep touted the Atmos-enabled speakers as a preferred solution over discrete ceiling mounted speakers but we remained unconvinced from this demo.
Goldenear
Goldenear put on an impressive demo  of a full 7.1.4 Atmos setup using ALL in-ceiling speakers for the front, center and height channels and in-walls for the back channels.  That's right, the primary bed level channels and Atmos height channels were all located in the ceiling firing down from the same listening plane.  What we heard was a very ambient surround field, but it was all coming from above us with little separation between the primary channels and height effects.  The center channel dialog suffered a bit but not as much as we would have expected.  Sandy Gross explained that he wanted to show it was possible to do a totally in-ceiling / in-wall Atmos speaker setup for those not wanting to see physical speakers.
Many people attending the demo were impressed and quite frankly it sounded much better than we would have thought so we can't help but feel a bit impressed ourselves. We were particularly taken with the output of their new SuperSub XXL subwoofer which features dual 12" active side firing and dual passive top/bottom drivers and a 1600 watt amp.  The sub had ample output and tactile response though it was cranked up about 6dB too loud causing the sound to be skewed bass heavy which we suppose was the intended effect to show off its capabilities.
Stay tuned for more demo coverage but in the meantime check out our CEDIA 2015 Coverage page and our live coverage happening on our facebook page.
Confused about what AV Gear to buy or how to set it up? Join our Exclusive Audioholics E-Book Membership Program!
Recent Forum Posts:
sunPin posts on May 03, 2016 22:36
@gene , ever get those Concerta2 F36 speakers in for review? I demoed them and thought they sounded great at low volume, but they broke up at moderate volumes in a largish room. I'd love to hear what you guys think of their depth imaging compared to the GoldenEar Triton Two+ with the folded ribbon tweeter since the F36 started breaking up before I could really get a gauge on how they performed; the GE Triton Two+ depth imaging was very good to my ears.
AKK posts on January 30, 2016 10:23
Hi Gene

Did you get a chance to review these receivers? Am unable to to take a call between Denon X6200 vs Anthem MRX720. You deeper insights into this will certainly aid me into proper conclusions.
Curtis9 posts on January 23, 2016 12:22
Any thoughts on Anthem vs Arcam for us audio guys who also want a good video experience? And would the Receiver or Pre/Pro work best with an Oppo 105? Thanl\ks!
little wing posts on December 08, 2015 09:12
Hello Gene,

Any chance you will get one of these new Anthem receivers for review? When they came out with the MRX 310, 510 and 710 you did a preview as well, but no in-depth review. I think a lot of readers here, including myself are very curious as to how these receivers stack up soundwise to the more mainstream offerings from say Denon, Yamaha, Onkyo, etc. Since Anthem's receivers typically don't have the same feature set as the usual suspects I'm sure some people are wondering if they go with Anthem will they be happy giving up features for the sound quality of the Anthem.

You wrote an article a while back likening today's receivers as a computer with an amp thrown in. Anthem seems to deviate from this thinking, is that a good decision?
Thanks
Tao1 posts on December 02, 2015 00:27
gene, post: 1105720, member: 4348
I believe they are taking orders now. The page is up on their website. WE get review samples in about 2 weeks. WooHoo!
Nice to know. I really look forward to the review
I am a bit surprised though that they didn't have the samples out to have reviews coincide with the launch, especially this close to gift season.
Post Reply