GoldenEar Technology SuperSub XXL Preview
Summary
Driver Complement:
Two 12" long-throw high-output bass drivers
Two 12 ¾" x 14 ½"quadratic planar infrasonic radiators
Enclosure Dimensions: 17-5⁄8" (44.6 cm) H (w/feet) x 19-3⁄4" (50 cm) W x 15-7⁄8" (40.4 cm) D
Frequency Response: 10Hz-200Hz.
Amplifier: 1600 Watt ForceField Digital/DSP Amplifier
Low Pass Filter: 12dB per octave continuously variable from 40Hz-200 Hz. for Stereo Inputs
Inputs: Direct Coupled, unfiltered LFE -input / Low Level Left and Right channel inputs
Executive Overview
We got a chance to see GoldenEar's new SuperSub XXL subwoofer last week at CEDIA and were impressed with the performance for its moderately sized form factor.  GoldenEar employed what they call a 360 degree dual-plane inertially-balanced driver and sub-bass radiator combination to reduce cabinet resonances and distortion.  Sandy Gross claims he could balance a nickle on the cabinet running it at full power and it won't move.  We didn't confirm this, but he did shake up the demo room pretty well with this impressive subwoofer.
The enclosure of the XXL is constructed of thick, high density medite, which is finished in high-gloss piano black lacquer. Two 12" long-throw active drivers in the horizontal plane and two 12 ¾"x14 ½" planar infrasonic radiators in the vertical plane drive the sub to effectively move air in the room. GoldenEar Technology says that's because there are two active drivers which are separated horizontally in space, as well as two passive radiators which are separated vertically. GoldenEar claims the driver-to-room coupling is distributed more smoothly as the different driver locations couple to different room standing wave patterns, and work well with the room modes.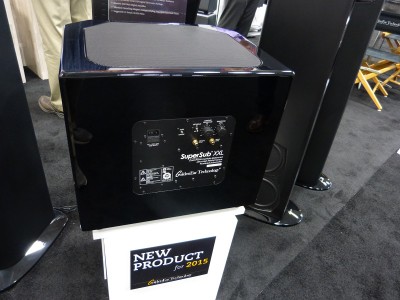 The electronics package that drives the driver and radiator arrays is made up of a 1600 watt Class D Digital Amplifier, originally developed for their Triton One floorstanding speaker.  It is controlled by a 56 bit DSP device with a 192 kHz sample rate. This Programmable Logic State Machine is reported to have 278ns update time to manage functions including frequency response, soft clipping, DC offset control, output-stage saturation control, discrete multi-band limiting and phase-perfect equalization.
The amplifier also utilizes small, separate power supplies for each circuit section in order to provide isolation, so there is little opportunity for coupling through the power supplies.
GoldenEar utilizes reconstruction filters in order to maximize damping factor.  The RCA inputs are provided for both LFE connection, as well as low-level connection from a stereo source.
How Does It Sound?
We got a chance to hear the SuperSub XXL in action at their demo booth at CEDIA along with a full compliment in in-ceiling and in-wall speakers for a full fledged Dolby Atmos system.  The system played plenty loud and had good dynamics. The immersive effect of Atmos was somewhat diminished by having all of the speakers at the same listening plane around the room , but it was still quite impressive for a mostly all in-ceiling speaker installation.  The XXL sub proved to be powerful though Sandy got a little carried away with the level his new sub was playing at.  It was obvious he wanted to show off his latest creation but lowering down the sub level about -6dB would have been better suited to our tastes.  We will definitely have to get a unit in for evaluation in our sound labs in the near future.
U.S. Retail Price is $1999 each and will be available in September
Confused about what AV Gear to buy or how to set it up? Join our Exclusive Audioholics E-Book Membership Program!
Recent Forum Posts:
sunPin posts on May 03, 2016 22:36
@gene , ever get those Concerta2 F36 speakers in for review? I demoed them and thought they sounded great at low volume, but they broke up at moderate volumes in a largish room. I'd love to hear what you guys think of their depth imaging compared to the GoldenEar Triton Two+ with the folded ribbon tweeter since the F36 started breaking up before I could really get a gauge on how they performed; the GE Triton Two+ depth imaging was very good to my ears.
AKK posts on January 30, 2016 10:23
Hi Gene

Did you get a chance to review these receivers? Am unable to to take a call between Denon X6200 vs Anthem MRX720. You deeper insights into this will certainly aid me into proper conclusions.
Curtis9 posts on January 23, 2016 12:22
Any thoughts on Anthem vs Arcam for us audio guys who also want a good video experience? And would the Receiver or Pre/Pro work best with an Oppo 105? Thanl\ks!
little wing posts on December 08, 2015 09:12
Hello Gene,

Any chance you will get one of these new Anthem receivers for review? When they came out with the MRX 310, 510 and 710 you did a preview as well, but no in-depth review. I think a lot of readers here, including myself are very curious as to how these receivers stack up soundwise to the more mainstream offerings from say Denon, Yamaha, Onkyo, etc. Since Anthem's receivers typically don't have the same feature set as the usual suspects I'm sure some people are wondering if they go with Anthem will they be happy giving up features for the sound quality of the Anthem.

You wrote an article a while back likening today's receivers as a computer with an amp thrown in. Anthem seems to deviate from this thinking, is that a good decision?
Thanks
Tao1 posts on December 02, 2015 00:27
gene, post: 1105720, member: 4348
I believe they are taking orders now. The page is up on their website. WE get review samples in about 2 weeks. WooHoo!
Nice to know. I really look forward to the review
I am a bit surprised though that they didn't have the samples out to have reviews coincide with the launch, especially this close to gift season.
Post Reply