MartinLogan Neolith ESL Loudspeaker Review
MartinLogan Neolith ESL Loudspeaker Review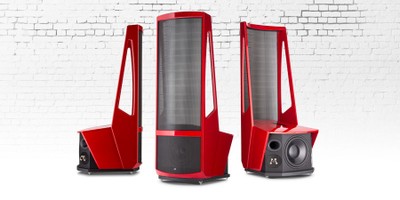 MartinLogan's Flagship Louspeaker: The Neolith
Neolith Speakers
Frequency Response: 23–22,000 Hz ±3dB
Horizontal Dispersion: 30°
Vertical Dispersion: 48" (122 cm) line source
High Frequency Transducer: XStat™ CLS™ electrostatic transducer
Panel Dimensions 48" × 22" (121.9 × 55.9cm)
Radiating Area 1056 in2 (6,814 cm2)
Low Frequency Transducer
Rear: 15" (38.1cm) cast basket, high excursion, rigid aluminum cone with extended throw drive assembly. Extensively vented triple shorting ring motor and 4-layer coil to eliminate compression and distortion.
Front: 12" (30.5cm) round cast aluminum alloy frame, high excursion, rigid carbon fiber sandwich cone with long throw design, 3-inch (7.5cm) diameter copper-clad aluminum flat wire voice coil, and vented pole piece and under-spider opening to reduce power compression.
Sensitivity: 90 dB/2.83 volts/meter
Impedance: Nominal: 4 ohms, 0.43 ohms @ 20 kHz. . Compatible with 4, 6, or 8 Ohm rated amplifiers.
Recommended Amplifier Power: 20‒1300 watts per channel
Crossover Frequency: 60, 250–400 Hz
Components: High-Pass Crossover: 1% resistors mounted to heat sinks, polypropylene capacitors, air core inductors, dual toroidal audio transformers to drive electrostatic element Low-Pass Crossover: 1% resistors mounted to heat sinks, toroidal inductors, supports user options to modify sound output via jumpers
Audio Controls: Bass Control: 0dB, -4dB, -8dB
Distance Control: 3 meters (or less), 4 meters, 5 meters (or greater)
Lighting: LED intensity control: On, Dim, Off
Cabinet: Phenolic Resin Polymer: Dense substrate with superb mechanical strength to minimize cabinet vibrations caused by woofer cone motion counter forces to provide an ideal baffle for the electrostatic panel and woofers.
Inputs: WBT-0705Ag nextgen™ 5-way bi-wire binding posts feature a filigree signal conductor made from fine silver for high conductivity. Fully insulated for CE and IEC conformity providing shock hazard protection. Free from eddy current effects. Max constant current 30 A, admissible peak current 200 A. Outer metal cap with palladium plated finish.
Power Draw: Standby: 1W each Max: 15W each
Weight: 385 lbs. (175 kg)
Dimensions: 74.8" × 30.3" × 34.2" (189.9cm × 76.9cm × 87cm)

Pros
Superb bass extension to die for
Huge soundstage
Exquisite build quality
Ability to fine-tune bass and crossover in the speaker
Cons
Expensive
Huge footprint
Require lots of amplification to make them sound their best
Require a medium to large room
originally published Jan 12, 2015
MartinLogan Neolith Introduction
In the 1970s, Gayle Martin Sanders and Ron Logan Sutherland met in a high-end audio store that Sanders managed in Lawrence, Kansas.  While both were fans of electrostatic speakers, none of the existing models had hit the mainstream with any success.  They were convinced that they could do better.  The pair felt they could overcome some of the technical challenges plaguing electrostatic speakers and produce a speaker that could reproduce all genres of music well—not just the niche genres electrostatics were famous for.
After a series of failures, the team that Sanders had assembled began experimenting with new aerospace materials. The breakthrough of those newer materials along with a horizontally curved panel (a design Sanders envisioned) led to the development of a concept that they exhibited for the first time at the 1982 Consumer Electronics Show in Chicago.  
MartinLogan's original electrostatic loudspeaker, the Monolith, was launched in 1983.

A year later, that concept gave birth to the Monolith, the first full-range electrostatic loudspeaker developed by MartinLogan, the company that now bore the middle names of both founders.  Since the early 1980s, MartinLogan has become a household name in high end audio. Unlike the towering design of the original Monolith, MartinLogan's subsequent hybrid electrostatic speakers have become smaller in both size and amplification requirements.
Check out our recently added YouTube Video Overview and Review from our visit to MartinLogan's Corporate Headquarters in Lawrence Kansas.
MartinLogan Neolith YouTube Overview and Review

The Neolith: Sources of Inspiration and Innovation
Like all legendary audio companies, MartinLogan is proud of its heritage.  As the company's 30th anniversary approached, they wanted to do something truly special to commemorate that milestone.  MartinLogan reached out to dealers and customers to see what they envisioned in a cost-no-object speaker.  At the same time, designers and engineers looked back on the company's product history and began to focus back on both the iconic simplicity of the original Monolith and the performance of the acclaimed Statement Evolution 2.  After nearly three years of development, the Neolith (aka, the new Monolith) was born.  The Neolith was unveiled for the first time at the 2014 Munich High End show as a testament to MartinLogan's audio legacy as well as its drive and ability to construct the best electrostatic speaker in the company's 30+ year history.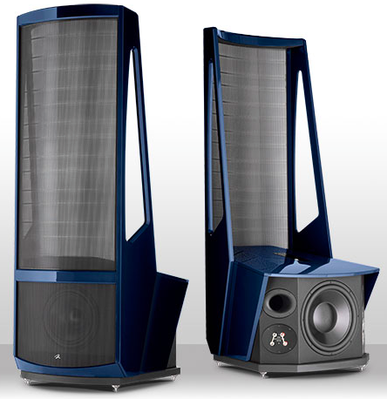 The MartinLogan Neolith has the largest electrostatic transducer in the company's rich history

While the Neolith is very much familiar, it's also radically unique.  The hybrid design features a massive 22x48-inch CLS Stat electrostatic transducer which acts as a midrange/high frequency driver. For those keeping track, that represents a radiating surface that's 35% larger than the Statement Evolution 2, and the largest electrostatic panel that the iconic company has ever produced. Below the electrostatic panel is an enormous 15-inch rear-firing ported woofer and 12-inch front firing sealed mid-bass woofer.  Altogether, this system is rated to deliver accurate, authoritative bass down to 23Hz. In other words, excepting the lowest organ notes, subwoofers need not apply.
What is very atypical and even novel with the Neolith is its design: it's fully passive.  No, that's not a misprint.  Unlike all other MartinLogan electrostatic speakers which have active components, the Neolith is fully passive from top to bottom.  If you look at the Neolith you won't get that impression.  It has a power cord like all MartinLogan electrostatics, but on the Neolith, the power cord serves only a single purpose—to charge the electrostatic panel, nothing more.  MartinLogan deliberately made the Neolith a passive design so that audiophile customers could pair whatever high-performance solid state or tube amplifiers they wanted for single or bi-amping the Neolith.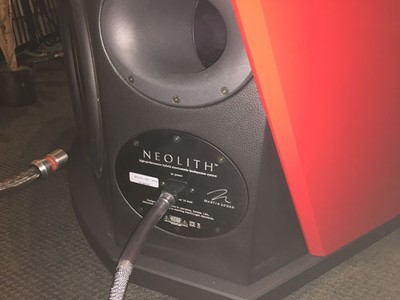 The Neolith's power cord simply polarizes the electrostatic panel.  Otherwise, the Neolith is a fully passive speaker allowing audiophiles to use any amplifier of their choice to power the Neolith

In keeping with MartinLogan's signature look, the Neolith has MartinLogan's proprietary curvilinear electrostatic transducer.  Like other MartinLogan electrostatic speakers, the Neolith controls the dispersion of the audible signal on a 30 degree horizontal axis.  In contrast to dynamic speakers or other speaker technologies that have a very wide horizontal dispersion, MartinLogan deliberately controls the dispersion by design to increase the listening area while also minimizing acoustic interactions with a listening room's side walls, floor, and ceiling.
The Neolith is made from a super-dense phenolic resin polymer.  It's the only speaker in the MartinLogan lineup to use this polymer.  I asked MartinLogan why they chose this material over some others.  MartinLogan said that phenolic resin polymer was an ideal choice vs. aluminum and other rigid options.  The polymer's combination of structural rigidity and vibration absorption helps minimize cabinet vibrations that result from the reactive forces of the powerful woofers.
The Neolith is finished in automotive-grade paint (more on that later) from top to bottom.  There are no wood veneer choices.  There are, however, seven stock color finishes— from bold to reserved—available for the Neolith.  At the same time, customers aren't limited to just those stock colors.  Customers who want the Neolith in custom colors can work with their local MartinLogan dealer to have a pair fully paint-matched with whatever color they want.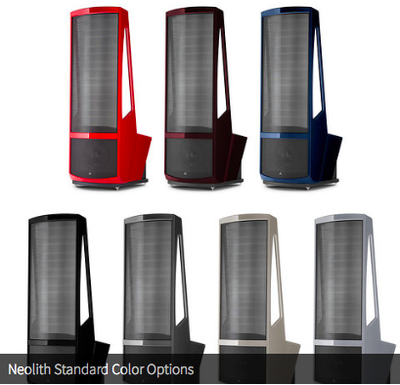 The Neolith comes in seven standard color options but can also be custom-color matched to any color.

I won't go into all the other premium quality components in the Neolith, but there are two features that I feel are worth mentioning: the bass attenuation jumpers and the speaker distance jumpers. Because of the size of the Neolith, placement of the speakers in small to medium-sized rooms is going to present a challenge in getting the bass and the crossover points between the electrostatic panel and the midrange right.  To address this, MartinLogan's engineering team included two jumpers. The first is a low bass output compensation option.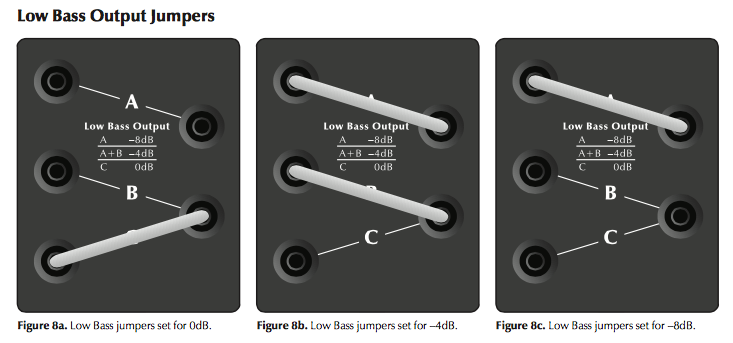 You set the low bass output options via manual jumpers on each speaker's rear panel.  By moving the jumpers you can attenuate the bass at 0dB, -4dB, or -8dB to fine-tune it to your room.  I asked why jumpers were used instead of dial or something else and the gist of the response I got was because jumpers are cool, old-school, and requires the audiophile to make a conscious decision to put the jumper into that setting.  Fair enough.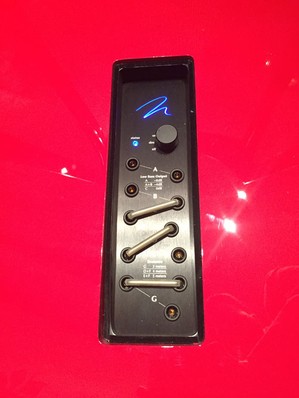 Detail view of the Neolith's jumpers—located on the rear of the speaker.  Low bass was set to zero and distance was set to 4 meters.

On the same panel and below the low bass output jumpers you set a second jumper for distance.  Your distance options include 3, 4 or 5+ meters.  I asked MartinLogan what exactly the distance jumper accomplishes and I got a detailed response from Joe Voijko, MartinLogan's Senior Acoustic Engineer.  Joe said that the distance jumper is used to optimize the electrostatic panel to the front woofer crossover. The optimum crossover and jumper position varies with the listener's distance to the speaker. Joe went on to elaborate that the jumper addresses the directionality of the frequencies.  The lower frequencies from the panel are not as directional as the upper frequencies. Because of physics, Joe said that these lower frequency sound waves experience a floor bounce. At three meters the timing difference between the direct and reflected is long enough that the panel can play down to 250Hz.  Once you get to 5 meters, the timing difference is reduced.  Partial cancellation of the sound waves occurs in such a way that the lower frequencies produced by the panel need augmentation by the front woofer.  Thus, the distance jumper sets the front woofer low pass filter to produce a good listener response based on the listening distance.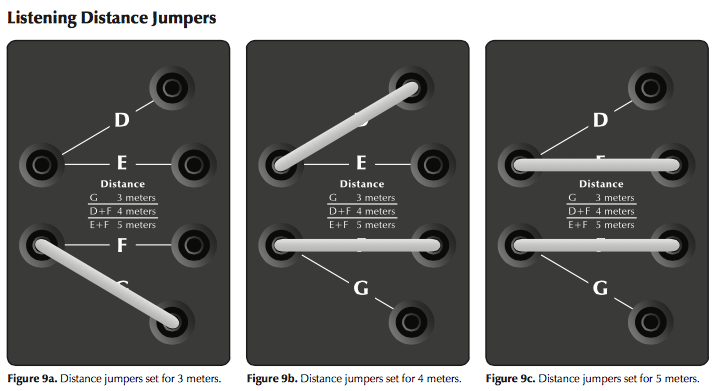 I cannot emphasize how important these options are to dial a speaker into your room properly.  Such options become even more critical if your preamp doesn't feature room correction.   I've experienced the benefit of such a design from other high-end manufacturers and these options make a radical difference in a speaker's performance in different rooms and placement scenarios.  I applaud MartinLogan for including both the bass management and crossover options for audiophile customers and dealers to fine-tune the speaker to the target room.
Confused about what AV Gear to buy or how to set it up? Join our Exclusive Audioholics E-Book Membership Program!
See also:
Recent Forum Posts:
JerryLove posts on February 21, 2019 21:19
Are those the only loudspeaker companies you know, own products from, or sell?
A partial list of speakers I have owned.
Ascend Acoustics CMB-170
B&W 801 Matrix III
B&W 801N1 (and the WMTMW matching center) (and surrounds)
B&W DS6
Energy Bookshelves(forget model)
Green Mountain Audio Europa
Infinity 362
Infinity 363
Infinity RSIIIb
Kef Q1
Klipsch KL-650-THX2
McIntosh 717
McIntosh XR5
Monitor Audio GLSCR
Ohm Walsh F
Paradigm Studio 60v3
Paradigm Studio 40v3 (and matching CC-470)
Paradigm Signature S2
Philharmonic 2
Pioneer (forget model)
Polk Audio (forget model)
PSB 400i
Salk SCSTs
Solid Sat(forget model)
Sony bookshelves (forget model)
Subs include but are not limited to:
B&W
KLH
Klipsch
Paradigm
Rythmik
SVS
A sub I would really have to go turn over to tell you; but sealed with this 18" driver
There have been other things. Boom boxes and integrated stereos of days long gone, things I purcased to play with but got rid of quickly (Sanaui, A/S/L etc). Then there are the headphones and car systems.
None of which touches on "other people's systems". I've been known to spend 10 hours in a stretch listening to other people's gear.
See. What would happen is that someone would make some claim, and I'd put it to the test to see if it was true. People started shouting about phase choerence and I picked up some GMAs. One builder got obsessed with super rigid cabinets, and I got the WMax speakers. Omnipolar was supposed to be all that: I got Walsh Ohm 2s. Line arrays are the bomb? 10 hours at the local vendor with the McIntosh XRT2ks. Bipolar is the way to go; time to hit my friend's house and listen to the Maggies.
Heck: I just picked up some high-efficiency horns.
JerryLove posts on February 21, 2019 17:22
GrimSurfer, post: 1299826, member: 87433
What I'm interested in is a discussion that resolves a complex issue through the application of rational and structured thinking… going from the general to specific, agreeing broadly on terms and concepts before resolving definitions, then testing criteria against real world examples to see where the irreconcilable inconsistencies are, modifying and retesting. Not jumping frames back and forth to achieve a predetermined outcome of any kind.
As I understand your earlier claim, and understanding that I have honestly tried to get clarity on (resulting in the "but you have to be somewhere on the ADD spectrum ", which I presume was intended to be "autism" rather than any added clarity)…
As I understand your claim: To design and build good speakers requires that the company doing it have an anechocic chamber, a lab, either a domestic manufacture or the staffing to go overseas to maintain quality control. As I understand your claim, they must have researchers who must have a pedigree (which apparently 2 years as a hobbyist satisfies based on the Salk example). As I understand your claim, while it's not true that 100% of these criteria must be met 100% of the time; it's generally accurate.
I disagree with your claim, as I understand it. I've seen too many good speakers from hobbyists and too many bad speakers from large manufacturers to agree to any claim that designates one as good and the other as bad.
And if that's not your claim: Why haven't you said so? Why does a request for clarification have you commenting on your beliefs about the cell-to-synapse ratio in my brain.
GrimSurfer posts on February 20, 2019 08:44
When manufacturers with excellent pedigree design, produce, and Market something ludicrous, I'm left wondering about what they're trying to achieve.

Designating a product as a "statement" in today's world is as good as saying that it is another piece of hi-fi esoterica. Saying that a product is a demonstration of expensive tech and manufacturing methodologies that will eventually trickle down to other lines installs a little more confidence. Better still is when a company is specific about exactly what tech they're talking about, and why it currently costs so much.

It's hard to make such a case when there's less "tech" than "clever assembly" of other manufacturers' components (Wadia) or refaceplating (Lexicon's saga with Oppo inside).

The loudspeaker industry is an interesting one. Loudspeakers are complex and the last link in the hi-fi chain that hasn't been able to overcome single-digit noise. There are a relatively small number of driver designer/developer/manufacturers seupplying the market. Cabinet making skills are in decline. So it's unclear where things are heading… and even less clear where this will,leave consumers.

I'm certain that consumers' need for cheap products will be satisfied. Cheap is easy, expectations are low.

I'm quite confident that consumers' need for adequate products will be satisfied.

I'm moderately confident that consumers' need for excellent products will be satisfied.

I've lost confidence in the industry's ability to develop and enforce standards that help the consumer distinguish between poor, adequate and excellent performance.

Price doesn't appear to be a good discriminator of performance. Or at least that's how it seems to me when manufacturers and reviewers tip-toe around using clear and unambiguous language to describe how a loudspeaker measures AND sounds.
everettT posts on February 20, 2019 06:42
I think he works for chewlies
28329
killdozzer posts on February 20, 2019 03:06
JerryLove, post: 1299818, member: 35326
I'm merely attempting to apply the definition given to real-world examples to see if the claim matches the empirical data.
Yeah, right!
Look, perhaps we can call it a day. I get a feeling you don't understand much. Not what others write and not what you've written. I don't like that feeling and don't want to judge you in that way because I don't know you. Some of the stuff you wrote earlier made sense. So I lean towards a version where you felt under attack and this is why some of your "diggin' out of a hole" was, shall we say, less elegant than one might've wanted.
As I said, I don't think Grim was completely wrong so he should be able to write what he thinks without a dozen members asking him for detailed blood analysis, so to speak.
I will, of course honor your question and try to find an example of an upstart the way it was used in this thread. I thought it would be obvious why Phil and Salk wouldn't match as when you leave, for example, NAD to make your own amps, that's not really starting from scratch (although, some might say that working for NAD doesn't even scratch the surface). Also, if you employ someone or use his expertise, one might argue that you're leaning onto the work of some bigger brand.
GrimSurfer, post: 1299577, member: 87433
I'd also add KEF to the list of highly competent loudspeaker manufacturers.
We both obviously would and yet this is also where we depart. Not that there's anything wrong with departing. I cut some slack to KEF as I think they've used the knowledge acquired from developing very expensive Blade to develop all recent lines of products. I would still, however, say that reviewing Blade is just bad taste.
I have no first hand experience with ML, but I would assume they would do something similar. I did listen to them here (post 8).
If you manage to lower the cost of R&D by selling statement products, you'll make more from basic product lines and have an easier job investing in further R&D.
I don't think boutique companies do the same and I wouldn't write this about them. When I see a Wadia Cd-player going for over 20k and has TEAC mechanism built in and a BurrBrown DAC and so on… I see these companies as merely taking the money from people who want to give it to them.
Post Reply