Theo Nicolakis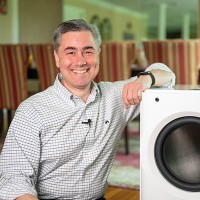 By day, Theo is a C-Level technologist and digital communications professional with an MS in Management and Systems. After hours, he's a serious audiophile and home theater enthusiast—a passion he's enjoyed for over 20 years.

Theo's been into music and electronics for as long as he can remember. He probably inherited much of his music passion from his dad, who was a co-host on a Greek music radio program on Sunday mornings. He was always fascinated by the difference in sound between speakers and systems and in college. His interest became a full-fledged audiophile passion when he heard small Infinity bookshelf speakers outperform his "big box" home system. He was hooked from that point forward.

On his day job, Theo is a C-level technologist and digital communications professional. Theo brings years of experience with digital and especially streaming media servers, where Theo has implemented audio and video streaming solutions for nearly 18 years. He's had the fun and privilege of working on digital audio and video encoding projects and many high-profile live streaming webcasts—including the Pope.

In his spare time, Theo loves to sample different audio gear and keep up to speed with new audio technology. It wouldn't be unusual to see him in an audio store sampling different speakers, amps, or electronics. In particular, he loves the challenge of finding creative technology solutions to AV challenges.
Follow me on Social Media
Latest content created by Theo Nicolakis