Marantz SR6010 and SR7010 Dolby Atmos/DTS:X AV Receivers Preview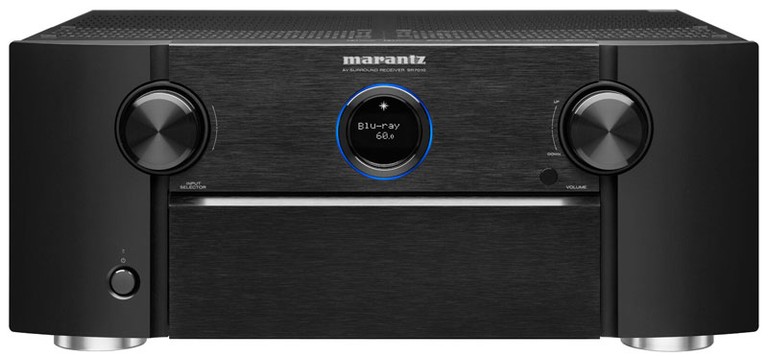 Marantz's New Flagship Receiver, the SR7010
Summary
Marantz SR6010
Wi-Fi and Bluetooth built in
110 watts x 7 channels (8 ohms, 20-20kHz, THD:0.08%) discrete power amplifier; 110W two channels driven into 8 ohms.
Dolby Atmos (up to 5.1.4 or 7.1.2 with additional amplifier)
DTS:X ready
13.2-channel preamplifier outputs with 9.2-channel processing
Current Feedback circuitry with Marantz's new HDAM
Audyssey MultEQ XT32, LFC, Sub EQ HT, Pro ready
Latest HDMI 2.0a with 4k 60Hz 4:4:4 resolution
7+1 HDMI in / 2 multi-source HDMI out (4k 60Hz, 3D, ARC, HDR, Rec.2020)
Full HDCP 2.2 support on all inputs
Advanced Video Processing with HDMI scaling up to 1080p, 4k 50/60 Hz
MP3, WAV, AAC, WMA, AIFF
High resolution audio streaming: FLAC 192/24, DSD, ALAC
Gapless Playback
Spotify Connect (where available), Internet Radio support, AirPlay on board
Phono (MM) input
Setup Assistant and Advanced GUI
Aluminum front panel with small trapdoor
Blue LED Marantz porthole
Marantz Remote App for iOS and Android devices
ECO mode
Available in black
Dimensions:
With Antenna: Horizontal: (W x D x H) in inches 17.3 x 15.7 x 6.3
With Antenna: Vertical : (W x D x H) in inches 17.3 x 15.7 x 9.1
Without Antenna:(W x D x H) in inches

17.3 x 15.3 x 6.3
Weight in lbs.

25.1
Additional Features Found only in the SR7010
125 watts x 9 channels (8 ohms, 20-20kHz, THD:0.08%) discrete power amplifier; 125W two channels driven into 8 ohms.
13.2-channel preamplifier outputs with 11.2-channel processing
Dolby Atmos (up to 7.1.4 or 9.1.2 with additional amplifier)
Auro-3D upgradeable (optional paid upgrade)
High quality 192kHz/32-bit D/A converters for all channels
7+1 front HDMI in / 3 HDMI out (4k 60Hz, 3D, ARC, HDR, BT2020)
Zone 3 audio
Full-size trapdoor with additional 2-lines FL display
Universal LCD remote control
Dimensions:
With Antenna: Horizontal: (W x D x H) in inches 17.3 x 16.2 x 7.3
With Antenna: Vertical : (W x D x H) in inches 17.3 x 16.2 x 9.7
Without Antenna:(W x D x H) in inches

17.3 x 15.8 x 7.3
Weight in lbs.

30.4
Executive Overview
As September rolls around each year, so do new product announcements from most of the AV industry's leading brands.  This year's crop of announcements are expected to center around two key technology advancements from the past year: HDMI 2.0a (with a particular focus on high dynamic range and expanded color gamut options), and Dolby Atmos and DTS:X immersive audio support. 
Marantz has not disappointed with their recently announced network-capable AV receivers that check the boxes on some the latest trends in consumer AV and home theater.  The $1,399 Marantz SR6010 is a 7.2 channel network AV receiver that Marantz says delivers 110 watts per channel ( two channels driven).  We haven't seen the power specs with all channels driven but we're guessing it will be more around 70-80 watts/ch given the history of how their past products have benched.
Regardless, the SR6010 comes with a Dolby Atmos decoder and Dolby Surround up-mixer to take advantage of multi-dimensional sound through height or in-ceiling speakers or Dolby Atmos elevation speakers (though we are proponents of discrete, in-ceiling speaker installations for immersive sound setups). The SR6010 will also be the one of the first Marantz receivers to support the new DTS:X immersive audio format, which is said to be much more flexible with speaker placement options.
Out of the box, the SR6010 will support a 5.1.2 configuration for immersive audio where the last .2 refers to the number of height or elevation speakers supported.  Unlike many competitors, however, the SR6010 allows you to add two additional external amplification channels to transform the AVR into a hub for 5.1.4 or 7.1.2 setups.  To facilitate this additional configuration, Marantz has concurrently launched the 140wpc MM7025 stereo amplifier.  Heck, we'd probably recommend using this amp for your main channels and reassigning the internal front channel amps of the SR6010 to power the height channels.
At the top of the line is Marantz's $2,199 SR7010.  The SR7010 is an 11.2 receiver and ups the power rating to 125wpc (two channels driven) with high quality 192kHz/32-bit D/A converters dedicated for all channels. Three HDMI outputs vs the SR6010's two are standard, however two of the three HDMI outputs run in parallel, fitting the need for installations where individuals might have both a television and projector in the same room.  Dolby Atmos and DTS:X configurations up to 7.1.4 or 9.1.2 are supported.  Both models feature independent, dual subwoofer outputs and the latest in Audyssey LFC, and Sub EQ HT.
The SR7010 does something different than just adding more channels, however.  For the first time, the SR7010 rounds out support for all major immersive audio formats.   The SR7010 can be upgraded to support Auro-3D and the Auromatic upmixer (up to 10.1-channels).  Auro-3D support, however, is an optional, paid upgrade.  In case you're not familiar with Auro-3D, it's another immersive audio format that has gained some strong traction in Europe.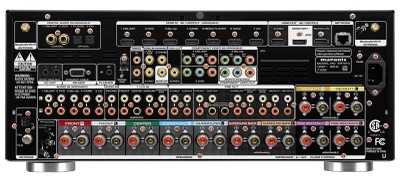 Marantz SR7010 Rear Panel
Audio Streaming and Room EQ
Both models appear to have some serious audio punch and will play nicely in today's increasingly network-oriented world of digital content.  WiFi and Bluetooth compatibility are standard along with Internet Radio, Spotify Connect, Apple's AirPlay, and DNLA streaming.  
And yes, these models are getting on the high resolution bandwagon. The new receivers will play FLAC HD, ALAC, WAV192/24 and DSD. If you still have legacy digital sources, there's an iPod digital-compatible USB input on the front panel.  A surprise and welcome inclusion is a dedicated moving magnet phono input for vinyl and a third, audio-only zone. 
The SR6010 and SR7010 come with Audyssey MultEQ® XT32 room calibration and a remote Marantz Remote App available for Android and iOS.
On the video side, both the SR6010 and the SR7010 support Ultra HD, (also incorrectly called 4K), high-resolution video, along with the latest HDMI 2.0a spec.  Both models will support 50/60Hz pass-through and scaling and HDCP 2.2, which is a critical component for playing Ultra HD copy-protected content. 
Advanced Video Switching
Much more importantly than just resolution is support for HDMI 2.0's HDR (High Dynamic Range) and wide color gamut compatibility, which will make content on UltraHD Blu-ray discs pop to life.  Believe it or not, HDR and a wider color gamut are much more noticeable video improvements over simply adding more resolution to displays.
As is standard in today's mid-range AV receivers, both models have 8 HDMI inputs, including one conveniently located on the front panel.   All HDMI ports are HDMI 2.0a and HDCP 2.2 compliant.  
The SR6010 and SR7010 continue a trend that we hope to see more and more of: independent, dual-zone HDMI output capability.  The dual HDMI outputs on the Marantz models allow you to connect two displays to one AVR and have each display show either the same or a completely different source.  Having such matrix-style HDMI switching is going to be a huge boon for custom installers and homeowners who can now simplify their cabling run requirements.
The video section fully supports next generation 4K Ultra HD high-resolution video, along with the latest HDMI 2.0a specification which includes 4K 50/60Hz pass-through and scaling, and the HDCP 2.2 compatibility that is required for 4K copy-protected content. It also features HDR (High Dynamic Range) and wide color gamut compatibility, key components of the Rec.2020 4K Ultra HD video specification. There are 8 HDMI inputs, including one conveniently located on the front panel, all of which support HDMI 2.0a and HDCP 2.2 compatibility. Its dual HDMI outputs are multi-source/multi-zone, allowing two displays to work independently and simultaneously.   
If you're wondering about custom installation options, then the new Marantz units will fit the bill.  Both models come with RS-232 support and trigger outputs.  However the SR6010 has only one trigger output while the SR7010 includes two trigger outputs.
Conclusion
By any measure, these new AV receivers from Marantz promise to bring home a new era of high resolution audio and Ultra HD video.  With ample network capabilities, RS-232 support for custom installations, high resolution audio, and support for the latest HDMI 2.0 features, these new Marantz AV receiver models should be on any enthusiast's short list for a high end home theater.  The only question is which one are you going to get?  The SR6010 or SR7010?  Let us know in our forums and please share your experiences.

See also:
Confused about what AV Gear to buy or how to set it up? Join our Exclusive Audioholics E-Book Membership Program!
Recent Forum Posts:
hotjava67 posts on April 05, 2020 01:42
guys, on the 6010 can i use the front wide or height channels as my secondary bi amp channel ? I want to use my surround channels for my rear speakers. I have rear and back surround speakers. is the 7.2 workable if i want to biamp my fronts and keep 2 backs?
as1337 posts on February 29, 2016 14:38
How good will this sound if coupled with an external amp? I suppose that it will not sound very good in stereo listening without the addition of external amps?
Michael Semon posts on November 09, 2015 11:54
I to love this receiver SR7010.I have had it about 2 weeks and wow also running the mm7025 with it on main channel set up in Dolby Atmos reference. Absolutely increadable. The new release of the 5th Element out of this world. Insurgent also has an intro for Dolby Atmos that's most impressive. MAD MAX. Love this receiver music will also not let you down. Great job Marantz.
AVisualGeek posts on November 05, 2015 14:37
I love this receiver…almost bought into the Onkyo when I started reading about the Marantz. The best of both worlds with tons of both HDMI and analog inputs. I have owned two onkyos in the past and have never gone wrong but I figured I might check out the alternatives to see what else is out there. DTS:X? I was reading the review here
http://pocinc.net/blog/technology-news/marantz-sr7010-9-2-channel-4k-receiver-yamaha-isnt-the-only-one-with-a-beast/
where they said some good things about Marantz. There was a link that lead to some other stuff that talked about this DTS:X and I started squirming around with excitement like a little child. I only have 5.1 speakers in that room, but now I want more because this sounded absolutely wicked cool. A lot like the Yamaha that I use in the theater.
First off, the Marantz was quite a few hundred more than what I was originally going to spend, so I was nervous as I have already bought into the Yamaha at this price. However, I thought that if I didn't like it, I can always bring it back and get the Onkyo. Nope. No way…never. My speakers sound so nice, I want to wet myself any time I listen to my Yes albums. So many features, I am still learning the menus and I can see myself once again becoming addicted to buying more speakers for a room. I kind of already planned on this to begin with but this whole ceiling business…I don't know if I have the royal jewels down there to start cutting holes in my roof. I'll probably work my way there very slowly.
Jared J. Crandall posts on October 18, 2015 12:22
But even if two channels are squeezed in I bet the power supplied overall would be so low (all channels playing) that the additional of the two channels would not be worthwhile, unless you have Klipsch 98 sensitive speakers….maybe then
Post Reply