ELAC Debut F5, B5, C5 Loudspeaker System Review
ELAC Debut F5, B5, C5 Loudspeaker System Review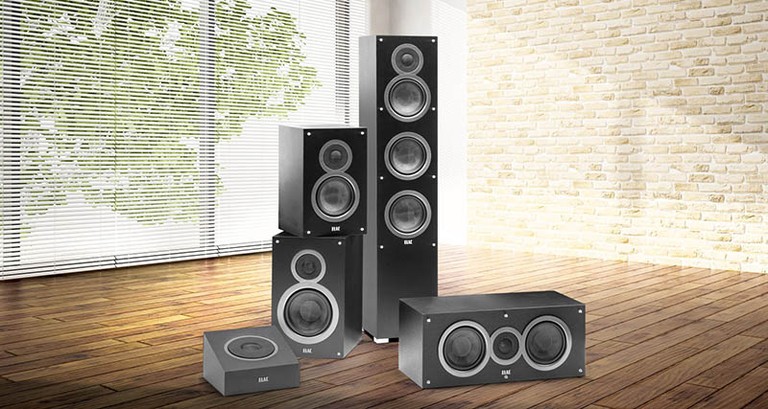 ELAC's Debut Family of Speakers
F5 Tower Speaker
Speaker type: 3-way, bass reflex
Tweeter: 1 x 1-inch cloth dome
Midrange: 1 x 5.25-inch woven aramid-fiber cone
Woofer: 2 x 5.25-inch woven aramid-fiber cone
Crossover frequency: 100 / 3,000 Hz
Frequency response: 42 to 20,000 Hz
Sensitivity: 85.5 dB at 2.83 v/1m
Recommended amplifier power: 40 to 140 wpc
Nominal/peak power handling: 70 / 140 wpc
Nominal impedance: 6 Ω; minimum 5.8 Ω
Binding posts: 5-way metal
Magnetic shielding: No
Cabinet finishes: Black brushed vinyl
Accessories included: Removable fabric grille
Height: 38.0 in / 965 mm
Width: 7.9 in / 200 mm
Depth: 8.7 in / 222 mm
Net weight (each): 32.9 lb / 14.9 kg
C5 Center Channel Speaker

Speaker type: 2-way, bass reflex
Tweeter: 1 x 1-inch cloth dome
Woofer: 2 x 5.25-inch woven aramid-fiber cone
Crossover frequency: 3,000 Hz
Frequency response: 48 to 20,000 Hz
Sensitivity: 87 dB at 2.83 v/1m
Recommended amplifier power: 30 to 120 wpc
Nominal/peak power handling: 50 / 120 wpc
Nominal impedance: 6 Ω; minimum 4.7 Ω
Binding posts: 5-way metal
Magnetic shielding: No
Cabinet finishes: Black brushed vinyl
Accessories included: Removable fabric grille
Height: 7.9 in / 200 mm
Width: 18.7 in / 476 mm
Depth: 8.7 in / 222 mm
Net weight (each): 18.0 lb / 8.2 kg
B5 Bookshelf (Monitors)

Speaker type: 2-way, bass reflex
Tweeter: 1 x 1-inch cloth dome
Woofer: 1 x 5.25-inch woven aramid-fiber cone
Crossover frequency: 3,000 Hz
Frequency response: 46 to 20,000 Hz
Sensitivity: 85 dB at 2.83 v/1m
Recommended amplifier power: 30 to 120 wpc
Nominal/peak power handling: 50 / 120 wpc

Nominal impedance: 6 Ω; minimum 5.4 Ω
Binding posts: 5-way metal
Magnetic shielding: No
Cabinet finishes: Black brushed vinyl
Accessories included: Removable fabric grille
Height: 12.8 in / 324 mm
Width: 7.9 in / 200 mm
Depth: 8.7 in / 222 mm
Net weight (each): 11.5 lb / 5.2 kg
Pros
Audiophile sound, budget price
Superb timbre and off-axis response for the price
Seamless surround-sound envelopment
Cons
Top end won't rival more exotic tweeters
Slight boxiness and veiled sound
Any color you want so long as it's black vinyl
Elac Debut Speaker System Introduction
Truth be told, entry level audio hasn't been a very fun place. Sure, there are seemingly lots of options and so-called "bargains." But give most of these a try and those lofty—dare I say even unrealistic aspirations—crash in some sort of fiery end. The reality check is simple: getting bonafide high end sound on a budget isn't easy.

ELAC wants to change all that…. "Stop right there! Don't tease me," you might be thinking. "I've heard all that before." Yes, ordinarily you'd be right. But ELAC's foray into entry-level audio is anything but ordinary.

ELAC's Debut Series speakers have been designed by world-renown speaker designer Andrew Jones. If you haven't heard of Andrew Jones before, let's just say that his resume and pedigree are…well…legendary. With successful stints at iconic speaker brands KEF and TAD, Andrew has designed award-winning speakers entering the hyper-stratosphere price-range ($80,000+) of the audiophile landscape. But it was Andrew's contribution at Pioneer that really turned the audio world on its head.

Andrew and his team set their sights on the fledgling audiophile and delivered a kick-butt pair of speakers, the Pioneer SP-BS22 LR, that sold for a mere $129/pair. Now, Andrew has once again set his sights on the budget-conscious home theater lover by joining ELAC.

ELAC's Debut series is exactly that—an opening act for ELAC into the North American audio market. The full Debut series of speakers consists of two tower models, three monitor models, a center channel, and a Dolby Atmos speaker. The Debut line also features three subwoofers.

For my review setup, ELAC sent me a 5.0 configuration consisting of a pair of the F5 floor standing speakers, the C5 center channel, and a pair of B5 bookshelf monitors for the surrounds. While they are available, ELAC did not send me the line's Dolby Atmos speakers or one of their subwoofers.  We have a separate review of their new sub coming from our own Marshall Guthrie soon.  Therefore, I conducted the entire review without a subwoofer.

Confused about what AV Gear to buy or how to set it up? Join our Exclusive Audioholics E-Book Membership Program!
Recent Forum Posts:
frankusa87 posts on January 01, 2018 11:51
Jason Oland, post: 1156094, member: 80532
Elac f5 or Klipsch Reference Premiere RP-250? for 5.2.2 system 12x14 room 75 percent movies 25 percent music.

go with the f6s I just purchased them wow great sound..you will not go wrong ..
frankusa87 posts on January 01, 2018 11:48
I just purchased the elac f6s they sound great… not just for the price.. Andrew jones proves it again you dnt have to spend a ton of money to get great sound. great review you guys are spot on…with your reviews thanks
Tankman posts on May 23, 2017 17:43
Carl08, post: 1159125, member: 80314
If it sounds too good to be true it probably is. Proceed with extreme caution. If they say to contact them before you buy, DONT BUY
I have been seeing that on everything thats posted for sale on Amazon's site. They post a link to some email to them and they post some ridiculously low price. You know it's a scam. You would think as big as Amazon is they would remove them dudes and block them from posting BS like that.
dgbarry posts on May 23, 2017 14:45
The ratings would be more believable if appearance was rated lower. Every review I've read, in regards to these Elac models, specific reference has been made in regards to the looks being very average. As a result, they should receive an "average" rating in response to this aspect. By rating them higher, it makes me question what else is being overrated?
Toml1946 posts on November 18, 2016 18:27
everettT, post: 1159131, member: 78951
They have a history of great deals but no service after the sale fwiw.
Hope one would not need after-sale support, but things do go wrong.
This would indeed be a great deal, or maybe a simple misprint of their asking price. Think I may lean toward Crutchfield in this case.
Post Reply