Denon AVR-X7200WA Atmos/DTS:X AV Receiver Review
Denon AVR-X7200WA Atmos/DTS:X AV Receiver Review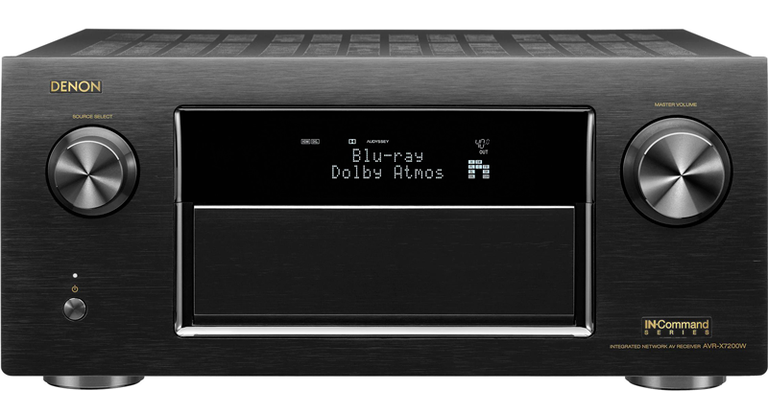 Denon's Flagship AVR-X7200WA
Product Name: AVR-X7200WA
Manufacturer: Denon
Performance Rating:
Value Rating:
Review Date: December 15, 2015 09:00
MSRP: $ 2,999
Power and Processing:
9-channel amplifier
150 watts per channel into 8 ohms (20-20,000 Hz) at 0.05% THD, with 2 channels driven
Dolby® and DTS® surround sound decoding
Dolby Atmos processing for use with in-ceiling or "height" speakers for more enveloping surround sound; compatible with 7-, 9-, or 11-channel setups (11 channels requires an external stereo power amp)
Auro-3D® ready decoder for creating three-dimensional soundfields with Auro-3D soundtrack mixes and a 10.1-channel speaker configuration (requires $199 firmware upgrade for activation)
analog-to-HDMI video conversion
upscales standard-definition video signals to HD and Ultra HD (up to 4K)
Audyssey "Platinum" speaker calibration and system optimization includes:MultEQ® XT32 advanced auto setup and room calibration uses high-resolution digital processing filters to deliver balanced, dynamic sound to as many as 8 listening positions (expandable to 32 with a professional installer)
DSX® (Dynamic Surround Expansion) optimizes "front height" or "front width" speakers to create a larger soundstage with more engaging surround effects
Dynamic Volume anticipates loud sounds to keep volume levels even
Dynamic EQ improves dialogue, bass response, and surround channel levels at lower volumes
Sub EQ HT provides individual calibration for dual subwoofers, for even bass response throughout the room
Low Frequency Containment reduces the amount of bass that bleeds into other rooms
Digital and Streaming Music Options:
Built-in Wi-Fi for listening to music from a networked PC, free Internet radio, and music services
includes support for Pandora, SiriusXM, and free Internet radio streams with vTuner (subscription required for some services)
Spotify Connect lets you play Spotify's streaming music library through the receiver via your smartphone or tablet (requires Spotify app and a premium subscription)
Apple AirPlay for streaming music from an iPhone®, iPad®, iPod touch® or computer running iTunes®
built-in Bluetooth for wireless music listening with smartphones, tablets, and compatible computers
plays high-resolution digital music files via USB storage device or a networked computer (PCM up to 24-bit/192kHz resolution; DSD up to 2.8 MHz .dsf files)
DLNA and Windows® 8 certified for streaming music with compatible devices and computers
front-panel USB input for connecting an iPod, iPhone, or USB memory device
direct digital connection for iPod or iPhone bypasses the device's digital-to-analog converter for better sound
Denon's Compressed Audio Restorer improves sound quality of MP3s and other digital music files
Multi-room Audio/Video:
three-room/three-source output
powered stereo outputs for second and third rooms allow playback in three rooms at once
amp assign feature lets you reassign extra surround channels to second and third zones
line-level outputs for Zones 2 and 3 for use with additional receiver, amplifier, or powered speakers
independent HDMI outputs for watching video content from different sources in two zones simultaneously
supports 2nd/3rd zone playback of digital sources (audio from HDMI sources is limited to Zones 1 and 2)
component and composite video outputs can be assigned to Zone 2
Audio Performance Features:
32-bit/192kHz digital-to-analog converters for all channels for outstanding high-resolution multichannel sound
monoblock design separates circuitry for the left and right channels
Denon custom-made high current transistors and power transformer offer robust power and clean sound
bi-amp compatible front left and right speakers by reassigning Wide/Height channels
Connections:
HDMI 2.0 audio/video switching: 8 in (includes 1 front-panel input), 3 out
HDCP 2.2 technology ensures compatibility with 4K Ultra HD sources and TVs (all HDMI inputs and outputs)
component video switching: 3 in, 1 out (Zone 2)
composite video switching: 5 in, 2 out (includes 1 front-panel input)
digital audio inputs: 2 optical, 2 coaxial
7 analog stereo audio inputs (includes 1 pair of front-panel inputs)
phono input for connecting a turntable
7.1-channel preamp inputs for connecting a high-performance Blu-ray player with multichannel analog outputs
13.2-channel preamp outputs include outputs for 2 powered subwoofers
front-panel USB port for audio playback from USB flash drives and an iPod or iPhone
Denon Link HD creates a jitter-free connection to compatible Denon Blu-ray players; requires HDMI connection and proprietary Denon Link RCA-style cable
Ethernet port for network connection
outputs for 11 speakers (Front L/R, Center, Surround L/R, Surround Back L/R, Height 1 L/R, Height 2 L/R)
receiver can only power 9 channels at once
RS-232C port for use with external controllers
IR in/out and 12-volt triggers
1/4" headphone jack
removable power cord
General Features:
4K/60p and 3D video pass-through
free Denon Remote app lets you use your Apple, Android, or Kindle Fire device as a Wi-Fi remote
Setup Assistant guides you through the initial connection process and settings
HDMI standby pass-through allows HDMI switching without powering up receiver
support for third-party control systems by Control4 and Crestron for home automation
intuitive, full-color on-screen guide
built-in HD Radio™ tuner
AM/FM tuner
remote control
17-1/8"W x 7-11/16"H x 18-1/16"D
weight: 37.7 lbs.
Pros
Support for the latest HDMI 2.0a and HDCP standards
Supports all major immersive audio formats (Dolby Atmos, DTS:X, Auro-3D. Auro-3D is a paid upgrade)
Great immersive audio presentation
HDR and BT2020 color support
Extensive speaker layout options
9 on-board channels of amplification
Ability to add external amplification to any channel for hard to drive speaker or to suit audiophile preferences.
Wireless and streaming support galore
Superb (if overly-basic) UI for entry-level users
Easy networking setup for Apple iPhone and iPad users with auto-networking copy feature
Cons
No support for Auro-3D configurations beyond 10.1
Audyssey room correction limitation cannot be set to correct bass frequencies only
Denon AVR-X7200WA Introduction
AV receivers are arguably the fastest-changing home theater components.  The introduction of HDMI 2.0 and HDCP 2.2, the rapid rollout of immersive audio formats, and the onslaught of streaming services has accelerated the pace of change even more.  Even the Barry Allen, AKA the Flash, would find it tough to keep up. 
Somehow, in the midst of this fluctuating tech landscape, Denon has not only managed to keep pace but also provide a bit of future-proofing in their flagship AV Receiver, the IN-Command AVR-X7200WA. IN stands for "Integrated Network" and puts you on notice that this unit is built for digital entertainment.  The IN-Command X7200WA is the same physical unit as the X7200W except that the inclusion of the "A" lets you know that it contains the update for HDCP 2.2.  The units themselves are indistinguishable except for an "A" on the rear of the unit.
Note: If you are a current X7200W owner, you can get a free hardware upgrade to make your unit an X7200WA. Very cool!
The AVR-X7200WA's feature-set reads like an encyclopedia.  What's funny is that there are some features you can't even use yet. The content, sources, displays (or all three) won't be available or affordable until next year at the earliest.   
Video Chops
On the video side, Denon claims that the X7200WA supports an incredible maximum image processing of UltraHD/4K 60p, 4:4:4 and 24-bit video.  Some UHD receivers will max out at only 10-bit support.  To be fair, there isn't any commercial content on the horizon that can support that.  The max that we will see in the near term for UltraHD content will be 10-bit, though we will likely start to see some of the new UHD Blu-ray players offering bit-depth upscaling.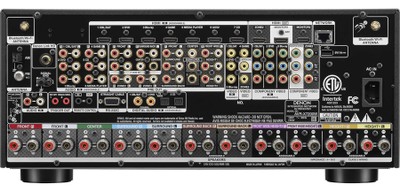 Rear view of the AVR-X7200WA.  The amp shows 11 channels of amplification on the rear but only nine can be active at any one time. 

Depending on the audio configuration you choose, the Denon shows you exactly which channels are active.
The Denon's HDMI inputs support HDMI 2.0a and HDCP 2.2.  This is great news for the home theater enthusiast because both HDMI 2.0a and HDCP 2.2 are essential for next generation UltraHD/4K content.  HDMI 2.0a builds upon the promise of the HDMI 2.0 standard and gets you ready for the forthcoming UltraHD Blu-ray players.  High Dynamic Range (HDR) and BT2020 color support are among the most exciting elements--even better than the increase in resolution, which truth be told, isn't that big of a deal unless you are talking about huge UHD displays. 
The AVR-X7200WA's feature-set reads like an encyclopedia.  What's funny is that there are some features you can't even use yet. 
If you have been following our reports here at Audioholocs then you know that HDR will bring a more life-like quality to content by increasing the dynamic range between dark and bright parts of a scene.  HDR will be most noticeable in the way it adds details to bright elements of scenes that would previously be completely washed out.  
BT2020 color support will finally bring us past the limited REC 709 color gamut and greatly increase the colors we can see on screen and decreasing banding.  The bottom line is that the X7200WA's HDMI 2.0a support will deliver content more in line with the way that we see things in real life and will make UltraHD Blu-ray content much closer to what we see in an actual movie theater.
Let's reiterate: In order to take full advantage of HDR and BT2020, your display, receiver, and source must all support HDR and BT2020.  
Audio Chops
On the audio front, the X7200WA sports 9-channels of amplification rated at 150WPC with 2 channels driven.  As avid Audioholics readers will know, many receiver manufacturers fluff their amplification ratings or aren't honest about them.  We appreciated Denon's clear amplification specs.  150WPC is about as beefy as you can get without resorting to external amplification. The X7200WA allows you to do that too, with 13 pre-out channels. You can use the X7200WA as a pure pre-amp.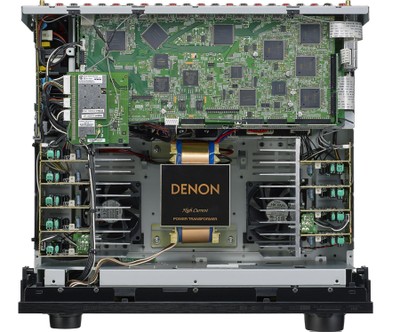 Internal view of the Denon AVR-X7200WA
This isn't some wimpy amplification topology either.  Amplification is class A/B. The X7200WA's amplification is fully stable into 4-ohm loads—something you ordinarily don't find with multi-channel AV receivers.
The amplification section is also what Denon calls a "Symmetrical monolithic amplifier design."  That is simply a fancy way to say that the left and right amplification channels are completely isolated from one another to eliminate the possibility of crosstalk.  You don't ordinarily find this kind of design in dedicated separate amplifiers, much less flagship receivers.
Confused about what AV Gear to buy or how to set it up? Join our Exclusive Audioholics E-Book Membership Program!
Recent Forum Posts:
AcuDefTechGuy posts on April 28, 2017 12:46
PENG, post: 1184850, member: 6097
I agree with TLSG that with so many things jammed in one box will likely affect it's longevity but I am confident if use normally it would last longer than 5 years. I also agree with you that one should not pay full price for such flag ship unit, especially now when the updated model will be out within months. $1,500 is probably my upper limit too.

The Outlaw won't out perform the Denon but has much better chance to live twice as long.
I would just wait for Amazon to sell the X4000 series for $799 brand new.
PENG posts on April 27, 2017 16:01
AcuDefTechGuy, post: 1184814, member: 26997
Yeah, I would just get the Denon 7200 without any external amps.
I agree with TLSG that with so many things jammed in one box will likely affect it's longevity but I am confident if use normally it would last longer than 5 years. I also agree with you that one should not pay full price for such flag ship unit, especially now when the updated model will be out within months. $1,500 is probably my upper limit too.
The Outlaw won't out perform the Denon but has much better chance to live twice as long.
AcuDefTechGuy posts on April 27, 2017 13:07
Yeah, I would just get the Denon 7200 without any external amps.
lovinthehd posts on April 27, 2017 12:56
Asif1980, post: 1184678, member: 82490
How do we compare emotiva XMC-1 vs Denon X7200WA??

I understand one is pre-processor and other is AV receiver with Immersive audio format support.

Lets set aside amplifier/immersive audio section in denon and compare both products processing capabilities.

Will denon+outlaw 7140 power amplifier out perform emotiva XMC-1+outlaw 7140 and which is worth the money spend?
Denon has more channels of processing so would depend on the speaker set you desire to an extent. Dirac gets good reports, but Audyssey XT32 works very well. If using the same amp then performance should be equal in that respect (and the 7140 is not much different from the onboard amps in the 7200). Cost for the Denon vs XMC1 plus amps would be the better comparo.
AcuDefTechGuy posts on April 27, 2017 12:51
That Denon will be sweet if Amazon has their 50% off sale when the new models roll out.

In Direct Mode (no EQ of any kind), they will sound the same if played at the same exact volume.

Whether one is better than the other, it depends on what you do with them. The big difference among AVR and processors will be the features and EQ.

For example, I would unequivocally take the Denon over anything else that does not have Audyssey Dynamic EQ (DEQ).

AFAIK, the only new products that have Audyssey DEQ include Denon, Marantz, and McIntosh.

But some people prefer ARC (Anthem) or DIRAC (Emotiva) or other EQ systems.

So the salient difference is DIRAC vs AUDYSSEY (for me it's the DEQ), not Emotiva vs Denon or Pre-pro vs AVR.

But you might want to keep an eye on Amazon or Fry's during the late Summer, or Fall & Winter. You might see the Denon 7200 for $1,500 brand new.

So to answer your question, I would take the Denon over Emotiva.
Post Reply