DTS Announces DTS:X Immersive Surround Sound Format
DTS Announces DTS:X Immersive Surround Sound Format

DTS Announces next generation surround technology—DTS:X
Object-oriented / Immersive surround sound technologies have been the buzz in both commercial cinema and home theater for a few years now.  Dolby Atmos and Auro-3D have been the two dominant players in this new technology space. 
Unlike traditional surround-sound, which has speakers situated on a single, two-dimensional plane, object-oriented immersive audio attempts to deliver a three-dimensional audio experience to listeners by:
Adding height dimensions to the traditional 5.1 or 7.1 experience and

Converting audio into objects in space as opposed to sound from a particular speaker or set of speakers.  
DTS, whose DTS-HD Mater Audio codec dominates Blu-ray, has been rumored to be working on a multi-dimensional audio (MDA) solution for some years now.  Officially, DTS has been silent about any next generation audio format—until now.   DTS has now announced that they will be unveiling their next-generation, object-based codec technology called DTS:X.  DTS:X will be launched officially in March of 2015.  However DTS will be offering a taste of DTS:X at CES in Las Vegas.  Manufacturers representing nearly 90 percent of the home AV receiver and surround processor market will be launching products supporting the new DTS:X format.  The list of manufacturers is impressive.  It includes ultra-high-end brands like Krell, Anthem, McIntosh, Steinway Lyngdorf, Theta Digital, and Trinnov Audio as well as the traditional receiver names like Integra, Pioneer, Denon, Onkyo, Marantz, Yamaha, and Outlaw Audio.
DTS:X Immersive Surround Sound Format Discussion
DTS:X Speaker and Format Agnostic to allow greater speaker placement flexibility and content production?
DTS claims MDA was developed as an open object-based audio creation and authoring platform to accelerate next-generation content creation. The MDA platform supports both channel and audio objects and adapts to any speaker quantity and configuration. During creation, sounds are directed throughout an auditorium by attaching specific X, Y, Z coordinates to audio objects to describe the location, resulting in highly realistic sound placement in concert with the video portion of a movie. 
Talking about proposing an open format for immersive object-based sound, John Kellogg, DTS' Senior Director of Corporate Strategy and Development, stated the following:
"We are committed to the continued development and adoption of a format-agnostic solution that enables the universal creation, delivery and playback of 3D audio content.  Like Barco, our entire approach is based on an inclusive, rather than exclusive, philosophy bent on encouraging studios to produce more movies featuring immersive sound while empowering exhibitors to show them in their best light."
While DTS has touted broad support for its new format, the company has released very little detail about it.  We don't know, for example, if current Blu-ray players will need a simple firmware update to support DTS:X or if new players are required.  Will DTS:X experience the same audio drop-out issues currently found on older Blu-ray players when playing Atmos Blu-ray discs due to Seamless Branching (used by Dolby as a means to conserve space on Blu-ray)?  Will this first generation of Dolby Atmos AV Receivers and Pre/Pro's be firmware upgraded to DTS:X?   In fact the only thing we know officially from DTS is that they have made it a point to emphasize four key elements: the product name,  flexibility, immersion, and interactivity.
Here at Audioholics, we'll then have to look at our crystal ball a bit and make some conjectures about what we expect from DTS:X. 
First, the name DTS:X is incredibly close to the company's surround headphone solution called DTS Headphone X.  The key marketing point of DTS Headphone X is that the technology claims to recreate the home theater surround sound experience through any pair of headphones.  We've heard from several trusted sources in the industry that DTS Headphone X is going to revolutionize how we listen to headphones in the near future.  It wouldn't be far off, then, to imagine that DTS:X might be similar in the sense that it may bring object oriented audio to traditional 5.1 and 7.1 home theater systems. 
In traditional home theater mixing, engineers mix for a set of speakers.  In other words, they determine what sound comes from what speaker.  In object-oriented audio, the number of speakers becomes less relevant as the system determines the direction where the sound object should be coming from and then automatically plays the sound through the speakers you currently have setup to convey the illusion that the sound is coming from a particular space in time.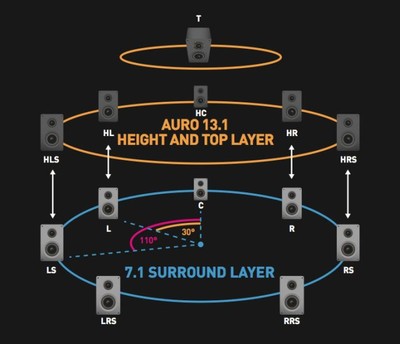 Will We Have a Unified Speaker Layout for Next Gen Immersive Surround Formats?
If DTS:X were to accommodate such an option,  it would then allow backwards compatibility to existing 5.1 and 7.1 setups.  Users in such setups, however, would most likely be unable to get the full three-dimensional, immersive experience unless they were to install height or ceiling speakers.  That then leads us to think about what might make DTS emphasize the word "flexible" when describing DTS:X; and it may just refer to speaker placement.
DTS:X is positioning itself as the most speaker placement flexible immersive surround format.

Competing immersive audio and object-oriented audio technologies from Dolby and Auro-3D require the introduction of height and overhead speakers to complete the three-dimensional audio field.  Dolby has specific standards for how speakers should be setup in a Dolby Atmos environment.  Dolby Atmos requires the installation of either in-ceiling speakers or Atmos-enabled floor standing modules that reflect off the ceiling and mimic an in-ceiling installation (though with a narrow sweet spot and effective mostly for high frequency effects only).  It is likely that DTS:X, just like Auro-3D won't be compatible with Atmos-enabled speakers.  Time will tell.
The number of additional speakers you have in a Dolby Atmos or Auro-3D setup is indicated at the end of a typical home theater speaker layout.  So, for example, if you had four Atmos speakers in your 7.1 setup, your setup would now be a 7.1.4 where 7 is the number of main channels, 1 is the number of subwoofers, and 4 is the number of Atmos speakers.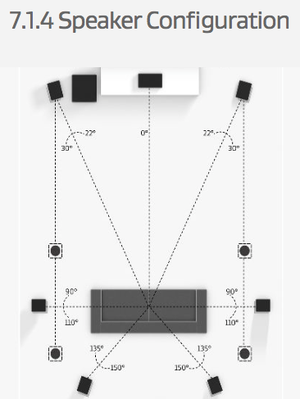 An example of a Dolby Atmos 7.1.4 configuration with four Atmos-enabled in-ceiling speakers
Atmos and Auro-3D differ in  speaker placement and layout.  Technically, you cannot have one setup for both Atmos and Auro-3D, though per Auro they did propose a somewhat unified speaker layout via our recent interview.  If, however, DTS were to introduce a system whereby it would be less-rigid in the exact placement of speakers it would provide enthusiasts who don't have dedicated theater rooms to accommodate a DTS:X setup more easily in their homes.
DTS:X appears to have been designed for consumers rather than attempting to adopt an impractical cinema solution in the home.

Furthermore, the allusion to "flexibility" may also allude to DTS' mixing software for Blu-ray, DTS Neo:X.  The mixing software currently allows audio engineers to produce multichannel audio mixing in 11.1 channels while maintaining backwards compatibility with stereo and traditional 7.1 and 5.1 surround systems.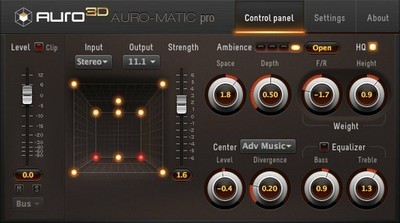 Auro-matic up-mixes legacy content into the Auro-3D format. Will DTS' Neo:X mixing software be similar with backwards compatibility?
DTS:X may introduce the ability for mixing engineers to mix audio objects while maintaining backwards compatibility to systems down to stereo.  This could potentially mean that audio mixers could use the same tools they are accustomed to working in while at the same time utilizing the new technology seamlessly.  Such an approach could be a quick way to introduce large-scale adoption of the new format.  Content creation would be a key element to DTS:X's adoption.  To date, there have only been a handful of titles released on Blu-ray in either Auro-3D or Atmos—even though they were released theatrically in those formats.
The "immersion" DTS refers to is likely related to the introduction of height and/or overhead speakers.  By including these additional speakers, mixers can create a true, 360 degree sound field that provides the immersive sensation that users have already heard from the competing Dolby Atmos and Auro-3D formats.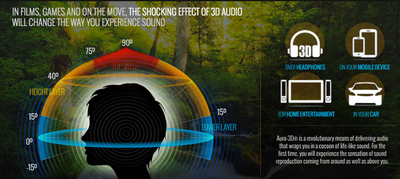 Auro-3D is available on multiple platforms and solutions.  Will DTS:X follow?

Dialogue Control Feature - Hear the Voices Better!

Finally, DTS has teased us with the word "interactivity."  During CES, DTS demonstrated a new dialogue control feature that allows listeners to increase or reduce the volume level of dialogue in a movie or other digital entertainment.  This feature also appears to be more than just increasing the volume of the center channel or applying some peculiar EQ that attempts to augment the dialogue frequencies while also compromising the rest of the audio track.  If DTS can pull this off properly, it could be huge.
Dialogue control feature is something we've been waiting for in a next generation surround codec.
It's unclear if dialogue control is part of DTS processing or a separate feature they offer with their platform.  What is clear is that DTS is exploring ways to give listeners more direct control of the audio experience. 
Even though DTS:X is focused on home theater, what if "interactivity" meant that DTS was thinking of bringing some of the technology of DTS:X to a broader set of solutions?  Auro-3D's platform, for example, isn't limited to just home theater.  The technology can be implemented in automotive, gaming, and mobile device solutions.  It's therefore not out of the realm of possibility that DTS may offer DTS:X as a technology solution to interactive applications and gaming.  We like the fact that DTS is offering usable features that will benefit consumers beyond just having them add more speakers for a height effect.
So What's Next?
Much of what we've said is pure speculation and it will be very interesting to see how close we've come to anticipating DTS' forthcoming product launch.  Nevertheless, whatever DTS has in store for its new object-oriented codec, the technology has certainly garnered the attention and commitment of the best AV receiver and processor manufacturers in the market—some of whom have not yet announced or made any commitments to support Dolby Atmos or Auro-3D.  Perhaps that statement says more about DTS:X than anything else.  DTS seems committed to making DTS:X a consumer-friendly format as opposed to adopting a cinema format for the home.  They also appear to be working with Auro for more unified speaker placement options so that consumers won't have to reconfigure their speaker layout each time they switch between formats.  Will Dolby jump on board with this as well or stay fixated on their upfiring speakers and/or fixed in-ceiling configurations?
Stay glued to our site as we bring you the latest from DTS and discuss how three competing next generation immersive surround sound codecs can coexist or NOT in today's home theater market that is demanding LESS not MORE speakers.  It would appear DTS is on the right path with DTS:X for universal consumer adoption that will benefit everyone, not just the niche running a speaker configuration beyond 7.1.
Confused about what AV Gear to buy or how to set it up? Join our Exclusive Audioholics E-Book Membership Program!
See also: