Avegant Virtual Retinal Display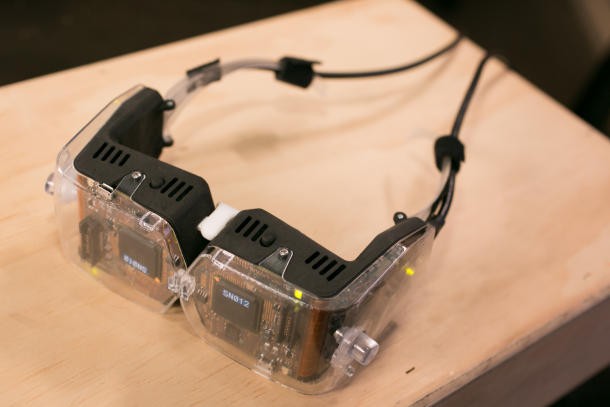 Avegant's Virtual Retinal Display (Photo credit: Sarah Tew/CNET)
Summary
Product Name:

Virtual Retinal Display

Manufacturer:

Avegant

Review Date:

October 17, 2013 08:00

MSRP: $TBD
First Impression:

Pretty Cool
Executive Overview
Flipping through SkyMall magazine is a standard part of any gear-loving guy's routine during a flight.  I vividly recall seeing several spots in SkyMall years ago for head-mounted display glasses designed to plug into your iPod or iPhone and make it look as though you were looking at a much larger screen size.  Back then, I thought it was an interesting concept. However, I regarded it as a niche product that might have caught on for travel.  I never viewed it as a substitute for a true high fidelity audio and video setup. And, in all my years of traveling, I've never seen anyone actually wearing one.

Fast forward to today, and there's a new product on the horizon that's generating quite a bit of buzz.  It's called a Virtual Retinal Display (VRD) by a small company named Avegant.  Why is this product generating interest when so many other wearable products have come and seemingly gone?  Partly, I think it's due to a combination of both the changing nature of portable entertainment and some of the promising technology the device offers.

To date, just about every single head-mounted display has sported some sort of display in the glasses.  How the VRD projects the image differentiates if from any other previous devices.  The product's name gives you a hint on how it works.

Instead of a single optical panel, like a small LCD or OLED in the glasses, Avegant's VRD projects a separate WXGA resolution (1,280 x 768) image directly onto the retina of each eye.  The current prototype will also support frame rates as high as 240fps.  It does so using reflected light with an array of two million micro-mirrors.  Avegant's CEO, Ed Tang, says that using reflected light mimics how we see objects in real life.  This approach therefore brings a new level of realism to the images displayed through the VRD.  This supposedly produces a striking 3D experience—though the images don't necessarily need to be exclusively 3D.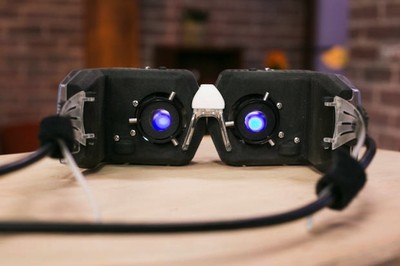 How the Virtual Retinal Display looks from the inside.  The VRD projects a separate image to the retina of each eye. (Photo credit: Sarah Tew/CNET)

The design of the optics is also a distinctive element of the VRD.  Because a distinct image is projected onto each eye, the optics are individually adjustable.  In fact, the adjustment knobs look a lot like the contraption in an ophthalmologist's office.  The  optical elements and frame are also adjustable for different face widths.

Technology aside, we home theater enthusiasts want to know how big such an image will seem?   Well, our brains will supposedly make us think that we're looking at something approximating an 80-inch image from about eight feet.  That should be quite an immersive experience for both movies and gaming.  CNET, who got an exclusive look at the VRD, commented that the pixels generated by the prototype device seemed to "...blend together seamlessly, creating an incredibly bright and vibrant image."

But what if you're planning on watching the Lord of the Rings trilogy extended edition for a movie marathon one weekend?  What will the impact be on your eyes?  All of this tech is supposed to address the issue of eye strain.  The VRD has no "display".  Therefore, you're not trying to focus on a display that is mere inches from your eyes.   As a result, the optics of the device do the focusing for you and your eyes supposedly just "relax".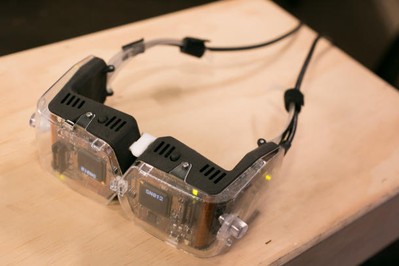 Top view of Avegant's Virtual Retinal Display looks like something Arnold would have worn in the Terminator.  (Photo credit: Sarah Tew/CNET)
Since the VRD is still in the prototype stage, it's no surprise that it's still a bit heavy and bulky.  In fact, the VRD looks like some long lost pair of Gargoyle sunglasses that Arnold Schwarzenegger left behind from his Terminator days.  We expect both the weight and aesthetics to improve once the device gets proper treatment from an industrial design team.
Avegant's target audience for the VRD is consumers of mobile video entertainment.  And what a growing audience it is!  Look at what's already happened in the audio arena. 

Think about all the vaunted high end speaker manufacturers that have now jumped into the mobile entertainment category with headphone products: B&W, Paradigm, PSB, and Martin Logan to name just a few.  
Video is fast-following in the footsteps of audio.  Netflix, Amazon Video, and Hulu Plus have their own dedicated mobile apps across mobile platforms.  Even content-providing networks like ABC, HBO, and the like are now delivering their video content through mobile.  This delivery channel and consumer segment will be a growing focus across the industry.   Anecdotally speaking, just look at the "phablet phenomenon"—people want the experience of a larger screen but may not be able to afford or have the space for a dedicated home theater setup. 

Now, you can slap a premium pair of headphones, pair it with a VRD and you have a potentially amazing, portable entertainment experience.  For hard-core gamers, the VRD will also support head tracking in virtual reality and augmented reality gaming environments.  Avegant is also envisioning custom content created specifically for the VRD, like virtual reality tours of locations. 

Whether all of this will lead to a new product category or simply go by way of previous head-mounted displays is anyone's guess.  One thing's for sure, the prototype does offer some interesting promise and we'll be looking forward to seeing the final product.

Avegant is looking to have the VRD ready for a January debut either at CES in January or 1Q 2014.  There's no indication on pricing at this point.  We'll be sure to keep an eye out (no pun intended) for the VRD at the beginning of the new year and report back on where things stand. 

Once the devices is ready for the public, there will likely be a crowd-funding drive.  If recent interest in this category is any indication, Avegant is hitting things at the right time.  Another VR-style wearable device called the Ocululs Rift, which doesn't come close to the specs of the VRD, raised $2.4 million with its Kickstarter project—well over it's $250,000 goal. 
Confused about what AV Gear to buy or how to set it up? Join our Exclusive Audioholics E-Book Membership Program!
Recent Forum Posts: