IsoAcoustics GAIA Isolators Review: Improving Your Loudspeakers Sound
IsoAcoustics GAIA Isolators Review: Improving Your Loudspeakers Sound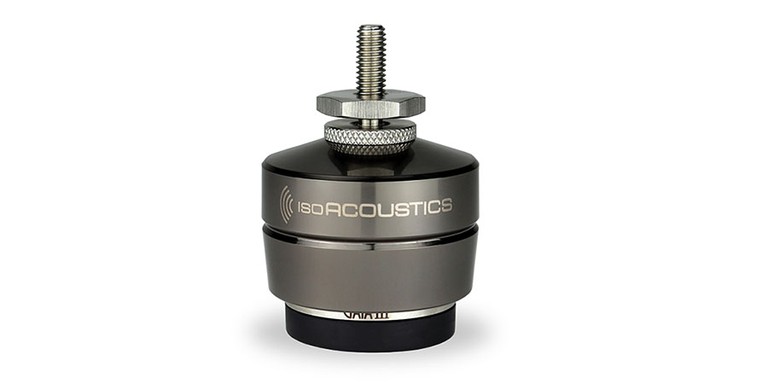 IsoAcoustics GAIA Isolator
Pros
Demonstrably reduces vibrations going from the speaker into your listening room
Improves imaging and focus
Superb build quality
Luxurious boxing and presentation
Easy to install unless your speakers are huge and unwieldy
Optional carpet spikes available (though at added cost)
Cons
Expensive
How much difference you'll notice seems to depend on your flooring substrate
Need to confirm you have the correct thread size for your speaker prior to ordering
Many audiophiles and home theater aficionados are on a quest to maximize the performance out of their systems. I know I am. That pursuit oftentimes resembles some noble Arthurian quest with adventures, pitfalls, wrong paths, triumphs, sorcery, and black magic (hopefully encounters with the Knights of Ni are few and far between). 
While we may romanticize the quest, the actual journey to peak performance is far less fanciful but no less noble. Perhaps the journey would be less complicated if we reframed it as: "How can I optimize my system's performance in my listening room?" Now there is the nuance!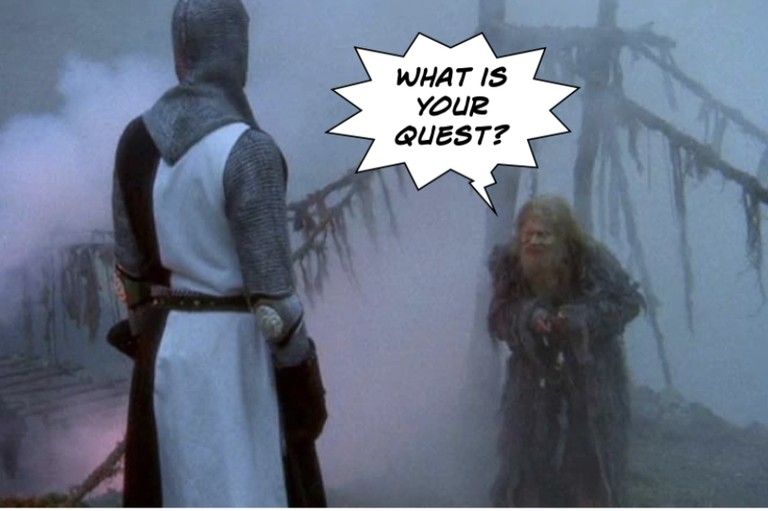 The difference that speaker positioning, room treatments, multi-sub configurations, and room equalization can make are audible, measurable, and among your biggest "bang for the buck." Because the interaction of our speakers and our rooms are so much a part of the equation, I've often wondered if we should add vibration control and isolation to the optimization list. Vibration is the sworn enemy of optimal system performance. Every good speaker manufacturer worth their salt mitigates cabinet vibration as part of their design goal. Making the speaker cabinet as inert as possible with internal bracing, cabinet shapes, and construction materials—especially where the drivers are mounted to the baffle—is all part of that formula. 
But there's a broader aspect to vibration as well: Vibration going into the room, back into the speaker, and out to your electronics with potential microphonic effect. In other words, your sensitive AV components could receive some of these destructive vibrations and turn those mechanical vibrations into audible noise. Tube amp lovers are especially sensitive to the issue of microphonic vibrations impacting those sensitive tubes resulting in amplified distortions. Speaker spikes have been one approach. But truth be told, spikes aren't always practical—especially on hardwood floors—and spikes aren't mechanically designed to provide isolation.
There were no snake oil claims in the product descriptions of vibranium, adamantium, or unobtainium alloys forged in the heart of a dying star and then cryogenically frozen for a thousand years to align Higgs Boson particles into some mythical object immune to the laws of physics.

And so, in my personal quest to minimize vibration, I came upon IsoAcoustics, a company whose products I was casually familiar with but never had hands-on experience.
There were four things specifically that piqued my curiosity about IsoAcoustic and led to the current review:
IsoAcoustics products are used by countless recording engineers such as:

Grammy Award-winning engineer/producer Eddie Kramer who has worked with Jimi Hendrix, Led Zeppelin, and The Rolling Stones.
Darrell Thorp, nine time Grammy Award Winning Producer/Recording Engineer for the likes of the Foo Fighters, Radiohead, and Beck.
Frank Filipetti, Grammy Award Winning Producer/Enginneer whose long list of credits includes Foreigner, Carly Simon, Barbara Streisand, James Taylor, and George Michael to name a few.
Scott Frankfurt, Producer and Audio Engineer for the likes of John Legend, Yo Yo Ma, Chicago, Whitney Houston, and Rick James.
Nick Squire, the head recording engineer for the Boston Symphony Orchestra.

IsoAcoustics has performed A/B demonstrations of their GAIA isolators with speakers at audio shows.
Some well-known and well respected speakers companies, like Marten, PSB, and Dynaudio, are starting to include IsoAcoustics isolators with their speakers.
There were no snake oil claims in the product descriptions of vibranium, adamantium, or unobtainium alloys forged in the heart of a dying star and then cryogenically frozen for a thousand years to align Higgs Boson particles into some mythical object immune to the laws of physics. On the contrary, IsoAcoustics has performed tests of their products at the acclaimed National Research Council of (NRC) of Canada and publishes measurements of the differences their isolators make using a laservibrometer. 
 As I read more about IsoAcoustics isolators, I thought they might be a potentially perfect solution to three issues I'd been wanting to address in my setup:
I was looking for isolation feet for my speakers that would be a scratch-free alternative to spikes on a hardwood floor. 
I was looking to isolate my speakers from the hardwood floor to mitigate some of the physical vibrations that went into the room from my speakers without altering the sound—I did not want a solution that dampened or muddied the impact of lower frequencies.
I was looking for a way to further my perpetual quest to squeeze even more performance out of my system in my listening room.
And so, let me tell you about this part of my audio quest and like any quest, this one became profoundly personal in nature.
A brief history of IsoAcoustics
IsoAcoustics has been around since 2012. Yet in that short period of time, the company seems to have made some fairly significant strides. Today, IsoAcoustics offers a variety of audio isolation products geared towards home audio speakers, professional studio monitors, source components, turntables, guitar amplifiers, and even stage monitors. The company serves the audiophile, cinemaphile, musician, and professional engineer alike. 
The force behind IsoAcoustics is its founder, Dave Morrison who, as the story goes, was involved in planning and building radio and television studios at the Canadian Broadcasting Corporation for yearly 20 years. Dave was also part of the design team faced with the challenges of building the world's largest multi-media center in Toronto: Over 1.72 million square feet, with recording studios for drama, music, and chamber ensembles, special effects, radio and television shows. Professional broadcasting and audio is in Dave's DNA. The expertise gained in these various endeavors meshed with a vision Dave had to improve the performance of audio products by mitigating the adverse effects of unwanted vibration on sound reproduction. 
Identifying the Problems to Address with the GAIA
I had the pleasure of coordinating my review Sean Morrison, IsoAcoustics' Product Specialist and also happens to be Dave's son. Sean was extremely gracious throughout my review period, jumping on the phone anytime and answering any question I had. In one of our introductory calls, I told Sean what I was trying to accomplish for my personal setup and we went back and forth on the best way to structure this personal journey for a larger review to the Audioholics community.
GAIA was tested on two separate large scale speaker systems with one on vinyl and the other on concrete flooring.
We decided that the ideal setup would be to test IsoAcoustics GAIA isolators on two different speaker setups. The two setups would highlight speakers of differing weights supported by differing floor structures: The first setup would consist of my Revel Ultima2 Salon that sit on a hardwood floor while second would consist of RBH SVTR Signature Tower speakers that sit on vinyl flooring laid over a concrete floor. These are two reference speaker systems. The Revels weigh in at 146 lbs each while the RBH SVTR Signature Towers weigh in at a whopping 205 lbs each! This started to feel like a welterweight and super heavyweight match of titans. 
With everything set up for the review, I settled in on four goals for this article:
1. The first goal was practical: Would the IsoAcoustics GAIA isolators be my ultimate solution for heavy speakers on hardwood floors? If you use speakers—especially very heavy speakers—on hardwood you know exactly the problem I'm referring to. While the Revels do come with a blunt end on their spiked feet, I've been using them without spikes out of sheer practicality. Should someone bump into the Salons or push them it would certainly scratch the hardwood floor—it's already happened.  Yes, I've tried those brass hardwood floor cups for spikes and invariably at one time or another, a bump or move will lift the spike out of its resting spot and right onto the hardwood floor. The result is either a scratch or worse a puncture. Don't waste your money.
2. Even though the Salons and the RBH SVTR Signature Tower have unbelievably inert cabinets, I was curious to see if the IsoAcoustics isolators would address some cabinet and room resonance issues.  Speaking about the Revels specifically, bass energy from these true full-range speakers would go into the floor and occasionally produce an oddity. For example, I would experience some smearing from resonances beginning at the 57-second mark when playing the intoxicating track "Dinner" from "Lady Caliph" from the album YoYo Ma Plays Ennio Morricone.
3. I was curious to see how well the IsoAcoustics GAIA would decouple the speakers from the room. And, if they managed to do so, would they alter the sound by sucking out the bass experience? An anecdotal criticism of vibration damping solutions is they tend to suck out authoritative bass lines. 
4. I wanted to see how well the GAIA would work across different flooring substructures.
With those broad parameters in mind, it was time to get things in motion.
Selecting the Right IsoAcoustic Product
IsoAcoustics doesn't make a one-product-fits-all solution. There are different GAIA isolators for different speaker weight classes. After discussing my setup with Sean, we determined that the GAIA I, rated for floor standing speakers 220 lbs or less would be an ideal fit for the Revel Ultima2 Salons while the GAIA Titan Theis, for floor standing speakers and subs weighing 320 lbs or less would be the right solution for the RBH SVTR Signature speakers.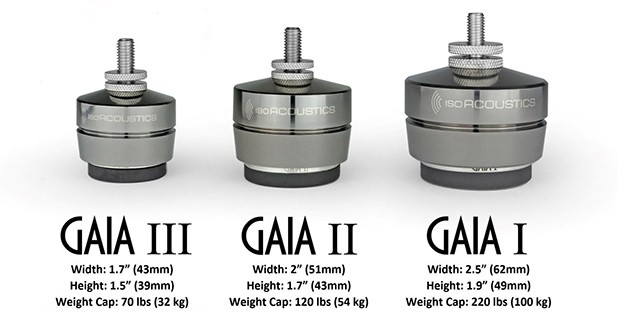 Each GAIA model is designed by speaker weight. Find out the weight of your individual speaker and you can determine which GAIA is right for you. The online calculator makes product selection easy.
IsoAcoustics makes it easy to select the right product for your particular needs. Simply go to their online calculator and select your product category (speaker, subwoofer, turntable, etc.), enter in the manufacturer and model and voila! You'll get your product's dimensions, weight, recommended isolator, and the thread size you need.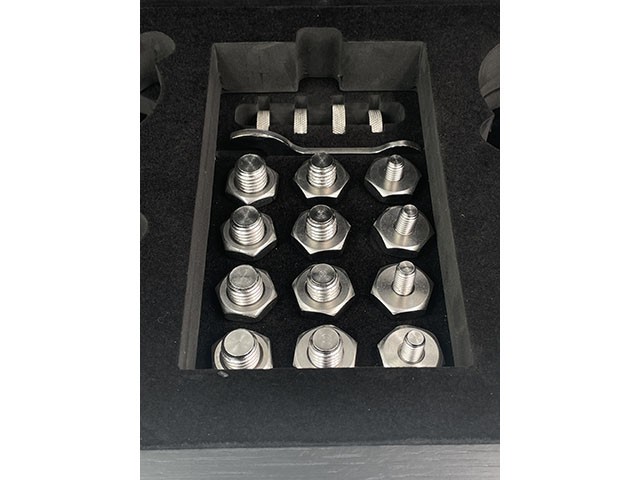 Here is a detailed view of the thread sizes included with my GAIA Titan review set.
The thread size is critically important. Each GAIA model comes with three stock thread sizes that may or may not fit your speaker. Neither my Ultima2 Salon nor the RBH SVTR took the standard GAIA thread sizes. The Salon2s for example, take a 1/2"-13 thread size and the RBH SVTR take a 3/8"-16. The GAIA I comes with M8-1.25, M12-1.25, ¼"-20 and the GAIA Titan Theis come with ½"-13, M8-1.25 and M14-2.0.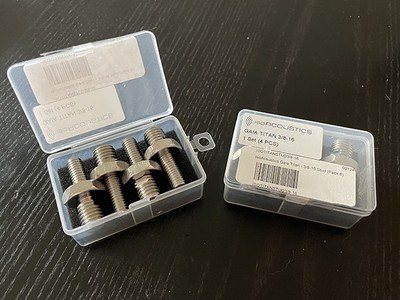 If your speakers do not fit the stock thread sizes, you can order the correct threads for your speaker. In this instance, IsoAcoustics sent me the proper threads for the RBH SVTR Signature Towers.

The threads came packaged in two sets.
The online product selector or your local IsoAcoustics dealer will be invaluable to help determine that all-important detail. Don't assume that the stock threads will fit your speaker and don't force a different thread size into your speaker. Should you need a different thread size, you can order it through an authorized dealer. 
OEM Partners Using IsoAcoustics Isolators
IsoAcoustics isolators have already gotten the attention of some well-known speaker brands through an OEM (Original Equipment Manufacturer) program, including Dynaudio and Spatial Audio Lab. In August 2021, Marten announced it will include IsoAcoustics isolators on the Coltrane 3 and Coltrane Tenor 2 models joining the Coltrane series, Mingus Orchestra, and the Parker series. In September 2021, PSB is slated to launch their new flagship line of speakers that include IsoAcoustics isolators. There are additional conversations with manufacturers about which IsoAcoustics could not publicly discuss details. Check out the full list of current IsoAcoustics OEM partners.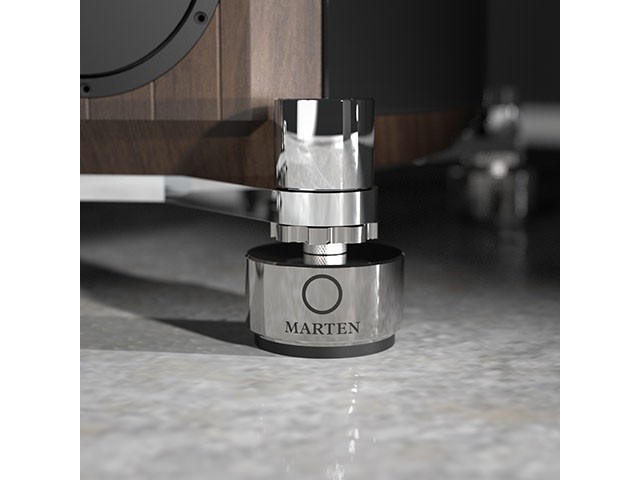 IsoAcoustics has a growing list of OEM partners who are including IsoAcoustics isolation solutions as part of their products.
IsoAcoustics Technology
We've talked enough about the use cases and now it's time to do a deeper dive into the tech. IsoAcoustics isolation products perform two primary functions: 
They resist the vibrational forces caused by a speaker's drivers and 
They decouple the speaker from the supporting surface to a degree.  
Sean gave me a deep dive into their patented isolation technology to gain a better understanding how IsoAcoustics GAIA isolators work. 
He told me that each isolation foot consists of three parts: A top isolator, bottom isolator, and connector. The way it works is a function of how the three parts work together and the characteristics of the materials comprising the isolation feet. The materials, he said, have four aspects: The durometer (hardness), the viscoelastic properties, material thickness, and shape. The top isolator connects to the GAIA housing, which in turn is connected to the bottom of the speaker. The bottom isolator is connected to the supporting surface. 
I did ask for a deeper dive on the materials and composition and Sean was coy about divulging those secrets. The isolator is best described as a "resilient elastometer." Fair enough.
The bottom of the isolation feet have a small concave shape that provides a suction cup connection to smoother surfaces. I noted this effect on both my Revel Ultima2 Salons and RBH SVTR Signature Speakers on both hardwood and composite surfaces. The suction cup effect isn't so strong that you can't move the speaker. At the same time, it provides just enough friction that it doesn't become a furniture slider. It's almost Goldilocks perfect.
The suction cup effect provides just enough friction... It's almost Goldilocks perfect.
Unlike other isolation products I've used (like Sorbothane) IsoAcoustics isolators are made of a resilient elastomer that do not leave a residue or marking on the floor. Indeed, even with speakers weighing over 205 lbs, there was no residue or marking left on the floor even after months of use. The materials also don't change properties with humidity or temperature fluctuations. 
If you're wondering "what about carpet" then you'll be happy to know that IsoAcoustics also has carpet spikes that sit under the cup portion of the GAIA. The carpet spike cups are independent of the GAIA isolators so that you can remove them and use your GAIA on hardwood anytime. The carpet spikes will run you an extra $59.99.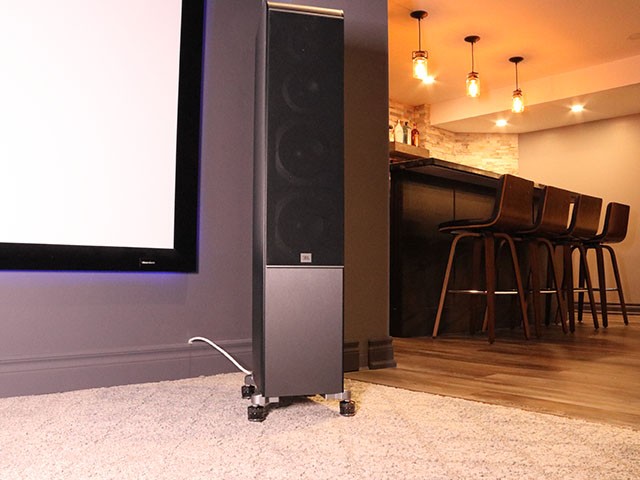 IsoAcoustics GAIA have optional carpet spikes so that you can use them on carpeted surfaces.
Sean told me that while other foam or rubber isolators will isolate well over a narrow frequency range, their three-part design not only works across the full frequency range, but also that their solution is more effective. All the energy is managed by the isolators, which are tuned to work over specific weight ranges.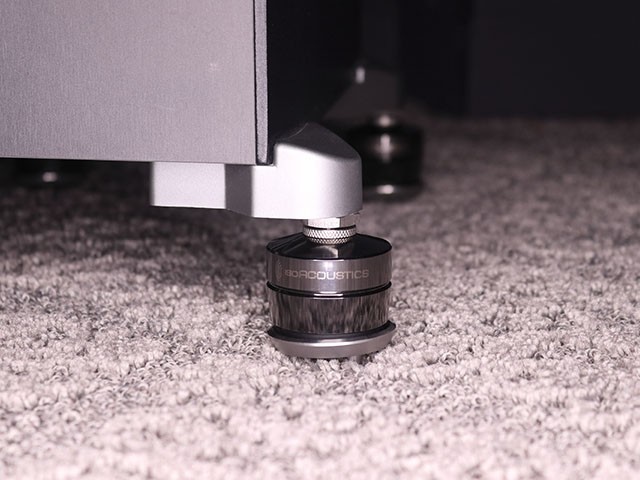 Detail view of the IsoAcoustics GAIA isolators with the carpet spike cup
I've used various isolation products before and the thing that probably surprised me the most was to learn that IsoAcoustics isolators are directional. Sean told me that the directional performance is important when used with speakers and subwoofers because the isolators are designed to be aligned with the speaker's drivers. When the speaker's drivers are pulsating back and forwards, the speaker's energy is primarily directional. For this reason, the isolators themselves are directional. 
IsoAcoustics gives you a visual clue to installing the isolators them properly. The directionality of the isolators is aligned with the logo facing forward. You can also turn the isolators 180 degrees (facing backwards) if you don't want to see the IsoAcoustics logo. Sean told me that when aligned properly, the isolators resist lateral movements and oscillations. This results in improved sound clarity and focus.
There's another element that IsoAcoustics isolators perform as well—and that's decoupling a speaker or component from the supporting surface below. Decoupling the speakers reduces vibrations feeding into the supporting surface and neighboring objects. It also prevents the vibrations from reflecting and being conducted back into the cabinet from the supporting surface.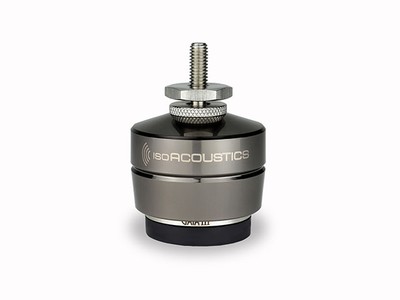 Detail of an IsoAcoustics GAIA III isolator. 
The analogy Sean related was to imagine a pipe bolted to the wall that's hit with a hammer. Vibrations travel down the pipe, hit the wall, and come back. IsoAcoustics claims that these reflections cause a loss of clarity and any artifacts that are replicated in both channels are perceived to be in the middle and cause the soundstage to collapse. If that's indeed the case, then you should be able to measure the effects. Well, that's exactly what the IsoAcoustics team did.
Can We Measure the Difference IsoAcoustics Isolators Make? 
Sean was very forthright about producing measurements to support the effectiveness of the technology. Using a laservibrometer, an instrument that measures vibrations on a surface and rapidly scans point-by-point over the test object's surface to measure vibration levels at various points, Sean showed me how IsoAcoustics isolators reduced the resonant energy transferred from the speaker to the supporting floor surface.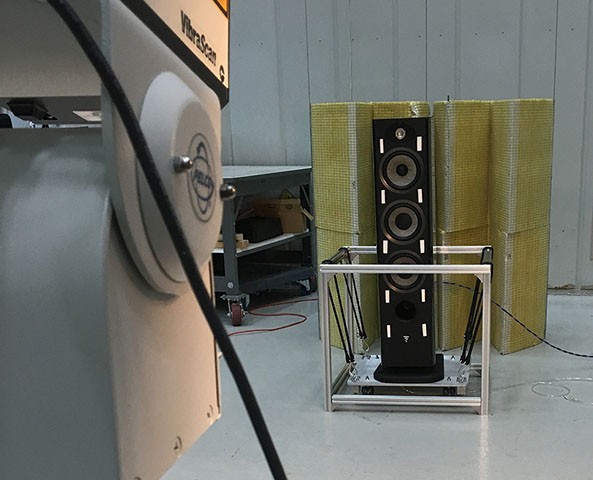 IsoAcoustics tested the GAIA isolators performance at the acclaimed National Research Council of Canada.
What about spikes? According to IsoAcoustics, using spikes with speakers creates a closed boundary condition where vibrations coming from the speaker hit the surface and those vibrations are conducted back to create internal reflections in the speaker. It's like that pipe analogy but perhaps a more visual image is thinking of a splash in a swimming pool and resulting waves that spread out. When those waves hit a boundary (the pool wall for example) they reflect back into the pool. 
To demonstrate this point, IsoAcoustics set up a test environment at the National Research Council (NRC) of Canada. Dr. Floyd Toole's, Dr. Sean Olive's, and Todd Welti's work at the NRC has laid a strong foundation for what much of what we now hold as fundamental truths in acoustics and psychoacoustics of loudspeakers and headphones. Perhaps we should rename the NRC the Sacred Temple of the Audio World.
IsoAcoustics tested speakers on GAIA isolators and then the test was repeated with the speakers raised onto spikes using solenoids. The test was repeated yet again with the speaker base suspended by bungee cords. According to the controlled environment, variation in height was kept to within ¼" (less than ½ a wave length at 20 khz) when changing between spikes, GAIA's or bungee. This setup allowed for the testing of each setup while keeping other variables consistent.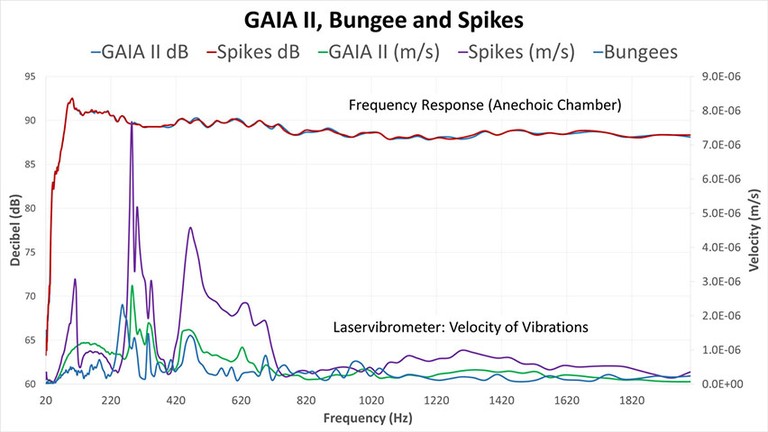 You can see that the GAIA reduced the velocity of vibrations relative to spikes and more closely tracked the vibration isolation afforded by bungee cords.
The results showed that the vibration isolation the GAIA provided was similar to the isolation with bungee cords. The cabinet vibrations of the speakers isolated with GAIA and with bungee cords resulted in a reduction in cabinet vibrations through the introduction of an absorption layer that reduced secondary reflections. 
What's important to note throughout is that using the GAIA isolators didn't dampen the speaker's bass output nor did it change the speaker's frequency response. You won't see any differences when measuring using an SPL meter for example. That's actually a good thing. One of the knocks against isolation products is that they can make the bass muddy or suck it out. The data shows that this is not the case here.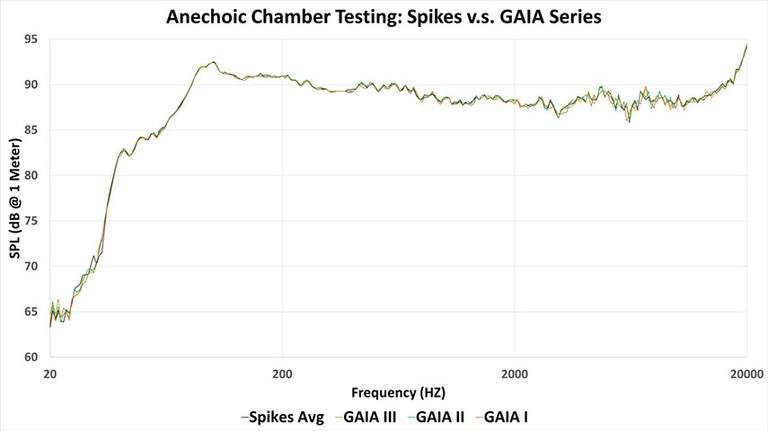 The GAIA did not alter a speaker's frequency response. Here is a comparison of the measurements of the speaker with spikes and with the GAIA.
The broad takeaway from these experiments is that GAIA isolators address harmful vibrations and help mitigate boundary effects without impacting the speaker's sound was measurable.
Now the next question: Did those controlled environment measurements translate into audible, real-world perceptions?
Unboxing and Setup
When the GAIA models arrived the first thing that struck me was the sheer weight of the boxes relative to their size. The GAIA I and GAIA Titan are meticulously packaged. The GAIA I come in a stamped, imitation leather box with soft, suede-like interior. Each GAIA isolator is individually protected in molded padding.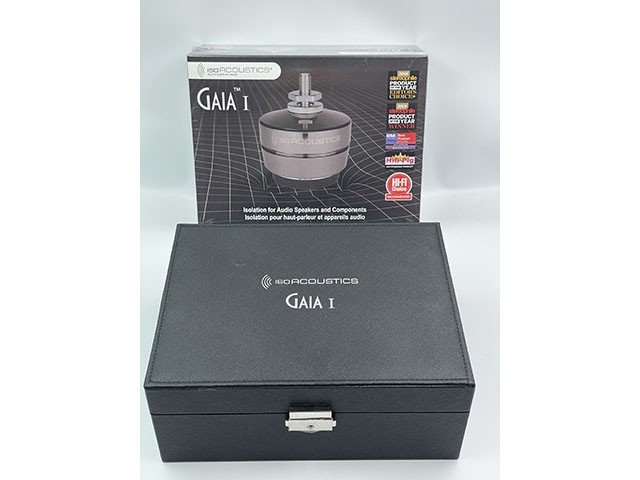 The GAIA I box and cardboard sleeve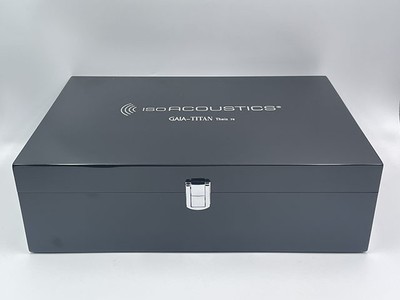 The boxes for the GAIA I and GAIA Titan were impeccable. Look at the gorgeous, high gloss piano black box that the GAIA Titan come in.
The GAIA Titan takes the whole packaging experience up to a different level. They come in a black, piano gloss wooden box. The GAIA Titan's box is complementary eye candy for your high gloss, piano black speakers.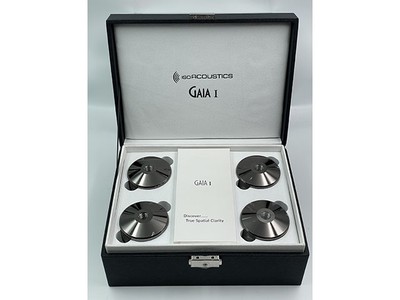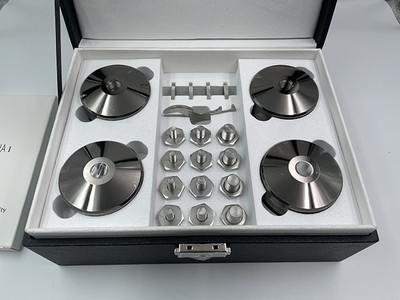 The GAIA I isolators with included threads and wrench above.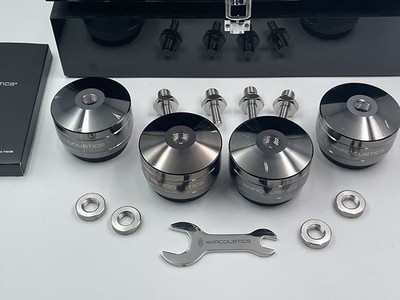 Detail of the IsoAcoustics GAIA Titan included isolators and accessories. Each isolator comes wrapped in a clear plastic to ensure you don't scratch them prior to installation. The photo above includes the plastic covering, which is the reason why you may see some bubbles on the finish in the photo above.
Only when I lifted the GAIA out of their protective packaging could I appreciate the sheer weight, build quality, and simply beautiful craftsmanship of the products. On my review samples, there was an oh-so-minor variation in the finish of a few of the GAIA with a couple tending to be slightly darker in color by a hair. I couldn't notice the variation once the GAIA were installed.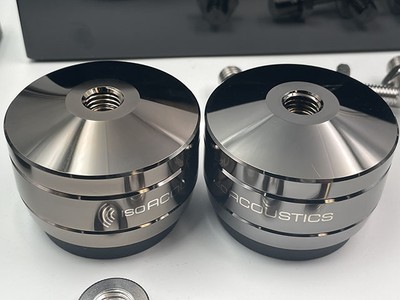 With the protective plastic removed, I noted that in my review sets, one of the GAIA Titan had an oh-so slight difference in the finish.

Note that the left GIAIA Titan isolator has a slightly different finish than the right GAIA Titan isolator.

Once installed, it was very difficult to see the difference as the brushed aluminum finish of the isolators picks up the color of the flooring.
Speaking of installation, how on earth was I going to install isolation feet onto 146-lb and 205-lb speakers? The answer is… it depends. IsoAcoustics has an excellent step-by-step video on YouTube that you can watch here. The video goes through all the steps you'll need to install any GAIA isolator. In a nutshell, the process is as follows:
Unpack the GAIA
Install the proper thread size and knurled lock nut into the side with a small notch
Install the thread with the small notch side into the GAIA top housing and tighten the knurled locknut.
Install the top hex locknut and leave a small gap between the top and bottom locknut 
Install the appropriate thread size into your speaker's spike thread 
Tighten the locknut against your speaker's base using the included wrench. Note that if the bottom of your speaker has a painted finish, the locknut may mar or scratch the finish. I checked with Sean and he said you can certainly head down to the local hardware store and install a rubber gasket or rubber washer between the GAIA and the painted finish of the speaker bottom without impacting performance.
Install the GAIA and then rotate the foot until the logo is facing the front of the speaker (or 180 degrees backwards) and then tighten the locknut into place.
To fine-tune speaker placement, tilt the speaker and put a cloth under the GAIA to slide them into any position.
Once you've found the sweet spot, you can tilt the speaker and pull out the cloth
If your floor is uneven, you can tilt the speaker and then loosen the hex locknut against your speaker base to adjust the GAIA's height.
Screw the GAIA into your speaker's bottom threading 
I strongly recommend watching the YouTube video a few times to get the idea before you start. 
If your current speaker has spikes or feet you may find tilting it to be a simple matter. However, if you do not have feet on your current speakers then you may find it more efficient to tilt your speaker on its side to do the job.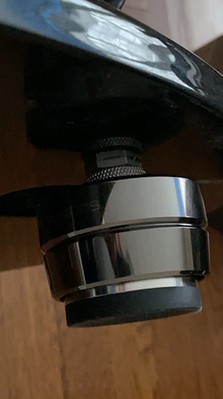 Detail of the bottom of the Revel Ultima2 Salon base with the GAIA I installed.
Detail view of the IsoAcoustics GAIA I installed on my Revel Ultima2 Salon
The process shown in the video is fine to do by yourself for a three to four foot speaker. What what on earth was I going to do with two sets of speakers that are taller and weigh more than some individuals! And remember the SVTR are two independent modules bolted together with a steel plate! 
The obvious answer is phone a friend or get your spouse to ensure that the installation goes smoothly.  My wife and I were an efficient team. I did however run into a problem with the RBH SVTR.  The SVTR's massive, solid aluminum feet would not unscrew.  The RBH SVTR have a large, rubber washer that created a hermetic seal between the bottom of the speaker and the aluminum feet that just wouldn't budge. We needed some more leverage. I was adamant that I wasn't going to dissemble the SVTR Signature Reference Speakers. We finally decided to put a blanket on top of a very large dolly that has  legs on the shaft so that when tipped, the dolly rests horizontally. So we tipped the SVTR onto the dolly so that we had a solid working platform.
I tried everything to loosen the seal between the rubber and the base of the speaker—razor blades, WD40—you name it. Nothing worked. Finally, I got the idea to use a strap wrench. Eureka! The strap wrench gave me the leverage I needed to loosen all the feet. My ancestor Archimedes would have been proud.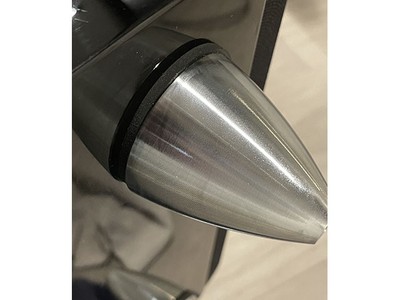 Notice the large rubber washer between the massive feet of the RBH SVTR Towers. I had to use a strap wrench to finally pry them loose. A testament to RBH's incredible build quality!
By now you may be wondering and the answer is YES, IsoAcoustics does offer a $499 F1 Speaker Jack. The F1 is specifically designed to lift up your speaker and keep it in the raised position with enough clearance to install any GAIA or GAIA Titan isolator. I did not use or test the F1 Speaker Jack during my review (though in retrospect I should have asked for one!). I also thought about using an air shim—and even purchased three of them to give them a try. But after a few minutes, it became clear that the best option for larger speakers is to make it a two-person affair. 
And after that, success! I had the GAIA I and the GAIA Titan ready to rock and roll. 
After I had the IsoAcoustics GAIA installed, I noticed that they had some play if I pushed on them. This play was something that threw me for a loop and I wasn't expecting it. I had the impression that the GAIA were somehow going to be inert objects like spikes. Well, fear not, this is part of their isolation design. Moreover, Sean told me that tipping a speaker with the GAIA installed to position it or move it around won't damage the GAIA isolators. 
With everything properly set up and positioned, it was time for some listening tests.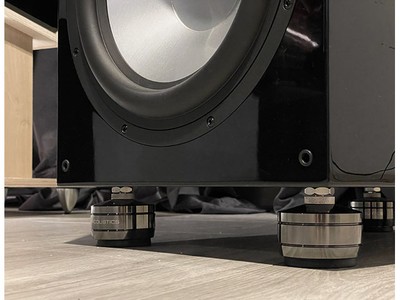 Success! with the strap wrench technique in play I was able to quickly get the IsoAcoustics GAIA attached to the massive RBH SVTR Signature speakers.

I positioned one of the GAIA (right front isolator) with the logo facing backwards so you could see the difference in the aesthetic.

Confused about what AV Gear to buy or how to set it up? Join our Exclusive Audioholics E-Book Membership Program!
Recent Forum Posts:
Alwezhpy posts on November 26, 2021 15:24
gene, post: 1517982, member: 4348
I never thought that decoupling my loudspeakers from the floor would have such a profound impact on their sound. IsoAcoustics GAIA Isolators showed me otherwise and there is real science behind them which we will explore in this review. I tried the GAIA isolators on both of my reference systems featuring Revel Salon 2s and RBH Sound SVTR speakers. What I heard was nothing short of marvelous. Read on to find out why.

51609



Read:

IsoAcoustics GAIA Isolators Review



I've tried this with my Wharfedale Diamond 250's and Klipsch Tangent 50's and thought I could hear a small difference. Not sure if it was the power of suggestion or a real difference. This wouldn't work on my Klipshorns as that bottom seal is part of it's bass management to push the bass sound out the sides.
zieglj01 posts on November 26, 2021 14:48
As the amazing and unique audiophile world turns with the wonders of the human mind and ear!!!
warnerwh posts on November 25, 2021 23:53
I'll believe these feet work as a benefit when there are objective measurements proving there is an audible difference. The only thing I can think of these feet would do would be to lift the speaker higher off of the floor. This will affect the bass and the speaker/room interaction so the frequency response at the listening position could be a tiny bit different. Then there's the other possiblity and that these feet could cause the sound in a particular room to be worse depending on the acoustics of that particular room. An accelerometer on the speaker cabinets both with and without the feet needs to be used also. I'll bet this never happens.
lovinthehd posts on November 24, 2021 16:16
TheoN, post: 1519357, member: 68072
The goal of my article was to raise this question from the 2nd paragraph in the review:


Any journey—any inquiry—starts somewhere with questions and observations. My personal experience with the IsoAcoustics GAIA isolators paired with different speakers and placed on different flooring substrates taught me that indeed this is an area that we as audio enthusiasts need to explore more.

The ultimate question is: Do isolation products "work"?

If they do, to what extent? Or, are they actually destructive to a speaker's performance? Do some flooring substrate materials benefit more? (What I perceived and hypothesized is that the substrate material-speaker interaction plays a clear role in the "performance" of the IsoAcoustics product). If yes, what are those substrate materials? What are some use cases where isolation products may make sense? Are there a set of objective standards and measurements that can be developed to then measure and compare them?

This is all part of the discussion I wanted to start. I hope that discussion will lead to further exploration with broader measurements, standards, and conclusions. And to someone's question, yes, you have PSB, Dynaudio, and others who are offering IsoAcoustics isolators as part of their speakers.

I also hope this process re-emphasizes that speakers and the rooms they are placed in are part of a larger system. Therefore when we talk about any speaker in a room, we need to remind ourselves continually that the speaker-room interaction is an organism.

I can think of no better place than Audioholics for questions and discussions like this to take place with tough questions and rigorous debate. That's the gem of @gene 's vision and what contributors like @Matthew J Poes have brought to the site.

As to the point of price— just look at the con in the review . Yes, they are expensive. Yet put it into perspective. The GAIA III for speakers up to 70lbs is roughly $240. That's not a big hit. That's more in line where most enthusiasts would have their speakers.

Speakers in the 100+lb to 200+lb range don't cost $500. Those speakers are going to cost thousands if not tens of thousands of dollars. That enthusiast will pay more in sales tax than the $800 or $1,000 cost for a set of IsoAcoustics isolators! The IsoAcoustics GAIA and TITAN are beautifully built and of course someone would want something that is aesthetically designed and built well to pair with a $15,000, $25,000, or $70,000+ speaker. There's nothing wrong with accessorizing your gear with beautifully designed audio jewelry.

Finally, I had very specific goals in mind for the IsoAcoustics product for my setup. I found the GAIA to be a great solution for me in my setups—especially for heavy speakers on hardwood floors with no marring, scratching, or residue.

I'll leave you with this. Many years ago at our previous home, the tonearm of my turntable would physically skip if someone would walk in a certain area of the hardwood floor. I purchased some Sorbothane isolators along with some Vibrapod isolation feet. Not only did the combination of the two isolation products stop the tonearm skipping, someone could now jump in that area of the floor and the tonearm wouldn't miss a beat. The Sorbothane left residue markings on my cabinet and the top cracked. EDIT: Here's the link to the Sorbothane feet I had used: https://www.crutchfield.com/S-tiD3NRvHfwb/p_703SQFEET/AudioQuest-SorboGel-Q-Feet.html

Believe what you want about isolation products. Isolation products do nothing? My experience tells me otherwise. I think there's something there. I'm looking forward to what I feel is the much needed and necessary research into this area—to prove or disprove. And it will be great to say it all started on Audioholics first.

So now that you've started it, you're not going to finish it with something in the way of objective testing/measuring?
lovinthehd posts on November 24, 2021 16:15
Matthew J Poes, post: 1519370, member: 85392
Fixing that above problem does actually require a very compliant decoupler. Rubber feet are not nearly compliant enough. Sadly only SVS and Isoacoustics makes decouplers with the right compliance to fix this. There is nothing fancy about this. It could be made cheaply. It just isn't common.

For those interested I am happy to share cheap decouplers that would have the right compliance for this. None look good.

So what is the durometer required and of what material? I couldn't care less about the aesthetic of something under a speaker really, so what are the cheap decouplers that work as well as these IsoAcoustics offerings?
Post Reply