Anthem AVM 60 11.2CH Preamp/Processor Review
Anthem AVM 60 11.2CH Preamp/Processor Review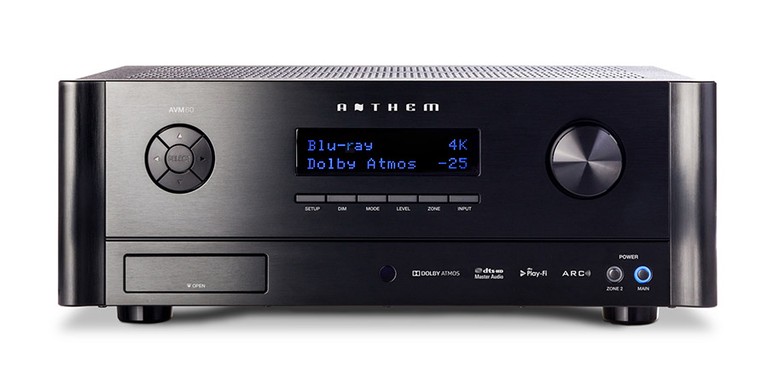 Anthem's AVM 60 Network Preamp Processor
Preamplifier measured at the XLR output:
Maximum Output (<0.1% THD) 8.4 Vrms, subwoofer channel 9.9 Vrms
Frequency Response (2 Vrms output) 10 Hz — 35 kHz (+0, -0.25 dB)
Frequency Response, Analog-Direct (2 Vrms output) 10 Hz — 80 kHz (+0, -0.25 dB)
THD+N (2 Vrms output) -95 dB
S/N Ratio (2 Vrms output, IEC-A filter) 110 dB
Immersive Audio Formats Supported
Dolby Atmos, Dolby TrueHD

DTS:X (via forthcoming firmware), DTS HD

Power Consumption
Typical Load 60 W
Standby 0.3 W
Standby IP Control Enabled 4.7 W
Standby HDMI Bypass Enabled 8.2 W
Dimensions
Height 6-1/2" (16.5 cm)
Height with Rackmount Kit 4U
Width 17-1/4" (43.9 cm)
Depth (not including power cord) 14-1/2" (36.4 cm)
Weight 20 lb (9 kg)
Pros
Superb two-channel audio quality in a multichannel preamp
ARC room correction remains among the best in the business
ARC Mobile App
Multi-sub calibration is done properly
Quad-core DSP and premium 32-bit/768 kHz differential-output D/A converters
Rich IP and RS-232 control set for deep integration with home automation systems
Ability to create virtual sources with assignable inputs
DTS Play-Fi allows for hi-res audio streaming
Zone 2 can play independent digital sources unlike previous AVM models
Cons
Not as many bells and whistles as the competition
DTS Play-Fi won't do multi-room audio with the AVM 60 as a hub
Limited trigger and Zone support
Some built-in features of previous generation AVM series must now be handled by home automation controllers
No Zone 2 HDMI output
Anthem AVM 60 Introduction & Features

If someone were to write the history of high-end home theater, Anthem's preamp-processor line would surely merit a spotlight. Anthem's pre-pros are legendary. Their build quality, sound, upgradability, and of course heralded ARC room correction are just some of the factors that have made Anthem's product line a huge success over the years.
Anthem AVM60 11.2CH AV Processor YouTube Review
When new technologies have come about, however, high-end boutique brands like Anthem usually aren't the first ones out the door with new products. So when HDMI 2.0, HDCP 2.2, Dolby Atmos, and DTS:X hit the scene, it wasn't necessarily a surprise that Anthem was holding fast to its long-in-the-tooth AVM 50v 3D pre-pro. While there were rumors and rumblings about an AVM 60 for years, there was nothing concrete… until now.
Anthem's AVM 60 is by all accounts the long-awaited successor to the acclaimed AVM 50v 3D pre-pro and it checks off nearly all the essential boxes. On-board HDMI 2.0a with HDCP 2.2, HDR, and BT.2020 are all standard.
There are seven HDMI inputs on the rear and one on the front. You'll find MHL support on the front HDMI and HDMI Input 7. There are two parallel HDMI outputs, though only HDMI Output 1 supports an audio return channel. HDMI switching between sources has the accustomed HDMI lag. I would like to see Anthem and other high-end products follow Krell's lead and implement EDID caching support for each source so that you can have instantaneous HDMI switching.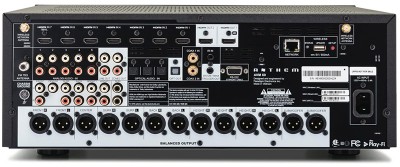 Rear view of the Anthem AVM 60.

The rear panel layout is identical to the current MRX x20 models. Instead of speaker binding posts, the AVM 60 has balanced outputs. Say bye bye to AM radio, multiple trigger outputs, component video output, and balanced analog inputs.For the first time, the AVM 60 brings standby HDMI bypass. You designate which HDMI input (including last used) functions as the bypass via the unit's menu. Unlike the AVM 50v models, the AVM 60 eschews any on-board video scaling or processing.
The Anthem's audio support is impressive, but it's not as feature-rich as some of the competition in this price range.  Anthem's focus has always been audio quality over feature quantity. The heart of the AVM 60 is powered by a quad-core DSP and premium 32-bit/768 kHz differential-output D/A converters.  Thanks to on-board Ethernet and Wi-Fi, you can stream hi-res music files to the AVM 60 via DTS Play-Fi.  The AVM 60 is the first pre-pro to support DTS' hi-res music streaming technology.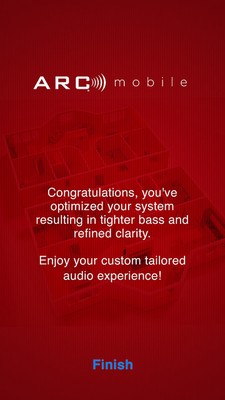 I should note that we're seeing a format war with on-board streaming to powered zone speakers. Yamaha, for example, is featuring its proprietary MusicCast across its product line; Denon its own HEOS; and companies like Onkyo and Pioneer are adopting Blackfire's FireConnect. Speaking of zones, the AVM 60 stands as Anthem's first pre-pro that can play a digital source in Zone 2 without mandating an analog connection or requiring you copy the Main Zone source to Zone 2. That's a very welcome feature.
There is a standard complement of digital and analog audio inputs. What's striking about the AVM 60, however, is its staunch commitment to digital inputs. The analog section is Spartan and certain legacy analog inputs you'll find on big box branded pre-pros are absent on the Anthem. For example, there's no component video (no surprise there), and all XLR inputs (including analog stereo and AES/EBU) are gone too. Those with high end external USB DACs with balanced output should take note of this change.
The AVM 60 sheds some custom installation features. There are two independent audio zones, down from the three zones available in previous AVM models. There is also only a single 12v trigger down from three in previous models.  You do, however, have the option of IP, IR, or RS-232 control and native integration with high-end automation systems like Control4. The only caveat is that the AVM 60 now adopts the same IP, IR, and RS-232 command set as the MRX receivers. That means owners of previous AVM-series components can't just swap out an AVM 50 for an AVM 60 and have everything "just work."
Processing Power
The AVM 60 is Anthem's first 11.2 channel pre-pro. The AVM 60 will support up to a full 7.4.4 (7 floor-level speakers, 4 subwoofers, and 4 height channels) Dolby Atmos home theater setup. DTS:X support is forthcoming via future firmware.  If you're looking for when, let's just say hopefully soon.  According to my discussions with the folks at Anthem, there are no immediate plans for Auro-3D.
The AVM 60's audio section remains at the top of its game. It's the crown jewels. If you're considering an Anthem product, it's because you value audio reproduction above all else. The AVM 60 is packed with premium components and the option of balanced outputs for all channels. The most precious jewel in the crown, however, may very well be Anthem's Room Correction or ARC.
The newest ARC-2 room correction is standard and has several refinements over its predecessor.  I loved it. Unfortunately you cannot use ARC-1 files with ARC-2.  You'll need to do speaker measurements from scratch.  ARC-2 supports four speaker profiles (up from two in ARC-1); comes with a calibrated microphone; high quality microphone stand; and a unique calibration file specifically for your microphone to compensate for any variances.  The new ARC-2 also allows you to print out a detailed report on your measurements and final configuration—a nice touch for custom installers to provide to their clients. 
ARC-2 requires a separate Windows-based computer or a Mac running Windows via Bootcamp (sorry Linux users) to perform its calculations.  Unlike the AVM 50v, however, you don't need an RS-232 connection. You upload your ARC results and calculations via your network—and boy is it fast.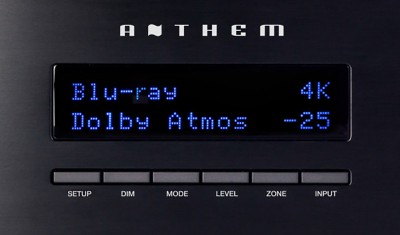 Anthem's AVM 60 supports all the latest HDMI 2.0a standards as well as 4k/UHD, HDCP 2.2, and Dolby Atmos. DTS:X support will be coming in a future firmware release.
A major notable about the AVM 60 is that you can now conduct ARC measurements from your iOS device.  It's simple and awesome. I covered ARC Mobile in more detail here. By the time you read this review you should be able to purchase an Anthem calibrated microphone that plugs into your iOS device. This is simply brilliant and clearly the future direction of the product.
Revolution, Evolution, or New Product?
Whether you view the AVM 60 as a revolution, evolution, or an altogether new product will depend on your perspective. Generally speaking, you should think of the AVM 60 as an MRX preamp section with balanced outputs that allows you to choose your own amplification. That may come as a surprise to many. Until now, the AVM series pre-pros and MRX-series receivers were two completely separate lines. No longer. They share the same chassis, features, command set, inputs, outputs, and software functionality. While this decision makes complete sense from lots of angles, some longtime AVM users—especially those who have been heavy users of the AVM 50's mature custom-installer friendly hardware and software—may at times feel like the AVM 60 is two steps forward but also one step back. I know I did.
Whether you view the AVM 60 as a revolution, evolution, or an altogether new product will depend on your perspective.
When I tried to integrate the AVM 60 into my setup, I had to relinquish my independent Zone 3 and run it in parallel with Zone 2. I likewise had to redo my fine-tuned 12v triggers. I had to give up one or two other granular features I was accustomed to as well.
For example, I had my AVM 50v's three 12v triggers configured on a source-by-source and zone-by-zone basis. Thus, if I was playing multichannel content, I could power on all my amps at once; If I was playing only a particular zone, I could turn on only that zone amp; and if I was playing only two-channel material, then I had the ability to trigger on only my monoblock amps.  While certainly not a deal-breaker, it certainly wasn't what I was used to coming from Anthem.
Granular features that were integral aspects of previous AVM software iterations weren't available in the GUI. For example, the AVM 60 doesn't have the ability to turn on or off on a weekend or weekday schedule.  I use this feature daily on the AVM 50v to ensure that the AVM 50v is turned off along with all triggered components. Granted, you don't have some of these fine-tuned features in other pre-pros either, but I liked having those options and used many of them. I talked with the Anthem team about some of these changes. I respect their decision on dropping some of these items.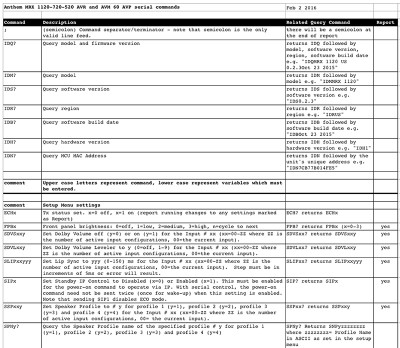 The AVM 60 has an extensive IP and RS-232 command set that is fully documented in a downloadable Excel file from Anthem's web site.

This reality simply means that with the AVM 60, you'll need to push some of this functionality over to your home automation system, (assuming you have one). With the AVM 60's rich IP and RS-232 command set you can accomplish seemingly any task easily. You can download an Excel file from Anthem's site that that outlines every command you can call on the AVM 60. I've written some custom installation scripts using the RS-232 command set on the AVM 50 platform and was very happy to see that I had the same detailed control with the AVM 60.

Confused about what AV Gear to buy or how to set it up? Join our Exclusive Audioholics E-Book Membership Program!
Recent Forum Posts:
Cjamrr posts on May 18, 2019 01:01
I'm waiting to hear a Don Sachs preamp that my neighbor custom ordered 2 weeks ago. Then I will demo the Anthem STR preamp and compare the 2 using a line level audio router.

I'm hoping to achieve a good 2 channel sound system for my system while playing records.

In the future, my Onkyo will be for HT only.

Any thoughts on the 2 preamps mentioned
is much appreciated.
Cjamrr posts on April 28, 2019 12:41
Nice. Thats what I was hoping to hear. Within 2 months I will be purchasing the STR preamp. Already have the Anthem MCA 325 for center and surround speakers and have a Carver M-1.0t mk II for fronts, Which in the future plan to replace with Anthem STR Amp for Fronts. Onkyo TX RZ 1100 is AVR.
gene posts on April 28, 2019 12:11
Cjamrr, post: 1313603, member: 84317
Isn't the Anthem STR preamp the same purpose as a Anthem AVM 60?
No the STR is 2CH and built to a higher calibre of performance for that function.
Cjamrr posts on April 28, 2019 12:05
gene, post: 1313530, member: 4348
We do cycle older reviews in the featured review section for our sponsors to increase visibility of that content. The content to the right top of the homepage is most current as is the content below the fold.
Isn't the Anthem STR preamp the same purpose as a Anthem AVM 60?
gene posts on April 28, 2019 02:09
VonMagnum, post: 1313462, member: 86028
Are "Featured Reviews" on the main page (or rather this was on the 'Product Reviews' page) cycled or something? I clicked on this thinking it was a new review only to then notice the 2016 date…. When I went back there was a 2017 subwoofer review there instead (that was the "home" page). Somehow, I expected the newest stuff first. o_O
We do cycle older reviews in the featured review section for our sponsors to increase visibility of that content. The content to the right top of the homepage is most current as is the content below the fold.
Post Reply