Integra Research DRX-R1 AV Receiver /DRC-R1 Processor Preview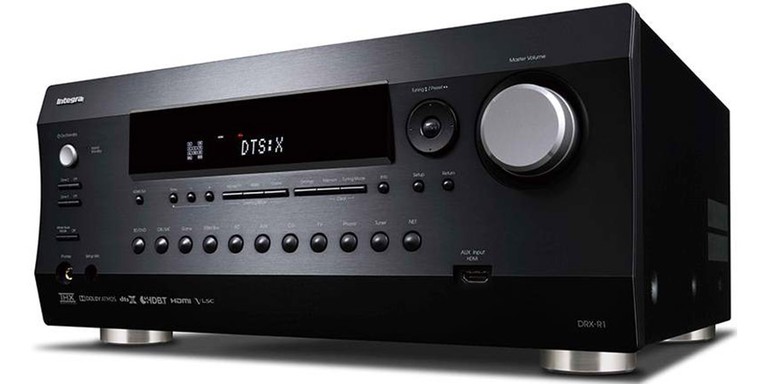 Integra's new Research Series
Summary
DRX-R1 Network AV Receiver
Power Output: (8 Ω, 20 Hz-20 kHz, FTC) 140W / Channel (8 Ω)
Dynamic Power: 320W / Channel (3 Ω); 270W / Channel (4 Ω); 160W / Channel (8 Ω)
THD (Total Harmonic Distortion + Noise): 0.04% (1 kHz, 100W)
Input Sensitivity and Impedance: 200 mV / 82 k-Ω (LINE) 3.5 mV / 47 k-Ω (Phono MM)
Rated RCA Output Level and Impedance: 1 Vrms / 330 Ω (Pre Out / Subwoofer Pre Out) 200 mV / 1.2 k-Ω (Zone Out) 2.0 V / 1.2 k-Ω (Zone Pre Out)
Phono Overload: 70 mV (MM 1 kHz, 0.5%)
Frequency Response: 5 Hz - 100 kHz / +1 dB-3 dB (Direct Mode)
Tone Control: ±10dB, 100 Hz (Bass); ±10dB, 10 kHz (Treble)
Signal-to-Noise Ratio: 108 dB (Line, IHF-A); 90 dB (Phono)
Speaker Impedance: 4 Ω - 16 Ω
Power Consumption: 340 W
Stand-by Power Consumption: 0.15 W
Dimensions (W x H x D): 17 1/8" x 7 3/4" x 17 9/16"
Weight: 42.9 lbs. (19.5 kg)

DRC-R1 Network AV Preamp / Processor
Input Sensitivity and Impedance: 200 mV / 82 k-Ω (LINE), 3.5 mV / 47 k-Ω (Phono MM)
Rated RCA Output Level and Impedance: 1 Vrms / 330 Ω (Pre Out / Subwoofer Pre Out) 200 mV / 1.2 k-Ω (Zone Out) 2.0 V / 1.2 k-Ω (Zone Pre Out)
Phono Overload: 70 mV (MM 1 kHz, 0.5%)
Frequency Response: 5 Hz - 100 kHz (Direct Mode)
Tone Control: ±10dB, 100 Hz (Bass) ±10dB, 10 kHz (Treble)
Signal-to-Noise Ratio: 110 dB (Line, IHF-A) 80 dB (Phono)
Power Consumption: 65 W
Stand-by Power Consumption: 0.15 W
Executive Overview
Integra is Onkyo's professional brand that's geared towards custom installers and high end enthusiasts. It should therefore come as no surprise that Integra launched new products at CEDIA, the annual tradeshow that targets the custom installation market.
Integra launched the DRX-R1 AV receiver and the DRC-R1 network preamp, which are the first two products in Integra's new Research Series.  Integra says that all products in the Research Series will be focused on next generation, immersive audio.  That means Dolby Atmos and DTS:X support will be staple feature.  Research Series products will feature Vector Linear Shaping Circuitry (VLSC) that Integra claims performs noiseless signal processing on all channels. For Room EQ, the latest generation of Integra's AccuEQ featuring AccuReflex Phase Alignment technology will be included.
Integra is also stepping up support for the present and future of hi-resolution and streaming audio. Top on that list is support for MQA (Master Quality Authenticated) decoding. MQA is a relatively new authenticated file format that ensures you're getting the quality of the original studio master in a file format that's small enough to stream. Authentication is done via a digital fingerprint in the file.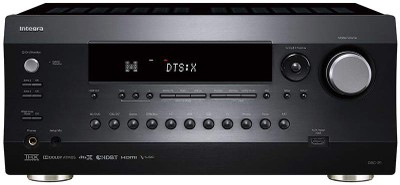 Integra's new DRC-R1 network preamp-processor
Speaking of streaming, the Integra is Apple AirPlay compliant It also supports today's major streaming services such as TuneIn Radio, Pandora, and Spotify. Research Series models will also include Tidal and Google Cast for audio.  MQA, Tidal, and Google Cast for audio support will be forthcoming as a future firmware update on the announced models.
Custom installers will be happy to know that the Research Series helps take care of basic IP, and IR distribution. The Research Series has an app and full IP-control. There are infrared (IR) inputs and an IR output make for a clean, reliable installation and allow pass-through of IR signals to control other devices. There are also three fully programmable 12 volt triggers to power on other equipment.
Integra says that the Research Series will have high quality parts and a newly designed, highly rigid, anti-resonant chassis.
DRX-R1 11.2-Channel Network A/V Receiver (MSRP: $3,200 USD)
The DRX-R1 is an 11.2 THX® Select2™ Plus certified Network AV receiver. It will natively support 7.2.4. Dolby Atmos and DTS:X immersive audio layouts without needing additional amplification. In case you're wondering about Auro-3D support, while Integra competitors Marantz and Denon offer Auro-3D as a paid add-on,  there are no indications that Auro-3D support is coming anytime soon to these Integra models.
The receiver is rated to deliver 140 watts per channel into 8 ohms, but that rating is with only two channels driven. However, at least Integra is making this rating full bandwidth at a low distortion level unlike their Onkyo counterparts rating at 6 ohms, 1CH driven into near clipping to boast an unrealistic power rating of 200 watts/CH with virtually the same amplifier section.  Integra says that the AVR features a high current power supply and "massive" high power transformer.  The Onkyo TX-RZ3100 and Integra DRX-R1 shares the same Class D D3 power platform as the Pioneer SC-LX901 AV receiver so we'd expect similar power output from all three models.
Integra's DRX-R1 AV receiver has 11 on-board amplification channels to drive a 7.2.4 Dolby Atmos setup without need for external amplifiers.

As is typical these days in high end gear, all the latest video specs are standard. There are 8 HDMI 2.0a inputs (1 Front / 7 Rear), Main Out, and Zone 2 output (4K / HDR / HDCP 2.2) The unit includes 4K / 60 Hz-capable HDMI® terminals supporting High Dynamic Range (HDR), 4:4:4 color space, BT.2020, and HDCP 2.2 for UltraHD entertainment.
Where the DRX-R1 really shines is in its multi-room and home automation integration. A powered Zone 3 and Zone 3 pre-lineout distributed audio playback are standard. Integrators can set Max Power / Power On volume settings for each of the three zones. There are independent bass and treble controls for Zone 2 and Zone 3. The Integra also sports discrete 192 kHz / 24-bit AK4388 stereo DACs (x2) for Zone 2 and Zone 3.
For addressing rooms where long HDMI rungs are problematic, the Integra included an HDBaseT port for multimedia distribution assignable to Main / Zone 2. HDBaseT allows for the use of typical twisted pair Ethernet for long runs that can then be covered to HDMI with an HDBaseT receiver. Bi-directional Ethernet and legacy RS0232 port are also onboard as is a Whole House Mode for synchronized house-wide audio.
Two features appear to be unique to the DRX-R1: Fireconnect and Phase Locked Loop.
Integra also said that the DRX-R1 will include future support for FireConnect™ powered by Blackfire wireless multi-room technology. FireConnect can wirelessly distribute an analog and digital audio signal to a compatible wireless speaker throughout the home.
Because so many people have media libraries with lossy-compressed files, the Integra includes Phase Locked Loop (PLL) jitter-cleaning circuit technology for S/PDIF audio. Integra says that an advanced music optimizer improves the quality of compressed digital audio.
DRC-R1 11.2-Channel Network A/V Pre-Amp (MSRP: $2,500)
Individuals wanting to chose their own amplification can consider the DRC-R1.  The focus of the DRC-R1 is for clients or installers who want a component-based approach to building out a home theater or smart home. To that end, the DR-R1 is an 11.2 channel network preamp with gold-plated 11.2 multichannel balanced and unbalanced pre-outs.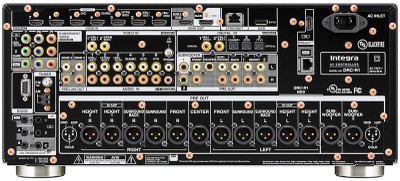 The Integra DRC-R1 gives you both balanced and unbalanced outputs so that you can add your choice of amplification.
Here at Audioholics, we always recognize the value of all-in-one receivers, but we likewise advocate that there's just no substitute for dedicated amplification in a home theater setup.  With the continuing drop in amplifier pricing, like Monoprice's new Monolith series, going the way of separates isn't as expensive as it used to be and is now coming much closer to the price-point of all in one AVRs.
Since the DRC-R1 is functionally an DRX-R1 without the amplification section, the video and audio specs and performance ratings are the same as the DRX-R1 such as Dolby Atmos and DTS:X support up to 7.2.4 channels, THX Ultra2 Plus rating, 8 HDMI 2.0a inputs (1 Front / 7 Rear), Main Out, and Zone 2 output (4K / HDR / HDCP 2.2) etc.
Bottom Line
Integra has always offered big bang for the buck and catered to custom installers. While we still lament the fact that Integra dropped Audyssey in favor of AccuEQ (instead of replacing it with something like Dirac), the value proposition and integration options of these new Integra models is just fantastic and anyone looking for an AVR or pre-pro to serve as the heart of their new immersive home theater system should give these models a serious look.

Unless otherwise indicated, this is a preview article for the featured product. A formal review may or may not follow in the future.