Yamaha CX-A5100 11.2CH Dolby Atmos/DTS:X AV Processor Review
Summary
Aluminum front panel, H-shape cross member frame and rigid bottom frame
11.2-channel preamplifier with balanced XLR outputs (including subwoofer outputs)
MusicCast wireless multiroom audio support
Bluetooth® and built-in Wi-Fi for wireless music streaming
AirPlay®, Spotify®, Pandora® music streaming service and AV Controller App
DSD 2.8 MHz / 5.6 MHz, FLAC / WAV / AIFF 192 kHz / 24-bit, Apple® Lossless 96 kHz / 24-bit playback
YPAO™ - R.S.C. with 3D, multipoint and angle measurement
Dolby Atmos® and DTS:X™ support (up to 7.1.4-ch)
CINEMA DSP HD3 expands the sound field vertically for more thrilling and realistic surround sound
Professional digital-to-analog conversion (ESS SABRE™ Ultra DAC ES9016S) for all channels
Advanced HDMI® zone switching allows unprecedented AV switching to multiple zones
HDMI 2.0a: 4K Ultra HD video upscaling with HDCP 2.2 and high dynamic range (HDR) support
Dimensions (W x H x D): 17-1/8" x 7-1/2" x 18-5/8" (with antenna up: 17-1/8" x 9-3/4" x 18-5/8")
Weight 29.8 lbs.

Executive Overview
Intro was written by Theo Nicolakis, but review and user experience updates written by Gene DellaSala 3/14/18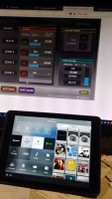 Back on August 14th, 2015, Yamaha invited me to an exclusive, hands-on screening of their new MusicCast whole-home wireless music system.  At the event, Yamaha showcased some of the forthcoming MusicCast-compatible products.  In the corner of the room, one product, in particular, caught my eye, Yamaha's new flagship AV pre-amp processor, the Aventage CX-A5100.  
The nearly 30 pound CX-A5100 is an 11.2 channel pre-pro that has been designed to mate with Yamaha's 11CH MX-A5000 power amplifier.  Superseding its predecessor, the CX-A5000, the CX-A5100 adds a number of important features for a high-end home theater installation such as Dolby Atmos and DTS:X immersive surround sound, and dual XLR subwoofer outputs for support for up to 7.2.4 channel speaker configurations.  About the only thing it takes away is S-video support but legacy users fret not as component and composite video and upconverting to HDMI is still supported on this baby. 
HDMI 2.0a, HDCP 2.2 and 4k/UHD (up to 60p, 4:4:4), and UHD video upscaling are all standard making this as future-proof a model as you can buy today (at least until HDMI 2.1 hardware hits the market, but shhhh for now).  Perhaps even more important than an increase in pixels is the support for high dynamic range (HDR).  HDR is a much more important and noticeable feature of the HDMI 2.0 standard vs the added pixels of UHD.  Dolby Vision support is available via a firmware upgrade as we reported last year, though we don't have any devices that support it on hand to test.
With all these features, Yamaha has positioned the CX-A5100 to meet the needs of the discriminating audiophile and home theater enthusiasts who demand the latest and best from today's media sources.  When first introduced back in 2015, the CX-A5100 didn't come cheap at a nickel short of $3k. But for its build and feature-set, it was easy to understand why. Now that Yamaha has dropped the price down to $2,500, it makes for a real compelling case to consider despite it has fallen a bit behind in technology by today's latest competitor models.
With that said, we felt it was time to expand this preview article into a full-fledged review by taking a unit out for a spin in the Audioholics Showcase Home.
Yamaha CX-A5100 11.2CH Atmos Processor YouTube Review
Custom Integration, Audiophile Streaming and Multi-Zone
Custom installers will find plenty of familiar turf in the CX-A5100.  There are two trigger outs for automated integration with other components, such as amplifiers, and a RS-232 port for integration with custom installation or home automation scenarios. For the tweaker, Yamaha gives you full access to every configuration option found in the OSD GUI this product offers via their web interface.  Bass management and speaker configuration options are plentiful.  The CX-A5100 allows you to configure height channels as top front/back, front/rear height, and Dolby-enabled (the bouncy house speakers we only recommend as a last resort). Channel trims are adjustable in +-0.5dB and distance in 0.2ft increments. You can even save two speaker setup patterns in case you want to switch between different configuration settings. This can come in handy if you decide to calibrate for two different sweet spots with custom delays, levels and EQ settings.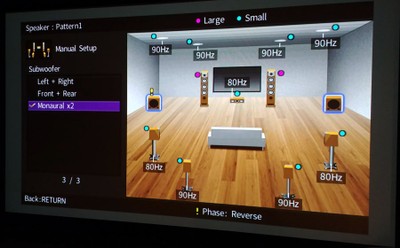 Yamaha CX-A5100 Subwoofer Output Configuration Options
For those serious about getting good bass, the CX-A5100 sports dual configurable subwoofer outputs which allows the user to adjust level and delay, and manual PEQ independently.  We recommend using either the stereo "Left + Right" or "Monaural x2" options for the subwoofer configuration since the "Front+Rear" only sends LFE to the rear output while sending bass from other bass managed channels to the front subwoofer. This is NOT the best option for taking advantage of modal averaging since both subs won't be getting the ALL of the same bass signals, which would really hinder the overall performance as a result.
The CX-A5100 can support a total of four zones with Zone 3 and Zone 4 being audio only.  For two-zone AV connectivity, there are eight HDMI inputs (1 front panel located) and two HDMI outputs with independent, matrix switching.  The advanced HDMI zone switching gives you the ability to choose from all audio and video sources for playback in both the Main Zone and Zone 2.  Through an on-screen graphical user interface, you can browse and select content to enjoy from the second zone no matter what is being played in the Main Zone.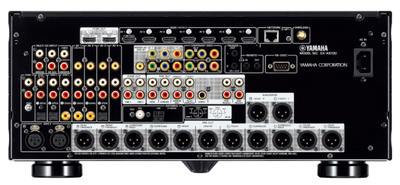 The CX-A5100 back panel
Note the balanced and unbalanced connections including dual subwoofer outputs

The audio side of the CX-A5100 sports the acclaimed ESS SABRE Ultra DAC ES9016S for ALL channels with an independent clock circuit developed by Yamaha to eliminate jitter.  The pre-pro will natively decode all the major high-resolution formats including DSD (2.8 MHz and 5.6 MHz) as well as FLAC, WAV, and AIFF at 192 kHz / 24-bit.  ALAC (Apple Lossless) playback is limited to 96 kHz / 24-bit.  High-resolution audio can be easily played from a networked PC, NAS or USB flash drive.  In case you're wondering, AirPlay, Bluetooth, Spotify, Pandora, and other music streaming services are natively supported via on-board ethernet and WiFi. 
As you'd expect, a cornerstone of the CX-A5100's DNA is its support for Yamaha's new MusicCast wireless whole-home music streaming platform.  The addition of MusicCast makes the CX-A5100 capable of acting as the master hub of a whole-house wired and/or wireless audio system with access to just about any conceivable modern music source.
Differences Between the CX-A5100 Pre/Pro vs their AVENTAGE Receivers

Cross-shoppers will notice the similarities between the new CX-A5100 pre-pro and Yamaha's flagship AV receiver, the RX-A3070.  However, the RX-A3070 lacks the balanced outputs of the CX-A5100 and earlier generations like the RX-A3050 does NOT have the same 64-bit processing power, which limits its ability to overlay DSP on top of  immersive audio.  This means you get to enjoy high res audio reproduced in a German bathtub on the CX-A5100 in all of its glory if you so choose to.
But wait, there is more.  The devil is in the details.  The CX-A5100 sports ESS 9016 DACs on  ALL 11.2 channels while the RX-A3070 employs the newer ESS9026 DACs on only the 7 main channels. The CX-A5100 upgrades the opamps to ADI OP275 for ALL channels and a better MELF-type thin film for signal reference resistor.  There is also an independent power supply for the balanced pre-out circuitry that the RX-A3070 lacks. The CX-A5100's preamp output sections are 470 kOhm instead of the consumer 1200 kOhm and the balanced outputs have over 2X the voltage output of the unbalanced outputs of the RX-A3070 to perfectly mate to virtually any multi-channel amplifier. The DAC Digital Filter on the CX-A5100 gives you three settings for the D/A filter stage, and the Ultra Low Jitter PLL mode introduced in a firmware update of the CX-A5000 last year. For those wanting the very best performance, separates are still the way to go, especially when mating with external amplification.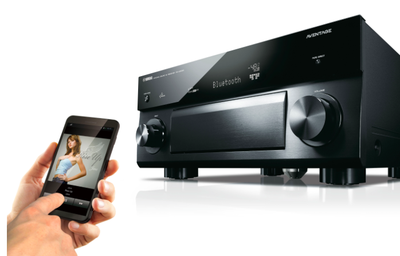 The CX-A5100 can serve as the hub for a whole-home music with built-in support for Yamaha's MusicCast Wireless Music System
64-Bit Processing for YPAO
The CX-A5100's new 64-bit architecture takes on-board power to a new level.  It's able to apply Yamaha's YPAO room correction on lossless files at full 192 kHz/24-bit without down-sampling.  In fact, Yamaha's 64-bit architecture is powerful enough to apply room correction on lossless files while simultaneously applying any of its many on-board DSP modes.   While I'm personally not a big fan of those artificial modes, it illustrates the power that Yamaha has buried under the hood of this new pre-pro.  
Because Yamaha's new flagship is the company's first pre-pro to support both Dolby Atmos and DTS:X immersive audio, it comes with a 3D, multipoint and angle measurement microphone to identify the distance and angle of each speaker and handle all the necessary adjustments automatically. 
One of the big knocks against many on-board processing of pre-pros and receivers has been their lackluster on-board processing power.   This lack of raw power has been most noticeable when it comes to room correction.
In one of our previous segments, we did an in-depth overview of various room correction systems and noted that many well-known systems just don't have enough power to handle some high-resolution audio format and will down-sample all high-resolution files to 48kHz.  Contrary to most competitor Room EQ systems, YPAO works up to 192 kHz even in their lowest end Aventage AV receiver.  Only some of the expensive, higher end systems (like Anthem's ARC in their high end units) are able to process lossless audio files at higher sampling rates files. But even then, processing would still be limited to 96 kHz. However, it should be noted, that Anthem ARC does very effective room calibration at bass frequencies which is something YPAO hasn't been able to do to date from our prior testing.
The 64-bit YPAO system on the CX-A5100 represents the most advanced evolution of YPAO up to today. The 64-bit processing architecture of the CX-A5100 was designed to reduce noise when measuring frequencies – the benefits are said to be audible in the lower frequencies, meaning a tighter, flatter response which translates into a more open sound.  The 3D measurements precisely locates the presence speakers and is said to do so within 1 inch of actual measured distance if using the old fashion tape manual measure method. About the only limitation we still see present on YPAO is its inability to EQ below 62Hz.  Perhaps in the future Yamaha will consider extending this down to 20Hz and employing a new microphone to be accurate down to those frequencies for meaningful low-frequency correction.
YPAO Issues Fixable with Receiver Editor?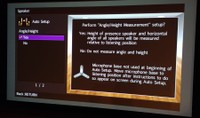 We spent a few months putting the CX-A5100 through its paces including running YPAO multiple times. It was pretty cool how YPAO not only nailed the levels and delays pretty accurately, but it also mapped the angles of the speakers too though it incorrectly identified my top rear speakers as rear height.  This was easily fixed in the manual setup screens.  YPAO also incorrectly identify our main speakers out of phase which is common for room correction systems to do when presented 3-way speaker systems that wire the mid or tweeter electrically out of phase for proper acoustical summation. In this case, simply ignoring the warning error would be recommended after you validate your speaker cables are wired correctly and you run a test disc (ie. AVIA, THX Optimizer, etc) that checks phase for each channel pair.
While we did feel the sound quality of YPAO has improved over the last few generations, we still found it lacking to its competitors especially when it comes to bass calibration (arguably the most important frequency region for room correction). To put it mildly, YPAO does virtually nothing useful below 62.5Hz. In fact, in every case we ran YPAO calibration and compared before/after measurements, it usually made things worse, not better, from both acoustical measurements and audibility. For the life of us, we could not figure out why YPAO was trying to do bass correction to the subwoofer channel at 250Hz when the subs were crossed over at 80Hz. In addition, it incorrectly identified our surround speakers as large (a problem that plagues most room correction systems when a speaker is in close proximity to a wall experiencing boundary gain).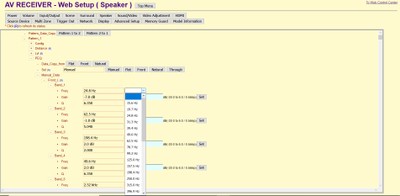 Yamaha Receiver Editor App PEQ Adjustment

Luckily all of this is correctable if you take the time to go in and do some manual tweaks and calibration.  In fact, this is where the CX-A5100 shines above much of its competition. All you have to do is enter the CX-A5100's IP address/setup (ie. 192.168.1.64/setup) in a browser and you can go in and adjust every parameter until your heart's content. In fact, we did just that, first correcting bass management settings and tweaking levels/distances to better balance our mult-row theater, and then manually adjusting the PEQ filters.  We found the natural setting did the least offensive calibration since flat boosted the highs a bit too much (+3-4dB in the 8kHz and 16kHz regions).  Scaling these back to +1-2dB made the correction more palatable but most importantly, taking the time to calculate the right PEQ filters for bass frequencies (100Hz and below) made a world of difference. The fact that Yamaha now allows the user to manually EQ down to 15Hz is a game changer in helping combat problematic room modes. Unfortunately, Yamaha doesn't allow you to enter any discrete frequency of your choice, but the options are pretty flexible, and you get 7 bands per channel with full adjustability of Q and level.  Once we got the EQ all dialed in, we went back to the main page of the receiver editor app and saved the configuration file.  This is yet another very useful feature to be able to store your entire configuration in case down the road you muck things up and want to get back to the last known good configuration.
Listening Tests

What good is all of this technology if it doesn't translate to great sound?  Fear not as the Yamaha CX-A5100 did NOT disappoint. In fact, we paired it with their matching MX-A5000 to power 9 of the 11 speakers in our theater room.  We stuck with the Emotiva XPR-1 2kwatt Monoblocks to power the Status Acoustic 8T front speakers simply because their 2-ohm dips would be too much to ask the MX-A5000 to handle while simultaneously powering the other 9 speakers.  The speaker configuration was 7.1.4 with 4 discrete height speakers (no Atmos-reflection speakers).  The display device was the Epson 6040UB while the source devices included the Oppo UDP-205 UHD Blu-ray player as well as Frontier FIOS and Amazon FireTV.  All speaker and HDMI cables were Bluejeans cable except the speaker wire for my main speakers being the Kimber 8TC.  YPAO was utilized for speaker level and delay optimization while manual PEQ was used to fine tune EQ adjustments.
Music Listening
With four RBH SI-615 in-ceiling speakers recently installed for discrete top front and top rear height channels, we were eager to hear 7.1.4 immersive audio in all of its glory.  We started with the Dolby Surround and DTS Neural:X upmixers to see how it would perform on two-channel music.  We were pleasantly surprised at just how good the DSU (Dolby Surround Upmixer) sounded with stereo music AFTER we turned the center channel spread feature to on.  This is the equivalent mode to the older DPLIIx Music Mode with respect to how it handles steering info into the center channel.  By comparison, DTS Neural:X doesn't offer this option and music just sounded dreadful with their upmixer as a result.  This is NOT a fault of Yamaha but, in our opinion, a fault of DTS for not fully vetting their upmixer before releasing it in consumer products.  We stuck with the DSU for virtually all upmixing duties as a result.  One thing we loved about the CX-A5100 is that it didn't drop last generation upmixers like most immersive audio processors/receivers have. This allows for a direct comparison to gauge just how beneficial immersive audio is over traditional 5.1 or 7.1 surround.  When comparing music upmixed in PLIIx Music vs the DSU, the latter sounded more open and, for lack of a better term, 3-dimensional.  It made us want to revisit a bulk of our two-channel music collection streaming via MusicCAST from our 4TB network HDD just to hear the improvements the DSU offered.
Editorial Note about Dolby Center Spread on 2CH Sources

You will want to enable the feature called "Center Spread" to the on position when listening to 2CH music sources to preserve the stereo soundtage.  Otherwise, you may experience getting too much common sound between the front left/right speakers dumped to the center which can collapse the front soundstage.  For 2CH movie sources, "Center Spread" turned to the off position will give you the best results for anchoring the dialogue to the center channel. This is similar to how Dolby Prologic IIx had PLIIx Music and Movie modes.  Unfortunately DTS Neural:X doesn't have this feature and as a result our sound results have proven this upmixer to be unpalatable for 2CH music sources.  We recommend using the DSU over Nueral:X as your primary upmixer for 2CH sources for best results.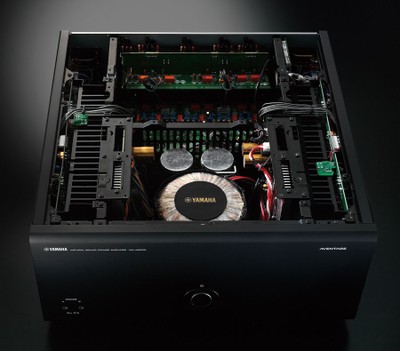 Yamaha MX-A5000 11-CH Amplifier - top cover removed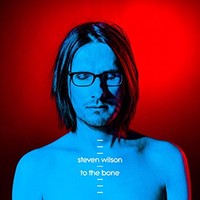 Steven Wilson - To the Bone 5.1 Blu-ray was a true delight to listen to upmixed to 7.1.4 on the CX-A5100.  The height channels didn't blow you away with sound.  Instead, the subtle effects they added just heightened the enjoyment of this already excellent high resolution 5.1 recording.  We felt like the spaciousness was expanded especially in the Song of I where the percussive sounds just popped out more.  Bass was tight and uniform across all of our seats thanks to the benefits of multi-sub with effective post PEQ processing that the CX-A5100 offers.  We were quite impressed with how much muscle the MX-A5000 11CH power amplifier was able to muster in this recording.  Despite its bench tests being somewhat limited (full rated power restricted to 6 channels before current limiting set in), real-world power proved otherwise.  I recently sold my Denon POA-A1HDCI 10CH amplifier and didn't feel like I lost much with the MX-A5000 in its place despite the fact it was half the weight and about 1/3rd the price of the Denon beastly amplifier.  All music sources I threw at the Yamaha separates combo sounded pristine.  The ESS DAC's, which I'm familiar with from the Oppo BDP-105 and UDP-205 are just fantastic and Yamaha implemented them brilliantly on the CX-A5100.  Again, I was expecting a downgrade in sound quality going from my much more expensive Denon separates system, but in reality, I just wasn't hearing it.  Granted, I wasn't doing a direct real-time A/B comparison, but I never felt the Yamaha system was lacking in fidelity.
Movie Watching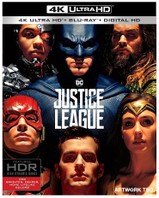 As a whim one night, we had on the first Iron Man movie on one of the sub channels of HBO.  It's been awhile since we've seen this movie and the sound was quite enveloping so we kept it on.  It wasn't until I hit the info menu on the CX-A5100 that we realized we were listening to a two-channel source upmixed with the DSU.  With center spread turned off, the voices were anchored to the center and the surround effect sounded discrete and spacious like a true discrete source.  Wow, we were loving the DSU in this instance.  We were excited imagining just how transformative of an experience we could have on older program material not encoded in discrete surround sound thanks to the magic of the DSU. Next up we streamed the new Star Trek Discovery (STD) show in 5.1 upmixed to 7.1.4.  The show is plagued with so many flaws that if I begin to even describe them here, it will derail this review especially with the numerous colorful metaphors I would inject.  That said, the visual effects and sound, for the most part, are quite good.  Switching between PLIIX Movie mode and the DSU again showcased the prowess of the latter.  We heard very subtle effects above us that added to the enjoyment of the surround scape that simply weren't there in 7.1.
Justice League UHD Blu-ray was quite a spectacle when played on the Yamaha separates duo.  While the CGI effects were a bit overdone for virtually every scene containing the limp portrayal of Steppenwolf, the crispness of both picture and audio were simply stunning.  The CX-A5100 was allowing the full 4K UHD Dolby Atmos experience to unfold upon me and it had me clamoring for more UHD content.  The height channels appeared to be dormant during dialogue heavy parts of the movie, but once the action kicked in, the room was filled with the 3D immersive bubble of sound that you often hear described by those experiencing a discrete speaker installed Atmos setup (not the gimmicky bouncy house speakers please).
Room for Improvement?
You betcha!  As good as the CX-A5100 processor is, Yamaha can do better so I hope they are listening to my tabulated suggestions below for their next generation model.
Faster HDMI switching. It was often painful waiting for HDMI to resync when switching between sources. This is unacceptable for a product of this caliber in this day and age.

Better microphone and improved algorithms for YPAO to do effective bass correction down to 20Hz.
Fully adjustable frequency settings for PEQ instead of fixed bands.
Advanced LFE routing to allow front channels to play LFE even when subwoofer channel is active. This is a feature typically only found in custom integration products from the likes of DataSat, Storm Audio, Tinnov, and Emotiva. But, there is no reason Yamaha can't offer this feature too.
Additional pre-outs to support dual speaker layouts (front/back heights vs top front/rear heights), which would be useful for switching between Atmos/DTS:X and Auro-3D speaker layouts.
Auro 3D support.
Ability to process and natively decode up to 3 pairs of height channels.

Conclusion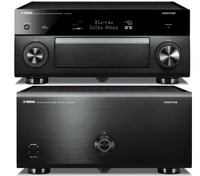 If you're in the market for a high-end, little-to-no-compromise preamp-processor, then Yamaha's CX-A5100 may very well need to be on your short list. While YPAO has fallen behind the competition in terms of its usefulness in bass calibration, the manual PEQ more than makes up for it for those that have the time, patience and know how to take advantage of it.  The MusicCAST music management system is powerful and easy to use, allowing you to stream ALL of your music sources to the CX-A5100 or any compatible devices connected in the network all from your smartphone or tablet.  I literally lost hours every day I sat down to evaluate this product doing this and enjoying the experience.  If you want to add another level of automation at your finger tips, you can now interface your Amazon Alexa device to do basic commands like changing the input, volume, etc with more features coming in the near future.
While there are now competitor AV processors offering the ability to add 3 pairs of height channels, most of them cost considerably more than the CX-A5100 and some aren't even built quite to the quality level of this Yamaha piece.  If you don't plan on implementing more than a 7.1.4 speaker set up, the CX-A5100 should more than meet your needs to get your UHD immersive surround fix on.  The CX-A5100 offers power, refinement, endless configurability options and features to keep you entertained for many years to come.  At their reduced asking price of $2,500, it makes for a compelling argument to go separates over a super receiver.  Paired with the MX-A5000, this separates duo is a lethal combo at a reasonable price.
Confused about what AV Gear to buy or how to set it up? Join our Exclusive Audioholics E-Book Membership Program!
Recent Forum Posts:
frans callebaut posts on September 09, 2018 12:40
hello Gene,
i have a yamaha cx-a 5100 , but i have read that there's now a successor the cx- 5200. is there any reason why i should prefer the 5200 above the 5100 ?
best regards,
frans callebaut
Ovation posts on May 21, 2018 19:28
If I understand correctly, using YPAO, the subwoofer is not EQ'd (which makes it the same as my RX-A1000). I have an Antimode 8033 for my subs and using REW and hours of trial and error, I have gotten a very good (to me anyway) response curve, so I feel no need to do more for my subs. However, I am interested in many of the other features that have emerged since my A1000 became the centrepiece of my system, and have contemplated a move to separates for my next upgrade. So, for the convenient option, would it be correct to say I can just leave my Antimode in place and let this processor's YPAO deal with the other speakers like I do with my current AVR? And, for when I get a lot of free time, I can break out REW and use the manual EQ to further improve the sub response? Lastly, if I choose the labour intensive option of manual EQ, should I take the Antimode out of the equation (or will its already adjusted response simply present an easier task for the manual EQ to deal with)?



The graph shows my (then new) SVS PB2000 without EQ, with Antimode and with Antimode and my old sub (Boston Acoustics PV-900). The SVS w/o EQ was read at a lower output but the effect remains the same (imagine the green trace at about 7dB higher for each point on the trace). Antimode tames bloat at the low end. Extra sub (was originally going to move it to the living room) cures the null. I'm sure I could eke out an even better curve with different sub placement but I have limited options in my small room and am quite happy with what I attained already.
everettT posts on April 27, 2018 08:57
Bookmark, post: 1245186, member: 83288
I was going to leave this alone as it makes no difference for myself however, from to the Yamaha CX A5100 manual and this applies to all sources.

"When Pure Direct mode is enabled, the unit plays back the selected source with the least circuitry in order to reduce electrical noise from other circuitry (such as the front display).". It does not indicate that all digital circuitry is bypassed for analogue sources in Pure direct mode, although a circuit diagram would be able to confirm this. However this Yamaha diagram from their site for the Z9 flagship AVR, circa 2004 seems to indicate that analogue inputs do not bypass the ADC section.

Perhaps I am still misunderstanding and the diagram is incomplete.

That said, what is the point in using a £2.5K surround processor, bypass all of the features and functions for, as suggested, minimal if any benefit which could literally be replaced by a £10 analogue switch for that "special occasion". This would not require the processor to be fully on (standby not being an option), cut the signal path down even further and remove any erroneous conjecture on my part.
I was referring to the MC inputs, which some still use for SACD. As for the balanced analog stereo inputs ill check this model but on previous generations, all dsp fuctions were bypassed IIRC. Think of it like home theater bypass
PENG posts on April 27, 2018 08:32
Actually I stopped using pure direct long time ago, stereo with bass management is better overall.
Bookmark posts on April 27, 2018 07:30
I don't normally use Pure direct mode so it makes little difference for myself. I have viewed a number of previous threads on this topic and other forums in the past and there are comments for both opinions. I do not know if there's a definitive answer one way or the other, for all manufacturers, in all their model ranges. It might be one thing for AVRs, another for AV Processors or the same. High end may differ from lower end models and the past may differ from the present or future. I do know if they can save a buck they usually do and they are unlikely to implement two solutions when one would do. Especially if the difference is marginal.

I am happy if it can be effectively a straight wire between input and output for the RCA/XLR sources, but equally it's not be a deal breaker if it wasn't. Although it might be for some, I suspect it depends largely on how important a direct mode is for the majority of your listening habits, but then again there are other solutions perhaps better suited.

My opinion is always open to change in light of "alternate" facts.
Post Reply