RBH EP3 In-Ear Monitor Headphones First Listen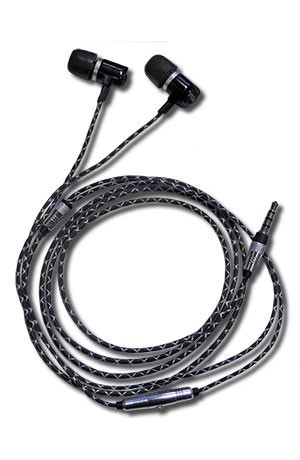 RBH's EP3 Noise Isolating Earphones
Summary
Drive Size: 8mm Dynamic Dome
Rated Power: 3mW
Max Power: 10mW
Impedance: 16 Ohms
Frequency Range:

10Hz~20KHz
Sensitivity: 95dB/1mW (S.P.L. @ 1kHz)
Noise Isolation: 16dB w/Comply™ Foam Tips
Input Connection:

3.5mm Mini-jack
Cable Length:

1.2m (±0.03m)
Color: Ceramic/Gloss Black
Warranty:

2 Years
Here at Audioholics, we've long-admired RBH for their high performance, high value, and solidly constructed subs, speakers, and headphones.  Therefore, when RBH made an announcement about the EP3, the successor to its well-regarded EP2 in-ear headphones, it certainly sparked our interest. 
The EP3 is not just an EP2 with cosmetic changes.  They have been re-built from the ground up.  The EP3 features a completely redesigned ultra-lightweight ceramic housing with a new 8mm driver element.  According to Shane Rich, RBH's Technical Director and Lead Engineer, the combination of the new 8mm driver element and tuned ceramic casing in the EP3 improves upon the frequency response characteristics of the EP1/EP2 models by offering extended bass and treble. "The result," Shane claims, "is a more refined listening experience, with better bass definition and more high frequency detail to the sound."
I just received my review pair just a few days ago and my initial impressions back up Shane's claims. The bass in these headphones is not only dynamic, but it is also extremely clean and well-defined.  Likewise, the top end is free of any immediately evident compression or artifacts on an initial sampling of music.  If first impressions are any indication in the case of the EP3s, RBH may have yet another tremendous product on their hands,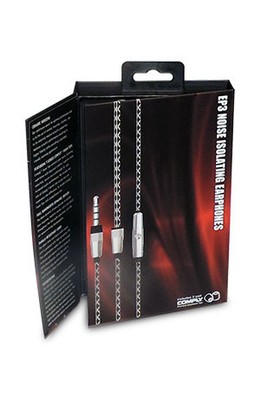 Due to the smaller, ceramic enclosure, RBH says that the new EP3s not only deliver an extended frequency response but also better noise isolation.  To make noise isolation the best it can be, RBH supplies a set of medium T-400 Comply® foam isolation tips pre-installed.  Also included in the package is a set of large T-400 Comply® foam isolation tips and three sets of silicone tips (small, medium and large). 
Having personally had many in-ear monitors and used various tips and isolation options, the one thing that struck me about the Comply foam tips is how incredibly comfortable they are in addition to sealing out noise.  In fact, unlike the foam isolation tips from some other headphone brands, the Comply foam isolation tips don't irritate the inside of my ear and turn it raw.
The EP3 headphone uses a new fabric/TPE composite cable with an aluminum jack and controller that use specially designed strain relief elements.  Integrated into the composite cable is the EP3's in-line control module and microphone. With the control module, you can easily skip to the next song, track or chapter and also receive phone calls, with the simple touch of a button.  What you can't do, however, is go back to previous songs, which we found to be a peculiar feature omission. 
RBH includes two small rubber gaskets that they call "Stabilizing Spacers" to make the EP3s compatibility with the iPhone 6, 6 Plus, 6s, and 6s Plus models.  According to RBH, Apple changed the headphone jack oh so slightly in the iPhone 6x models and consequently, the EP3s will sit just a tad too deeply into the headphone socket.  The result is that Siri will randomly turn on and you'll have other issues that will make it seem like your iPhone is possessed.  I experienced that issue and it was maddening.  Needless to say, fitting one of the Stabilizing Spacers onto the 3.5mm jack fully addressed it and I haven't had any occurrences of Siri randomly activating since. 
The EP3s come with a 2-year warranty.  While the price for the EP3s is $179, RBH is running an introductory special that will get you the EP3s at over 44% off.  That means you can purchase the EP3s for only $99.  If my initial impressions hold true, not only will the EP3s be an incredible value at $179, but at $99 they are a steal and will easily be one of the best in-ear headphones you can get at that price point.  Stay tuned for our YouTube Video review from Marshall Guthrie to gain further insights on how these IEM's perform.

Unless otherwise indicated, this is a preview article for the featured product. A formal review may or may not follow in the future.