Fluance Fi50 Two-Way Hi-Fi Wireless Speaker System Review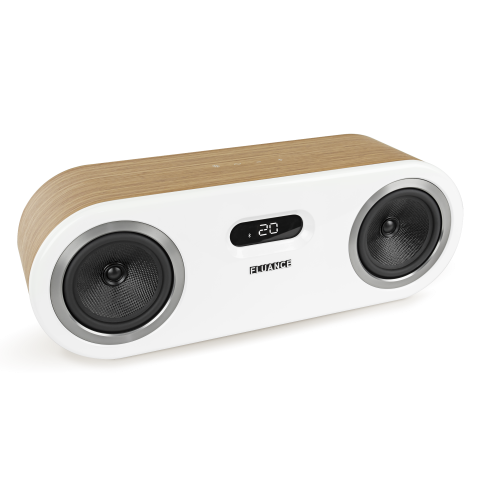 Fluance Fi50 Wireless Speaker System
Summary
SYSTEM TYPE: 2 Way 4 Driver Bluetooth Music System with Integrated Amplifier
TWEETER: Dual 3/5inch Coaxial Mounted Silk Soft Dome Ferrofluid Cooled
WOOFER: Dual 5inch Woven Glass Fiber Composite Drivers with Butyl Rubber Surrounds
POWER HANDLING: 40 Watts Continuous Average Output
FREQUENCY RESPONSE: 40Hz - 20KHz
ENCLOSURE: Tuned Rear Port Bass Reflex Design
DIMENSIONS (H X W X D): 20.4 x 5.7 x 7.1 inch
WEIGHT: 13.4 lbs
BLUETOOTH: 2.1 + EDR (Enhanced Data Rate); aptX codec
INPUT : 3.5mm Auxiliary Audio Input; 2.1 A USB Charging Input
AMPLIFIER POWER (RMS): 40 Watts Continuous Average Output
INTERNAL LEAD WIRE: 18 gauge internal lead wire to reduce signal degradation
POWER: Input: 100-240V 1.5A; Output: 15V 3000mA 45W
Executive Overview
When it comes to wireless, WiFi-based whole house audio, Sonos rules the roost.  But for most, Sonos' high cost, WiFi connectivity, and multi-room capabilities are simply overkill.  What most people want is simply a high quality wireless speaker that can stream music from any Bluetooth compatible computer, tablet, or mobile phone.  
Fluance jumped on that bandwagon long ago with their Fi30 wireless Bluetooth speaker.  For under $200, the Fi30 offered huge bang for the buck, but the Fi30 wasn't targeted to the more discerning audiophile audience.  Fluance has changed all that with the release of their new Fi50 two-way high performance speaker system.  Check out our recently added YouTube Video review for further design details and listening impressions.
Fluance Fi50 Wireless Bluetooth Speaker YouTube Video Review

While the Fi50 appears, at quick glance, to resemble its smaller sibling, it is actually   designed for some serious performance under the hood. It's bigger in both size and weight and its overall driver complement promises to deliver significant sonic improvement.
The Fi50 is a 2-way, 4-driver, dual-ported Bluetooth music system.  It features a 3/5 inch coaxial mounted silk soft dome ferrofluid cooled tweeter and dual 5-inch woven glass fiber composite drivers with butyl rubber surrounds.  The tweeter and woofer are concentric designs with the tweeter mounted in the middle of the woofer.  
The entire enclosure is a hand-built, internally braced MDF wood cabinet.  A wooden trim, available in walnut, black ash, or bamboo, envelopes the circumference of the unit.  The included sound isolation floor spokes—a unique touch to the unit's design—give the it an air of high end flair.
Unlike it's smaller sibling, the Fi30, which puts out only 6 Watts, the Fi50 pumps out a serious 40 watts continuous average output. Its frequency response likewise digs down 15Hz deeper than the Fi30 and trails off at 40Hz and goes up to 20kHz though no tolerances are specified on those frequency limits
Aside from the upgraded components, the technology has gotten an upgrade too.  The Bluetooth implementation is top notch, featuring aptX enhanced audio technology that will bring CD-quality audio streaming over Bluetooth.  Wireless auto pairing will also automatically pair your Bluetooth device to the Fi50 when it's in range—about 33 feet away. We've tested other Bluetooth devices with aptX such as the RBH EP-SB in-ear headphones and Ruark Audio's MR1 Bluetooth speakers and have been mighty impressed both with the sonic quality and reliability of the wireless streaming. 
The Fi50 isn't only about wireless connectivity.  There's a 3.5mm auxiliary audio input, allowing the unit to connect to virtually any audio source and there is also a 2.1A USB port that can be used to charge your mobile device as well as stream audio in case your device doesn't have Bluetooth. 
A very slick industrial design feature on the Fi50 is how Fluance has implemented the control buttons for volume, treble, and bass.  The top of the unit is touch-activated. Placing your finger on the corresponding symbol will activate the white-illumined display on the front of the unit.  The resulting look is clean, elegant and functional. 

Control buttons are flush with the cabinet top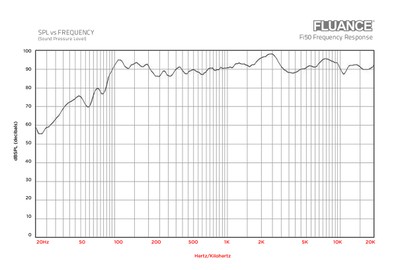 Frequency response of the Fluance Fi50 (Courtesy of Fluance)
Is This the Real Deal in Wireless Speakers?
Sleek design, high performance, and great connectivity options would make the Fi50 at ease with competing models in the $500 price range.  However, true to their high value heritage, Fluance has priced the Fi50 at  only $199.  At this price we can only imagine Fluance is taking a loss to get these in the hands of as many Audioholics as possible to spread the good word. 
On paper, this new wireless speaker looks like a phenomenal value and high performer.   Best of all it's compact, allowing you to enjoy high fidelity audio playback virtually anywhere with an outlet. If it's true to the heritage of its other speaker siblings, we don't doubt for a minute that the Fi50 will be a real winner. 
As you can see in our accompanying YouTube Video review, we spent a good month testing the Fluance Fi50 Blueooth speaker and it never disappointed.  In fact, I used it to jam tunes for my daughter's Quinceanera practice in a room full of about 40-50 noisy teens and the Fi50 had no issues playing over their noise without signs of distress.  We even used it to charge our Samsung S5 smartphone while streaming YouTube music to it which came in quite handy when my battery was low and we needed dependable streaming. At this price point, there is little more we could ask for and we recommend you checking it out if you're on the market for an affordable, compact, good sounding stereo bluetooth speaker system.

Unless otherwise indicated, this is a preview article for the featured product. A formal review may or may not follow in the future.