2015 Audioholics Product of the Year Award Winners
2015 Audioholics Product of the Year Award Winners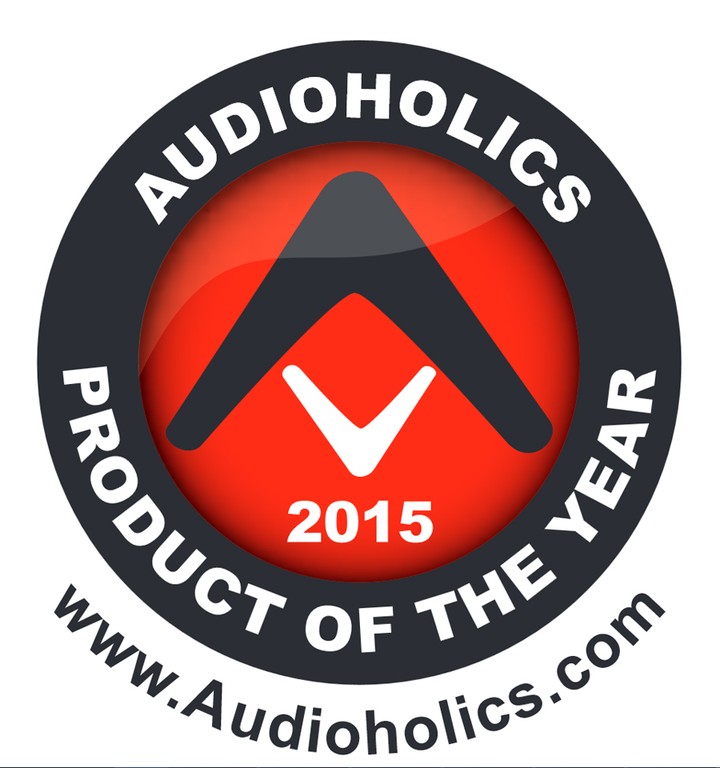 Audioholics Product of Year 2015
In 2015, we started to see first-hand some of the promises the industry announced the year before.  The opportunity to bring immersive audio home has finally arrived.  Receivers featuring Dolby Atmos abound and receivers supporting DTS:X via firmware upgrade have hit the market. 
The promise of HDMI 2.0 reached a major milestone with the arrival of HDMI 2.0a. We've moved past talking about resolution and have now moved into technologies that will make a real visual difference, namely high dynamic range and the increased color space of BT2020.  However, we'll still need to wait until 2016 at the earliest to take full advantage of these advancements.
But what a fun year 2015 was.  All year, we got to sample some exceptional gear.  We reviewed Martin Logan's $80,000/pair Neolith, the pinnacle of the company's 30 year commitment to electrostatic speakers.  At the other end of the spectrum, RBH Sound and Emotiva knocked our socks off with products that once again brought massive bang for the buck, putting real high end sound into the hands of mere mortals.
It's never an easy task to pick winners for our Product of the Year Awards. This year especially, there were so many exceptional products to choose from; but when we looked hard, some products we reviewed rose above our expectations and in many cases set industry trends going forward.  As is our norm each year, our picks are based on our staff's favorite review products for 2015 and/or direct product experience we've had with the products in professional installations and personal demos. Enough already, it's time for the Audioholics 2015's Product of the Year Awards!
Be sure to watch our recently added YouTube Video - a Year in Review.
YouTube Video Discussion:  2015 Audioholics Top Products and Year in Review

Award: Budget Amp

Outlaw Model 5000 | Review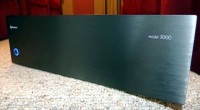 Let's say it outright.  Getting real power isn't cheap.  But when Outlaw loaned us the 5-channel 120wpc Model 5000, we were floored.  So much so, in fact, that back in February we immediately declared it the best deal for 2015.  We noted that the Outlaw Model 5000 raised the bar on performance/price ratio of multi-channel amplifiers.  It also delivered more than its specified power ratings.  Even with all the other amps that have come in during the year, we haven't changed our tune.  The Model 5000 is special.  If you're on a budget and want real power to drive your system, then look no further than Outlaw's Model 5000
MSRP: $599 | Buy Now
Award: Wireless Earphones

RBH EP-SB | Review

2015 marked what was in many ways a watershed year for headphones as we saw more and more manufacturers offer Bluetooth wireless models. Yet, no model impressed us more than RBH's EP-SB.  These earphones combine an impressive array of the latest wireless technologies from aptX, CSR, Bluetooth 4.0, NFC and IPx4.  From that alphabet soup of technologies, these wireless earbuds give you CD-quality sound in a compact form factor that is also water resistant for serious on-the-go use.  These are not only the best-sounding workout headphones you could want, they will also give much more expensive competitors a serious run of their money.
MSRP: 179 (shipped) | Buy Now
Award: Wireless Speaker
Paradigm PW 600 Play-Fi Speaker | Preview (formal review forthcoming)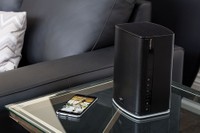 Paradigm, along with its sister companies, Anthem and MartinLogan have made a major commitment to DTS' Play-Fi streaming music standard.  It's now part of almost every product in their new lineup.  Paradigm's SW600 Play-Fi speaker has everything you'd want from a true audiophile wireless speaker. It sports two 1 inch S-PAL dome tweets and two 5 inch S-PAL woofers plus a subwoofer output. The internal amplifier is rated at 400W dynamic peak, 200W continuous. Unlike any of the competition, Paradigm's Play-Fi SW600 features the heralded Anthem Room Correction (ARC) system. Premium features, great sound, and killer room correction makes the Paradigm SW600 an easy pick.  
MSRP: $599 | Buy Now
Award: Bookshelf Speaker
Legacy Audio Studio HD | Review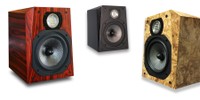 It's not often that we'll use the words "amazing" and "great value" in the same sentence but that's exactly what Legacy's Audio Studio HD monitors compelled us to say.  Exceptional mid and high frequency detail; a huge image that is forgiving of positioning; and a frequency range and dynamics on par with some of the best bookshelves you can buy highlight some of the many accolades we laid on the Legacy Audio Studio HD.  We couldn't stop there, however, we had to put the icing on the cake by naming them our Bookshelf Speaker of the Year.  
MSRP: $1795/pair | Buy Now
Award: Budget Towers
SVS Prime Tower | Review
We thought that SVS' Ultra Series was a real price-performance game changer in the audio world. Boy were did we ever get a shock to the system when SVS introduced their even lower-priced Prime series of speakers.  The Prime Series has taken the very definition of price-performance to a whole new level.  For budget towers, the SVS Prime Towers get more things right than virtually any of their competition at this price point. They have gobs of bass extension, can play ungodly loud and remain clean in doing so.  With all this plus SVS' legendary build quality and no-hassle 45-day in home trial, it's a no-brainer that SVS' Prime Tower stands as our easy pick for best budget towers.
MSRP: $999/pair (shipped) | Buy Now
Award: Cost No Object Speakers
MartinLogan Neolith | Review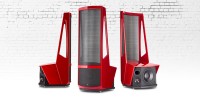 The folks at MartinLogan will tell you that the Neolith is a loudspeaker achievement 30 years in the making.  These $80,000/pair speakers are simply astounding.  The Neolith is sonically and physically imposing.  Yet, from that towering frame, power, control, bass extension, a huge soundstage, and musical engagement abound.  These speakers aren't for the faint of heart or wallet.  But If you have the fiscal means and room to dedicate to these speakers, they will reward you with countless nights of sonic bliss.
MSRP: $80,000/pair | Buy Now
Award: Atmos/DTS:X AV Receiver
Denon AVR-X7200WA | Review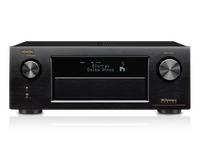 Denon's AVR-X7200WA embodies everything a modern flagship receiver should be. With HDMI 2.0a, HDCP 2.2, and ISF certification this receiver is ready for the next generation of rich content that will feature high dynamic range and expanded color.  Dolby Atmos and DTS:X (via firmware upgrade) are standard. Auro-3D can be activated via a paid upgrade.  Every major streaming service can be accessed natively.  Nine Channels of amplification and support for up to 7.2.4 immersive audio configurations make this a powerhouse.  Wired and wireless connectivity plus a robust IP and RS-232 feature-set make this a flagship from Denon our top pick for 2015.  Oh, in case we forgot to tell you, it sounds really good too.
MSRP: $2,999 | Buy Now
Award: Super Subwoofer
XTZ 3X12 Subwoofer | Review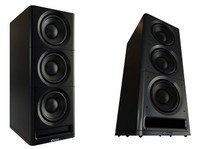 It looks like a floor standing speaker; tips the scales at a massive 170lbs; has 1500W of power (consisting of three 500W Class D amplification modules); and easily earned our Audioholics Bassaholic Extreme Room rating (one of the few single-sub systems to do so).  This could only be XTZ's immense 3X12 subwoofer.  With three 12 inch drivers and extension down to 15Hz in-room, this XTZ sub will pulverize anything you feed it.  In fact, this subwoofer was just shy of being one of the most powerful subwoofers Audioholics has ever measured.  We couldn't simply call this our subwoofer of the year, we had to put it into a super category of its own.
MSRP: $2,500 (shipped) | Buy Now
Award: Compact Sub

SVS SB13-Ultra | Review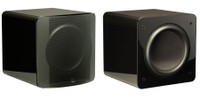 To call the SVS SB13-Ultra compact is a bit of a misnomer because this baby's sound is anything but compact. Absolutely full-range slam while simultaneously delivering control and finesse are just some of the many hallmarks of the SB13-Ultra.  Its subjective and measured performance was excellent. At the 40Hz band and above the SB13-Ultra is capable of greater than 112dB of output and tops out at a loud 117dB over the 63-125Hz octave.  This was a tough choice for us to choose between the SB13-Ultra and many worthy competitors. But the numbers don't lie.  It was SVS' ridiculous bang for the buck that had us give the nod to the SB13-Ultra.
MSRP: $1,599 (shipped) | Buy Now
Award: Multichannel Preamp-Processor
Emotiva XMC-1 | Review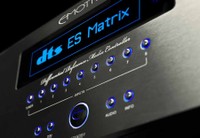 Emotiva has long impressed us with their amplifiers but the launch of the XMC-1 7.2 channel processor had us take note of this watershed product.  Sonic performance was simply excellent—including outstanding reference sound in two-channel stereo mode, something that multichannel preamps are not known for. While the XMC-1 doesn't give you Dolby Atmos or DTS:X, the inclusion of Dirac LE (with a paid upgrade to Dirac Full) for room correction; a ridiculously low noise floor; eight HDMI with 4K/60Hz; and a forthcoming free upgrade to HDCP 2.2 make this a compelling offering.   The XMC-1's price point is all Emotiva: an superb value.
MSRP: $2,499 (shipped) | Buy Now
Award: Architectural Speakers
Beale Street Audio IC6-MB in-ceiling Speakers and ICS8MB Subwoofer Combo | Preview

After being relegated to an afterthought, architectural speakers all of a sudden have seen renewed interest from home theater enthusiasts thanks to Dolby Atmos.  Beale Street Audio didn't just get on our radar for some stellar in-ceiling speakers for immersive audio, but also for their unbelievable in-ceiling subwoofers that can be retrofitted into normal sheetrock without additional bracing.  Just pick up one of these Beale Street speakers and you'll immediately see that there's something different about them.  Relative to other architectural speakers, Beale Street's Sonic Vortex technology allows Beale to maximize enclosure response and produce a 6db to 9db boost in the mid-lower bass ranges and flatter frequency response.  We found these Beale Street Audio speakers to be such great performers that we're building one of our Audioholics review rooms around them.  
MSRP: Varies | Buy Now