Outlaw Model 5000 Five Channel Amplifier Review
Outlaw Model 5000 Five Channel Amplifier Review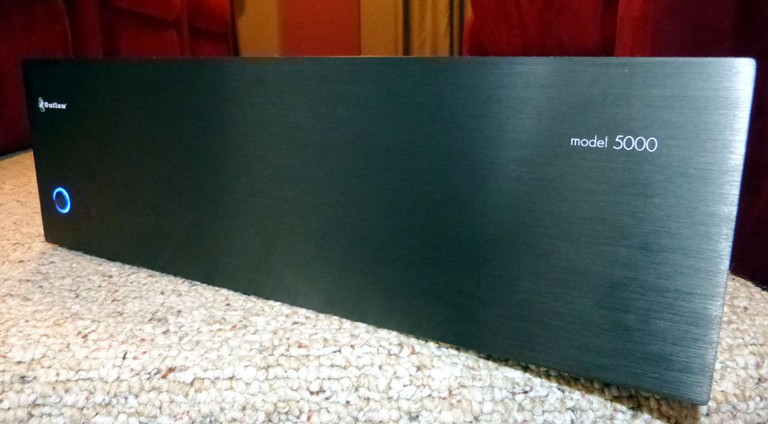 Power output: 120 watts RMS x 5 (all channels driven into 8 ohms from 20 Hz to 20 kHz with less than 0.02% total harmonic distortion, A-weight filter). 180 watts RMS x 5 (all channels driven into 4 ohms from 20 Hz to 20 kHz with less than 0.03% total harmonic distortion, A-weight filter)
Frequency Response: 20Hz -20kHz +/- 0.5 dB at rated output (120W)
Total Harmonic Distortion (THD): Less than 0.02% at rated output (120W), all frequencies, less than 0.01% at 1kHz
Intermodulation Distortion (IMD): Less than 0.05% from 250mV to output full rated output (120W)
Filter Capacitance: Four 6,800 μF Capacitors per Channel
Number of Output Devices: 4 per channel
Power Bandwidth: 5Hz - 54kHz +0/-3 dB
Damping Factor: Greater than 105 from 10Hz to 400Hz
Crosstalk: Greater than -70dB from 20Hz – 20kHz
Gain: Voltage gain of 29dB
Input Impedance: 40k ohms
Input Sensitivity: 1.00 Volt
Remote Trigger Voltage: 9 - 24 Volts DC at 5 milliamperes or greater
Power requirements: 120VAC, ±3%, 50Hz - 60Hz 1500 watts maximum
Power consumption: 1,800 watts (maximum)
Dimensions including feet (H x W x D): 6.0" x 17.0" x 16.75"
Weight: 50 (lbs)
Pros
Raises bar on performance/price ratio of multi-channel amplifier
Delivered more than specified power ratings
Great sound on the cheap
Sturdy construction
Original Publish Date: 2/16/15

Model 5000 Introduction
When Peter Tribeman from Outlaw Audio phoned me in my car one afternoon last year he sound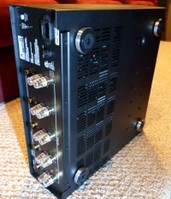 ed like he was about to expose the truth behind Area 51 and the government cover-up of alien beings. He was excited, a bit nervous and….excited!  He made me swear secrecy that I wouldn't divulge what he was about to tell me.  Of course I obliged.  After all, I wanted to know the truth behind the little green men and their supposed crashed spacecraft.  Well, he didn't divulge anything about that topic I didn't already know, but he did inform me of a new budget-friendly five channel power amp (Model 5000) he was working on with the Outlaws.  This one was going to be different.  It was NOT produced by ATI, like their excellent predecessors.  Instead, Outlaw partnered with overseas manufacturing to get the costs down to previously unseen levels of performance and power.  My guess is they wanted to outmaneuver Emotiva and beat them at their own game.  Though with Emotiva shifting their manufacturing back to the USA, it will be interesting to see how this plays out.
So how does this 120 watt/channel power amplifier stand out in a sea of competitor models which are often rated at even higher power output?  Let's take a tour of the Model 5000 and get an inner look at its guts and throw it on the bench for a little workout to find out what all the fuss is about.
Outlaw Model 5000 Five Channel Amplifier YouTube Video with Gene and Hugo

Design Overview
The Model 5000 has a massive power supply for an amp of its price class.

The Model 5000 is a traditional Class AB amplifier design with four output devices per channel in a mono-block configuration fed from a large centralized toroidal power supply that appears to be at least 1kVA rated.  Each channel also has its own power supply capacitor bank made up of four loosely spaced 6,800uF capacitors.  The user manual for the Model 5000 claims a total of 27,200uF of power supply capacitance per channel but it's a bit misleading since upon closer inspection I found the capacitors were only 50V rated which means they had to be wired in series-parallel to handle the voltage necessary to deliver the rated 120 watts/channel.  Thus the equivalent capacitance per channel is actually only 6,800uF.  Outlaw updated their website to now state four 6,800uF capacitors/channel.  I suppose that's a little more "honest" but it still doesn't give you the actual effective channel capacitance.  We've seen this before on some of Emotiva's older amplifiers and called them out on it in each review so we feel it's only fair to do the same with Outlaw.  Suffice it to say, the Model 5000 has a massive power supply for an amplifier of its price class.  I am just picking nits here.  Moving on.
Editorial Note on Power Supply Capacitors

You often hear manufacturers boast how much power supply capacitance their amplifiers have but what is their purpose?  Power capacitors serve two purposes actually. They store energy to prevent rail sag during dynamic peaks to help maintain a steady, consistent output and they also help reduce rail voltage ripple.  The amount of capacitance needed depends on just how stiff or robust of a power supply you want to design for your amp.

For 10% ripple:  C = 5* Io/Vs*f  (source)

C  = smoothing capacitance in farads (F)

Io  = output current from the supply in amps (A)

Vs = supply voltage in volts (V), this is the peak value of the unsmoothed DC

f    = frequency of the AC supply in hertz (Hz), 60Hz for USA

So if an amplifier rated at 150wpc would produce about 6 amps peak current and assuming a rail voltage of 70V should have 7,000uF to maintain 10% ripple. Based on this calculation I'd say the Model 5000 has at least met the bare minimum requirement.  Higher end products with tighter specs will of course use more power supply capacitance to maintain a tighter ripple.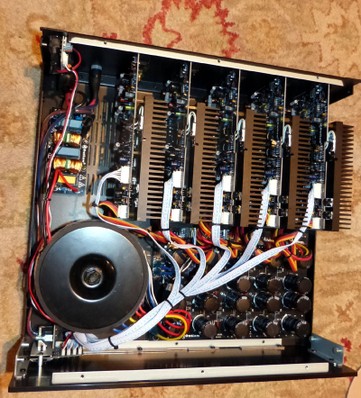 Outlaw Model 5000 Inside View
The Model 5000 is equipped with a 12Vdc trigger, detachable 3-prong 14AWG power cord though it doesn't utilize earth ground.  There is also a mains power switch on the back panel.  Interestingly, the silkscreen on the backpanel of the Model 5000 says it's designed in the USA by Outlaw but manufactured in the PRC.  PRC is just a coy way of not saying made in China but it means People's Republic of China.  The speaker terminals are high quality gold plated binding posts but the unit only has unbalanced inputs, which is not a surprise at this price point.  Per my request from my test bench findings, Outlaw Audio will be adding a grounding screw for those that wish to tie all chassis grounds together in their systems to solve any potential ground loops.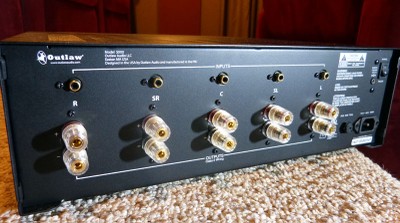 Outlaw Model 5000 Backpanel View
Though the Model 5000 is a bit pedestrian looking, the chassis itself is thicker and sturdier than your typical run of the mill receiver.  The blue LED front panel button adds a nice touch of panache to the unit while also serving to let you know when it's powered up and ready for business.  It's also meant to be an aesthetic match to their Model 975 AV Processor.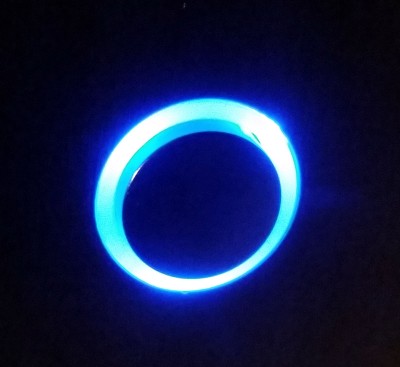 Outlaw Model 5000 Front panel LED Power Button
Setup
I tested the Model 5000 in the Audioholics Showcase Theater Room using my Marantz PM-11S3 as the preamp and my Oppo BDP-105 Blu-ray as the source.  All interconnects were provided by Bluejeans cable and my speaker cables were Kimber 8TC.  I utilized my $50k Status Acoustics 8T speakers.  Due to my reference speakers being a tough load dipping down to 2 ohms in the bass frequencies, these speakers can often be quite a problem for amplifiers not up to the challenge.  I also tested with a pair of Aperion Verus Grand bookshelf speakers as well to use a more representative speaker that typical consumers would use when buying an amplifier in this price class.

Confused about what AV Gear to buy or how to set it up? Join our Exclusive Audioholics E-Book Membership Program!
See also:
Recent Forum Posts:
DigitalD posts on April 09, 2019 18:05
gene, post: 1079393, member: 4348
njnRckulS2A
Great video Gene! This video actually convinced me to purchase the Model 7000x since I'd prefer a 7ch amp. I am fairly new to this and I have a question. Can I use the Ground Section behind my Denon X-4400H to connect to the Ground Section behind my Amp? Will this improve/assist any potential ground loops? Thanks for your help.
snakeeyes posts on August 26, 2018 14:07
Very tempting to buy the Outlaw 5000. Does outlaw ever put these on sale? Obviously the price is nice already. Labor Day is coming soon so just curious.
jsc1979 posts on April 17, 2018 11:44
I just picked up an Outlaw 7100, but I'm now wondering if I should have went with this 5000.

Long shot, but does anyone have experience with both? Obviously the 7100 is over 10yrs old. I got it for $375, the B Stock 5000 wouldn't be too much more.
Glenv6 posts on April 13, 2018 09:25
Not much action on the here….

I'm sold. My 5000 will arrive in a few days. I was interested in the Monoprice 7x, but it's still not available and I don't want to wait. I'll deal with the other two channels using my trusty old Sumo Polaris on the mains for now.

The 5000 measured well in reviews, and reaped high praise for it's sound. I am looking forward to hearing how well it lives up to the great reviews.
mdanderson posts on October 01, 2016 03:31
Ricardo, post: 1125343, member: 78356
I was wondering if anyone can answer this question, would the outlaw 5000 be a good match with the marantz sr5010. Can the Marantz drive the outlaw to its best performance, this will be powering the svs ultra center and ultra bookshelves.
I have Marantz SR5010 was wondering if you ever got the Outlaw 5000 and how it sounds paired with the SR5010. I had the original Outlaw 750 amp a many years ago but I was thinking about getting a separate power amp to go with my SR5010 even though the Marantz sounds very nice on it's own.
Post Reply