Anthem Atmos/DTS:X AV Receivers and AVM60 Processor Preview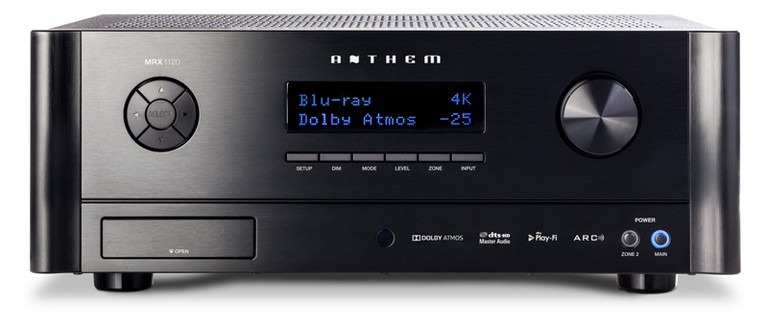 Anthem MRX 1120 11-Channel Receiver
Summary
MRX Receiver Models and and AVM60 All Support:
6 x HDMI 2.0a with HDCP 2.2 plus 1 x HDMI 1.4 with MHL
1 x front panel HDMI 1.4 with MHL (except for MRX 520)
18.2 Gbps switching
High Dynamic Range (HDR) support
BT.2020 color gamut
4:4:4 at 4K60 at 8 bits; 4:2:0 at 10 bits
DTS Play-Fi
RS-232 and IP control
Anthem Room Correction (ARC)
Dolby Atmos and DTS:X Ready (except for MRX 520); DTS:X will be enabled via future firmware update.
Executive Overview
Anthem, Canada's venerable high end electronics manufacturer, has announced new MRX receivers and a new preamp-processor that brings the company into the immersive audio and streaming media game. The CEDIA announcement ends speculation about Anthem's long-awaited entry into immersive audio.  
All new models come loaded with support for the latest UHD video formats by including HDMI 2.0a, HDCP 2.2, and 18.2 Gbps switching. The new models will support the forthcoming high dynamic range (HDR) standards and expanded color gamuts with support for 4:4:4 at 4K60 at 8 bits, 4:2:0 at 10 bits, and BT.2020. 
There is no video processing or scaling on the new units. There is only pass through.  A video processor is still used to generate the on-screen graphics that the HDMI interface blends with the video source.
Anthem's offerings have always been known for their exceptional audio implementation, rivaling many stand-alone two-channel units.  On the audio front, Anthem still delivers the goods where it counts. All models include premium-quality differential-output D/A converters with 32-bit conversion and sampling rate optimized filters. 
Every model (except the entry level 520 receiver) is likewise built for immersive audio.  Dolby Atmos is included and the units are DTS:X ready with a forthcoming firmware upgrade.  Auro-3D is not supported, though Anthem told me they are "keeping an eye on it."
Both the MRX and AVM60 models include expanded menu options and a front USB port for software updates.  Making easy updates across the product line is a welcome addition.  Previously on Anthem's pre-pros, software updates were done only via RS-232.  
All units sport eight total HDMI inputs except the MRX 520 which does not have front HDMI. There are seven on the back.  The front HDMI input supports MHL, as does one of the seven HDMI inputs on the back.  There are two parallel HDMI outputs, one of which contains an Audio Return Channel. Unfortunately there is no option for an independent Zone 2 HDMI output. Zone 3 options are completely gone in the new models. 
Anthem ARC Update and Advanced Speaker Configurations
Anthem's heralded "Anthem Room Correction" or ARC stands as one compelling reason why some consumers and installers opt for Anthem products.  ARC just got better with this release.  ARC has always required an external computer.  Now, thanks to wireless network connectivity, the ARC-2 software can now be run without having to connect an Ethernet or RS-232 serial cable between the local router and the AVM/MRX (previous-generation AVM models required an RS-232 cable).  
The software remains Windows-based so Mac users will still need to run Bootcamp to configure ARC. You can still set which target frequencies to correct with incredible control.  You also get visual before and after results to see exactly what ARC is doing in your setup on a speaker-by-speaker basis. Improved correction algorithms; memory for four speaker configurations for greater flexibility; and an easier to use targets panel for custom settings highlight some of the changes.  
The four speaker configurations deserve some attention because they provide users with the ultimate flexibility in fine-tuning their setups. You can now have up to four speaker configurations that you can assign on a source by source basis for your setup.  For example, you can have one setup for movies with a sub; another for two-channel or multi-channel music with your speakers full range sans sub; another for two channel with a sub at a different crossover than movies; and... you get the idea. It's very cool and very powerful for tailoring your setup according to your listening needs.
There is no new microphone for immersive audio.  ARC continues to include a calibrated microphone as standard practice with all new models--something not all competitors do.  ARC's calibrated microphone maintains its 5kHz limit and does not default to correcting frequencies higher thank 5kHz--something we agree with here at Audioholics.
DTS Play-Fi
Anthem is also breaking new ground by featuring DTS Play-Fi technology on the MRX 720, MRX 1120 and AVM60. The MRX 520 is left out for this feature however.  Anthem claims they are the first manufacturers to feature DTS Play-Fi on a receiver or pre-pro.  With DTS Play-Fi, listeners can stream their music over a Wi-Fi network to any number of connected speakers once paired with the Play-Fi App. Unlike other wireless platforms, DTS Play-Fi streams music without adding compression.  DTS claims that it is an open system allowing listeners to mix and match DTS Play-Fi-enabled audio products. Using the Android, iOS, Kindle Fire or PC apps, listeners can take advantage of music choices from their own libraries, including file formats up to 24-bit/192 kHz, to online music streaming services like Tidal, Spotify, Rdio, Songza, Pandora and more.  Anthem has made a decisive choice with DTS. Other technologies such as Bluetooth and Apple's AirPlay aren't supported. 
What are the differences between Anthem the MRX Receivers and AVM60 Pre/Pro?
While there is much commonality to the new lineup there are also some differences that we will highlight in more detail below.   At the top of the performance ladder sits the AVM60.  The AVM60 is Anthem's replacement to the award-winning AVM50v 3D platform and is geared towards users who want the highest performance, balanced connectivity, and their choice of external amplification.  To say that the AV60 is just an upgraded ACM50v 3D would be wrong. There are both added and omitted features. 
Rear view of the Anthem AVM 60 pre-pro
In contrast to the 50v3D, which supported 7.1 with two parallel sub outputs (though no independent delay and trim adjustments) and three independent audio zones, the new AVM60 supports 11 channels, HDMI audio return channel, two subwoofers (for Dolby Atmos configurations up to 7.1.4) and two independent zones.  Aesthetically, the new AVM60 takes on the same form factor as the new MRX series receivers, meaning that Anthem has consolidated every new product into the same physical chassis. Under the hood, however, the new AVM60 is an entirely different beast.  
Perhaps most notable is the price cut. And boy is it noticeable.  The AVM60 lists for $2,999 in contrast to its predecessor's $6,499 price tag. This halts what has been an ever-increasing price point for Anthem pre-pros and brings the AVM60 pricing back in line to the AVM20 days.  I asked Anthem how they were able to bring the costs back down and they told me that a combination of using a shared platform with the MRX line, which has higher volume and manufacturing in a state of the art facility in Vietnam. 
Anthem's pre-pros have always had audio advantages and the AVM60 continues that trend. The A/D converter is upgraded in the AVM60.  Anthem claims that the premium A/D converters are capable of delivering a 106 db signal to noise ratio ensuring high quality sound when using analog sources.  As with previous generations, one truly unique aspect of Anthem units is the ability to run ARC on an analog signal via the A/D converters. Along with the aforementioned audio upgrades, the AVM60 remains a formidable and capable audio performer on both the digital and analog front.
Any source can be down mixed to the fixed-level line outputs and to Zone 2 when it's in Follow Main (formerly Copy) mode. As with previous MRX, Zone 2 can now play digital coaxial and optical 2-channel PCM sources directly without needing to play the same source as the Main Zone or require a separate analog feed to play a discrete source.  This is a welcome feature addition for custom installations where multi-zone audio is required and takes away one of the simplest issues we've had with Anthem's Zone 2 implementation over the years.
The AVM60 keeps RS-232 control though the commands are the same as the MRX RS-232 and IP commands.  The AVM60 adds IP control for the first time in an Anthem Pre-Pro.  
On the receiver front, the three new MRX receiver models differ in their feature set and on-board amplification channels.  Anthem sticks to the key channels being Class AB but once you add immersive audio channels, you also get a mix with Class D amplification.  For example, with the MRX 520 (80 wpc), 720 (100 wpc), and 1120 (120 wpc), the first five channels (three fronts and two surrounds) are Class AB.   The first five channels deliver their rated output.  The remaining channels (back and height) on the MRX 720 and 1120 are Class D and are rated at 50W into 8 Ohms and 100W into 4 Ohms. The aforementioned power ratings are with two channels driven.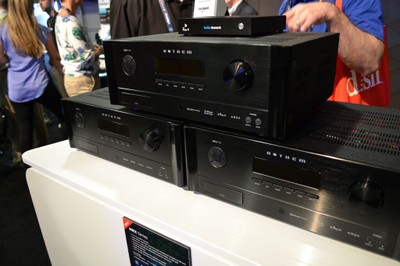 Anthem's new MRX receiver trio
At the entry level, the MRX 520 is a traditional surround received and does not support immersive audio. Let's face it, some people can't and won't adopt it.  The MRX 520 includes 5 channels of amplification and 5.1-channel processing. There are pre-outs for all channels including two parallel subwoofer outputs, a line output, and Zone 2 output.
The MRX 720 includes 7 channels of amplification, which is suitable for driving 7.1, 5.1.2, and 5.1 plus zone 2 speaker systems. With external amplification for height speakers the main pre-outs can be used for 7.1.4-channel systems. The input complement is similar to that of the MRX 520, plus a front panel HDMI/MHL input.
The flagship receiver MRX 1120 includes all of the benefits of the MRX 720 plus 11.1 channels of processing and a rare 11 channels of amplification. The internal amplification can be configured for up to 7.1.4 speakers or 5.1.4 plus Zone 2.  Anthem says that all amplification takes place through a toroidal power supply.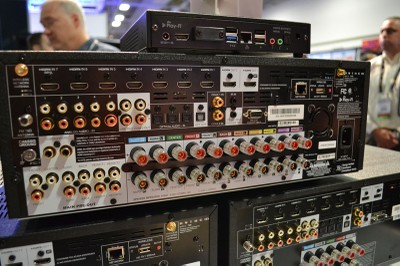 Rear view of Anthem's flagship receiver, the MRX 1120 with 11 channels of on-board amplification
The Bottom Line About Anthem's New Offerings

Anthem has never been an everything plus the kitchen sink company. Their emphasis has always been on quality not gimmicks and these new offerings continues that tradition, though the omission of Bluetooth and AirPlay streaming as conveniences remain head scratchers. The one thing that really stands out is how much more of an overall value these MRX receivers become when looking at their incredible audio quality and built-in amplification.  The nearly $3,500 price-drop on the new AVM 60 will certainly resonate throughout the market. The AVM 60 will now be able to compete head-to-head with the flagship units of the mass market manufacturers.
Estimated availability of the new MRX receivers and AVM 60 January 2016. Estimated US MSRP is as follows: 
MRX 1120: $3,499
MRX 720: $2,499
MRX 520: $1,399
AVM 60: $2,999
We're very much looking forward to getting some of these units in for review.

Confused about what AV Gear to buy or how to set it up? Join our Exclusive Audioholics E-Book Membership Program!
Recent Forum Posts:
Epsonfan posts on September 29, 2019 09:48
Too expensive for me.
sunPin posts on May 03, 2016 23:36
@gene , ever get those Concerta2 F36 speakers in for review? I demoed them and thought they sounded great at low volume, but they broke up at moderate volumes in a largish room. I'd love to hear what you guys think of their depth imaging compared to the GoldenEar Triton Two+ with the folded ribbon tweeter since the F36 started breaking up before I could really get a gauge on how they performed; the GE Triton Two+ depth imaging was very good to my ears.
AKK posts on January 30, 2016 11:23
Hi Gene

Did you get a chance to review these receivers? Am unable to to take a call between Denon X6200 vs Anthem MRX720. You deeper insights into this will certainly aid me into proper conclusions.
Curtis9 posts on January 23, 2016 13:22
Any thoughts on Anthem vs Arcam for us audio guys who also want a good video experience? And would the Receiver or Pre/Pro work best with an Oppo 105? Thanl\ks!
little wing posts on December 08, 2015 10:12
Hello Gene,

Any chance you will get one of these new Anthem receivers for review? When they came out with the MRX 310, 510 and 710 you did a preview as well, but no in-depth review. I think a lot of readers here, including myself are very curious as to how these receivers stack up soundwise to the more mainstream offerings from say Denon, Yamaha, Onkyo, etc. Since Anthem's receivers typically don't have the same feature set as the usual suspects I'm sure some people are wondering if they go with Anthem will they be happy giving up features for the sound quality of the Anthem.

You wrote an article a while back likening today's receivers as a computer with an amp thrown in. Anthem seems to deviate from this thinking, is that a good decision?
Thanks
Post Reply